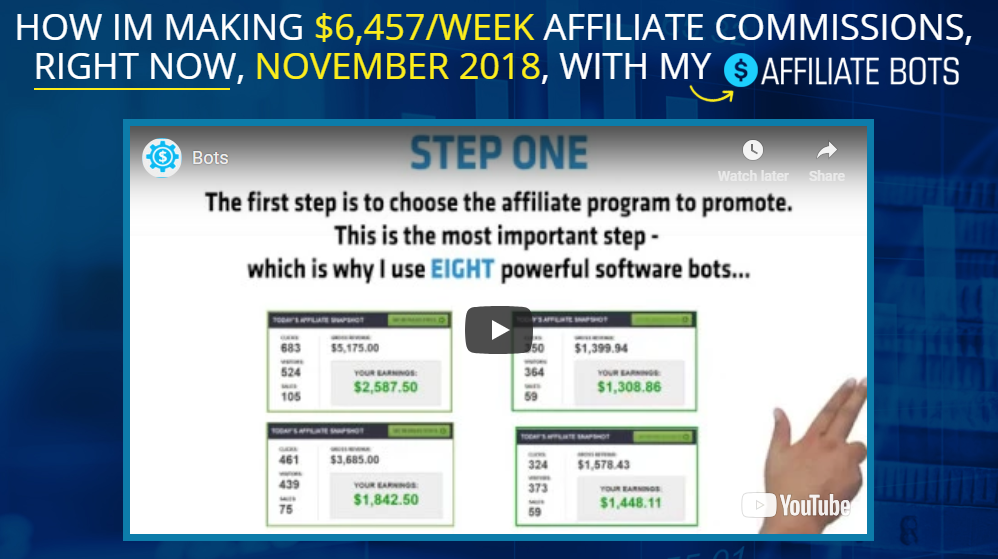 Affiliate Bots 2.0 Review Summary
---
Name: Affiliate Bots 2.0
Website: AffiliateAutobot.com
Founders: Chris X
Product Type: Affiliate Marketing Automation
Price: $27 One-Time Payment Only
Quick Summary: Affiliate Bots 2.0 is an improved version of Chris X's program. It's composed of different affiliate marketing systems engineered to help you grow your business online as an affiliate. Despite all the common red flags, Affiliate Bots 2.0 turned out to be a legit system but the question is, will it really help you earn a massive amount of income?
Overall Rating: 6/10
Recommended: Yes... And No
$1,000 a day.
Is it possible to earn this massive amount with affiliate marketing?
The answer is… YES!
It's been more than two years since I've been earning a good amount using this method and I would say, aside from the fact that it's legal, it does work. However, it's not easy; it takes a lot of time and a lot of effort to come out with the best results.
There are a lot of programs claiming how you can earn using this business model and unfortunately, a lot of them turn out to be a scam.
Is Affiliate Bots 2.0 one of them?
Can Chris really help you create an insane amount using his combined programs?
Is Affiliate Bots 2.0 worth the hype?
What Affiliate Bots 2.0 Is About?
Founded by Chris X, Affiliate Bots 2.0 is an improved version of Affiliate Bots which was released in 2018. On the other hand, this upgraded program has been launched in the market last February 20, 2019, only.
Apparently, the first version has been a success. In fact, it has a very low refund rate compared to other ClickBank products. The latest program, on the other hand, has also received a number of positive feedbacks.
So what is Affiliate Bots 2.0 really about?
This advanced version is an automated software that will help you earn through affiliate marketing. The founder, Chris X, has removed anything that hinders beginners from making the most out of this program. It is also packed with various add-ons and upgrades that would help users take advantage of artificial intelligence automate their affiliate website.
Who Is Chris X?
Chris X, like most of us, is an affiliate marketer who has been earning from this business model for over 10 years. Although it sounds like another pen name, which is usual for most ClickBank products, by the way, he has proven to be a legitimate person. In fact, he has acquired a number of followers since 2006.
Apparently, he spent more than $17,000 developing this software alone. Basically, the goal of this product is to provide automated ways of selecting affiliate programs, such as the latest one, the most popular, etc., which, in return, will help in generating traffic and conversions. It is composed of 17+ software bots which are as follows:
According to Chris X, each feature works for different purposes to help you maximize your earnings in affiliate marketing. To know more about these features, I've written a brief description below:
Auto Affiliate Ads - This feature allows the user to create banners ads.

CB 250 - This shows the top 250 ClickBank products which can help you earn massive commissions.

Christmas Affiliate - As the name suggests, showcases the expected best-selling programs for Christmas.

Hosting Affiliate - This shows the top affiliate programs for the hosting niche.

IM Affiliate - This shows the most lucrative affiliate programs under the niche of Internet marketing.

King Of The Zoo - This shows the most lucrative JVZoo affiliate programs.

Launch Pulse - This displays the most profitable launches happening in one month. It also gives you a glimpse of the product's ratings and popularity as well as the commission you can earn from it.

Warrior250 - This shows the top 250 WarriorPlus affiliate programs.
How Affiliate Bots 2.0 Works?
To earn from Affiliate Bots 2.0, Chris X suggested three steps to follow:
Step One
Choosing the affiliate program to promote using the above-mentioned features.
Step Two
Creating A Website using three bots namely: 1 Click Video Pages Tool, 1 Click Affiliate Software, and Presenting Affiliate Ads. In this step, you will also start creating a domain for the website using Domainaveli software.
Step Three
Generating traffic and earning massive commissions using Rapid Rank software. According to Chris, this allows you to create very targeted traffic on YouTube and Google.
To understand Affiliate Bots 2.0 further, you can watch the video below.
I am Vasiliy,
Discover My Secrets to Making Money Online
Is Affiliate Bots 2.0 A Scam?
Affiliate Bot 2.0 is not a scam. It's 100% legit and the best part is that you can get a refund in case you're not happy with the product. But, with all the powerful features it includes, there's no doubt that you can really make the most out of it.
Another thing that sets Affiliate Bots 2.0 apart from the regular ClickBank products is the affordability. It costs less than $50 and as of this writing, there's no upsells involved. Imagine all the features I've mentioned above plus a few more bonuses -- now that's quite a steal!
These are some of the additional bonuses you can get from Affiliate Bot 2.0
Techniques, which have been personally used by Chris, to generate huge traffic

3 bonus systems

Additional training on creating an income

Additional training on how to use each software/features

Upgrades
But despite all the features and bonuses that this program has, it still look like a typical ClickBank product with exaggerated claims.
Surprisingly, with a lot of bonuses and perks, Affiliate Bots 2.0 only costs $27 and you have to pay this only once. So far, there are no upsells involved which is good news. This product has 37 programs packed with powerful tools and systems that will help you earn from affiliate marketing.
These programs were designed to help you create your own website, generate very targeted traffic, and boost sales conversion.
Tired of Trading Your Precious Time for Money?
4 SIMPLE STEPS to Owing Highly Profitable Online Business Without Any Experience REVEALED!
PROS
In fact, it's beyond reasonable. You're getting a lot out of the $27 you paid for only one time.
Being in the Internet marketing industry for a long time, Chris X definitely knows how things work when it comes to affiliate marketing, and he has willingly shared almost every bit of what he learned. The training are very informative and you can use this whether you're a beginner or a seasoned marketer.
CONS
Affiliate Bots 2.0 sounds like the real deal; however, there's so much automation going on. If you're a beginner, this can be very challenging especially if you're planning all these software together.
Despite all the training provided in this program, it assumes that you already have experience with affiliate marketing and how it works.
If you're a novice and you're still trying to figure things out, I recommend a program that's beginner-friendly. I've been searching and trying different methods but when I found this, I stopped looking again. So far, it's the best system I can suggest for beginners and veterans.
This is usual not only for ClickBank product but also with other methods sold online. Affiliate Bots claim that you can make a massive amount of cash and traffic by simply using the program but, if you've been working online for a long time, you'd know that it's not that easy. Yes, it's possible but it takes a lot of time and effort and using Chris' bots and training is not just enough.
As mentioned above, there are a lot of automation going on so it's best if you have a clear knowledge of what affiliate marketing is about as well as first-hand experience on this method. It's a good program and it's offered on a very reasonable rate. And again, you can ask for a refund easily if you are not satisfied with the training, the tools this program is using, or if you think it doesn't deliver promised results.
However, I would not recommend this program to anyone who believes in getting rich overnight. No matter how great the product is, no one can earn a massive amount in just one day unless you're lucky enough to win in a lottery or, you've been a marketer for a very long time. Effort and consistency are still necessary and you should know that everything, even this method, takes time to come out with satisfying results.
If you're a beginner, Affiliate Bot is not for you simply because you need to have the right amount of knowledge and experience first to make the most out of this program. If you're willing to start your own online business through affiliate marketing, I recommend Wealthy Affiliate. You can join for free and earn several perks such as free training, free websites, and free access to a real, active community.
On top of this, you will see the real founders. In fact, you can even talk to them so you're guaranteed that this program is handled by people who are not ashamed to share their real identity.
Affiliate Bots 2.0 have provided a 37-page guide to help you get started. It has all the basic things you need about affiliate marketing. In this program, you will also receive a hundred pages worth of training about making profits, in PDF form plus training videos that will discuss each software's purpose and how to use it.
Affiliate Bots 2.0 is a decent program considering that the first version has a low refund rate. It's an upgraded version so users can expect a lot of improvements. It's packed with powerful bots you can use to drive traffic and generate conversions but then again, this is useful only when you have been doing affiliate marketing for quite some time.
4 Simple Steps
to Owning a Highly Profitable Online Business
WITHOUT

Any Experience...