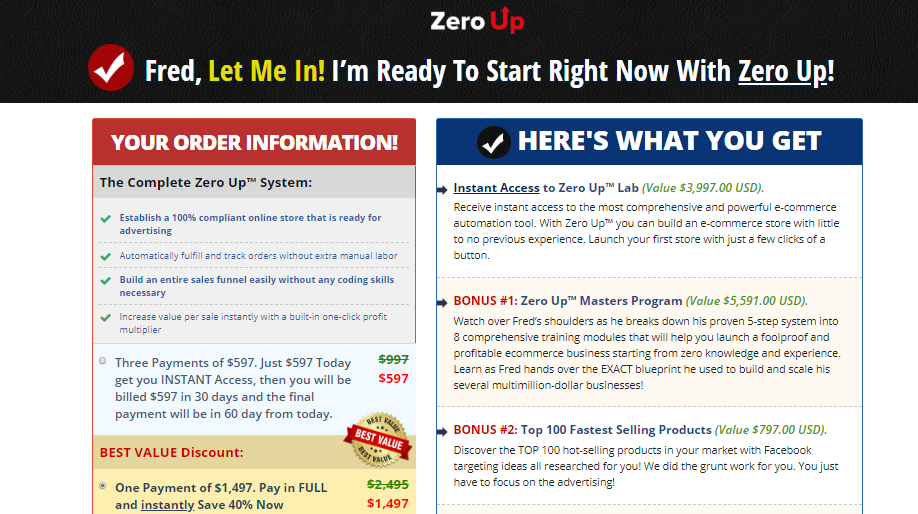 Welcome to My Zero Up Review!
Nowadays, starting a business online even without purchasing any products to sell is possible, thanks to dropshipping and affiliate marketing!
While these two are often confused as the same thing, in reality dropshipping and affiliate marketing are completely different models:
With affiliate marketing, you are earning money through commission. It works by promoting a product on your website or social media using an affiliate link and when a visitor purchased the "offer" using your link, you will earn a percentage for the converted sale.
Zero Up Review Summary
---
Name: Zero Up
Website: http://www.zerouplab.com/join/
Founders: Fred Lam
Product Type: Online Training Course (Dropshipping)
Price: $597 (3 Payments) / $1,497 (One-Time Payment)
Quick Summary: Zero Up is a high-ticket online training course for dropshipping. Created by Fred Lam, this platform claims to provide you an easy-to-use system that can work to help you generate traffic, as a "funnel builder", and a "profit multiplier".
It's proven to be a Legit system that will help you create an eCommerce business using Shopify but is it still worth taking considering the price?
Can you really make money using Fred's program? Is there anything else you need to know about? That we will all find out in this honest Zero Up review.
Overall Rating: 7/10
Recommended: Yes
In case of dropshipping you can literally have your online store through Shopify or even WordPress platforms and have your customers buy products from you at retail price and you in turn will buy those products at wholesale price and have your supplier ship merchandise directly to your customer.
We have created this amazing infographics to list out 4 Steps involved in dropshipping and 6 benefits why you may want to consider starting a dropshipping business:
Get Your HTML Code to Share this Infographics on Your Site or Social Media
The similarities, however, are that both business models are legal and profitable, and it's really up to you -- as a dropshipper or an affiliate marketer -- on how you will make it work.
If you're planning to start a dropshipping anyway, you may have heard of a few programs that will teach you how to make money out of it, such as Zero Up.
The questions are: can this online course really help you earn a massive amount with dropshipping? Is Zero Up a scam or a legit program? Is Fred Lam's online course the real deal or just overhyped?
Everything you need to know -- the good, the bad -- exposed in this Zero Up review.
Zero Up is an online training course created by a reputable entrepreneur named Fred Lam. Aside from the training program, it also includes software that will help you grow your dropshipping business online.
The cool thing about this program is that the sales funnel is simple and there are no "coding skills" required. You can use the system easily to generate traffic, as a "funnel builder", and a "profit multiplier" and build a "100% compliant online store" that you can use to market your products effectively.
Basically, the business model used to earn profit from this method is called "dropshipping". As mentioned above, you can set your own price and earn profit from it by subtracting your rate to the wholesale price of the item.
You don't need to keep any inventory; in fact, there's no need to purchase and keep the product you are selling at all.
How Dropshipping Works
Basically, all you need is an online store to showcase the products you are selling. When a customer bought a product from your shop, you will contact the third party that sells the item, pay the wholesale price, and they will ship the product for you.
It comes with a lot of benefits such as little to no capital required, lower overhead costs, and you can do it anywhere, anytime.
However, you need to learn the system first before you can make actually make money from it, and this is where Fred Lam's product enters. But who is Fred by the way?
Who Is Fred Lam?
According to his website, Fred Lam was a dishwasher who later turned in to a "serial entrepreneur". He has created software and online courses that helped his students earn a six-figure income.
As of now, he's one of the most reputable marketers who has proven success in the world of eCommerce. He's an expert when it comes to using paid ads, especially in dropshipping, which he has shared to his training programs.
And now you might be wondering is there Zero up Scam that Fred Lam is not disclosing?
No. Zero Up is not a scam, to begin with, and unlike other low-quality products, it doesn't have many bold claims on their website. It's founder, Fred Lam, is a real person who has revealed his true identity and he has successfully made a name in the world of advertising.
When it comes to the efficiency of his training, Fred has done a good job in providing a comprehensive course that will help you set up, develop, and maintain a successful eCommerce business. However, while the program comes with its own set of strengths, it has some weaknesses, too.
For one, it's a high-ticket course that can be too expensive especially if you're just a beginner. There are a lot of training courses online intended for dropshipping which you can get for free, and if you're looking for a valuable program that can help you earn online without breaking your pocket, you can check out my top recommended program.
Here Is My Top Recommendation to Start Highly Profitable Online Business from Comfort Of Your Home
Zero Up is a high-ticket online training program that will require you to pay $597 for three months; however, you can get it on a discounted price of $1,497 when you choose to pay it one time, in full amount.
The payment includes not one, not two, but 5 bonuses, including:
Bonus #1: Instant Access to Zero Up Lab (Value $3,997.00 USD)
Bonus #2: Top 100 Fastest Selling Products (Value $797.00 USD)
Bonus #3: Traffic Genius: Blueprint To Attracting Buyers (Value $6,591.00 USD)
Bonus #4: Starting From Zero Bootcamp (Value $7,988.00 USD)
Bonus #5: The Concierge Program: Personal Coaching (Value $1,997.00 USD)
Added Bonus For Platinum Members: Zero Up Network (Value $3,997.00 USD)
Tired of Trading Your Precious Time for Money?
Here is a Blueprint to Owing Highly Profitable Online Business Without Any Experience REVEALED!
PROS
Legit Business Model With A Comprehensive Training
Zero Up is a legit program that uses a legal business model called dropshipping. It comes with a thorough training that will help you understand the nature of dropshipping and how it works. Fred Lam is a master of traffic generation and he has fairly shared all the techniques he has used to become successful in this eCommerce.
However, if you're a beginner, there may be technical terms you're not familiar with, therefore, you'll need to spend extra time learning about it on your own. Nonetheless, Fred has made it somehow easier for newbies and advanced marketers to understand.
You Can Choose Your Own Niche
Fred Lam's program is not limited to one niche; in fact, you can choose any product that interests you. You can even use the training to almost any types of business online.
No Need For Inventory
Like affiliate marketing, you can earn a commission by selling products without even purchasing them. There's no need to worry about inventory and logistics, and you can earn a good amount of cash as long as you've mastered the techniques of dropshipping.
CONS
Beginners Might Get Confused
Dropshipping is more than just creating a website and selling products; it's also about dealing with manufacturers and customer complaints, creating traffic, and setting up paid ads. If you're a newbie, these things can be pretty overwhelming especially when you have an issue with manufacturers, may it be local or foreign.
Therefore, if you enroll yourself in this course, do not expect that things will get easy no matter how good the training is. You will still need a lot of time learning about the program and the business itself.
Very Expensive
Not everyone has the privilege to spend more than a thousand dollars for a training platform and even if you're an advanced marketer, this is a huge cost. On top of this, you'll be paying for ads to generate traffic to your website.
While Zero Up offers valuable training you can use on almost all online business models, you can still find informative training videos and materials online which are offered for free.
Make sure to also check out free training from my top recommended program. It's not specifically created for dropshipping alone but still, you can increase your skills and expertise by watching the free training video and actively participating in the community inside the platform.
To learn more about Zero Up, you can watch the video below:
Zero up is for anyone who has strong interest in drop shipping business. I would say it is good for both beginners and people who have marketing/Ecommerce experience because it covers a huge range of questions related to dropshippinig business.
If you are serious about starting dropshipping business then Zero UP is a great program to invest in and get immediately in to action of building your business.
I personally learned that it's better to invest in to good education rather than searching online for bits and pieces trying to figure out what is right and what's the best approach to use.
Are There Any Zero up Complaints?
If you search for legitimate Zero Up reviews from the members you most likely not going to find any. The thing is the program itself is not scam and it's the people who either going to put their best effort and succeed or they will fail and say Zero up is Bad.
You can find some people expressing their concerns in Quora forums, but I didn't see any TrustPilot reviews.
Zero Up has 8 modules offered, including:
Module 1: Store Creation
Module 2: Inventory Arbitrage
Module 3: Kitting Out Your Store
Module 4: Crafting A Sales Funnel
Module 5: Taking Your Store To Market
Module 6: Manage Your Store
Module 7: Traffic Strategies
Module 8: Scale-Up
Being a marketer myself, I find Fred Lam as one of the most inspiring advertisers who has worked his way up using legit methods online. Also, I like how he created his sales page; unlike other programs I have reviewed which are created by well-known marketers, too, it hasn't used fake scarcity, fake testimonials, or any bold claims.
The only thing I don't like about it, perhaps, is the price of Zero Up. it is very expensive knowing that you can get free training materials online. It may not be as valuable as this program but still, it can give you enough information about dropshipping and how to make it work.
But then, I believe that you're not just paying for the course itself but also, for the experience and proven methods shared by Fred Lam.
I hope I have enlightened you with this Zero Up review, and if you have any questions or comments, please feel free to share it down below.
Thank you!
If you were reading Our Zero Up Review and were still looking for the best way to start making money online, well we reviewed over 300 programs on this website and picked our favorite.
Go ahead and put an email address below. Here is what you will learn from our top recommendation:
A Fine Blueprint on Making Money Online
Step by Step Guidance
Top Quality Support
Very Rewarding Opportunity
And So Much More!
I hope our Zero Up review has helped you.
If you have questions or clarifications, please feel free to share it below. Thank you!
We Constantly Review Programs in "Make Money Online" Niche,
So That You Don't Have to Waste Countless Hours
Want To See Our
TOP RECOMMENDATION?