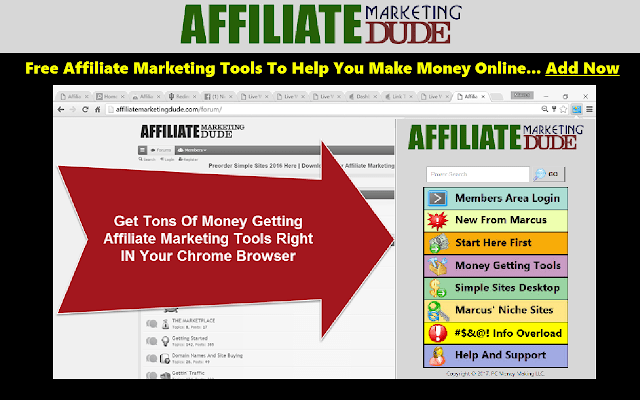 Welcome to my Affiliate Marketing Dude Review!
Before I tell you more about this program - make sure to check out comments below after reading my review to see what people have to say about Affiliate Marketing Dude and Marcus Campbell specifically.
Are you looking to get into the affiliate marketing game? If so, you need to be careful about what products and training programs you choose. There are so many options out there, but not all creators have your best interest at heart.

Affiliate Marketing Dude Review Summary
---
Name: Affiliate Marketing Dude
Website: https://affiliatemarketingdude.com/
Founders: Marcus Campbell
Product Type: Done-For-You Affiliate Marketing Website
Price: $175 for a starter package
Quick Summary: Have you heard of Affiliate Marketing Dude by Marcus Campbell? It is another: "Make Money Online" program that will build full fledged affiliate marketing website for you instead of you doing it yourself. The big question we are going to answer in this review – Is it really worth it? For unbiased Affiliate Marketing Dude Review keep on reading:
Overall Rating: 1/10
Recommended: No
What is Affiliate Marketing Dude About?
Becoming financially independent is an admirable goal, but one misstep can set you back hundreds or even thousands of dollars.
If you've heard about Affiliate Marketing Dude, you might be wondering if that's the right program for you. But what is Affiliate Marketing Dude all about?
Affiliate Marketing Dude is a program that was created by Marcus Campbell. Marcus looks like a decent guy who knows his stuff as I explored more about him. I even decided to post his video where he gives an overview of affiliate marketing:
According to the sales page, Marcus and his team will create a website for you that targets high-paying niches. By promoting expensive, high-ticket items, you can earn large commissions.
For example, promoting a $100 power drill with a 10% commission will earn you $10 for every purchase. If you promote a $2,000 stand-up drill press with a 10% commission, you'd earn $200 per conversion. That's a big difference and is why Affiliate Marketing Dude builds websites that supposedly reel in those shopping for high-ticket items.
You can make a lot of money through affiliate marketing, which is why so many of these training programs and DIY opportunities are popping up. But is Affiliate Marketing Dude actually worth it? Finding legitimate Affiliate Marketing Dude reviews can be tricky, but for an unbiased Affiliate Marketing Dude review, keep on reading!
Is Affiliate Marketing Dude a Scam?
So, what's the deal with Affiliate Marketing Dude? Is it a scam or is the product legit? Affiliate Marketing Dude might not be an outright scam, but it is definitely a company to steer clear of. And let me tell you why:
It seems enticing to have a done-for-you affiliate marketing website, but there are two main issues with Affiliate Marketing Dude. The first is that their prices are exorbitant. It isn't that difficult to set up a website and domain, but Affiliate Marketing Dude charges over $1,000 to do so! That's absurd.
Plus, there are so many costly up-sells that you'll need to invest in to actually get a nice looking website, so you'll end up paying even more. The next issue with Affiliate Marketing Dude is that, yes, you'll have a nice website, but will you have any clue what to do with it?
Tired of Wasting Time on Low Quality Programs?
I'm so grateful that I was able to find THIS PROGRAM which helped me to finally start making money online!
Other training programs that walk you through building a website also teach you the basics of managing and monetizing that website. Affiliate Marketing Dude does not. So, after shelling out over a thousand dollars, all you'll have is a flashy website with little idea on how to drive traffic to it or monetize it. That's a problem.
One of the issues with Affiliate Marketing Dude is the high price that Marcus puts on the product. There also seems to be a lack of transparency in the pricing "bonuses" that come with it. Depending on what page of the website you're on, the pricing estimates differ. Perhaps that's because some of the pages haven't been updated to include new pricing information, but who knows.
So, what will it cost you to get started with Affiliate Marketing Dude? Well, the starter package will cost you $125. That won't get you much so you'll need to upgrade to the $997 package, which can also be broken into three monthly payments of $397.
Still, the expenses don't stop there. You will have to pick your niche, which ranges from $227 to $1,227. Affiliate Marketing Dude will be doing the same work for either niche so that seems pretty absurd.
You will also get charged if you want a website domain, some affiliate training, a custom logo and theme, plugins, personal coaching, traffic training guide, or to have it uploaded with pre-made content. To make a long story short, it's expensive. Way too expensive for what you get.
PROS
They develop a nice website
CONS
It is extremely expensive
There are constant and costly up-sells
You won't know what to do with your website because you get no training
This is a product marketed towards beginners. Affiliate Marketing Dude wants people with no technical experience or a lot of time to pay them to set up the website for you. They'll even add content and provide some personal coaching.
That all sounds great, but that price is asinine. A beginner with no training will be hard pressed to ever see a return on that investment because they won't know what they're doing.
The truth of the matter is that it's not that hard to set up a WordPress site. The hardest part is learning the marketing and content concepts and driving traffic. Affiliate Marketing Dude won't help you with that. So yes, you'll have a nice new shiny website, but will you be able to do anything with it?
Here Is My Top Recommendation to Start Highly Profitable Online Business from Comfort Of Your Home
The whole point of Affiliate Marketing Dude is that you don't need the training to get your website up and running. The company will do it all for you. This sounds great, but it's not practical because you need to know what to do with your website once you get it.
The issue with Affiliate Marketing Dude is that if you want any training, you'll have to pay even more. If you want some basic—and I mean very basic—training on affiliate marketing, driving traffic or writing content, it's going to cost you. And it will cost a lot.
Support? If you want support that will also cost you on top of the $1,000 you'll pay for website creation.
As if you couldn't tell by reading through this Affiliate Marketing Dude review, this is not a product I can recommend.
Aside from the cost of the Affiliate Marketing Dude services being too lofty and not at all transparent, there also is the issue of the gap between having and doing.
You'll have a nice website, but what are you going to do with it? You want to actually get your hands on and learn everything about affiliate marketing and understand exactly what to do.
As mentioned above here is my top recommended program that is very rewarding and offers lots of great benefits to building thriving online business. Here is a list of perks:
Step-by-step guidance
Lots of support
Top notch education
Offers a fine blueprint to building successful online business
I hope I gave you an insight on Affiliate Marketing Dude. Let me know if you have any comments:
We Constantly Review Programs in "Make Money Online" Niche,
So That You Don't Have to Waste Countless Hours
Want To See Our
TOP RECOMMENDATION?