Name: Experts Academy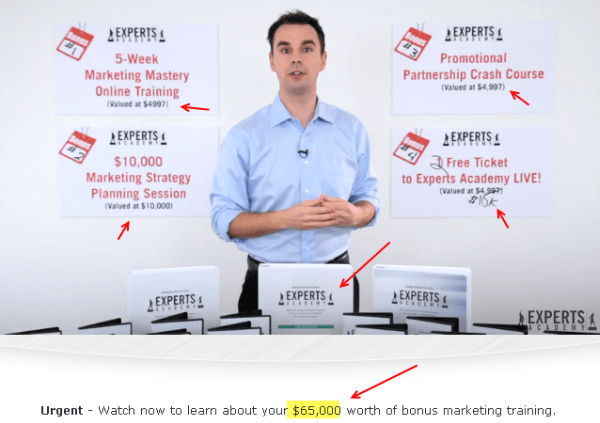 Website: http://brendon.com/live/
Price: $1,997
Founder: Brendon Burchard
Overall Ranking: 6/10
Who it's For: Experts
Summary: Experts Academy is a training program that is designed by self-made millionaire Brandon Bouchard. Brandon has tremendous confidence to claim that with his 10 essentials (video below) you can build full time online business. Stay tuned for my full Experts Academy review below:
Want to Know How I Make 4 Figure Monthly Income?

What is Experts Academy About?
Experts Academy is a training program that teaches you how to become a millionaire online. Founded by Brendon Burchard, a self-made millionaire who holds numerous online marketing records, Experts Academy is a way to learn how to create products based on your expertise and interests. Essentially, you are selling your "knowledge" in the form of a consumable product.
Through a step-by-step training, Brendon Burchard works to lay out the methodology that led him to success. The training program explains marketing and branding your product, growing your list of followers, selling products, and becoming a highly-respected thought leader in your area of expertise. This product really reminds me "Product Launch Formula" which also teaches you how to setup perfect product launch. 
Here are 10 Essentials by Brendon Burchard. In this video he really explains the concept behind this program:

Is Experts Academy a Scam?
Just taking a few minutes to listen to the videos that Brendon Burchard puts out, it is easy to tell that this is not a scam. He truly believes in his methodology, and it's obvious that he's been successful at it.
When it comes down to it, you are simply paying an exorbitant amount of money to gain the expertise of self-made millionaire Brendon Burchard. If you're wondering what gives him the audacity to charge just under $2,000 for an online marketing training program, you need to consider the fact that he has been an industry leader for over 10 years, has 18 online launches that grew to over $1 million, has 50,000,000 video views and three NYT Bestsellers to his name.
Does it mean that Experts Academy will definitely work for you? No, but this doesn't make Experts Academy a scam. It is simply a highly priced training program. That being said, there are similar, less expensive programs out there that can also help you find success in the online marketing arena for a fraction of the cost. 

 Pros / Cons
Pros:
Brendon Burchard is well-known and incredibly successful at what he does

The training videos are informative

You are encouraged to follow your passions and lean on what you already know

The program is tailored to different types of people – authors, speakers, coaches, etc.
Cons:
This is extremely costly, and an up-front payment is required

The business model is not for everyone

You sit through videos with some fluff and self-promotion / upsell techniques
The best thing about Experts Academy is that it is taught by someone that has a proven history of success. This isn't a get rich quick scheme, but Brendon Burchard has proven that there is long-term viability in his methods. His videos are informative and he is honest and upfront with members.
When working with Experts Academy, you are encouraged to follow your passions and lean on your personal expertise. This is beneficial and quite refreshing when you look at the methods that other marketing training programs employ. Brendon also caters the program to different types of clientele, from authors and speakers, to coaches and entrepreneurs.
Once you really look at Experts Academy as a whole, you will begin to see the negatives. First, for just under $2,000, this program is extremely costly for what you get. If you become a millionaire off of it, of course $2K seems like a drop in the bucket. However, in reality, most people won't find that level of success and you will be subjected to weeks of fluffed up training videos in order to learn this.
The biggest problem with most people is that they like to watch videos of other people who became successful through the hard work they had to put in, but this motivation they get from such videos is very short-lived and when people realize they have to work really hard to achieve this they simply lose interest.
Who Is It For
Brendon's method is not one-size fits all, which means that you need to have the time and patience to really listen to the video and absorb all of the information that is being presented. This program is not for anyone looking to just make some extra cash on the side. You need to have a long-term goal and the patience to work the long hours to get there. If you do not have the wherewithal to follow the training, create a product and market it, this is not the program for you.  
This is why it is more for people who have great passion for starting their own business and ready to invest both time and money – but again there are no 100% guarantee that you will succeed.
There are other alternatives which in fact even better than Experts Academy because they cater to people who are just starting out or already have experience in the marketing industry and give much more unique approach. You can learn more about my #1 Recommendation.
Training Tools / Support
Training is something that Brendon Burchard takes very seriously, which makes sense because his entire program is centered on teaching you how to market and sell products online. The program is laid out in a 7 week format, but you can move through it as quickly or slowly as you would like.
The First week you are taught how to create content and position it in the market through the use of a website. Week two looks into how to stand out and differentiate yourself to sell with confidence. Week three focuses more on online trainers and thought leaders, explaining how they can monetize their content, while week four is for authors looking to write and promote bestsellers. Weeks five, six and seven lay out plans for speakers, life/executive coaches and thought leaders, respectively.
Beyond the basic seven week training you are also given access to a few bonus training videos and webinars. There are monthly live trainings with Brendon, a five week video training course that focuses on social media strategies, and a lengthy video of Brendon answering his most frequently asked questions. When it comes to training, Experts Academy Elite certainly delivers.
Price
For a one-time cost of $1,997, you will get access to Brendon's 7 week long training course. This course is designed for speakers,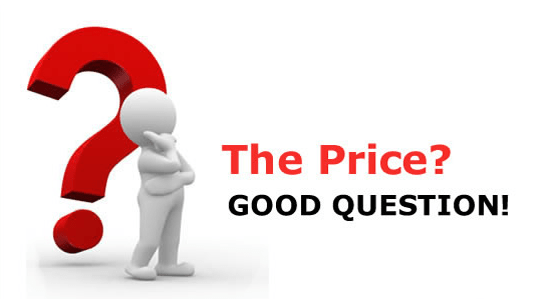 coaches, authors, trainers and social thought leaders. Though paying almost $2,000 upfront for a training program is a hefty price to commit to, you will maintain access to the Experts Academy training videos forever. So if something comes up and life gets in the way, you can always come back to the training at a later date without needing to continually pay a monthly rate to remain a member.
As an added "bonus" you also get access to additional benefits that supposedly have an additional value of around $8,000. Many of these benefits come in the form of additional training through live webinars with Brendon himself, or free conferences. Though tuition to the conference is free, you will obviously need to pay travel expenses and there is something called a "materials fee" that will cost you $97, should you decide to attend.
Final Opinion / Verdict
Taking a final look at Experts Academy, it is hard to justify spending $2,000 upfront for simply some training videos. Brendon Burchard is not the only one that has found success in this arena, and there are other programs out there that will divulge the same information for a lower price.
Of course Brendon will argue that his course is worth way more than $2,000 but that if you become successful with his program or else you just lost $2,000.  Also I got an impression that this price tag comes from him being a successful person who is not interested in every single customer and therefore doesn't offer his program for a low price of $49.00 per month, he wants you to pay premium and obviously believe him 100% which you will have to when you spend this kind of money.
Although it's nice to be encouraged to follow your aspirations and bank on your expertise, the fact of the matter is that this model is not suited for everyone and unless you have immense patience, drive, and the right touch of luck to see this to fruition, you will be throwing away a hard earned $2,000. Below is a quick look how Experts Academy stacks up vs my #1 Recommendation: