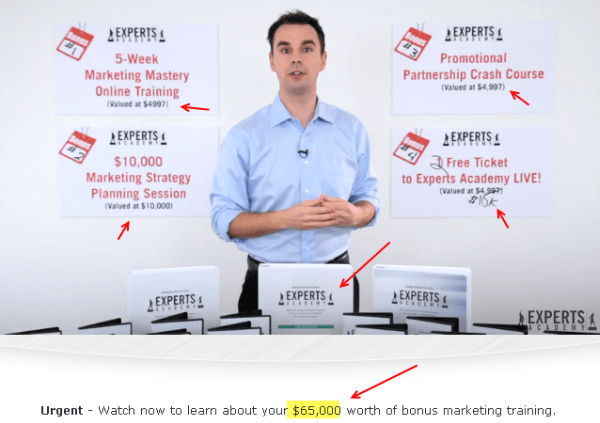 Welcome to My Experts Academy Review!
First 2020 Update:
Experts academy has been re-branded or packaged in to new personal development courses by Brendon and his team called HPX Courses. And you can find new URL for this below.
Brendon decided to create more personalized approach where he will push you courses you may need to become an expert in your field. So if you lack personal development skills such as:
self confidence
discipline
motivation
and lots of other ones that can get in a way to becoming an expert online. We may do another review on that separately but if you are curious what is Brendon's philosophy behind his courses then I still welcome you to read my Experts Academy Review below:
Experts Academy Review Summary
---
Name: Experts Academy
Website: https://www.hpxlife.com/courses
Founders: Brendon Burchard
Product Type: Coaching Course on How to Build a Business Empire by Being an Expert
Price: $97 a month or $897 a year
Quick Summary: Experts Academy is a training program that is designed by self-made millionaire Brendon Burchard. The idea behind this program is to become an expert at any given passion and package that in to a saleable product. Stay tuned for this review which also includes info on the latest Experts Academy course which has been fully updated with both content and pricing.
Overall Rating: 8/10
Recommended: Yes
What is Experts Academy About?
Experts Academy is a training program that teaches how to become a millionaire online. Founded by Brendon Burchard, a self-made millionaire who holds numerous online marketing records, Experts Academy is a way to learn how to create products based on your expertise and interests. Essentially, you are selling your "knowledge" in the form of a consumable product.
Through a step-by-step training, Brendon Burchard works to lay out the methodology that led him to success. The training program explains marketing and branding your product, growing your list of followers, selling products, and becoming a highly-respected thought leader in your area of expertise.
Experts Academy really reminds me another product called "Product Launch Formula" which also teaches you how to setup a perfect product launch, but comparing the two Experts Academy looks far more advanced.
Can You Trust Brendon Burchard?
Unlike many other online Gurus with huge claims Brendon Burchard really can backup his reputation as an expert in the industry. Here is what you can easily find on him:
He is part of "Influencer" 2019 Marketing Event as a motivational coach
He is on the cover of "SUCCESS" magazine
Featured in"Forbes" magazine
Featured on "Lary King's" show
Interviewed by "Oprah Winfrey"
To get to know Brendon Bouchard better and find out what he teaches in Experts Academy it is important to watch his video called: "10 Essentials with Brendon Burchard" to making a difference.
Is Experts Academy a Scam?
With credibility Brendon Burchard has and watching his 55 minute video of 10 Essnetials it is very clear that Experts Academy is NOT a Scam, He truly believes in his methodology, and it's obvious that he's been successful at it.
Moreover I am involved in the same industry and I have built my website and my affiliate marketing business with exact same essentials covered by Brendon, therefore I can clearly see that information provided in Experts Academy is far from being a scam or misleading.
When it really comes down to it, you are paying $97 a month or $897 a year to gain the expertise of self-made millionaire Brendon Burchard. If you're wondering what gives him the audacity to charge this price for an online marketing training program, you need to consider the fact that he has been an industry leader for over 10 years, has 18 online launches that grew to over $1 million, has 50,000,000 video views and three NYT Bestsellers to his name.
Does it mean that Experts Academy will definitely work for you?
No, but this doesn't make Experts Academy a scam. It is a higher priced training program. That being said, there are similar,less expensive programs out there that can also help you find success in the online marketing arena and offer step by step guidance in case you are just starting out online.
Here Is My Top Recommendation to Start Highly Profitable Online Business from Comfort Of Your Home
What is New in 2019 Experts Academy?
Experts Academy changed it's focus from initial offering. I had to re-write my review accordingly. The whole concept remains the same but instead of selling 1 course now Experts Academy is a suite of all courses Brendon Burchard created and sold individually in the past. Here is what it looks like:
So the old course was Item #2 which was 7-Weeks Experts Academy Online Course. And the new Experts Academy program includes all the above mentioned courses. There is a full video on his website describing new membership. Keep on reading to get info on pricing and training.
PROS
Brendon Burchard is well-known and incredibly successful at what he does
The training videos are informative
You are encouraged to follow your passions and lean on what you already know
The program is tailored to different types of people – authors, speakers, coaches, etc...
CONS
New monthly price tag may not cater to many newbies
Many other costs not talked about up front that will come up when starting an online business
The best thing about Experts Academy is that it is taught by someone that has a proven history of success. This isn't a get rich quick scheme, but Brendon Burchard has proven that there is long-term viability in his methods. His videos are informative and he is honest and upfront with members.
When working with Experts Academy, you are encouraged to follow your passions and lean on your personal expertise. This is beneficial and quite refreshing when you look at the methods that other marketing training programs employ. Brendon also caters the program to different types of clientele, from authors and speakers, to coaches and entrepreneurs.
The only problem I find with Experts Academy is that most people like to watch videos of other people who became successful through the hard work they had to put in, but this motivation they get from such videos is very short-lived and when people realize they have to work really hard to achieve this they simply lose interest.
And Experts Academy is mostly based of training videos and some Live Seminars, but I don't see any sense of active workshop where you are guided with every step of the process and this is why I prefer THIS PROGRAM which offers full hands on experience over Experts Academy and 24/7 Live Chat in case you feel like you got stuck.
I mean when someone new starting out online and wants to create a course like Brendon teaches or build a simple website - there are so many technical questions alone that arise which not usually covered in any educational courses and I can guarantee you will be really frustrated if you can't find the answers you need immediately in order to keep on moving.
Tired of Wasting Time on Low Quality Programs?
I'm so grateful that I was able to find THIS PROGRAM which helped me to finally start making money online!
Brendon's method is not one-size fits all, which means that you need to have the time and patience to really listen to the video and absorb all of the information that is being presented.
This program is not for anyone looking to just make some extra cash on the side. You need to have a long-term goal and the patience to work the long hours to get there. If you do not have the wherewithal to follow the training, create a product and market it, this is not the program for you. SELF-DISCIPLINE is a MUST for long term results - and that is not only with Experts Academy, that is building online business in general.
This is why it is more for people who have great passion for starting their own business and ready to invest both time and money – but again there is no 100% guarantee that you will succeed.
Is There Brendon Burchard Scam?
If you are still wondering whether Brendon Burchard trying to scam you in any way. Well I have reviewed well over 200 products and I don't see any scam in his program.
The main reason is that scammers use aggressive techniques to scam people and offer no value in return. Experts Academy offers a ton of value and is backed up by a reputable Entreprenuer. Yes as I mentioned it will not cater to everyone, but it's not scam in any way.
Training is something that Brendon Burchard takes very seriously, which makes sense because his entire program is centered on teaching you how to market and sell products online.
4 Days Marketing Crash Course
First you will watch a roadmap video outlining the whole program and 4 days introduction videos to Experts Academy program where you will hear Brendon's personal story which involves car accident at age of 19 and how it changed his life and motivated him to become a millionaire. Also lots of generate information on how to become an expert as you can see from an example below:
7 Hours of Training What's Working Now
Part of the reason Brendon went to recurring membership strategy and packaged all his courses in to 1 product is to ensure his courses stay up to date and he delivers new material every month. So basically by paying $97 a month you are guaranteed to have most up to date information on whatever you are trying to accomplish with this course.
7-week Step-by-step Experts Academy Elite Course
This is original Experts Academy course which includes:
How to create content and position it in the market through the use of a website
How to stand out and differentiate yourself to sell with confidence
Videos on online trainers and thought leaders, explaining how they can monetize their content
How authors can write and promote their books to become bestsellers
Training on how to become a powerful speaker, life/executive coach and thought leader
And so much more...
Advanced Circular Viralocity Course
This is where Brendon shares his strategy which he developed himself on how to take Social Media by storm. Another words how to integrate social media in to the product and create viral content shares/re-tweets generating huge media buzz leading to large media following and grow your authority/brand. In fact after Brendon implemented this he became famous.
Monthly Live Marketing Training
Every month Brendon will go live talking about what is new in the marketing arena. This is part of the new course to ensure that information delivered in the new course is up to date and you are getting the best value for the money spent on Experts Academy.
And there are lots of bonus strategies which vary based on approach you pick for your business whether you are going to write a book, create an online course, become a life coach etc..
As you can see Experts Academy is pretty advanced course which has lots of good information. I personally would sign up for this membership if I were to create my own course.
But I like affiliate marketing approach where I act like a middleman and promote other people's courses/products and get commission for it. This way I don't have to offer support, be responsible for the product and deal with all sort of issues including legal ones that usually arise by having your own product. Instead I like the idea to earn commission and believe me you can earn a ton of money by doing that especially if you have your own website. I sleep at night and simply earn commission on my website by promoting various products.
I think Experts Academy is a great program for someone like me (if I wanted to create a course) who already has general understanding of this industry and already knows what is required in order to succeed.
For someone new it can be simply overwhelming as there is literally hundred of videos and also many different directions you can go to build your business. Plus like I mentioned before many people get excited in the beginning but lose motivation when they actually realize how much work is required and that there are other costs that arise by building your own business.
I hope you liked my review on Experts Academy. Let me know if you have any comments below:
We Constantly Review Programs in "Make Money Online" Niche,
So That You Don't Have to Waste Countless Hours
Want To See Our
TOP RECOMMENDATION?
Experts Academy FAQ
What is Experts Academy About?
Experts Academy is a course that teaches people how to become an expert in any given niche and package that knowledge in to a saleable product
Who is Brendon Burchard?
Brendon Burchard is an Entrepreneur, self-made millionaire and influencer. He is also famous for his product called: Experts Academy
How Much Does Experts Academy Cost?
Experts Academy changed to a new recurring pricing scheme. There is monthly membership for $97 a month or $897 a year. Being a member of this program ensures training materials are constantly being updated