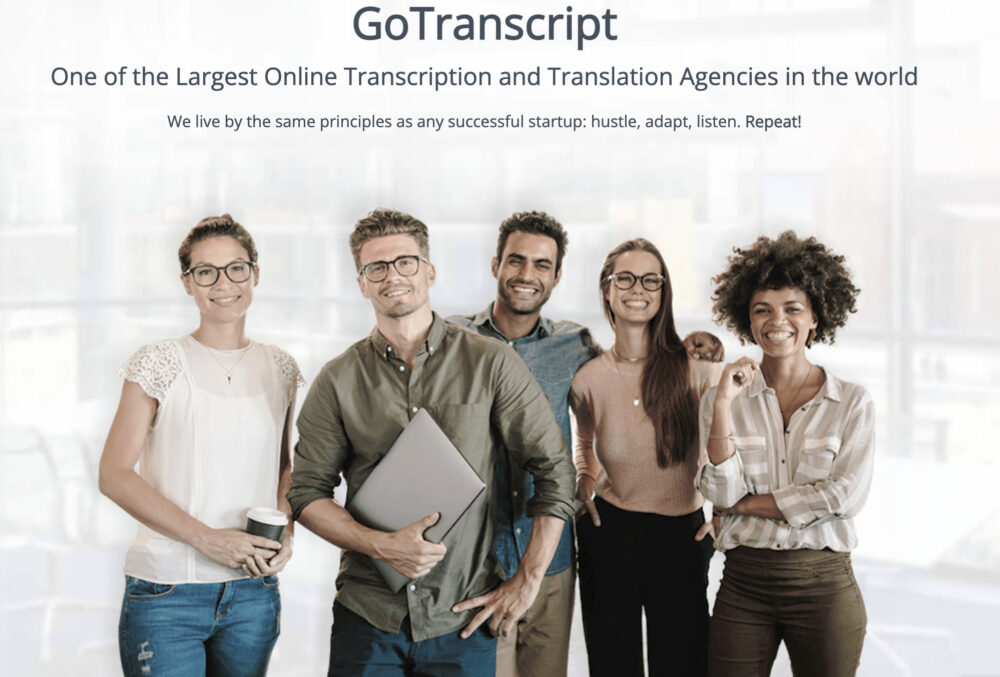 Perhaps, you'd want to work from home or at least earn additional income from home considering all the price hikes, piles of bills, or debts to get rid of. For that reason, you're here on my review to check out whether GoTranscript has the potential to be a good job opportunity.
However, are you aware of how home transcription works? If yes then great, if not you can learn more about it through this review. Let's Go!
That being said, let's start revealing the facts with GoTranscript and figure out if it's the right opportunity to grab or not.
Work-at-home opportunities for transcribers who want flexible working hours and want to gain control over working as much or as little as they want are being provided at GoTranscript. Sounds too appealing, isn't it? However, is GoTranscript legitimate?
We're gonna discuss the important features that GoTranscripts will offer just to help you decide if they'll be worth your effort and time.
But before we properly begin, let me be clear that I'm not in any way affiliated with GoTranscript. The entire review has been researched with information and/or testimonials that are available online in the public domain.
What Is GoTranscript?
GoTranscript is a transcription company that is headed by CEO Peter Trebek. The company was established back in 2005. Currently, they are headquartered in Edinburgh, Scotland, UK.
Their main services include transcription, translation, subtitling, and captioning. GoTranscript has clients worldwide so it's not a surprise that they've already transcribed audio of 144 million minutes (274) years.
GoTranscript also employs freelance transcribers to do manual transcribing even if they're already using an AI (Artificial Intelligence) platform for their transcription service. Human intervention is still required because machines are simply not perfect, therefore they are hiring people to get more help.
You can apply at GoTranscript if you want to work as a transcriptionist. However, you must remember that transcribing is not as easy as you think it is, it's more than just simply typing or a mere data entry type job. Good listening and researching skills are a must for this particular job.
How Does GoTranscript Work?
First, you must take GoTranscript's test and pass it for you to begin your career as a transcriptionist. That's all you have to do to be a member of GoTranscript.
It's easier said than done, isn't it?
They'll provide you with Guidelines which outline their expectations so it'll be easier for you.
You can be able to access their job page and pick any of their available jobs and projects once you're qualified to be a part of GoTranscript. After which, for every project you complete that'll be accepted, you'll be paid for it.
Here is a video that goes over GoTranscript to offer visual review of the program:
GoTranscript Requirements
As far as transcription companies go, it's relatively easy to be accepted by GoTranscript. However, it is a must for you to meet some of their requirements, such as follows:
You must be of legal age.
All you have to do is to pass their test, having experience isn't required. You can try again in a few days if you failed to pass.
Having good English skills is necessary.
Given that their turnaround time for 10-minute audio is 6 hours, therefore if you type fast or slow it wouldn't matter. That being said, your payment is made per audio minute, so you are only paid for 10 audio minutes even if it'll take you 6 hours to transcribe 10 minutes of audio.
GoTranscript doesn't have specific computer requirements. You'll be qualified to work for them as long as you have a computer and internet connection. Although, the fact remains that having a fast and stable internet connection could give you an advantage.
You may also have hardware such as a quality headset and a foot pedal if you're an experienced transcriber to make your transcription work more efficient.
GoTranscript Jobs and Opportunities
Being a beginner, you'll be working as a transcriber/transcriptionist for their entry-level position. But, GoTranscript has other available jobs to offer like:
Editor/editing
Translation
Subtitling
Captioning
General transcription jobs will be put under the beginners. And, for more experienced and skilled transcribers, GoTranscript has specialized transcriptions to provide.
Of course, the higher pay will come along these specific transcription jobs such as:
Medical transcription
Legal transcription
Academic transcription
Research transcription
FREE TRAINING
Learn How I Started Highly Profitable Online Business From Comfort of My Home Following This Blueprint
GoTranscript Pay
GoTranscript pays their transcribers up to $0.60 per audio/video minute, according to their website.
It has been also stated that the average earnings monthly can be around $150. Meanwhile, the maximum earnings of the top earners monthly are $1,215.
There's a definite basis for the statistics being mentioned above. But here's the thing.
Take note that they stated UP TO 60 cents per audio/video minute. Therefore, the maximum rate per audio/video is fixed at 60 cents.
So in reality, the pay can be lower than 60 cents per audio/video minute depending on some factors like for instance the quality of the audio/video, length, turnaround time, etc.
It's not to let you feel bad about it but to let you have accurate expectations.
It sounds reasonable to receive $150 monthly. But the problem is that they didn't mention if that was also applicable to general transcription or specialized transcription or editorial jobs.
That information isn't yet dispatched. However, if you have experience with GoTranscript and have up-to-date details on this, please don't hesitate to share it in the comments section below.
I don't have any reason to argue about their claims of paying up to $1,215 to their top earners. However, it may not be a target to aim for instantly, if you're just starting.
Those higher-paid transcribers are indeed very skilled, so developing your skills is a better target to aim for.
Skills such as typing speed and accuracy will be of help. But you may be surprised by how easy it is to get tripped up by poor quality, noises in the room, multiple voices talking over one another, difficult to interpret accents, and beyond, if you've never transcribed before.
You'll be able to handle these challenges much more efficiently with experience and practice. However, it'll take some time to achieve this.
I'm not here to discourage you from joining GoTranscript, their pay is actually decent for a transcription platform, but it probably won't provide a full-time income depending on your financial needs.
Your salary will rely on the pay per audio/video minute and your transcribing speed for each audio/video minute.
As far as your pay is calculated, the actual number of working hours is irrelevant.
Is GoTranscript Legit?
Based on the sections you've read on this review, now you've probably known that GoTranscript is a legitimate transcription company.
Although, you might still feel a little bit doubtful given the fact that it's still an online money-making opportunity that we're talking about. You might wonder if there's a chance for GoTranscript to be one of those luring scams nowadays.
But the good thing is that it is not. GoTranscript is not a scam.
However, you're here to gather proof to put your mind at ease, don't you?
Well, firstly, the fact that GoTranscript operates for more than a decade just added to their credibility.
Both clients and freelance transcribers have also given positive reviews (which we'll dive into afterward). Yes, there are also negative reviews but none of the complaints points GoTranscript as a scam.
It could add relief to you given that GoTranscript has an online following and community that gives them support.
Currently, their Facebook page has over 11,000 likes which is pretty good considering that it was only created back in 2011. At the same time, they have a Twitter account with more than 2,400 tweets up-to-date and garnered more than 3,000 followers.
Although, it's not that grand numbers by any means, yet it's not what you usually see with defrauding sites.
Significantly, real ways to get in touch with GoTranscript including a phone number, Skype, and a chat option have been provided on their site.
GoTranscript was far from being a scam. However, when it comes to making money online, it's another story to tell.
Nevertheless, GoTranscript is legitimate and that alone is good news.
Here Is My Top Recommendation to Start Highly Profitable Online Business from Comfort Of Your Home
GoTranscript Reviews and Complaints
At the time of this writing, from a total of 147 reviews on Glassdoor, GoTranscript has a 4.1 out of 5 average. Needless to say, you'll have an idea whether GoTranscript is good for you or not based on the pros and cons of this earning opportunity.
Some reviewers leave a comment on things such as:
Corrections are effectively done with the help of editors.
Pay is fair and most importantly they pay on time.
The overall flexibility of working from home is appreciated by people.
But, there are also some negative reviews on Glassdoor with comments that mention things like:
Poor quality makes it difficult to transcribe audio/video.
It can be hard to transcribe non-English accents.
But generally, those are given complaints about transcribing, not only with GoTranscript. It just so happens that dealing with those things is unfortunately a part of a transcriber's job.
What I Like About GoTranscript
GoTranscript is a legitimate source for online jobs for professional freelancers.
The beginner is friendly. Only minimal requirements should be completed and you can retake the test not weekly or monthly but only after a few days if you failed their test.
Once a week, regular payments have been made.
They don't charge transaction fees when you withdraw your money because they cover the PayPal fees.
The number of available jobs doesn't have any real complaints.
To help you out, they provide a built-in transcription tool. The initial transcription is somewhat done by their AI-powered transcription for you.
GoTranscript is legitimate and far from being a scam.
What I Don't Like About GoTranscript
Depending on your requirements and expectations, the pay can be low. Generally, most online transcription jobs including GoTranscript are being criticized for this reason. Those who have many experiences will more likely to fit those higher-paying transcription gigs.
If your average falls under 3.5, you can be removed or fired. But, somehow it makes sense to ensure the efficiency of the company.
According to a reviewer, when you're suddenly removed from the system, you might not get paid.
Low-quality audios have garnered complaints, as it requires more time and effort to transcribe and make your pay per audio minute down.
Where Do You Go From Here?
I'm certain that you aspire to land a work-at-home job and make money from it and based on members' shared experiences, GoTranscript is a great avenue to make it happen.
Transcription work is worth considering no matter what your reasons are, either to catch up on bills, pay off debts, or want to have more freedom and a flexible schedule.
Even though there are many transcription gigs out there, GoTranscript is a good option to consider. It's a legitimate source of income that you can add to your revenue stream.
But what if you're just getting started? What if your potential revenue stream is only GoTranscript?
Perhaps, you're a student, a single parent at home, you're having a health issue that hinders you from having regular work or you just want to quit your current job and try something else, then if that's the case, you may want to try an online business.
Knowing how and where to get started the right way is what you need to get what you want given all the scams and schemes out there.
Therefore, online surveys and get-paid-to sites are another way to get started, in case you're just looking for a simple way to make additional money.
Your opinion matters and will earn you with sites like Survey Junkie and doing things such as watching videos, visiting websites, and searching the web will give you rewards with Inbox Dollars.
However, these kinds of sites won't earn you that much as what's being mentioned earlier. It can only be a good way to spend your spare time while earning on the side. They can be a nice stepping stone if you've never experienced making money online before.
Thank you for reading my GoTranscript review. I hope it helped you in any way. Please feel free to share your opinion, questions, or experience with GoTranscript in the comments section below. Best of luck!
We Constantly Review Programs in "Make Money Online" Niche,
So That You Don't Have to Waste Countless Hours
Want To See Our
TOP RECOMMENDATION?