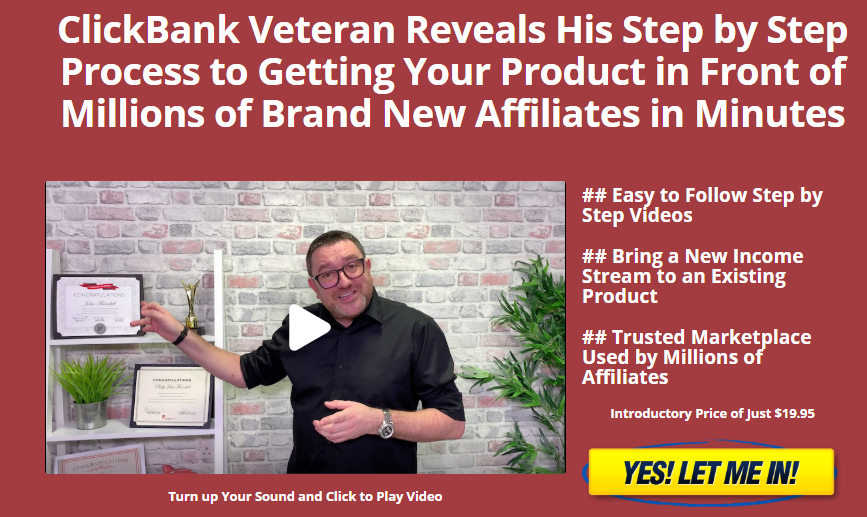 Welcome to My ClickBank Superstar Review!
ClickBank is one of the most popular affiliate programs nowadays and there's no denying to the fact that a good number of marketers have made money from it. Because of this, a lot of ClickBank-related courses were marketed online, each claiming to help you make a massive amount on this internet retailer site.
ClickBank Superstar Review Summary
---
Name: ClickBank Superstar
Website: https://cbsuperstar.com/
Founders: John Thornhill
Product Type: Online Training Course (ClickBank Products)
Price: $19.95 + Upsells
Quick Summary: ClickBank Superstar is an online training program that teaches marketers to put their products on ClickBank. It also claims to guide you on how you can promote your programs/software to affiliates so you can earn money.
Unlike other ClickBank products, this one doesn't have any overhyped claims but still, should you really trust John Thornhill and his techniques? What made ClickBank Superstar different from the rest? In this guide, you will find all the answers to your questions so just keep on reading.
Overall Rating: 6/10
Recommended: Yes
One of the training courses that is making rounds on the world wide web is ClickBank Superstar -- an online training program created by John Thornhill, who, by the way, claims that he's been making money with ClickBank since 2005.
But can you really make money on ClickBank using his course?
Is ClickBank Superstar a scam?
What makes his program different from other ClickBank products that are often overhyped and misleading?
What Is ClickBank Superstar About?
I've seen more than a dozen ClickBank products, such as:
Click for more ClickBank products review
And believe me when I tell you that most of them are overhyped, misleading, and low-quality. That's why whenever I review the programs from this platform, I will quickly assume that the founders are either using a pen name or even if they reveal their real identity, they will swamp their website with bold claims, fake testimonials, and fake proofs that will lure unknowing victims into buying the course.
And that's what made ClickBank Superstar different.
Instead of the usual: "Make A Massive Amount In Just A Few Clicks With No Expertise", you will be greeted with: "ClickBank Veteran Reveals His Step by Step Process to Getting Your Product in Front of Millions of Brand New Affiliates in Minutes".
And, as you go along, you'll find straightforward details of what's involved in the program and what you really need to do.
So what is ClickBank Superstar really about?
ClickBank Superstar is an online training program that claims to help you create an income using ClickBank in the soonest time possible. It was created by John Thornhill who has "been making sales on ClickBank since 2005".
That being said, he has over 10 years of experience in this platform and it's a good sign because that only means that he's a professional and he knows what he's doing.
Basically, what you need to do in order to make money through ClickBank Superstar is by putting your existing product in ClickBank -- one of the largest internet retailers since 1998. Considering this, it means that you are not a beginner; in fact, you should already have a product, to begin with.
The training provided will be your guide in setting up your own ClickBank account, adding your program or software, and putting up your sales funnel. To make more money out of ClickBank Superstar, you can take advantage of the advanced training that would help you attract more marketers.
As early as now, I must say that this is legit and is a feasible way to make money because this is how ClickBank really works for merchandisers. If you have a product, you can earn money through the affiliates who market your offer.
For the benefit of the doubt, an affiliate is a person who promotes products or services to earn a commission. If you're an affiliate of ClickBank, you can get up to 50% of commissions, which is not bad especially when you've mastered creating traffic and conversion. In line with this, I'd like to briefly discuss affiliate marketing, too, which is another feasible way to make money online. If you don't have a product and you just want to earn through a commission, you can start it as early as now.
It's not a get rich quick scheme but once you learned the ins and outs of affiliate marketing, you can not only give yourself another source of cash but also a chance to create passive income. If you want to start your online business using this model, I'd like to invite you to my top recommend program called Wealthy Affiliate.
Is ClickBank Superstar A Scam?
As mentioned, ClickBank Superstar is legit and it's owned by a real person named John Thornhill. It's not a scam, not even a low-quality product because the founder gave justice to his training. However, you should not expect that he will share ALL his techniques for only 20 bucks.
John did provide a comprehensive guide that will help you promote your products to affiliates and through this training, there's really a good chance for you to make money online.
But what if you don't have any products in the first place? Does this mean that ClickBank Superstar is not for you?
The answer is -- no.
You can still use this guide to start your product, thanks to the "product creation workshop" video. It's a webinar one, not a live one though, that provides tips on how you can design your own products. This is helpful if you have no existing programs or you just want to create more.
Just be careful though because, at the end of the video, you will meet an upsell called "Partnership To Success Program" that costs $1,997.
The introductory price for ClickBank Superstar is $19.95 but then again, there's almost a $2k upsell, which is somehow a downside for me. On top of this, there are over 4 upsells that cost almost a hundred dollars.
I'm not really a big fan of upsells because most, if not all, are useless and a waste of time. But I admit, this is basically how most programs earn. They will give a front end product cost and once you entered the platform, you will be bombarded with a lot of high-ticket add ons.
Nonetheless, this seems to be NOT the case for John Thornhill because if you have enough cash to spend, you may still find his upsells useful. Also, you have the freedom to decide whether you need the upsells or not and you can still go on with the training even if you ignore these add-ons.
Does ClickBank Superstar Provide A Refund?
Yes, they do. And perhaps, that's one thing I like about ClickBank products. In case you are not satisfied, you don't like what you are seeing inside the platform, or you feel like the program did not deliver, you can ask for a refund within 60 days. That's about 2 months for you to decide and that should be long enough for you to know whether the product's a waste of time or if it's something valuable and worth keeping.
Here Is My Top Recommendation to Start Highly Profitable Online Business from Comfort Of Your Home
PROS
Website Has Provided Enough Transparency
Unlike other ClickBank products that are full of BS, ClickBank Superstar has provided enough information about the product, how it works, who founded it, and basically every necessary detail you need to know before you join.
I found NO overhyped messages which made me feel comfortable about the product. For me, this is a relief knowing that there are marketers out there who are really willing to provide a piece of their experience and expertise without the need for bold claims.
Real Testimonials
On their sales page, you will see a bunch of testimonials from other marketers but this time, instead of just merely describing the product (like what most low-quality ClickBank programs do), they have provided information about how ClickBank Superstar worked for them.
Good-Quality Training
Again, you cannot expect John to share EVERYTHING but still, he has provided good-quality training that you will learn from. It covered almost every angle on promoting your offers such as traffic, ads, blogging, etc.
However, these are all just the basics and you can always find a free alternative online. I mean, if you don't want to spend $19.95, you can just look over the Internet, watch YouTube videos, or even join free quality programs.
CONS
Upsells
I'm not a fan of upsells so even if John has provided real value in this funnels, I can't recommend it. There are a lot of free training materials online you can learn from, you just need to spend a little time learning each and everything on your own.
Of course, it makes a difference to have a step-by-step guide training program that will help you make money online. If you want to grow your online business but you don't want to spend cash, you can join my
top recommended program
for FREE!
Tired of Wasting Time on Low Quality Programs?
I'm so grateful that I was able to find THIS PROGRAM which helped me to finally start making money online!
Since ClickBank Superstar focuses on marketing existing products to affiliates, I think it's ideal for marketers who have created or has a plan to design programs online. This product has basic knowledge about so more or less, it can really help you promote your offers.
If you're a beginner and you're clueless about ClickBank and the products it has, I think it's best that you start with the free materials found over the Internet first so you will not end up overwhelmed.
ClickBank Superstar has provided training videos, as well as PDFs, that discusses the steps on how you can add your products on ClickBank with a sales page, like what you usually see when looking for a product in an online marketplace.
It also includes basic training about free traffic sources such as blogging, article marketing, ad swaps, guest blogging, SEO, video marketing, etc. Again, most of these are basic so if you've been marketing online for a long time, you may not find this valuable at all. Nonetheless, most of the techniques John has provided works and you can use it when creating a product or putting a program on ClickBank.
If you want to learn more about ClickBank Superstar, you can watch the video below:
Overall, I like how ClickBank Superstar was created.
No fake testimonials. No overhyped messages. No pen names.
It has provided enough transparency and you will not end up guessing what it's really about. John Thornhill has provided all the basic things you need to know. But then again, most training are very basic and you can actually learn some of these for free.
Nonetheless, it's a quality program you can rely on when you want to make money through ClickBank and you want to market your products to affiliates. So it's really up to you to decide.
In case you're not satisfied with ClickBank Superstar, don't worry! We have another option for you.
It's the #1 opportunity that I know -- WE KNOW -- you'd be excited about. Don't waste time and sign up now to get access to the following:
Training resources
Webinars to help you start your business online
One-on-one coaching
Comprehensive guide
And many more!
Anyway, I do hope that you've been enlightened with this ClickBank Superstar review and if you have any questions or comments, please feel free to share it below.
Thank you!
We Constantly Review Programs in "Make Money Online" Niche,
So That You Don't Have to Waste Countless Hours
Want To See Our
TOP RECOMMENDATION?