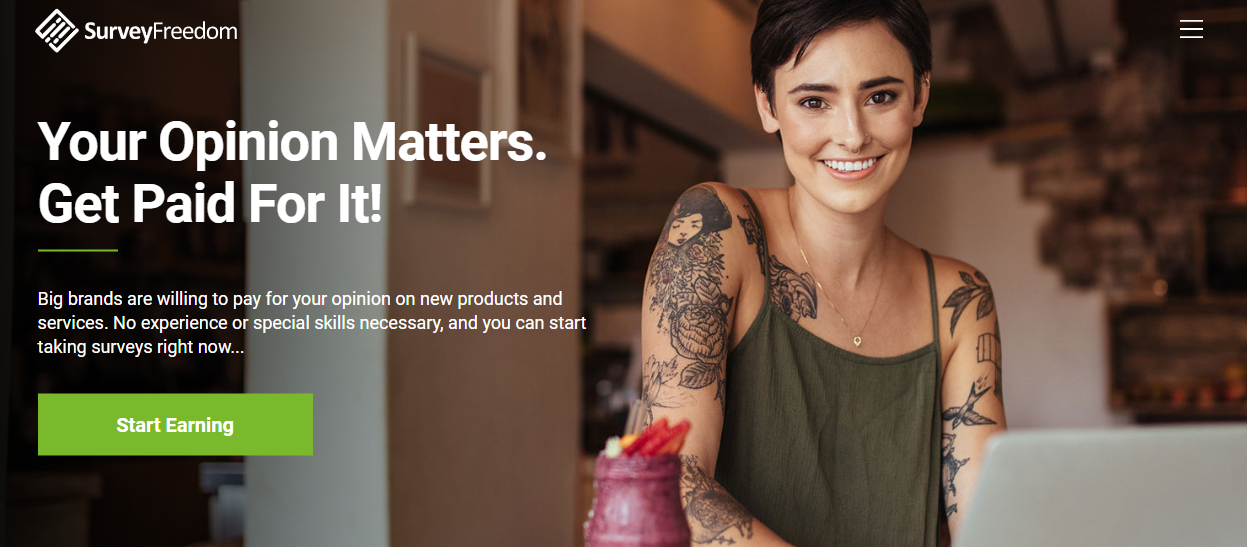 Survey Freedom Review Summary
---
Name: Survey Freedom
Website: surveyfreedom.com
Founders: Envision Web Inc.
Product Type: Paid Survey Website
Price: Free
Quick Summary: Survey Freedom is an online opportunity that claims to pay you $5 up to $40 dollar per survey. It also says that they have checked all the questionnaires to ensure that each is working properly and that you'll receive the payment via PayPal, check, and gift cards; however, I found out the terrible truth that these program is not telling you or anyone else. So before you sign up, I suggest that you read this Survey Freedom review first.
Overall Rating: 1/10
Recommended: No
When I was starting with making money online opportunities, the very first method I tried is paid surveys. I think, for a beginner like me, this is the easiest since all you need is to provide answers -- and most of the time, you can do this by clicking.
Imagine how easy was that.
However, after a dozen of survey platforms, I earned nothing. I mean, I did earn a few cents but it's not enough to replace a regular job, not even enough to buy a piece of burger.
So whenever I see paid survey websites claiming you can earn cash in just a couple of hours, I ignore it without having any second thoughts. However, because I need to expose scams, share worthy online money-making programs, and basically share enough information about this kind of platforms, I have to check survey sites every now and then.
And the good news is: I did found worthy paid survey and Get-Paid-To (GPT) websites, such as Toluna, UserTesting, and Vindale Research. Although the income is not massive, it's legit and can, SOMEHOW, make it a side hustle.
The questions are: is Survey Freedom one of them? Can you really make money out of this survey website? Is Survey Freedom a scam or a legit money-making opportunity online?
Find out everything you need to know in this Survey Freedom review.
What Is Survey Freedom About?
Survey Freedom is a paid survey website that claims to pay you $5 up to $40, without any special skills or experiences required. Unlike other money-making pages, their site is professionally-made and straightforward. You'll have the basic details you need to know such as what you'll be doing, you to get started, the estimated amount you need to earn, and their contact information.
This is good news if you value transparency as most low-quality programs only provide misleading details and overhyped claims.
Apparently, with Survey Freedom, you can "work whenever it's convenient for you", and this is basically one of the perks when you work at home. You have your own schedule and you are your own boss. You have the freedom, according to their home page, to create as much income as you want and you can withdraw your cash as long as you reach its $25 threshold, which is fair enough if you can really earn $5 minimum per survey.
Survey Freedom also claims that they have checked all their surveys just to make sure that each is working properly and that you, as the user, can get your payment. On this statement alone, it's quite convincing that you can really make money out of this system.
But how does Survey Freedom really works?
The first thing you need to do is click the "Start Earning" button found on their homepage, then you'll be lead to a page that will ask you to answer a few questions to know which surveys you will be eligible.
It will ask you a few questions like your gender, how much money do you want to make answering surveys, and how much time are you willing to spend on it a week. Once you answered this, you'll know the estimated number of surveys you're qualified for and you'll be asked to provide your name and email address. Then, you can start answering surveys ASAP!
As for me, it says that I'm qualified for 3,273 surveys from 3 providers.
But this is not really the case.
After the doing several steps, you will see survey providers, which are some of the popular survey websites by the way, such as Inbox Dollar and Survey Junkie, and you'll have to do more tasks such as signing up for them.
When I was getting started on creating a new account for one survey provider, I immediately encountered a problem. When I clicked Survey Junkie, it says: 404 Not Found, and this has been the same case to the other two providers.
If you would remember, Survey Freedom said that they have checked "all surveys to ensure they are working correctly", but I don't think so. I'm not sure if I'm the only one who has experienced this but even so, this is already a drawback.
So I did a little digging and it turned out, I'm not alone. In case you'll be doing the same steps, you'll end up with the same results: 3,273 surveys from 3 providers. I actually did the steps several times, clicked different answers, and end up with the same results.
So what is this commotion about?
Apparently, in case you were able to sign up from any of these legit paid survey websites, Survey Freedom will earn a commission from you through referral. In short, you will make money from them but otherwise.
I am Vasiliy,
Discover My Secrets to Making Money Online
Is Survey Freedom A Scam?
I cannot directly say that Survey Freedom is a scam because first of all, their survey providers are legit. However, there are a lot of red flags involved, such as misleading details. While their survey providers are legit, you cannot earn $5 or even $40 from them. Typically, these survey websites can only give you $1 to $2 dollar per questionnaire, which may take an hour to complete. Worth it? No.
Also, the way they marketed their survey platform, although legit, made Survey Freedom sound like a scam simply because NONE of those were true.
Survey Freedom is free. There's no additional cost but while you're not spending any money from it, you are wasting your time joining this platform.
So, no.
If I were you, I will avoid this program at all cost!
After joining the platform, I realized that I don't like anything about the program at all!
CONS
Very Misleading
The professionally-made website will make almost anyone believe that it's a valuable paid survey website. I thought I found one of the best paid survey sites but I was wrong. You will not make money from it directly, not even a single buck unless you join their survey providers instead. But then again, $40 is not possible. That means you will not get your payment via "Paypal, Check, or Gift Cards".
In addition, they did not check the surveys as the three links I was provided with did not work. So if your case is the same as mine, don't expect to receive any payment.
Fake Testimonials
At first, I never thought that these reviews are fake but after signing up and encountering a problem (and digging a little more), I was skeptical. How can you earn money from this if the links provided don't work in the first place?
So I turned to the every trusty Google Image and then my suspicions were confirmed:
If these are not enough to drive you away from Survey Freedom, I don't know what else will.
I cannot recommend Survey Freedom to anyone because simply, it doesn't work. Yes, it's not a scam but it sounds like it is especially on how they have promoted their page. They made claims and although not as overhyped as the other low-quality programs, the product doesn't work.
You may not be paying any amount but still, you have wasted your precious time on it. Also, even if Survey Freedom can help you make cash by answering surveys, I'm pretty that it will not be a lot. Some of the "best" paid survey websites can not even help you make enough amount to replace your regular job, not even your side hustle.
The reality is, you cannot really earn a good income from these systems but, you can make use of legit paid survey websites to make a small amount of cash when you want to make your free time valuable.
If you want a real money-making opportunity that won't ask you to spend cash, I would like to invite you to join my top recommended program instead. Beginners are welcome to sign up and don't worry, you can take advantage of the free training materials so you'll know how to start and handle your online business effectively.
Tired of Wasting Time on Low Quality Programs?
I'm so grateful that I was able to find THIS PROGRAM which helped me to finally start making money online!
No training tools are provided; not even a legit way to make money through paid surveys so don't expect anything from Survey Freedom. Even their "Contact Us" area is useless as you will only be led to an online form.
Although it says that "one of their team members will get back to you within 24 hours", I doubt that this will happen.
Anyway, you can learn more about Survey Freedom by watching the video below:
I was excited about Survey Freedom at first, perhaps because of their website. It has no bold claims -- or that's what I thought -- and it has been professionally created. Also, since most of the paid survey websites I have reviewed are legit, such as Vindale Research, Toluna, and UserTesting, I never thought that Survey Freedom was as bad as this. I was completely disappointed.
Anyway, even if this has provided a legit way to make money, I know that paid survey websites cannot really help you make a massive amount, not even in a long time. If you want to earn a good amount of cash online and possibly, a source of passive income, I have the best recommendation, which you can find below.
If you're also disappointed with Survey Freedom, don't worry there's still hope. You can make money online and yes, you can do this even without spending a dime. Interested? Just join my top recommended program and enjoy the following perks:
Free Membership
Free Training
Free Access To A Live, Active Community (which means you'll meet awesome, like-minded people!)
And A Lot More!
You can join and explore the program without any commitment.
Anyway, I hope I have enlightened you with my Survey Freedom review and should you have any questions or comments, please feel free to drop it down below.
Thank you!
We Constantly Review Programs in "Make Money Online" Niche,
So That You Don't Have to Waste Countless Hours
Want To See Our
TOP RECOMMENDATION?