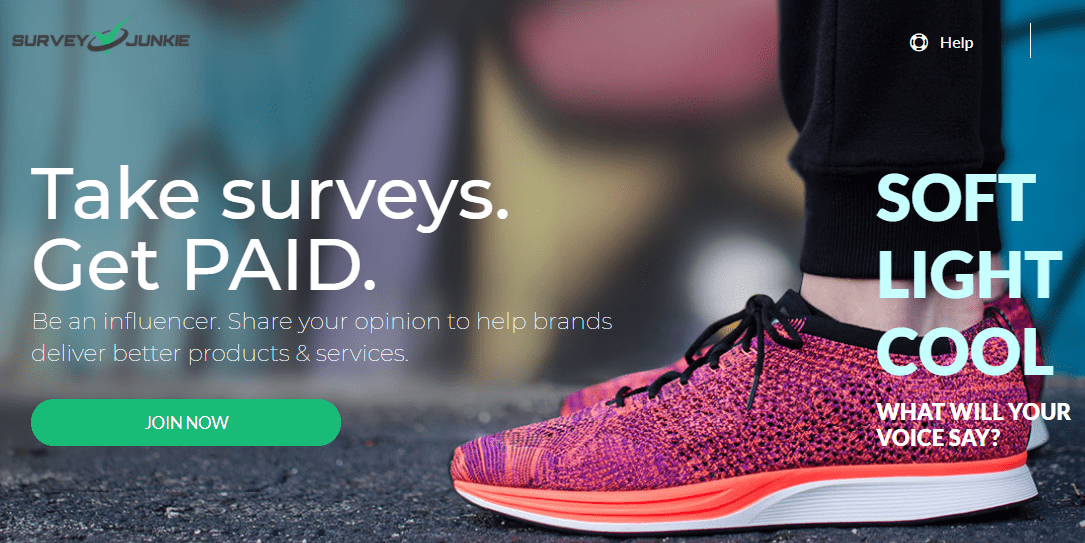 Name: Survey Junkie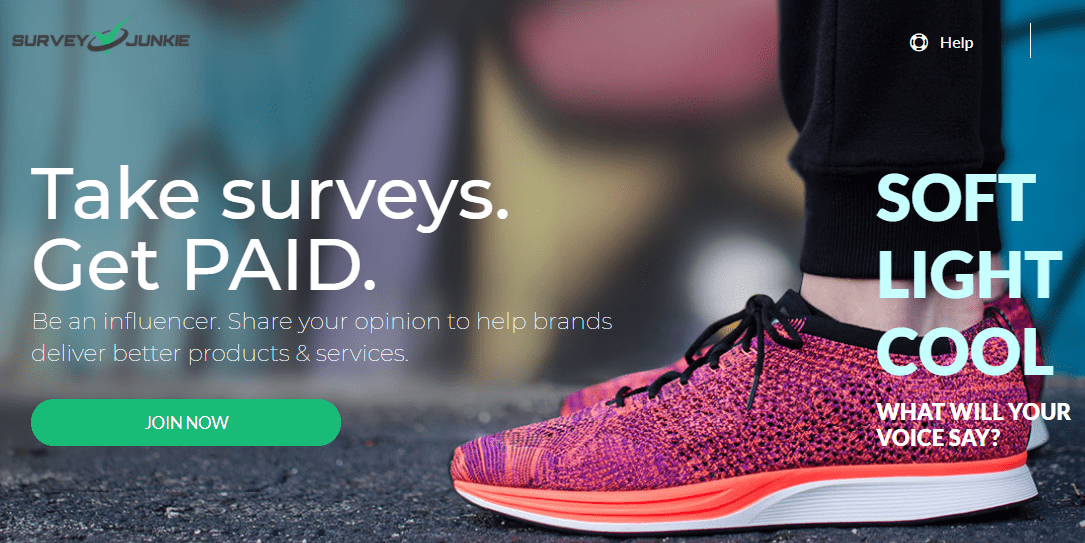 Website: https://surveyjunkie.com/
Price: Free to join
Overall Ranking: 5 / 10
Who's it For: Beginners
---
What is Survey Junkie About?
Taking surveys from the comfort of your home and earning enough to sustain your lifestyle seems like the dream, but is it actually attainable? People love the idea of survey sites, and that is why when a new one pops onto the scene they flock to them. The same can be said for Survey Junkie.
This survey site is similar to other established sites like Swagbucks and CashCrate, offering rewards to users that take surveys. They are advertised as "the most popular spot online to earn cash and rewards for sharing your thoughts." Sounds pretty cool, right?
The trick is determining if Survey Junkie is legit. Many other Survey Junkie reviews that you find online might give you a biased opinion, so if you're looking for an honest assessment, keep reading.
When I first started searching for the best way to make money online I did many surveys and was registered on nearly every survey site out there. I in fact wrote a post about online surveys and whether you can really make money with them.
 Is Survey Junkie a Scam?
To answer this question outright, no, Survey Junkie is not a scam. This site actually does pay you to take surveys and answer questions. However, how much you make is where the legitimacy of the site comes into play. The trick that Survey Junkie employs, like other survey sites, is that their survey rewards are not listed monetarily.
The good news unlike some other suspicious survey sites Survey Junkie does have real surveys to take and it actually does pay for completed surveys – this is pretty important as there are many survey sites that waste your time entirely.
How Much Can You Earn?
By taking surveys, you earn points, which can then be redeemed for cash in your PayPal account or gift cards. So, it can eventually become cash, but you have to consider the work required to generate real income. Most surveys last between five and twenty minutes and earn for about 100 to 200 points. 1,000 points is equivalent to $10.
In reality, you can expect to earn between one and three dollars per survey. That's if you qualify and complete a survey. This is more difficult than you might think, and chances are that you'll invest time into starting surveys that you do not qualify for and will not be compensated accordingly. That is the most frustrating part when you spend 5 – 10 minutes on just pre-qualification to only realize you don't qualify to take the survey. 

 Privacy Invasion?
Another issue with Survey Junkie is that they invade your privacy. To qualify for surveys, you have to build up your profile. By doing that, you are providing personal information that Survey Junkie then shares with their "partner" companies. This means you can expect to see your mailbox blow up with offers and spam that you aren't interested in. If you're not serious about making money by committing to surveys, do yourself a favor and don't even sign up.
 Finally, there is a minimum payout required. At just $10 it's lower than other sites, but this can still be a deterrent. Most users get frustrated and quit before ever reaching that amount, which means Survey Junkie essentially gets you to work for free and earn them some money, without ever having to payout.
Any Signup Fees?
One benefit of Survey Junkie is that the site is free to join. You have to be at least eighteen years of age, but you will be able to create an account without spending any money. The real price you pay by using Survey Junkie is your time. If you have a lot of free time to waste and want to make few pennies, that's one thing. For people who value their time this online money maker is simply too costly. 
 Pros / Cons
Pros:
It is free to join and set up a profile
You can earn 25 points right away just for creating an account
Points are immediately added to your account
Surveys can be fun to take if you like your opinion heard
Legitimate Site that does pay
Cons:
It is difficult to see what a survey equates to monetarily
If you don't qualify for a survey you are not compensated
You are required to do a lot of work for little income
Survey Junkie shares your personal information with partners
There have been complaints of accounts closing suddenly, or users not receiving their PayPal deposits or gift cards
Requires a minimum of $10 to get a payout
How Much is Your Time Worth?
Can you imagine spending about 25-30 minutes taking a survey and getting compensated $3 for it. This is in fact one of the best case scenarios as most surveys might be shorter but they also pay less. So basically you earned around $7 in one hour. Does this look like a fair compensation? is your time worth $7 per hour? And don't expect to make $7 each hour – you may simply run out of surveys for that day that pay higher amount.
What you will realize is that your enthusiasm will die down and usually within 2-3 weeks you realize that it was all just a waste of time for these main reasons:
Ultra low compensation
Junk in your mailbox non stop
Trial offers that you need to keep track of and not forget to cancel
Lots of disqualifications
Who is it For?
This website simply is not a great money maker for anyone. The surveys are limited in availability and scope, so there's no way to make legitimate income through it. It is also important to note that the site is region blocked everywhere aside from the United States, Canada, and Australia. You can certainly try and get an experience but don't get disappointed to find out that it was all just a waste of time. 
 Training Tools / Support
When it comes to taking surveys, there is little training needed. The Survey Junkie website is comprehensive enough and generally user-friendly so you won't struggle to create a profile and start taking surveys. It can be frustrating when you don't qualify for surveys, but that's par for the course with these types of online survey taking websites.
One nice thing that Survey Junkie offers that other companies do not, is online support. The Online Help Center is located right on their website and is active daily. They typically respond within 48 hours, but often you'll receive a response within a couple hours. This is nice to see, and not something that all survey sites offer.
So Is there Anything Good About these Surveys?
The reality is – No. There is absolutely nothing good about these surveys. Survey companies get paid by big corporations to survey people and provide feedback to corporations, and this is another reason why they need so many new people. After 1-2 months they don't need you that much as they already surveyed you as much as they wanted – and this is where you will be subjected to non stop promotions and trial offers.
The problem I personally see is that many people fall in to this trap including myself in the past thinking this would be a viable income opportunity because this is how survey sites position themselves. They want you to believe it's an income opportunity. Don't waste your time and simply focus on building online business that will make solid income. 
Final Opinion / Verdict
So, does Survey Junkie work? That really depends on your definition of success. If you are hoping to make some extra cash on the side to pay for a movie or night out, this might be a good option. For those people looking to make actual, steady income, Survey Junkie simply is not a good fit.
It stacks up well against other survey sites online, with its free access and low payout, but when it comes to making legitimate income, Survey Junkie doesn't fit the bill. 
I hope this review helped you to understand about Survey Junkie and survey sites in general. Feel free to leave any feedback below in the comments section:
We Constantly Review Programs in "Make Money Online" Niche,
So That You Don't Have to Waste Countless Hours
Want To See Our
TOP RECOMMENDATION?