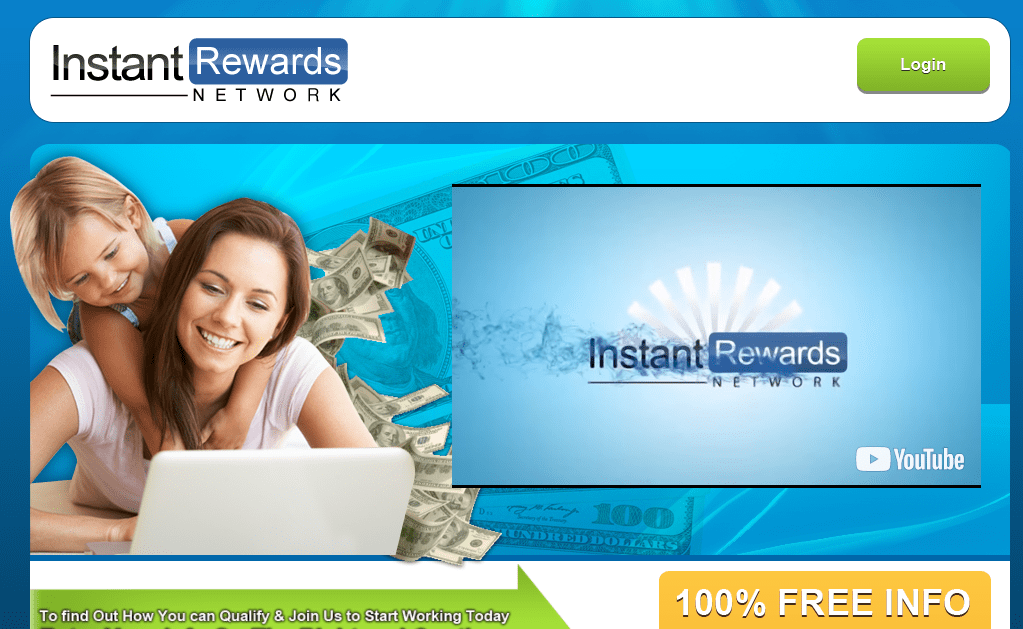 Name: Instant Rewards Network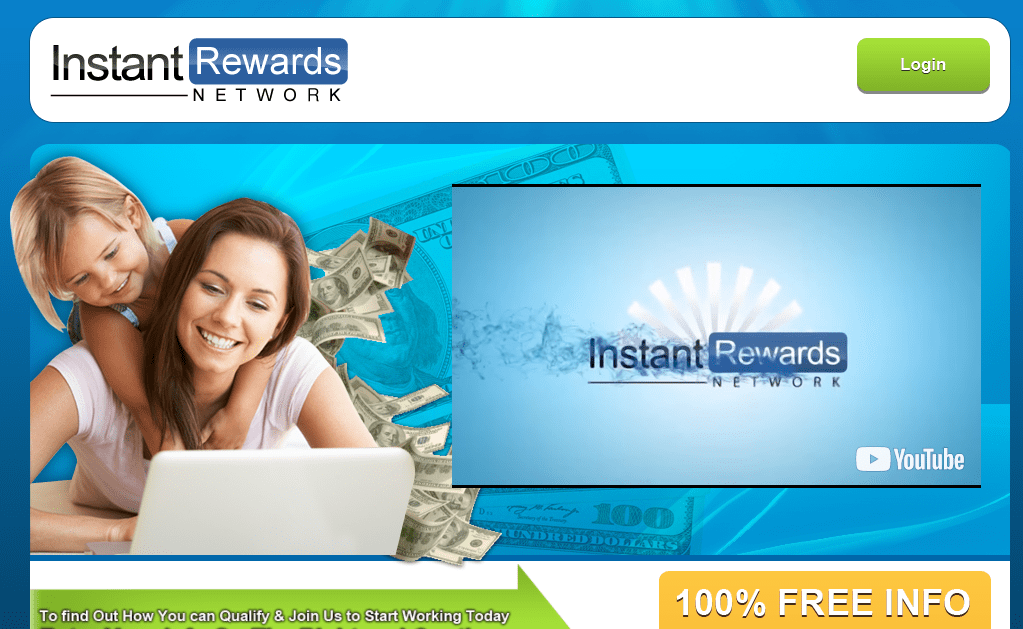 Website: www.instantrewardsnetwork.com
Price: Free to sign up
Overall Ranking:  3 / 10
Who's it For: Someone to waste time
What is Instant Rewards Network About?
Chances are that you've been hearing a lot about Instant Rewards Network lately and you might be wondering what it is all about. Essentially, Instant Rewards Network works as an intermediary between its users and Fortune 500 companies looking to have their products and services tested. Another words you will be testing products offered by different companies and get paid for it. 
In addition, they also offer a referral program that rewards you for bringing others into their expanding network. You can actually make $20 and up referring new members to the platform depending on the specific plan they sign up for when joining.
So, is Instant Rewards Network worth the hype? On their website, Instant Rewards Network claims to require no experience, have no monthly fees, requires you to buy or sell nothing, and offers unlimited income potential for as little as $1 to startup. This sounds too good to be true, but is it?
When reading Instant Rewards Network reviews, it's easy to get a mixed review. That's because there are a lot of people working to obtain rewards through the Instant Rewards Network referral program. If you want an unbiased opinion on Instant Rewards Network, keep reading.
 Is Instant Rewards Network a Scam or Legit?
Is Instant Rewards Network a scam? The answer to that is no, but that doesn't mean it's everything it's hyped up to be. More people have been flocking to the program as of late because it's not a MLM opportunity or pyramid scheme, but there are several Red Flags to watch out for.
First, the Instant Rewards Network is pretty cheesy looking. A professional website would lend more credibility to the site, but there is limited information and a lot of hype on the Instant Rewards Network website. It looks very similar to online surveys that you fill out and try to make some pennies and get bombarded with a ton of Spam in the process. 
 In addition, you also have to give a lot of personal information to sign up for the website. You will need to supply your phone number, address, email address and more. This might not seem intrusive, but when you start getting spammed constantly, you might regret dishing out the information.

 You can make money using Instant Rewards Network, but it won't typically be through actually trying products and services. The best way to make money through the Instant Rewards Network is their referral program, but it's simply not sustainable. It's not even a decent part time income. I found information online people made $50 – $70, that is not a serious income to rely on just like online surveys. 
You'll make at least $20 a person that you get to sign up, and Instant Rewards Network makes it easy for you. By providing ready-made sites with your affiliate link, you can easily blast your friends and family with the information. Still, it's not for everyone, especially if you don't like pushing products and services to your friends and family. Once you've exhausted your immediate network, it will be very difficult to make any money.
Are There Instant Rewards Network Complaints?
Most complaints that I found are related to lots of spam and not a viable income opportunity. I have also found that Instant Rewards Network is registered with BBB and there are 2 complaints from 2 members who had billing issues. You can click on the image below to go to BBB website and read full complaint and strong response by Instant Rewards Network staff.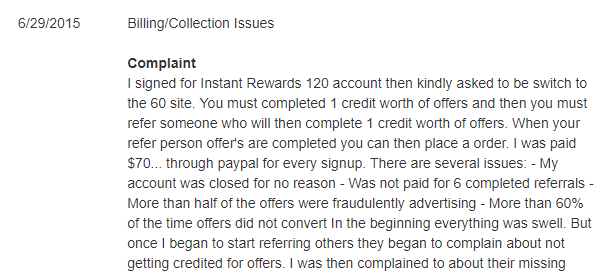 Price
What might be most enticing about Instant Rewards Network is that it's free to join. People see free and jump right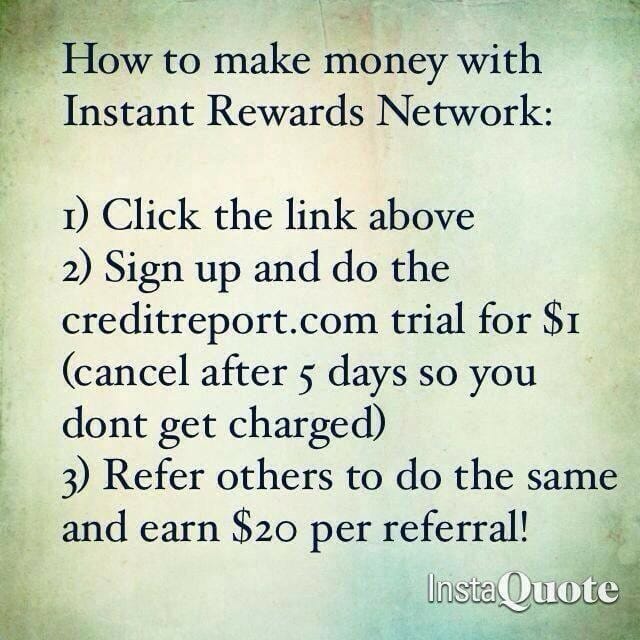 in, because what is there to lose, right? Well, to actually make money you have to become an active member. This means completing what Instant Rewards Network calls 1 credit of Cost per Action offers. Unfortunately, these offers typically all cost money.
You'll end up spending about $10 to become an active member. Only then can you start referring others. If you are trying products and services to make money, there is also the hidden cost of subscriptions. Trials might be free for a week or month to start, but you'll automatically be charged after a trial period and those costs can add up if you are not careful.
 Pros / Cons
Pros:
It is not a MLM opportunity

You can make some money using the program

The user interface is simple and easy to understand
Cons:
The total you make isn't worth the time and effort required

You won't make a lot of money using this program

It is not sustainable in the long run

Some of the offers you apply for will charge you monthly so you'll lose money

Instant Rewards Network asks for a lot of personal information
Who is it For?
Instant Rewards Network is honestly not a great fit for anyone. While advertised as free, it will end up costing you money to join the referral program. If you're unable to attract referrals, you will likely lose money. The trials are another revenue stream, but they are lengthy and do not pay very well. This might be a good fit for someone that doesn't have experience or enjoys trying new products and services and having their opinions heard, but if you are looking to make real money, Instant Rewards Network is not a good way to do so.
If You are Serious About Starting Online Business and Make Consistent Income – Here is #1 Recommendation. Read my Full Review:
Training Tools / Support
Instant Rewards Network is easy enough to use that you don't need training on how to use the actual site. The issue with the training is that there is none when it comes to the referral program. They provide already built website with your affiliate link, but what they don't train you on is how to drive traffic to that page. Sending out email and social media blasts to your friends and family will only get you so far. This is more of a way to Spam your friends and family with bunch of promotions. 
 In addition, any support you need will have to come from the person who referred you. If you signed up on a whim and have no relationship with your sponsor, you might struggle to gain any traction.
Final Opinion / Verdict
Looking at Instant Rewards Network as a whole, it's easy to see that the program is not an outright scam. However, there are red flags that make it seem less trustworthy. The payouts are real, but the work you need to put in to receive them is disproportionate and it can actually end up costing you more than you make.
You also will need to enter private information that could lead to spam, and the training and support is subpar. Instant Rewards Network simply is not a sustainable model for passive income. 
We Constantly Review Programs in "Make Money Online" Niche,
So That You Don't Have to Waste Countless Hours
Want To See Our
TOP RECOMMENDATION?