Website: www.inboxdollars.com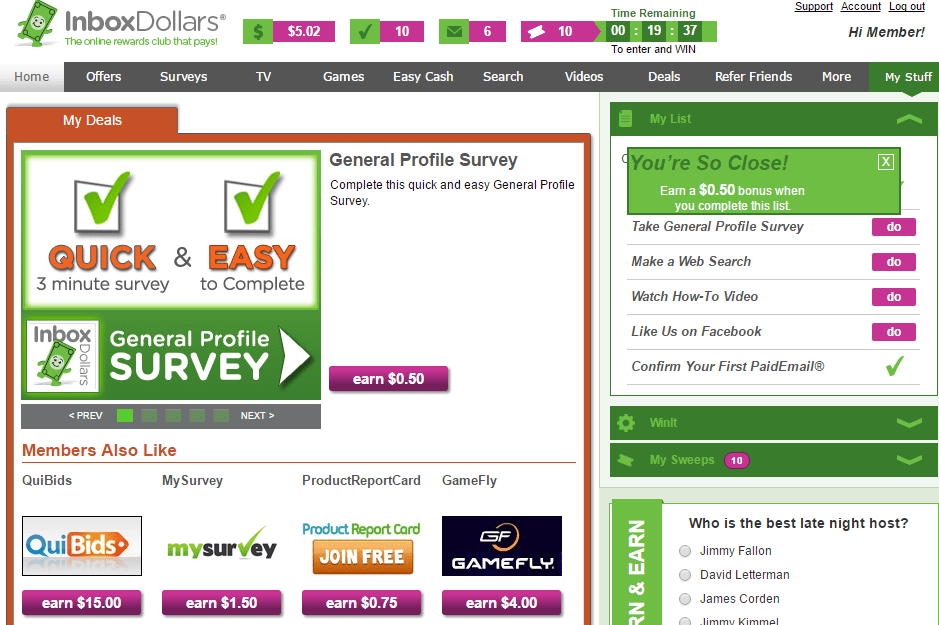 Price: Free to Join. $5 signup bonus
Overall Rank: 7 out of 10
Who it's for: Newbie – Expert
Inbox Dollars in a Nutshell
---
Inbox Dollars is another survey site very popular among people who are looking for ways to make quick money online. Inbox Dollars pays money for various online activities performed on their website.
Here is a quick insight on type of activities you can do within Inbox Dollars:
Play Games (not video games)
Browse Internet
Watch Videos with Advertisements
Complete Surveys
Online Shopping
Respond to "Paid Emails"
Get Coupon Deals from favorite Brands
Refer Friends
How Much Can You Earn With Inbox Dollars?
When you sign up you will receive $5 bonus just for activating your account. Once you start completing tasks on average you can make anywhere between $0.50 – $2. Surveys and other tasks can range anywhere from 5 minutes to 45 minutes,
There are more rewarding offers that can pay $10 – $15 but they require a series of tasks which will lead you to sign up for multiple offers and complete various tasks. In reality higher rewards tend to be more complicated and require a lot of track keeping as you have to sign up for Free trials etc.. that you wan to cancel later to avoid any membership charges.

What is "Paid Emails"?
You will receive so-called: "Paid Emails" once or few times a day inviting you to participate in either surveys or various other tasks and it will state how much reward you will get. Inbox Dollars claim that if you actively participate in "Paid Emails" you will receive them more often.
How Often Will You Receive Surveys?
Inbox Dollars just like many other survey companies will offer more surveys in the beginning but as you stay longer with the program you will receive less surveys. Don't expect to make a living with this. If you make $100 – $200 within first few months – that means you are doing extremely well.
Also Inbox Dollars tracks your location and offers surveys based on your Geo Location, which means if you travel from United States to France – all of the sudden all your surveys will appear in French. This can be fixed with use of Virtual Private Network services if you absolutely have to take those surveys.
Pros/Cons
---
Pros:
$5 sign-up bonus
Legit Survey site that pays
Website is up to date
Many tasks to choose from
Rewarding referral program
The biggest concern about survey sites is whether they actually have partnerships with vendors to offer quality surveys. Inbox Dollars is part of  CotterWeb Enterprises, Inc. that is legitimate Internet Marketing company that has been around for 11 years and has really good accreditation by BBB.

Therefore Inbox Dollars is a real company that provides quality surveys and does have a decent website that is being constantly updated with new offers and features.
Cons:
Minimum payout is $30 – which is very high. There are other sites that have smaller minimum payouts
Many broken pages while attempting to take surveys
Many pre-qualifications that can take up to 20 minutes before deciding if qualified to take a survey
Lots of track keeping as you have to sign-up for many trial offers which may require a credit card
After few months you will receive fewer surveys resulting in lower earning potential
These are typical issues that can be found with many other survey sites. The only thing that is different is payout minimum and frequency of receiving surveys. Inbox Dollars is not the worst but certainly not the best. I will be providing a link to my post that has reviews of other survey sites I have tried in the past.
Affiliate Program
Inbox Dollars has pretty rewarding affiliate program that pays 10% from all qualified earnings your referrals earned. Another words you can refer people to Inbox Dollars and whatever money they make you will receive 10% from that. There are good tools to use for social media such us: Facebook, Twitter, Pinterest. So if you have good social network you can earn much faster from your referrals rather than yourself. You are also provided with unique referral ID to use on your personal website or for Email marketing.
This all sounds like may work but statistically people earn anywhere from $25 – $100 within their first 3-4 months and after that lose interest as it gets very time consuming and it is not a solid income earning potential. If you are looking for legitimate way to make money online I recommend to read my review on #1 Recommended Product
A Reality of Being an Inbox Dollar Member
In reality you will be bombarded with many offers like this one: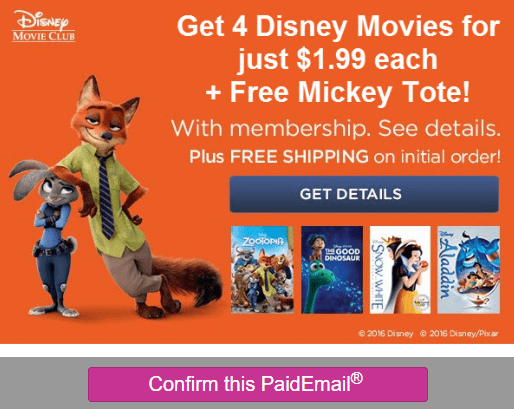 Inbox Dollar will be finding out about your personal interests and pushing advertisements that will appeal to you directly forcing you to buy something eventually. Especially they want to get you in to some magazine subscription, some shopping platform or anything else you have interest in. And most of all you will have to keep a good track of all the Free offers you have to sign up for in order to complete offers and receive small rewards ranging from 0.50 cents to $2.
Do Surveys really Work? – I have started my online adventure filling out surveys
I have written a post on: "Can You Make Money with Surveys" it gives a real perspective on what survey sites are all about and if they can be considered as an actual income earning potential.
If you seriously need additional income Right Now then you will be better of driving for Uber or Lyft and making some extra cash, however if you are looking for legitimate online opportunity to supplement your income or even turn online business in to a full time income then – there is a Real Training Program that teaches you how to start online business with absolutely no investment out of your pocket.
If you have any experience with Inbox Dollars or any other survey sites, feel free to leave your feedback below: