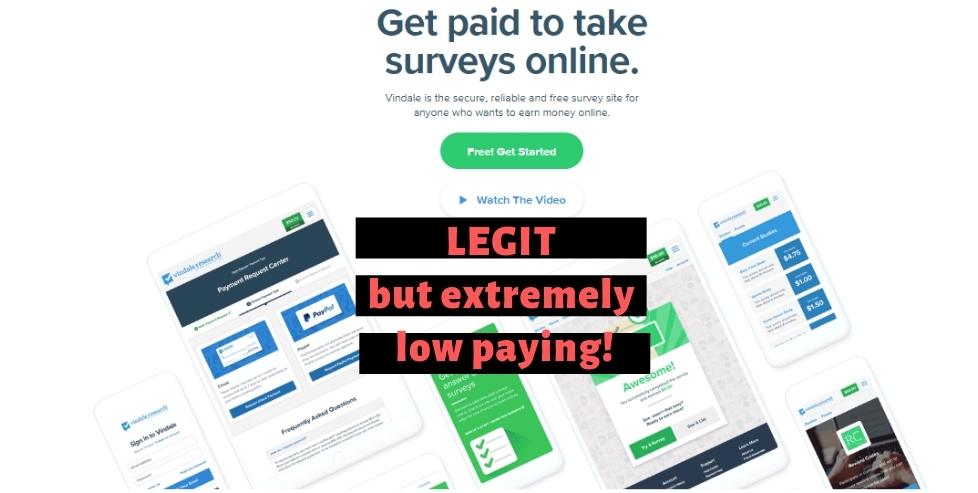 Welcome to My Vindale Research Review!
Who would have thought that you can earn money online, even without leaving the comforts of your own home. I, for instance, thought it was impossible but not until I decided to do a bit of research and tried these so-called money-making opportunities myself. As long as I'm not going to pull a dime out of my pocket, I guess that would be fine.
Vindale Research Review Summary
---
Name: Vindale Research
Website: https://www.vindale.com
Founders: Nate Ehrich
Product Type: Paid Survey Website
Price: Free
Quick Summary: Vindale Research is a legit paid survey website that offers various ways to earn online. Aside from the usual answering of questionnaires, members can make money by following email links, watching videos, referring a friend or family member, etc. It will compensate you for your time and effort but the question is, is it enough to replace your regular job? That we will answer in a bit.
Overall Rating: 4/10
Recommended: No
One of the easiest ways, so far, is by completing online surveys. All you need to do is tick a few boxes, enter a few words, and spend at least 5 minutes or so to finish — and you can do all these while binge-watching! Now here's the catch: you need to find a legitimate online survey site so that all your effort will not go to waste.
Then I found Vindale Research — one of the oldest paid survey site that claims to pay users for answering surveys. But is it true? Is Vindale Research a scam or legit? That we will know in a bit.
What Is Vindale Research About?
Vindale Research is a legitimate paid survey site that provides different ways to earn cash — and many users can attest to its legitimacy.
Founded by Nathanael Ehrich in 2005 (current CTO), it includes taking surveys, watching videos, following email links, joining cash contests on their social media accounts and blog, trialing products, referring to friends and family, and by posting a selfie after receiving the check or cash payment via PayPal.
Unlike other scam websites which are located in India, Russia, and other Eastern European countries, Vindale Research's headquarter is based in New York, United States. Meanwhile, its domain has been active for almost 12 years and that alone says much about its stability.
What Makes Vindale Research Different From Other Paid Survey Websites?
One of the reasons why most people are hesitant about signing up with paid survey sites, online courses, and other money-making programs is because of the confidential details they need to provide. With Vindale Research, the details of your credit card (and other private information you're not willing to share) are not necessary.
In fact, signing up is pretty simple! All you have to do is sign up using your Facebook account or email address and you can start earning by taking surveys. However, it's best to take time learning how it works, how much you are going to earn, and other crucial details before you actually sign up.
While this paid survey site is legit, it still comes with various drawbacks that are enough to get you thinking: "is Vindale Research really worth my time?" I don't know about you but after knowing this, I know for sure that it's not!
The amount it pays in exchange of doing a task is just too small! I mean, you're going to spend an hour or so answering a survey only to earn $2 or $3? That's just insane. Worst part is you, spending time answering a series of questions for more than 5 minutes, only to find out that you're not qualified! If that doesn't get you thinking, I don't know what else will.
Another issue is the accessibility. Vindale Research is only available in just a few countries like the UK, Canada, Australia, and the United States (but is limited to Hawaii and Alaska). So if you're not from any of these places, you simply can't take any survey.
I also found that most users' accounts are suspended because they either tried claiming the money they earn or they've been earning from the website for quite some time. Talking about wasted effort and time.
Nonetheless, you are guaranteed that Vindale Research is not a scam and can be a good activity during your free time. Also, when compared to other paid survey sites, Vindale Research is a better option because the payment is higher and it allows you to do other things aside from just answering surveys. In addition, it's easy to cash out the payments as long as you have a PayPal account.
If you're asking about the membership fee of Vindale Research, it might be a relief to know that it is absolutely free! There's no other form of membership account that you need to pay for. You can go and answer surveys without worrying about someone trying to steal your private details or paying for something that's less than valuable.

However, remember that there's a chance you are going to spend a lot of time answering questions only to find out that you're not qualified to join them (and I guess that's just how paid survey sites and its industry work). Also, if you're lucky to be qualified, you'll only earn a few cents that's barely enough to take your significant other, or even yourself, to date!

But then again, you have to keep your expectations low. Vindale Research cannot make you rich — and I honestly can't remember the company making any promises about that — but still it provides a few ways to earn cash.
Another thing you have to know is that if you want to review products for research opportunities, you have to take the cash out of your own pocket — which cannot be reimbursed. The only good thing about this, perhaps, is that it is completely voluntary and you can happily skip these tasks if you don't feel like doing so; however, it means you are limiting your chance to earn.
Here Is My Top Recommendation to Start Highly Profitable Online Business from Comfort Of Your Home
PROS
It is FREE to join Vindale Research
You can answer paid surveys at home (or anywhere you like) using a laptop or a mobile phone, although a desktop or a laptop is more advisable for full-functionality.
Aside from answering surveys, you can earn by doing other tasks including Reward Email, giving evaluations, watching Vindale videos, through referrals, winning from cash contests, exclusive discounts, and deals, and submitting a payment photo.
Vindale Research pays via PayPal so you can withdraw your earnings in cash
CONS
The payout is extremely low that it's not worth your time.
Minimum cash out is $50, which may take months to earn.
Only those who are in the UK, Canada, Australia, and the United States can join Vindale Research.
Complaints about their accounts being suspended, which I mentioned above, is alarming.
Tired of Wasting Time on Low Quality Programs?
I'm so grateful that I was able to find THIS PROGRAM which helped me to finally start making money online!
Considering that Vindale Research really pays for those who are qualified to join the survey, this is best for people who have a lot of time, patience, and effort. If you are only looking for a side hustle and you don't mind answering questions with no assurance that you'll be eligible, then this may work for you. It's also a good start for those who are just beginning in making money online.

It may take a few weeks or even months before you can cash out (unless you're spending a lot of time with it), but at least, you have something productive to do when you're free. But then again, the pay's too low it may not enough to give you the financial freedom you desire.
If you want to know more about online surveys and if it's really worth your time, you can check my article about it. I've tried several online surveys before and believe me when I say that it's a complete waste of time.
Like most paid survey websites, Vindale Research doesn't provide training; however, the registration is free and everything is just straightforward. The instructions on how to proceed are there and there's really nothing to worry about.
Should be there any problem, you can check the FAQ section from their website. It covers almost all the basic problems/concerns you might encounter. Otherwise, you can reach their customer service through email, fax, or even via a phone call.
Knowing that Vindale Research is not a scam is good news. It only means you already have one way to earn an income online.
But for me, this is not the best option if you want to earn a "real income" that could help you ditch your regular job in the long run. Not that I'm saying that it's wrong to become a member of Vindale Research, it's just that you are required to give a lot of time and effort only to get a few cents in return.

I mean, if you can put your energy on something that's not really promising, why hesitate investing your time on a money-making opportunity online that really works!
With a $50 minimum threshold, I think it's best to put your effort somewhere else — somewhere more valuable. I hope this article has answered some of your major questions about online surveys, and Vindale Research in particular.
Paid survey websites are one of the easiest ways to earn money on your free time; however, it's often not enough to replace your regular job. If you're willing to commit your time and effort, and hopefully work at the comfort of your own home, you should try my top recommended program. It is free to join and you can enjoy this different perks:
Free Membership
Free Websites
Free Training
And a lot more.
Feel free to check it now and register so you can start learning and earning. Don't worry, NO CREDIT CARD REQUIRED.
If you have any questions or comments, please feel free to share it below, and I'll do my best to respond in the soonest possible time.
Thank you!
We Constantly Review Programs in "Make Money Online" Niche,
So That You Don't Have to Waste Countless Hours
Want To See Our
TOP RECOMMENDATION?