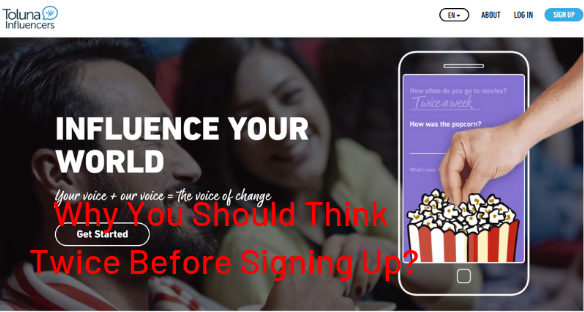 Welcome to My Toluna Review!
If you are someone like me who is fed up with the 9 – 5 job and its system, finding ways on how to earn online without investment is a habit. After all, it's no secret anymore that you can make money without leaving your home as long as you have a trusty laptop and an Internet connection. The challenge is finding legit websites that will truly pay your effort and time spent.
One of the most popular online opportunities is a paid survey website, and the reason so is because it sounds simple to accomplish. Imagine – all you have to do is answer surveys either by clicking boxes or typing in a few words.
Toluna Review Summary
---
Name: Toluna
Website: www.toluna.com
Founders: Frédéric-Charles Petit
Product Type: Paid Survey
Price: Free
Quick Summary: Toluna is a paid survey marketing research website that claims to compensate its users for answering its survey questionnaires and sharing a feedback. It's been in the industry for a long time, with over 10 million members. Does this mean it's safe to sign up? Is Toluna a scam or not?
Overall Rating: 5/10
Recommended: No
As we all know, the Internet has made everything almost possible, and that includes getting somebody else's identity and money. So you have to be very careful when providing your details to unknown pages even if it promises free membership or to pay you a hefty amount.
In line with this, you should also think about joining money-making opportunities online even if it does pay you in return for doing a task and that goes especially with paid survey sites. Why? Because normally, you have to answer a lot of survey questions, for almost an hour, only to end up earning less than a dollar.
Still thinking about joining a paid survey site?
Here's one site you should check out before doing so, allow me to share major details about it.
Disclaimer: I am, in no way, an active member of Toluna so I'm here not to tell you a biased review just so you'll be encouraged to join. Members who have successful referrals earn additional commission by the way.
To be honest, I did sign up out of curiosity but it didn't take a long time to realize that Toluna's nothing but a waste of time, unless you're fine with earning a very low amount. So rest assured that this is honest feedback.
Toluna is a paid survey and marketing research company founded by Frédéric-Charles Petit in 2005. It's one of the most popular survey sites of today and has acquired over 13 million registered users worldwide. Located in Paris, France, the brand's closest competitions include Swagbucks, BizRate Rewards, and InboxDollars.

As one of the most famous survey companies, Toluna has built revolutionary products and services that link consumers to both small and big-time brands. Some of it includes DIY survey tool, Toluna QuickSurveys, survey scripting, panel management, and a branded "community" platform.
Their continuous development has also made consumers provide their feedback without any hassle. Aside from desktop / laptop, they've created a mobile app that members can download anytime, giving them more opportunities to get rewards.
How To Join Toluna?
Signing up with Toluna is easy. All you have to do is answer a few questions like your name, birthday, gender, email address, zip code, password, and mobile number. A verification link will be sent to your email.
After verification, you will be lead to your Toluna account and you'll see that 500 points are automatically credited to your account.
P.S. I'm not sure with other members but I have received the verification link after 30 minutes or so. I checked the "Spam" and "Promotions" tab in my mail but it wasn't there. If you have just signed up and you did not receive any verification email, maybe you have to wait for a few minutes, too.
If you would search about Toluna's legitimacy, there's a chance that you will on Better Bureau Business' page and you'll see that it's rated A+.

With that rating, it's not easy to say that Toluna is legitimate. They do provide a handful of surveys to their users, however, the earnings are not as promising as you want it to be. It takes a lot of time and effort only to earn a few dollars and judging by that, you'll know that it's far from becoming your passive income.

Apart from this, there's a common issue that you will encounter once in a while (or even more) that is very common with all paid survey websites. Even after answering a plethora of questions for a minute or so, there's a chance that you will be disqualified. This is an instant effort gone to waste!

If you want a money-making opportunity with little to no investment, the best thing you should consider is affiliate marketing. Although it will require more than just clicking and typing a few phrases, you're guaranteed to earn the amount you deserve as long as you are with the right company.

Want To Learn More About Affiliate Marketing?

Affiliate marketing is basically promoting other brand's products and services with the help of an affiliate marketing program. The common way of doing this is by creating content and inserting links in it. Once a successful purchase is made by clicking the link, you will earn a commission.

Affiliate marketing is legal and has become a popular way to earn online. You can really make money out of it as long as you are dedicated and consistent in your website. If you're a beginner, the best way to start is by signing up for a program which can provide you training and information about how this thing works. Even if you've been doing this for a long time, you can still benefit from joining such programs.
Just be sure that you are signing up with a legitimate affiliate marketing program, like the site I've been with for quite some time — Wealthy Affiliate. If you'll do a quick research online, you'll find a handful of reviews, both positive and negative but it's not hard to find the ones, my fellow WA marketers, who are really learning and earning from the program.
Joining up Toluna is free of charge and you can expect that there will be no annoying upsells. But then again, the income opportunity is questionable, like with other paid survey sites. Nonetheless, you can still benefit (a little) from this site if you are willing to waste a lot of time.

The good thing, however, is that they have a variety of rewards:
Checks – This is only available in some selected countries like the US. If you have 75,000++, you can request a $25 paycheck.
Sweepstakes – Also limited to some regions, you can join sweepstakes draw every month for a chance to win a thousand dollars, in cash.
Cash paid via PayPal and gift certificates – Perhaps, the most accessible reward for all countries, you can ask for a PayPal payment if you have 90,000++ points. Otherwise, you can enjoy gift cards from Starbucks, Target, Best Buy, etc. if you have 30,000++ points.
PROS
Legit Paid Survey Site
Honestly, I'm not really a fan of paid survey sites and perhaps, the only thing I like about Toluna is that they really pay their users. This is good news for anyone who wants to try this because some similar sites are nothing but a scam.
Want to check another legit (but low paying) survey website? You can do a little digging of Vindale Research to see if it will work for you.
Easy Way Of Getting Cash
If you're lucky enough to earn massive points you can redeem, you can easily cash it out using PayPal. PayPal is available to many regions and countries, and I have to commend Toluna for choosing this platform.
Here Is My Top Recommendation to Start Highly Profitable Online Business from Comfort Of Your Home
CONS
Extremely Low Payment
I get it, this is a norm to almost all paid survey sites. In fact, I think I haven't met a similar website that gives promising payments to its users. If you want Toluna to become a regular source of your income, sorry but I have to say that you're dreaming. This can't even be used as a side hustle because it won't take you anywhere, almost. Turning points to rewards require a lot of hard work and time, which, by the way, you can put somewhere else and get the real reward you deserve.
Risk Of Getting Disqualified
I can't blame Toluna for doing this. I mean, most paid survey sites will really require their users to answer a lot of questions first to know if they are fit for the real survey, which is really time-consuming. With Toluna, you might be answering a series of questions only to find out that you're not eligible to do the task.
Tired of Trading Your Precious Time for Money?
Here is a Blueprint to Owing Highly Profitable Online Business Without Any Experience REVEALED!
If you're new to making money online, you can consider legit paid survey sites like Toluna until you find which one works best for you. I mean, if you're quite a busy person and you only have some spare time, you can answer surveys while relaxing or to avoid boredom.
You can also opt for this kind of opportunity if you're fine with answering a lot of questions and giving feedback without expecting much in return. You'll be earning a very small amount in this website and cashing out the rewards will probably take a month or two, considering the minimum points required to redeem cash.
No training is provided in this paid survey site, like with other websites; however, Toluna is pretty much straightforward with their instructions. Their page is easy to navigate so if you need anything, you can easily find it.
In case of any questions or concerns, they have social media accounts you can follow. You can also reach them by clicking the "Contact" tab on the lower part of the page and filling in an online ticket.
As mentioned, I'm not really a fan of paid survey websites. I've done a few before and I can't even last a week of answering questions. It's just a waste of time especially when you find out that you're disqualified. If you're someone like me who wants more than just a side hustle, I'd prefer blogging or affiliate marketing. Although it's not easy to earn from this, it's worth all the time and effort spent.
There are many ways to earn online and if you're serious with it, you can check out my site for more product reviews to know which one will suit you. Good luck!
Paid survey websites are good when you're not struggling to make ends meet or you're not looking for a full-time income. But, if you're after a good source of money, possible a passive income, then you should join this program and score a dozen perks, such as:
One-on-one coaching
Comprehensive guide
The best business tools and support you need
Webinars and training resources
And many more!
I've been with them for quite some time now and all I can say is that I've never searched for another method to earn money online without investment again.
We Constantly Review Programs in "Make Money Online" Niche,
So That You Don't Have to Waste Countless Hours
Want To See Our
TOP RECOMMENDATION?