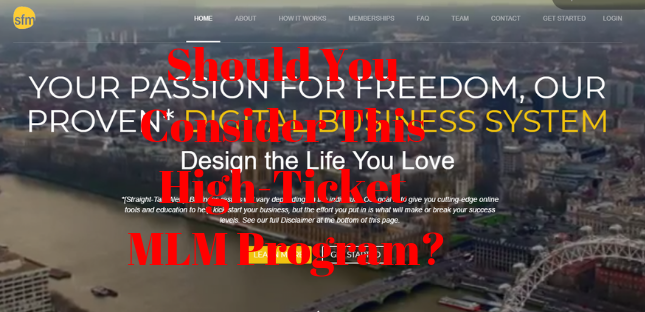 Welcome to My Six Figure Mentors Review!
Whether you're still new to making money online or not, you'll find out, eventually, that the best way to earn over the Internet is through affiliate marketing.
As long as you choose the right company to become an affiliate with, you're consistent in building your website, and you continuously develop and create contents, it won't be long until you earn your first one thousand dollar.
Six Figure Mentors Review Summary
---
Name: Six Figure Mentors
Website: www.sixfigurementors.com
Founders: Stuart Ross and Jay Kubassek
Product Type: Online Membership Program and MLM Company
Price: Starts from $29.95++
Quick Summary: Six Figure Mentors is an online program that provides training, marketing tools, and support to become a successful affiliate. But other than that, it's a high-ticket MLM company in disguise that lets its users earn a commission by recruiting more people to join and buy their program. You can start a proper training for as low as $29.95 or as high as $2,500 a month but is it really worth it? Is Six Figure Mentors even legit in the first place?
Overall Rating: 5/10
Recommended: No
How did I know?
'Cause I've tried several money-making opportunities like online surveys, Get-Paid-To websites, working online as a freelancer, and other things but only affiliate marketing turned out to be promising. However, it wasn't a smooth road out there. Along with writing content, I also have to deal with the right affiliate marketing program that will help me achieve my goals.
Now, the question is: "Should you Join Six Figure Mentors program?" Learn more in this unbiased Six Figure Mentors review.
What Is Six Figure Mentors About?
When you browse online for affiliate marketing program, one of the brands that you might encounter is Six Figure Mentors. To give you a brief description on what this program is about, SFM is an affiliate marketing company. You can join for free although you won't really get much out of it. It's just like signing up for almost nothing.

But if you choose any of their paid memberships, you'll have the opportunity to learn how to effectively market products and services over the Internet. These can be your own products or services or other's to earn commission, which is basically what affiliate marketing is about. Along with this, you'll learn the different marketing tools and resources you can use to create your business online.

However, if you take a deeper look at Six Figure Mentors, you'll realize that it's more than just the affiliate marketing training; it's like a high-ticket MLM company that makes it look like nothing but a scam. But is it a scam?

That we will find out in a bit. For now, let's talk about the founders and what you can do to earn money from them.
The founders of Six Figure Mentors are Jay Kubassek and Stuart Ross.
Jay Kubassek is an author, film producer, philanthropist, and a professional speaker trainer. However, he's also the co-founder of "Pro U" or "Carbon Copy Pro" — a scam company which has vanished over the Internet. Sounds like a red flag? You bet it is.

Stuart Ross, on the other hand, is an entrepreneur and also the co-founder (along with Jay) of another online company called Digital Experts Academy. If you think that this is a separate brand and has nothing to do with SFM, think again. These two are 100% connected. How? The membership accounts for DEA are basically the upsells from SFM. Another red flag? Perhaps!

How To Earn Money From Six Figure Mentors

While Six Figure Mentors generally offer training, you can also use it as a side hustle to earn extra income by:

Affiliate marketing the products and services offered by Six Figure Mentors.
Affiliate marketing some other brand's products and services and earning commissions from it.
Marketing your own business.
Or do all of the above
Is Six Figure Mentors A Scam?
Apart from searching online, you may have seen or heard Six Figure Mentors from an interesting YouTube video, on a blog post, or social media ads. When you click on their provided links, you'll be led to a landing page wherein you'll be provided with a "free gift", and all you have to do to claim it is by entering your email address and name. The gift, by the way, free 7-day training video on how you can earn through "laptop lifestyle".

One training video will be sent to your email daily, for seven days, showing its founders Jay and Stuart, talking about the basics of affiliate marketing and the reasons why Six Figure Mentors are the best affiliate marketing program online.
If you decided to take the bait and buy their $29.95-worth starter membership, you'll gain access to limited training and tools. You can also speak with your "business coach" via Skype if you want to know more about affiliate marketing, how to make it work, and other things related. However, this so-called "business coach" has other agenda apart from training you; you will also be asked to take your learning to the next step. In other words, upgrade your membership. And as you go along you will meet upsells after upsells after upsells.
Does this sound like there is Six Figure Mentors Scam? When you get in to the program that geared to upsell you on every possible level it can steer your focus away from their legitimacy.
Now, to clarify whether Six Figure Mentors is a scam or not, the answer is no. It is true that their founders have been involved in a scam company however, they did a good job with their current website.
However, there are a few drawbacks that can classify Six Figure Mentors a scam, and the pricing of their membership is just one.
If you're wondering why you need to join affiliate programs when you can find most of the details online, then the answer is this: most affiliate marketing training programs provide a step-by-step guide on how to do it, some even provide coaches and live video training so you can learn directly from those who have become successful in it.
And this is why you should invest your time, effort, and money in it if you really want to take this online business seriously.
When you join Six Figure mentors, you can start with a free account they call "Affiliate Access". Unfortunately, you can get almost nothing here except the basics of affiliate marketing. You can't even access the tools and other features so I don't see no other reason why they have a free trial other than to promote their upsell. This will prompt you to purchase their memberships, such as:
Student Access – $29.95 + $25 a month (Optional)
Essential Membership – $297 + $97 a month
Elite Membership – $2,500 per year + $97 a month
While Six Figure Mentors have proven itself legitimate, I think the price for their program is too much, let alone the upsells. It's like they are only after your money, not helping you earn through "Laptop Lifestyle".

But wait, there's more. The Elite Membership is not the last upsell they'd offer. After going through a lot of payments, you'll be directed to Digital Experts Academy (DEA), which is a separate program. This is completely related to SFM, and the reason why they are promoting it, supposedly, is because this program will help you become more successful in affiliate marketing through intensive training and more support.

Here are the 4 High-Ticket DEA Membership Levels:

DEA Silver: $2,500
DEA Gold: $8,000
DEA Platinum: $11,000
DEA Black: $20,000
For someone who's new to affiliate marketing or even who's been doing this for a long time, these prices are way too expensive. And it's too obvious that they are only after upselling their own products and services. So if you're still thinking whether you would be joining them or not, I'd like to share a comment for SFM that I found on another website.
The thing is, there are a lot of affiliate marketing options out there and most are even offered for free, Wealthy Affiliate. Yes, I am affiliate of this website but I am promoting this to my fellow marketers, especially those who want to start their business online, simply because it works.
Wealthy Affiliate offers free and premium account, and if you choose to start without paying for anything, you don't have to worry about the upsells and the limited stuff. Yes, more training and other features will be provided to those who will avail the $49 per month membership; however, you can still learn a lot from their free account.
Here Is My Top Recommendation to Start Highly Profitable Online Business from Comfort Of Your Home
PROS

Introduction To Affiliate Marketing
If you're new to affiliate marketing and you want to learn more about how it works, Six Figure Mentors have given a fair introduction about it. For starters, this will help you realize the almost limitless opportunity found online and the training provided can motivate you to grow your online business.
Quality Training
Infairness to their training, they are giving value to their affiliates which they can use as they discover Internet marketing. Basically, they will teach you to concentrate on Mindset, which is very important when you want to start something up.
30-Day Money Back Guarantee
In case you feel like the program is not working on your behalf or you're simply not satisfied, you can issue a refund within 30 days and get your money back.
CONS
Expensive Investment & Upsells
Don't get me wrong, investing money for yourself and education is important. The thing is, why pay for an expensive amount if you can get the same kind of training and system (or even better) for a lower price?
And remember, a costly amount doesn't always equal to high quality products and services. In addition, there's the Internet and you can get almost anything out of here without ripping your wallet off.

In line with this, I wanna share another thought about this affiliate marketing platform. Normally, affiliate marketing website will pay you for promoting their products and services and not the other way around. With SFM, you are the one who needs to pay them so you can market their stuff. Do you really think it's worth the price now?
Recruiting People
Here's why I mentioned Six Figure Mentors as a high-ticket MLM company earlier. As you go along the training, you will realize that they won't focus, let alone provide support and tools, on you earning from your own website. Rather, they will only encourage you to market their membership and to attract new members. In short, it's another MLM strategy that you should ditch ASAP.
Lame Community
Having a community filled with people who has the same interest is important when you want to grow or improve in affiliate marketing. And that's when I realized why Wealthy Affiliate is superior, in my opinion. Even when you signed up for their free account, you can talk to other members, ask questions, or just discuss what's in your head. Yes, it's like that there. Best part is: you can contact the co-founders! Awesome, right?
With Six Figure Mentors, things are well, quite different. Their interactive platform is not active at all, let alone the co-founders. You simply can't connect with them. Even their personal consultants cannot be reached easily unless you book a consultation slots with them.
For me, having a supportive community in whatever affiliate marketing platform you have is important because whether you are new to building your online business or not, you will need a lot of help.
Tired of Trading Your Precious Time for Money?
Here is a Blueprint to Owing Highly Profitable Online Business Without Any Experience REVEALED!
Considering the training and membership fees they have, I'd say that this is for beginners who have a budget for it. If you're new to affiliate marketing, Six Figure Mentors have provided enough training video you can learn from but of course, if you want more of it you need to pay.
It is also for those who want to build their eCommerce business. Their training are filled with digital marketing technique you can use to grow your sales. From writing content up to creating your personal brand — they got it all covered, of course, in different prices.
As for their training tools, Six Figure Mentors uses the following:

Live coaching
Training video
Short Courses
Personal coach.
Webinars
If you have any concerns or questions, you can reach Six Figure Mentors via email or a phone call. Their business address is also stated on their website so probably, you can pay them a visit.
Again, Six Figure Mentors is not a scam. They do provide quality training for the price you pay. The problem is the price is just way too expensive, plus it seems like there are too many upsells going on. If you want to be an affiliate marketer, I don't think you have to spend a lot. There are free programs you can try or cheaper alternatives you can go with.
In addition, since this is a high-ticket MLM program, you really need to spend more money to advertise your business; otherwise, it would take time for you to earn.
Hope I've shared valuable information about Six Figure Mentors. Please feel free to drop a question or comment below!
If you're looking for ways on how to make money online but you're clueless which one to trust,we suggest that you try our top-recommended program now.
Sign up now and take advantage of the following offers:
Proven strategy to work smart and earn a lot (literally)
Step-by-step guidance
Best possible support including your own training coach
Lots of training resources
My personal help
And so much more!
Thank you for reading our Six Figure Mentors review. Hope you've been enlightened and if you have any questions or comments, please feel free to drop it down below.
We Constantly Review Programs in "Make Money Online" Niche,
So That You Don't Have to Waste Countless Hours
Want To See Our
TOP RECOMMENDATION?