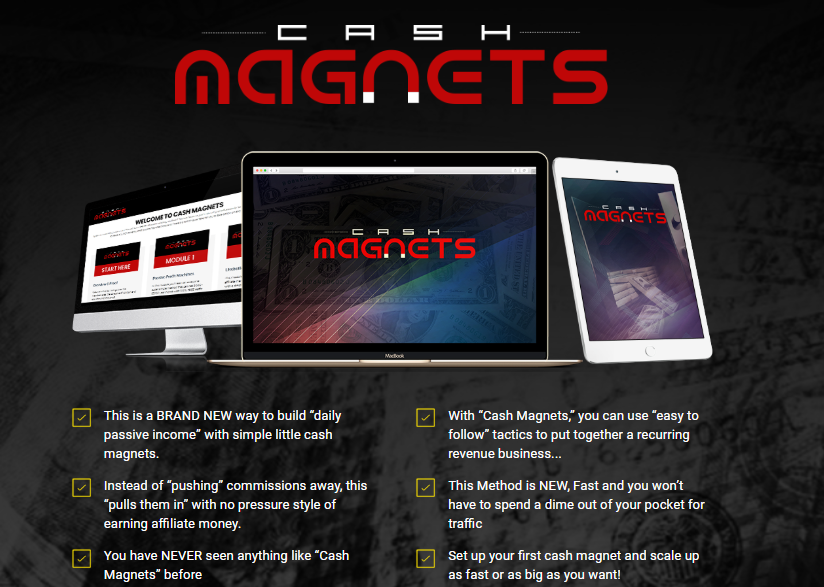 Welcome to My Cash Magnets Review!
I don't want money -- said no one ever.
That's why every day, most of us try to find ways on how to achieve financial freedom, and even those who are making a huge amount already, are still creating another source of income.
If this sounds like you, don't worry. You're not alone.
Cash Magnets Review Summary
---
Name: Cash Magnets
Website: www.cashmagnets.net/jvpage
Founders: Jono Armstrong and Brendan Mace
Product Type: Online Training Course
Price: $12.95
Quick Summary: Cash Magnets is an online course that teaches you how to earn online using five methods. It was founded by Brendan Mace and Jono Armstrong and it claims to help you make $1,000 per sale.
Although it was developed by well-known marketers, it's still not easy to trust this program knowing that they have created a few low-quality products in the past.
On the other hand, it's still too early to assume so I did a little bit more digging to find out the truth. Is Cash Magnets a scam? Does it work? What is it about? All these -- you will find out in a bit.
Overall Rating: 4/10
Recommended: No
There are other people (count me in) who will do whatever it takes to achieve wealth, and that's completely fine. At least you think you need to "work" to have money and that it doesn't just happen overnight.
So every time I hear or see a program claiming that you will make an insane amount in just a week or even in one day, I become skeptical. I've seen more than a dozen platforms that promise crazy things like these but you know what, none of them deliver.
Is that the same case with Cash Magnets? An online training program developed by well-known marketers, Brendan Mace and Jono Armstrong? Is Cash Magnets a scam or a legit program you can trust?
Find out everything you need to know in my honest, detailed Cash Magnets review.
What Is Cash Magnets About?
Earn $1000 per sale.
No technical skills or software required.
100% passive income.
These are just some of the claims brought to you by Cash Magnets, an online course that "helps" you create a passive income in five ways. According to their sales page, this training will show you how you can make money using YouTube, funnels, blogging, reviews, and websites.
Also, it says that newbies can take advantage of this program despite lacking technical skills or expertise. And it only takes 30 minutes for you to create a massive amount, 24/7. On their sales page, it claims that you can just set the Cash Magnets system and forget about it, and it will keep running "even while you're sleeping or at the beach".
First of all, yes, I do believe that it's possible, especially with affiliate marketing. However, no matter how advanced or revolutionary your system is, it takes more than 30 minutes to make it work. You even need to spend more than an hour working on your content and traffic and wait for at least three or more months to finally see the result.
But that being said, do I consider Cash Magnet a scam?
Well, no… or maybe?
Basically, a product or program is considered as a scam when you purchase it and you got nothing. However, some people consider a platform a scam when it promises something but deliver nothing.
In that case, I still don't consider Cash Magnets as a scam because there is still some value in it. Plus, it was developed by two reputable internet marketers who have made a name in their own respective industry. The negative side, however, is that they have also created a few programs in the past, such as Octane and Profit Maximizers, who have almost made some false claims.
For instance, no technical skills are required. I mean, really? You will need to attract customers in order to monetize the methods used in Cash Magnets and how are you going to create traffic if you know nothing about keywords or SEO.
Traffic is the lifeblood of any business and if you're a beginner, you may struggle a little bit generating this. But thanks to the Internet, there are many free training materials online that you can use to enhance your expertise.
You can even join my
top recommended program
when you want to start your online business using affiliate marketing. With
Wealthy Affiliate
, you have access for free training, free websites, an active community, and other perks without paying for anything.
Here Is My Top Recommendation to Start Highly Profitable Online Business from Comfort Of Your Home
Cash Magnets costs $12.95 although it says that it's really valued at $297. For me, it's affordable enough. It coves five topics that can help you with your online business but then again, if you're a beginner, you may only end up more confused.
There are upsells included in this program, as expected, which you can (and should) ignore because honestly, this will cost you a lot and it won't be long until you realize that these are all useless.
Done-For-You Magnets $37
This is about their done-for-you or ready-made magnets you can use to earn money online, "immediately".
High Ticket Magnets $197
It says that it will teach you how to achieve "high ticket sales" so anyone can make massive income every week.
Advanced Secrets $97
It's about their "more advanced strategies".
Limitless Traffic $197
This lets people put their ad pixels on Cash Magnets' website so they can earn more traffic.
License Rights $97
This gives the user a license to sell Cash Magnets as their own and acquire 100% commission out of it.
Tired of Trading Your Precious Time for Money?
Here is a Blueprint to Owing Highly Profitable Online Business Without Any Experience REVEALED!
PROS
30-Day Money Back Guarantee
It's good to know that you can have it refunded in case you personally tried it and did not work for you. At least, this gives you a chance to explore the system itself and make your own conclusions. However, you cannot bring back the time wasted on this product even if you wanted to.
Good Training
Jono Armstrong and Brendan Mace did provide ways on how you can increase your income. For instance, for someone like me who doesn't use YouTube, I think it will be great to learn this method as this can really help me market my online business even more.
But then again, you can find a lot of free training material online; you can even join my top recommended program and learn a lot of things, FOR FREE.
CONS
Bold Claims
No matter how good the product is, for instance, the bold claims will just kill it. After all, these things will lead to disappointment and even if the methods used as legit and valuable, I don't think it will last for a long time because eventually, the truth will come out and a lot of people will read real Cash Magnets reviews.
Not For Beginners
Aside from "creating traffic" that I mentioned above, there are just too many methods to learn from. If you're new to all of these, this can be very overwhelming. It's good to focus on one method first and master it before you move on to another.
Bold Claims
The entire website is made of bold claims that you won't simply believe unless you've never encountered such kind of products before. I just feel bad because it seems like they are taking advantage of a lot of people and instead of helping them earn money, THEY ARE EARNING MONEY FROM THEM.
To learn more about Cash Magnets, you can watch the video below:
Cash Magnets is not for beginners because again, there are a lot of methods and technicalities to consider.
It can be a good resource for intermediate and/or advanced internet marketers though as this can still help them improve their techniques. I, for example, have not tried YouTube to market my online business and this program may still guide me on this.
I know I sound uncertain because I really am. Truth is, I can't recommend this to everyone because of two things: the earnings are not guaranteed and there are other valuable programs you can sign up with, such as Wealthy Affiliate.
You can sign up as a free member and not worry about any upsells. Should you wish to upgrade your membership, you are free to do so but if not, you can still earn and take advantage of the free training without spending money.
Cash Magnets is not a scam… that I am sure of. However, the massive earnings they mentioned on their sales page are far from reality. Although you can really earn a huge amount from affiliate marketing, you cannot do it in a short time, and without the necessary skills and knowledge.
Everything takes time and if you want to make money, as well as a source of passive income, you have to wait. You cannot rely on methods that promise instant results and expect that they will be true to their promises.
Tired of the bold claims you see every day? Me, too! But I want to make sure that my fellow marketers are in good hand that's why I want to make honest feedback, like this Cash Magnets review.
Also, I want to help you find the right opportunity, whether you're a beginner or not. But unlike other low-quality programs, do not expect to make money overnight… BECAUSE NO ONE CAN!
So if you believe in hard work, patience, and commitment and you know that a passive income is only possible if you are consistent with what you are doing, then feel free to join my top-recommended program and enjoy these benefits:
One-on-one coaching
Comprehensive guide
The best business tools and support you need
Webinars and training resources
And many more!
Hope I have enlightened you with my Cash Magnets review and if you have any questions or comments, please feel free to share it down below.
Thank you!
We Constantly Review Programs in "Make Money Online" Niche,
So That You Don't Have to Waste Countless Hours
Want To See Our
TOP RECOMMENDATION?