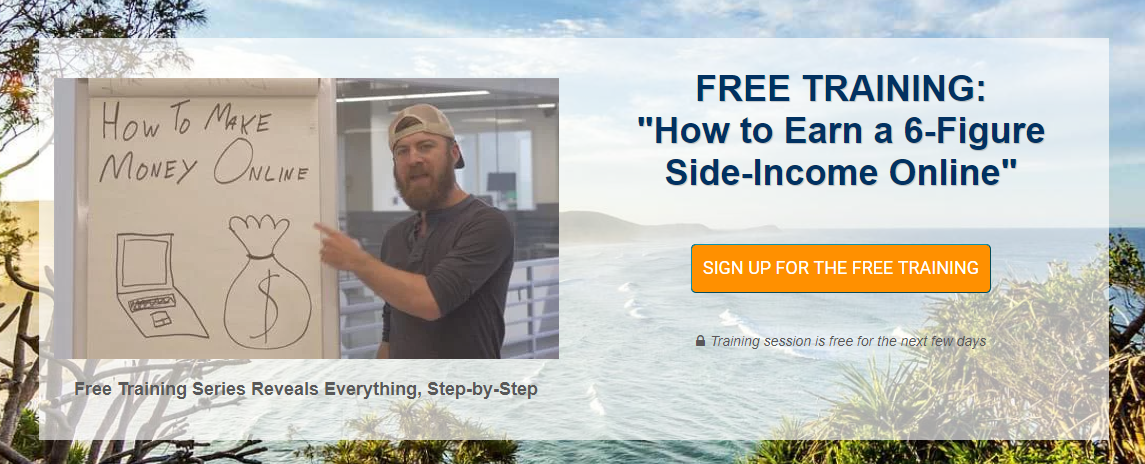 Welcome to My Internet Jetset Review!
Recently, I've seen a lot of marketing gurus over the Internet, claiming to help you create 6 to 7-figure a month. While this sounds too good to be true, how many of these courses can really give you your money's worth and add value to your skills and knowledge?
Internet Jetset Review Summary
---
Name: Internet Jetset
Website: https://imjetset.com/index
Founders: John Crestani
Product Type: Online Training Course For Affiliate Marketing
Price: $47/Month + Upsells
Quick Summary: Internet Jetset is an online training program that claims to help you create a massive amount of cash, without leaving your regular job.
John Cresanti, the founder of this program, has shared some tips he has used to become successful himself; however, rather than helping fellow marketers, it seems like the platform is only after your money.
Let's just say this program is Legit, however there are many up-sells, hidden costs, and affiliate links present that made me skeptical about it. What is it about? Is Internet Jetset a scam or not? Can it really help you make $1000 a day?
Overall Rating: 5/10
Recommended: Yes and No
Should you trust online courses or is it better to do things on your own?
For more than a couple of years being a writer and a marketer, I've realized the importance of training. Yes, you can find all of these for free, online, but it makes a difference if you will be trained by an expert. It makes a difference if you will learn from their experiences, which, by the way, is what you're really paying for.
That being said, should you consider Internet Jetset? An online course that claims to help you "earn a 6-figure side-income online". Is Internet Jetset a scam or a legit program you should try? What is it even all about?
What Is Internet Jetset About?
Internet Jetset is an online training that claims to help you create a 6-figure "side-income online." On their website, it says that you can sign up and have the training for free for the next few days.
You will only need to enter your name and email to register and after that, you will be lead to a page showing a video of John Crestani showing an introduction to the training.
On their sales page, it says that this online course will help you create $1,000 a day, show you how to easily make money with Facebook and ClickBank, and provide you top 3 secrets to making the most money while maintaining your day job.
On John's sales video, you can also see him throwing a lot of money, saying that he will give it to you. As much as it sounds good, I honestly don't like how he did it. I don't know about you but it's not really pleasing to throw money just like that unless you're Fat Joe.
But kidding aside, some people may confuse it with Super Affiliate System, and you may even find Internet Jetset reviews with "Super Affiliate System" attached to it. The truth is, these two are the same and different at the same time. Same, because is it is an affiliate marketing training course created by no other than John Crestani himself and different, in a sense that Internet Jetset is only a platform used by John to promote Super Affiliate System.
But Who Is John Crestani Anyway? Is He a Real Person?
John Crestani is a real person, using his real name, unlike other ClickBank products who are using Fiverr actors as the founders of their products. In fact, John is a well known online entrepreneur who has been featured in Forbes as someone who's been fired and then "built a $500k-a-month business while traveling the world".
The fact that he's a real person, and he did make a lot of money, are good signs; however, it's still not the basis to determine whether there is Internet Jetset Scam that you should be aware of. Because who knows? He might only be after your money.
What Is The Webinar About?
After signing up with Internet Jetset, you will be provided with a link to your webinar. It covers affiliate marketing and how you can make money out of it. John will even show you how he uses this business model to create an insane amount of cash.
Before anything else, affiliate marketing is legit, and it's one of the best ways to earn online. In fact, it's helped over a thousand marketers worldwide create a source of cash, even a passive income. But unlike other get rich quick schemes, it takes time, commitment, and patience. You can't just sit around and expect a huge pile of cash in front of you to come out.
There are a lot of things you need to do and joining an affiliate marketing program, such as Wealthy Affiliate, is a big help. This is, by the way, my top recommended program, and you can sign up as a member for free. You can get training, a website, customer support, and even access to a live community FREE OF CHARGE.
Anyway, going back to Internet Jetset, you will have a free webinar. It's kind of exciting to know that you'll have free training that reveals everything; however, to avoid disappointment, do not expect a lot.
Like other programs with "free videos or training", they will provide little to nothing. After all, who on earth will share this tried-and-tested method for free? I got it. But I just hope that John didn't mention that it will involve a step-by-step process on how to make money online because, in reality, you will not see any of it on the free webinar.
Also, it's not live and there's always a webinar for anyone who wants to see it. I don't even know why you have to choose a schedule when the link to your webinar is given right away. In addition, it's kind of funny hear John say that your slot is "reserved" and that they only offer a limited number of seats. First of all, it's a webinar. It's recorded. It's online. And you don't need to secure a seat because hey, all you need to do is watch it on your desktop or mobile device.
Is Internet Jetset A Scam?
No It's not. And there is no real John Crestani's Scam. In fact Internet Jetset is legit; however, it's better if John was transparent to all his claims, and even to his 2-hour long webinar.
Also, while it gives interesting details about the online opportunity he is offering, the way he promotes this program is pushy, and I don't like it at all. It's like he's only after your money and not helping you, make money.
Also, the webinar which is supposed to show you everything includes almost nothing but a quick demo that's useless. I was thinking that he'll share how he set the ad up, what techniques he used, and other necessary things but instead, he just turned an ad on and show you how much money he has made.
How are you going to believe that his training is effective when you can't even see good out of it. It's like having a free taste of food in the market, you'll only believe it's really that good if you try a real piece of it.
Internet Jetset costs $47 a month which is really affordable considering all the good information you can get out of it. However, you also have to pay for other tools, such as ClickFunnels and paid ads and this is what makes it expensive.
If you want to try Internet Jetset yourself or you have already purchased the program, I think it would be better if you will just complete the training and cancel your membership. There are other platforms that offer the same (or even more) value which you can get for free, such as Wealthy Affiliate.
Here Is My Top Recommendation to Start Highly Profitable Online Business from Comfort Of Your Home
PROS
Valuable Training
John Cresanti did share a few valuable information you can use when you want to create an online business. Actually, if it's been long enough and he has been transparent in the first place, I might have thought of this program as the real deal. After all, John has proven many things in the internet marketing industry.
CONS
Expensive Upsells And Hidden Costs
There are a lot of upsells, as expected, and if you're someone who can't ignore these add-ons easily, you might end up purchasing programs you don't really need. On top of this, you are going to cover the charges for ClickFunnels, MOBE memberships, hosting, and other tools.
Not All Topics Are Properly Covered
John did share a lot of information; however, it would've been better if the topics were explained completely in a way that's understandable for beginners and seasoned marketers.
Price Is Not Reasonable
$47 may not be a big deal for some people, but it is for me especially when I know that I can find an alternative that offers more valuable training.
Wealthy Affiliate, for instance, is an affiliate marketing program that offers a lot of perks, even to those who signed up as a free member. If you're a beginner or even a seasoned marketer, you can take advantage of this program and you can really earn money online without spending a lot of cash.
FREE TRAINING
Learn How I Started Highly Profitable Online Business From Comfort of My Home Following This Blueprint
Beginners, intermediate, and advanced marketers can benefit from this program. The information provided is really helpful and although some topics are not covered, this program is still worth a try.
However, if it's your first time to try affiliate marketing or you've never heard before, some training, such as the SEO might be a little challenging.
To know more about Internet Jetset, you can watch the video below:
The training tools John Crestani provided are consist of videos, links, and activities. It will talk about:
Affiliate marketing and how to make money out of it
Choosing your niche
SEO techniques
How to take advantage of Facebook and YouTube
Basics of copywriting
Setting up a website
And some bonus modules from Rich Jerk Course
While there are a lot of topics covered, some modules were not discussed properly. Also, some subject matter, such as the SEO part, may be too complicated for beginners; however, experienced marketers may benefit a lot from it.
Overall, Internet Jetset is a good program. The only things that are holding me back are: first, the bold claims and hidden costs. For me, being transparent with your program is very important because that's one way how you can build trust with your clients. It also directs expectations correctly and avoids disappointments.
Looking for the best program that will help you make money online.? Check out our top-recommended program now and get all the training you need free of charge.
You will also enjoy the following benefits:
One-on-one coaching
Comprehensive guide
The best business tools and support you need
Webinars and training resources
And many more!
Who says you need to spend a lot to earn and learn at the same time? With Wealthy Affiliate, you can start these things for free!
Hope I have enlightened you with my Internet Jetset review and should you have any questions or comments, please feel free to share it below.
We Constantly Review Programs in "Make Money Online" Niche,
So That You Don't Have to Waste Countless Hours
Want To See Our
TOP RECOMMENDATION?