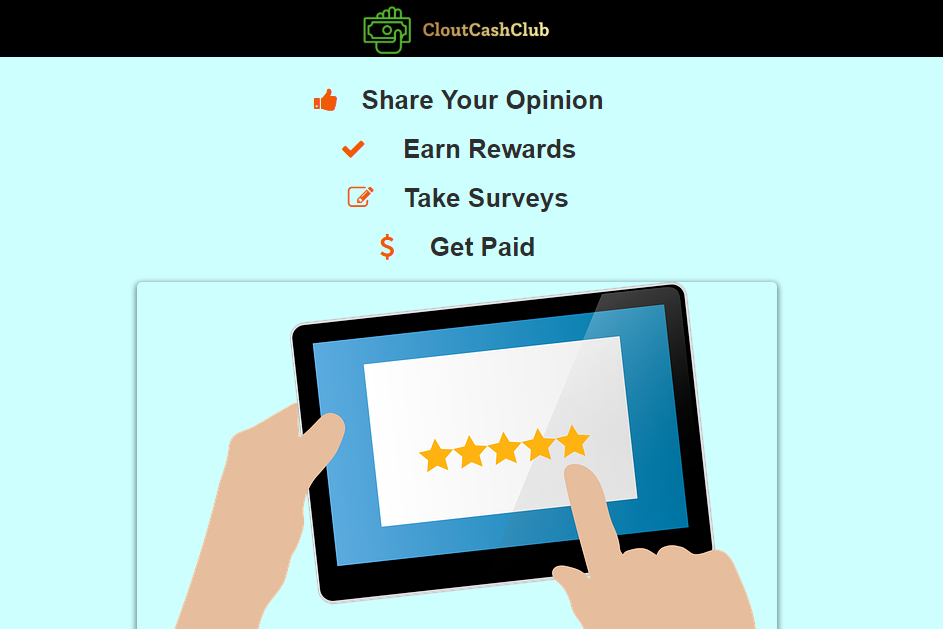 Welcome to my Clout Cash Club Review!
Is Clout Cash Club a scam?
That's the first question I've asked myself when I accidentally bumped into this website while looking for a money-making opportunity online. Apparently, all you need to do is answer surveys and you will get paid.
Clout Cash Club Review Summary
---
Name: Clout Cash Club
Website: cloutcashclub.com
Founders: Undisclosed
Product Type: Online Survey Aggregator
Price: Free
Quick Summary: Clout Cash Club introduced itself as a survey aggregator; meaning, they act as the middle person between the survey taker and companies. Their main roles are to screen survey takers to avoid disqualification and to find the right survey panel for their members. It sounds like a good site but as you move along and register, you'll find out what it's really about.

Hint: Not the paid survey site you're expecting!
Overall Rating: 1/10
Recommended: No
This business model is not new though; I mean, there are a lot of legit paid surveys online but not every company is true to its claims. Is Clout Cash Club one of them? Does this site pay real cash? How does it really work?
All your questions answered in this honest Clout Cash Club review!
What Is Clout Cash Club About?
On their homepage, they mentioned about taking surveys and getting paid so basically, most people (myself included) will think that it's a typical paid survey site. However, on the same page, too, Clout Cash Club revealed that their company is an online survey aggregator.
If you're not familiar with aggregators, it works like a broker between you (the survey taker) and companies. They are not exactly survey panels; however, they do provide valuable details to businesses.
Basically, survey aggregators screen survey takers to avoid disqualification. They also help you find the right survey panels that would work best for you according to the details you've provided.
What Should You Expect From Clout Cash Club After Signing Up
Apparently, Clout Cash Club provides an opportunity to earn money by answering surveys. On their website, they claim that it is a community where users can have access to high paying survey panels and on top of this, members can also get rewards and other prizes.
How To Get Started
How It Really Works?
I did a lot of digging and it looks like Clout Cash Club is not what it seems. After signing up using your email address, you will receive a confirmation email so you can have your very first paid survey. The platform claims that you will earn $350 just for completing it.
However, after completing the confirmation email, the link will direct you to other irrelevant websites, such as a gambling website.
Perhaps, they want you to sign up on that website using their link so they can earn a commission or their website has been hacked. However, checking on the reviews and reading the same feedback, I believe that Clout Cash Club is a shady site that you should not trust.
Here Is My Top Recommendation to Start Highly Profitable Online Business from Comfort Of Your Home
Is Clout Cash Club A Scam?
From what I understand, Clout Cash Club has been misleading. It introduced itself as a survey aggregator but after registering your email and clicking the link that's supposed to be your first questionnaire, it will direct you to another page that's completely irrelevant.
Also, considering the massive amount they promised after answering a survey, it's clear that the platform is just attracting unknowing victims. In my own experience, no matter how legit or reputable the survey website is, there won't be $350 surveys, let alone $20 with just one task.
We're not really sure what Clout Cash Club is really about because they haven't shared anything valuable such as the name of the owner, their headquarters, contact number, or even a social media account to follow. I'm not going to directly say that Clout Cash Club is a scam but I do not recommend this program.
I know it sounds disappointing especially if you're already thrilled about getting $350 after answering a survey. Don't worry, there are a lot of opportunities online and although there are low-quality platforms or scams everywhere, there are still websites that can help you earn real cash.
Want to know more about Clout Cash Club? You can watch the video below.
Clout Cash Club is free to join and this is usual for most paid survey sites. After all, you're the one helping survey panels by providing information. If a paid survey site has an upfront cost, it's more likely a scam than a legit money-making platform.
But then again, we can't still say that Clout Cash Club is not a scam. Like the points we mentioned above, the program is not transparent with their members so even if you're not paying for anything, you might be putting your personal information at risk.
If you want a legit program that will help you make money online, I suggest that you follow this step-by-step guide. It's an opportunity that you should not miss if you're planning to create a passive source of income. Don't worry, it's free and it has everything you need to get started.
PROS
Nothing. As for me, there's nothing to like about Clout Cash Club so I'll just discuss the cons of this website.
CONS
Misleading Details
On their homepage, they clearly stated that they are survey aggregators but instead of working like the middleman between you and the survey panels, the platform will only direct you to another link. While I'm not really sure what their intention is about, it's clear to me that they are providing misleading details to attract more individuals who will sign up.
No Contact Details
If you're a legit website, you care about your visitors, thus you'll provide options on how they can reach you so you can answer their concerns. On Clout Cash Club's end, it seems like they don't care about this. The only things they have on their website is the Disclaimer, Privacy Policy, and Terms. There are no About Us page, contact information, and other necessary details. In short, you don't know who and what you're dealing with.
Spam Emails
According to some reviews, those who have signed up keep on receiving emails saying that they are qualified for another survey. However, the same thing happens over and over again. Rather than being led to a survey website, they are directed to unknown links.
Not An Income Opportunity
Paid survey websites are only good when you need extra income since the amount that they'll give you every week or every month is pretty small. But still, you will receive a reward for signing up and completing tasks. With Clout Cash Club, there are no income opportunities since there's no survey, to begin with.
Tired of Trading Your Precious Time for Money?
Here is a Blueprint to Owing Highly Profitable Online Business Without Any Experience REVEALED!
No one. Clout Cash Club is another useless website that is full of bold claims and misleading details. You will not get anything from it so if I were you, I'd rather spend my time on something more valuable, such as writing blogs or affiliate marketing. You can also start your own business online or create a YouTube channel!
Whatever option you choose, you can follow this step-by-step guide to help you get started. There is a fine blueprint on how to build thriving online business which will pay a huge reward in the long run.
I know that there are a lot of low-quality programs and scams online but still, every time I find one, I feel disappointed.
I know how it feels like to be scammed and if possible, I don't want anyone to become a victim. So, if you're here because you want to know of Clout Cash Club is legit or not, I'd like to congratulate you.
Clout Cash Club looks promising at first but it won't be long until you realize that it's a complete waste of time.
Whether you've signed up with Clout Cash Club or not, don't be disappointed. In this section, I'll finally reveal a program that's been used by many individuals, especially marketers to earn residual online income.
It's legit and when you sign up, you can enjoy the following perks:
Step by Step guide how to launch online business
Community of like-minded enterpreneurs
Lots of Support along the way
Very rewarding compensation
f you have any questions or comments, please feel free to drop them below:
We Constantly Review Programs in "Make Money Online" Niche,
So That You Don't Have to Waste Countless Hours
Want To See Our
TOP RECOMMENDATION?