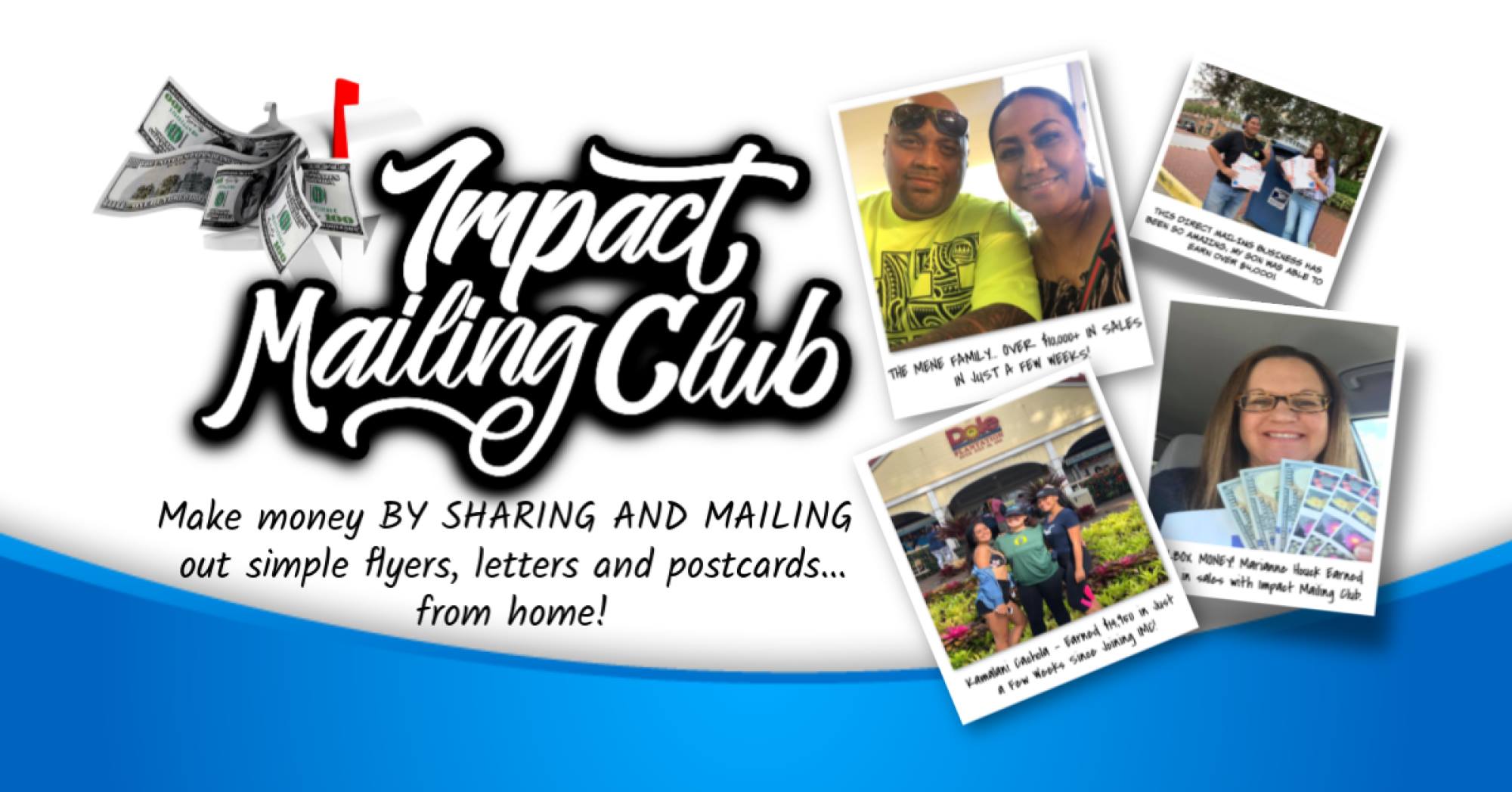 Welcome to My Impact Mailing Club Review!
Last time, I made a review about Emailconomy -- a platform that allows you to make money by sending email messages. It somehow sounds like a new opportunity, especially in MLM scene but I found out that there are other programs under this niche.
Impact Mailing Club Review Summary
---
Name: Impact Mailing Club
Website: www.impactmailingclub.com
Founders: Rose Alameda
Product Type: Multi-Level Marketing
Price: Membership Level Ranging From $100 To $2,000
Quick Summary: Direct mail gifting system that claims to pay you money for sending letters to random people. If that's not enough to scare you away, let me tell you this: you have to pay a HUGE AMOUNT for the membership first before you can earn.

Find out all the details in this Impact Mailing Club review.
Overall Rating: 1/10
Recommended: No
In this post, I'll cover Impact Mailing Club, another network marketing company that does the same thing only this time, it's a real mail. Meaning, you have to send a mail to a home address, and not just a random email address. The questions are: does it have the same fate as Emailconomy? Can you make money from the program? Is it just another Ponzi scheme in disguise?
Find out all the answers you need in this Impact Mailing Club review.
Spoiler Alert: Emailconomy may not be a scam, yet, but it's definitely NOT the type of program that will help you make money (not even a side hustle). So, if you want to save yourself from troubles and earn real cash, I suggest you read my FREE Step-By-Step Guide now!
What Is Impact Mailing Club About?
Impact Mailing Club is a multi-level marketing network that falls under that works as a direct mail gifting system. Founded by Rose Alameda, the company claims to help you "Earn $500 to $1,000 Mailing Ugly Postcards and Letters."
Like Emailconomy, there's no working website for this platform. You can only learn more about Impact Mailing Club when you join their official Facebook Group. It's a private community with over 5,000 members. Other than that, there's nowhere else to find more details about the program.
I also found this Facebook Page called Boss Mom Marketing, which, apparently, is operated by Rose Alameda.
How Does Impact Mailing Club Works?
Basically, you just don't send an email message, you send a gift card instead of a real home address. But before you get started, you have to pay for the membership and grow your team to earn commissions. The membership levels are divided into four categories, with prices ranging from $100 to $2,000, and I'll discuss more of this in a bit, for now, let's dig deeper about how the opportunity works.
As mentioned above, you will send a post and not just simple post, you will send a three-page letter shown below:
Also, this letter is not free. You have to pay for the printing on top of the membership fee that you will handle, too.
Can You Make Money With Impact Mailing Club?
There might be a small opportunity to make money from this platform and I say small because it's not really the type of make-money program you want.
I mean, do you really want to send letters to people you don't know? Do you even want to receive cards from individuals you've never met? It's basically spamming, only this time, it's done offline.
The worst part is, if you don't have any recruited members, you won't earn commissions.
But still, if you're interested in learning Impact Mail Club's compensation plan, you can watch the video below:
Is Impact Mailing Club A Scam?
Maybe no? I can't directly imply that Impact Mailing Club is a scam but if there's one thing I'm certain about, I don't recommend this to anyone.
Do you really want to receive a letter from the people you don't know? Are you really willing to pay a huge amount for an opportunity that doesn't prove it's legitimacy? How can you trust an unsustainable program?
Also, the facts that they don't have an official website and the only way to contact their customer support is through email are weird. I mean, if the people running this program are already earning, why not invest in a good website that provides all the necessary details for interested individuals? Why not hire good customer support that can be contacted over the phone or chat (or other ways) since customer service is crucial in all types of business?
Do they even care about their members? Obviously, they only care about your money.
If you want to make money online, there are other legit options to choose from and here's a tip, these platforms do not promise that it's going to be easy. Hard work is still an important factor when you want to earn cash unless you're talking about the lottery.
For example, a legit multi-level marketing company. Unlike the Impact Mailing Club, you don't just recruit, you sell real products, such as slimming coffee, cosmetics, etc. You may even promote coaching and mentorship but the thing is, MLM platforms offer real value -- and not just memberships.
If it's about recruitment, there's a huge possibility that it's a scam, a pyramid scheme, or a Ponzi scheme in disguise. Don't ever fall for that!
You can also consider affiliate marketing, such as Wealthy Affiliate. It's a legit business model that allows you to promote products and services without actually buying them. It works by adding a unique link to the content and when another person makes a purchase using that link, you are compensated.
As mentioned above, there are four membership levels to choose from, such as:
Level 1 - Emerald $100
This includes 100 leads, a welcome package, and commissions worth $65 for the first tier and $20 for the second tier.
Level 2 - Ruby $250
This includes 200 leads, a welcome package, and commissions worth $150 for the first tier and $50 for the second tier.
Level 3 - Sapphire $500
This includes 400 leads, a welcome package, and commissions worth $300 for the first tier and $100 for the second tier.
Level 4 - Diamond $2,000
This includes 1000 leads, a welcome package, and commissions worth $1,000 for the first tier, $500 for the second tier, and invites to a Mastermind Event.
As you can see, the higher the level you purchase, the bigger the commission you get. But of course, that means a hefty amount and for an impossible money-making opportunity, this is a waste of cash.
On top of this, these are not the only fees that you will shoulder. You also have to worry about other expenses for materials, postage, printing, and traveling. For instance, you bought the Ruby membership and you have 200 leads. That means you have to print 200 of the three-page letter.
Worth it?
Big NO!
There are other legit opportunities out there and you what I discovered with making money online, most of these platforms are available without paying a huge amount; you can even start an opportunity without paying anything.
For instance, Wealthy Affiliate. This legitimate affiliate marketing program allows you to make money by promoting products (that actually works and you're interested in). It's not as easy as Impact Mailing Club sounds though but for sure, your time and effort won't go to waste.
Here Is My Top Recommendation to Start Highly Profitable Online Business from Comfort Of Your Home
I'm not seeing any pros joining this program, so I'll talk about the cons instead.
CONS
Spamming Random People
You send "ugly postcards" to random people. I repeat. YOU SEND "UGLY POSTCARDS" TO RANDOM PEOPLE. Is this even legal? Also, the fact that you get a commission for every recruit makes it sound more like a pyramid scheme and not a multi-level marketing program.
Again, an MLM has tangible products to sell and will only compensate you if your downline makes a sale, too.
Low Income Potential
Maybe no income at all. The only option to make money from this program is through recruitment and that means encouraging people to buy memberships. If you don't have any recruits, there's no way that you will make money.
Unreasonable, Expensive Costs
Are you really going to pay $100 for nothing? Yes, the membership includes a welcome package, leads, etc., but other than that, you have other expenses to shoulder. That makes it expensive.
On top of this, you have to recruit people you don't know and don't trust you so if you join this platform, get ready to see your money going down the drain.
Tired of Trading Your Precious Time for Money?
Here is a Blueprint to Owing Highly Profitable Online Business Without Any Experience REVEALED!
No one.
If you want to sell products and make money through recruitment, join a legit MLM platform. If you want to earn commissions by promoting goods without actually buying them, then sign up with a legit affiliate marketing program, such as Wealthy Affiliate.
Impact Mailing Club is a type of opportunity that I'd get rid of easily. I won't even have second thoughts about it. You send random people a letter in the hope of encouraging them to buy a membership? That's crazy! How did they even get the leads?
Also, the fact that you have to pay a big amount just to start earning is not a good idea. You don't even have the necessary details about the company unless you join their private Facebook group.
There are just too many red flags so obviously, I would say no to this platform.
Do you want to earn extra income online but you don't want to shell out a big amount of cash to purchase products that you know, would just end up in your garage?
If yes, then feel free to join my #1 recommended program and get perks, such as:
Proven strategy to work smart and earn a lot (literally)
My personal help
Lots of training resources
Step-by-step guidance
Best possible support including your own training coach
And so much more!
Now if that doesn't sound promising to you, I don't know what else will.
Thank you for reading my Impact Mailing Club review and if you have any comments, questions, or product suggestions for review, please feel free to share it below.
We Constantly Review Programs in "Make Money Online" Niche,
So That You Don't Have to Waste Countless Hours
Want To See Our
TOP RECOMMENDATION?