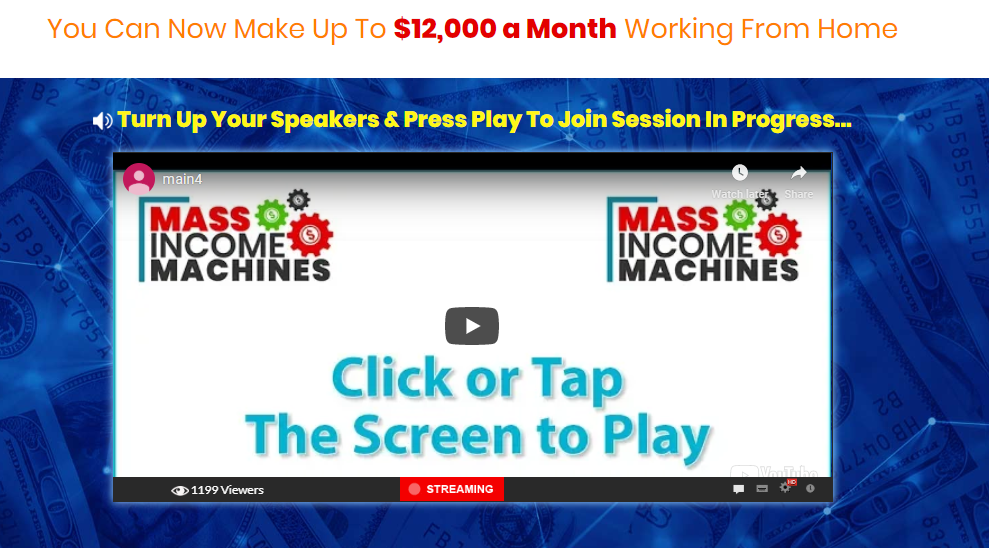 Welcome to My Mass Income Machines Review!
Gone are the days when you need to go out to earn an income; now, you can stay at home and make money online. The so-called "laptop lifestyle" is possible but never as easy as it sounds.
Therefore, any program that claims to help you obtain a massive amount of cash online, even without prior experience, is either a scam or a low-quality program because in reality, making money online is as challenging as working in an office or a restaurant.
Mass Income Machines Review Summary
---
Name: Mass Income Machines
Website: makemoneyonline.network
Founders: Jacob Allen
Product Type: Online Training Platform
Price: $37 + Upsells
Quick Summary: Mass Income Machines is an online platform that almost sounds like a scam. On their sales page, it contains overhyped messages, such as earning $12K a month even without experience. However, they fail to tell you what it's really about and that you need to pay a certain amount to get started.

But don't worry, I got it all covered in this honest Mass Income Machines review.
Overall Rating: 2/10
Recommended: No
So the next time you see an ad telling you that you can make a thousand dollars in one day, think twice (or as much as you can) before joining the program.
Reading a review is one way to help yourself avoid scams so if you're here to find out whether Mass Income Machines is a scam or not, then you're in the right place! In this post, you'll find out what it's really about and whether it's a scam or not.
What Is Mass Income Machines About?
The first time I landed on their page, I already know what it's about; however, I don't want to jump into a conclusion that it's just another low-quality program that's after everyone's money. But you can't blame me. I did various reviews on scams and similar platforms and generally, they have this kind of layout: bold claims - voice-overed video telling you how the founder lost his job and found a secret method online that helped him make money - fake testimonials - fake proof of earnings - owner using pen names - and fake scarcity.
Also, they will tell you a lot of things but they will never discuss what the program is really about so you have no choice other than to purchase it. So, to save you from possible distress, I researched about Mass Income Machines to know what opportunity it offers about and how it works.
Unfortunately, they won't provide as much detail as you need other than signing up for a ClickBank account. Once you sign up, you can start earning a steady flow of cash.
Basically, ClickBank is legit and this online retailer has been used by both advertisers and affiliates when making money online. However, it's not as easy as how Mass Income Machines has made it sound.
How To Make Money With ClickBank?
In general, you can make money with ClickBank as an affiliate. This means you can earn commissions by promoting products and services on your website. That being said, you need to learn how affiliate marketing works.
Contrary to what Mass Income Commissions suggest, affiliate marketing is not easy and newbies are required to enhance their skills and expertise first before they can start making money. Even if you're a seasoned marketer, getting results takes time.
For the benefit of the doubt, affiliate marketing works like this: the affiliate create content and insert affiliate links to it and once a visitor purchases a product or offer using the link, the affiliate earns commissions. But, again, it's not as simple as that.
While you can post your affiliate links in your social media, you need to build a website, too. Once it's done, your next dilemma is to generate traffic to it. The more visitors you have on your website, the higher the chance you get to convert sales. Some affiliates even make a sales funnel that will affect their visitor's buying decision.
Considering all these, newbies should spend as much time as they can so they can earn money through this legit business model.
If I were you and you don't want to get yourself involved in this sketchy program, I suggest that you join Wealthy Affiliate instead. Without a doubt, this platform is recognized by many internet marketers and individuals who want to make money online. It's free and you'll have everything you need to get started.
Is Mass Income Machines A Scam?
I can't directly say that Mass Income Machines is a scam but what I can tell you are the red flags that you should highly consider.
Red Flag #1: Bold Claims
Making money -- online and offline -- is challenging, and you just can't get a massive amount in just a short time unless you're some sort of a celebrity or a reputable professional. However, Jacob Allen makes it sound like it's easy.
He also said that the method used in this program is a "secret" but when you check online, you'll find different marketers using ClickBank to create an income. In fact, this platform has existed a long time ago, 1998 to be exact, and has been used by more than a hundred thousand affiliates worldwide. So what's so secret about this?
Red Flag #2: The Owner Uses A Pen Name
If your product is so great, why is there a need to use a pen name? Why did Jacob Allen choose to hide his real identity when he should be proud of discovering a brand new method that would help people make a massive amount online? Why even go to the extent of using a voice over just to conceal his real identity? It sounds like he doesn't want to be found and I'm not going to wonder why.
The moment his affiliates found out who he really is, I bet he'll receive thousands of complaints.
Red Flag #3: Do NOT Tell You How You'll Earn Money
The voice-overed video goes on and on, telling how the founder was hopeless about life and how he found a secret method as well as providing "proofs" of his earnings but it will not explain what it's really about.
Do you really want to invest your time and money on a program that's not even transparent to you in the first place?
Red Flag #4: Upfront Cost + Upsells
On their website, they won't tell you about the initial fee you need to pay to join the program. What they have, however, is a tab that says "Apply Now". In addition to the upfront cost, you will also encounter upsells that won't provide you any value so as early as now, ignore these.
The initial cost for this program is $37 but as mentioned, you'll see upsells inside the member's platform. I wasn't able to confirm the exact costs of these upsells but if there's one thing I'm certain about, it's how these upsells will waste your money and time.
To learn more about Mass Income Machines, you can watch the video below:
Here Is My Top Recommendation to Start Highly Profitable Online Business from Comfort Of Your Home
PROS
60-Day Money-Back Guarantee
Since it's a ClickBank product, it is covered with a 60-day money-back guarantee. However, I believe this is just for the initial investment but when it comes to the upsells, just like other programs, they won't issue a refund.
CONS
Too Many Red Flags
Knowing that the owner uses a pen name is enough to tell me that I should NOT trust this program. I mean, are you willing to purchase a product, which, aside from failing to tell you what it's about, won't disclose the identity of the people behind it?
Also, it has too many misleading information and upsells.
Low Income Potential
Don't get me wrong. There's still a chance to make money -- a huge amount of cash -- using ClickBank but honestly, most products that I've reviewed in the make money online department are useless. It's full of bold claims, just like this one. $12K+ per day? You must be kidding me!
FREE TRAINING
Learn How I Started Highly Profitable Online Business From Comfort of My Home Following This Blueprint
No one.
If you want to make money online and avoid getting scammed, take this step-by-step guide instead. It's free and unlike Mass Income Machines, you'll have everything you need to know before you get started.
Mass Income Machines has 8 modules in their platform, and here's a quick outline:

Module 1: The Big Picture
This is an overview of what Mass Income Machines is really about and the various money-making opportunities found online.
Module 2: Profitable Niches
As the title suggests, this module is about finding niches that are profitable enough.
Module 3: Website Setup
This module is all about creating a website and it includes registering your domain name and creating a landing page.
Module 4: Product Creation
This module talks about the programs you can use for creating and selecting digital products.
Module 5: Copywriting
This module talks about the formats and techniques you can use when writing a sales copy.
Module 6: List Building
This module is about creating a list you can use for email marketing.
Module 7: ClickBank Payment Integration
This module is about creating your own ClickBank account, setting up your digital product, and linking your website to your sales or squeeze page.
Module 8: Web Traffic
This module is about organic and paid traffic and how you can sell your digital product to affiliates.
The only thing I like about Mass Income Machines is the 60-day money-back guarantee as it lets you try the program personally almost risk-free. But other than that, I believe that the program is nothing but a sham. The training they've provided is barely enough to compensate for the price they're asking so you can join the program since you can find these resources online -- for free! Also, the red flags involved are more than enough to tell you what kind of opportunity they really offer.
Whether you want to make money on a full-time or part-time basis, I suggest you sign up with my top-recommended program.
Not only does it offer free, valuable training, it also gives you the following perks:
Proven strategy to work smart and earn a lot (literally)
Best possible support including your own training coach
Lots of training resources
Step-by-step guidance
My personal help
And so much more!
These are just some of the benefits you can get when you join my top recommended program. If you have any questions or comments, please feel free to drop it down below. Thank you!
We Constantly Review Programs in "Make Money Online" Niche,
So That You Don't Have to Waste Countless Hours
Want To See Our
TOP RECOMMENDATION?