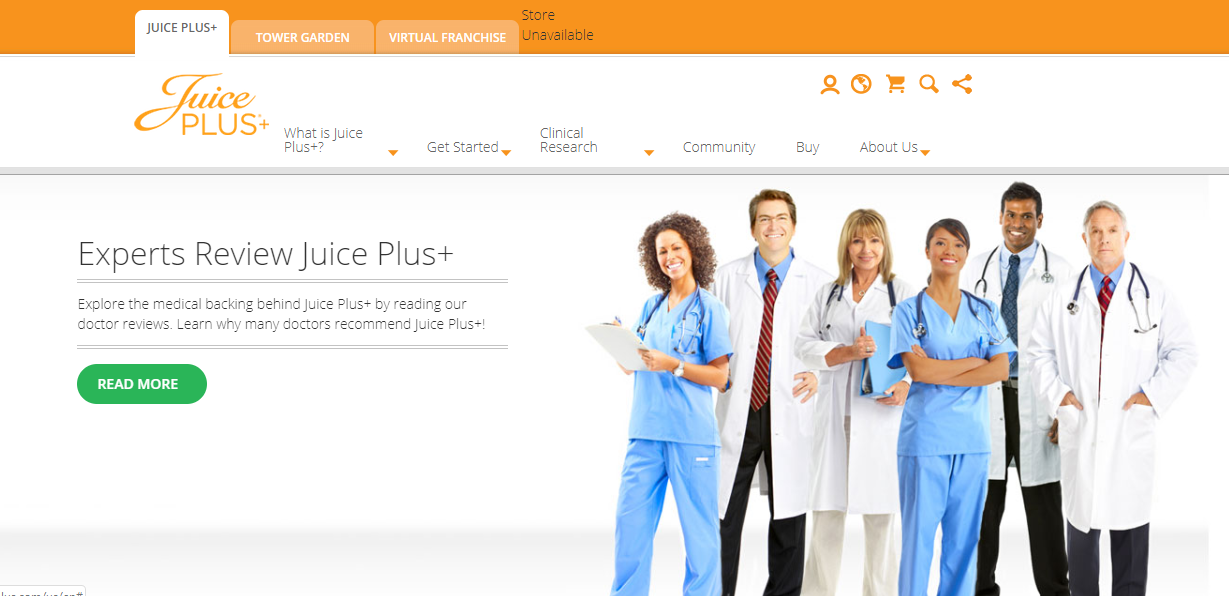 Welcome to My Juice Plus+ Review!
I was never a fan of multi-level marketing but that doesn't mean that I consider all of them a scam. I know some individuals who have earned a lot of cash using this business model and some people whose lives have been transformed under these programs.
Juice Plus+ Review Summary
---
Name: Juice Plus+
Website: juiceplus.com/us/en
Founders: Jay Martin
Product Type: Multi-Level Marketing
Price: $50 Membership Fee + $70 Minimum Purchase/Month
Quick Summary: Juice Plus+ is a legit multi-level marketing company that promotes health and wellness products. Like typical MLMs, you can earn by selling their products and by recruiting more people to join the platform. Because of this, there are reports about their member's aggressive way of inviting people and I'll discuss more of that and other complaints in this review.
Overall Rating: 4/10
Recommended: No
That being said, MLMs do offer money-making opportunities but before you sign up to any similar programs, it's best to learn as much detail as you can… and that's probably the reason why you are here. Maybe you want to find out the truth about a popular system called Juice Plus.
How does it work? Is Juice Plus a scam? How much money can I make if I join this program?
All your questions answered in this Juice Plus review!
What Is juice Plus+ About?
The "Next Best Thing To Fruits And Vegetables" -- that's what Juice Plus+ is about, or so they say. This brand claims that they can treat varieties of ailments and although there are complaints about this company, it has managed to maintain a good name for more than 10 years.
Launched by Jay Martin in 1993, Juice Plus+ is the first nutritional product of National Safety Associates (NSA), which basically started as a distributor of fire-protection equipment. It is packed with nutrients coming from fruits and vegetables but despite the marketing claims, it does not guarantee that it can treat health conditions. Nonetheless, it's been used by many individuals especially in the U.S.
Other than being promoting their products, they also offer a business opportunity.
How To Make Money With Juice Plus+?
Juice Plus+ follows a business model called "multi-level marketing" or MLM. This means that aside from earning through retail profits, the distributor will acquire commissions when their referrals have created sales. They don't earn directly by recruiting new members rather, they earn based on the products that their downlines have distributed -- and this is what makes them different from a pyramid scheme.
Some people think that MLM is the same as pyramid scams; however, in network marketing, you have tangible products to sell and you don't just earn by inviting people. Pyramid schemes, on the other hand, will compensate their members for recruiting their people to join the system. Also, multi-level marketing is a legal business model while a pyramid is not.
Anyway, the amount you can earn from Juice Plus+ increases as you move up in your rank. It also opens you to more incentives and rewards, therefore if you want to make more money with Juice Plus+ (or other MLM programs), your main goal should be to level up.
To know more about Juice Plus+ compensation plan, you can watch the video below:
Juice Plus+ Product Line
One way to earn with Juice Plus+ is to buy their products on a wholesale price. You can then sell it to other people and obtain retail profits. It's almost the same as Optavia, Xyngluar, and AdvoCare since they promote health and wellness products.
The difference lies in how they prepare their products, especially supplements. Apparently, they "juice" the fruits and vegetables first, then incorporate the necessary vitamins and nutrients to it while eliminating carbohydrates from the juice. For the final step, they "dehydrate" the juice and put it into their supplements.
Other than capsules, they also sell nutrition bars and meal-replacement drink mix. The price ranges from $17 up to $71++. They also promote their "Tower Garden", which allows you to grow herbs, fruits, vegetables, and even flowers indoor or outdoor.
Juice Plus+ is not a scam. In fact, it's accredited by the Better Business Bureau (BBB) since 1971 and has received an A+ rating. However, like other businesses, it has received a few backlashes, such as getting billed for a product they did not get and not receiving a refund. Other complaints are not directly against them but to their distributors.
To join Juice Plus+, you need to pay $50 one-time. This will entitle you for the marketing collateral, basic training, your back office and website, and other resources that will help you start and grow your business online. Meanwhile, to keep your account active, you have to order $70++ worth of products.
Compared to other MLM companies, their fees are cheaper but still, since their products are expensive, getting your investment back can be challenging.
If you're not into selling high-ticket products or even into recruiting members traditionally, I suggest you join my top recommended program. Unlike MLMs, it won't pressure you to invite new people so you can earn commissions; however, like other business models, it will take time and effort to see desired results. Nonetheless, this platform is a favorite of internet marketers and individuals who want to make money online.
Here Is My Top Recommendation to Start Highly Profitable Online Business from Comfort Of Your Home
PROS
It Is A Legit Program
Juice Plus+, as well as its parent company, has been in the industry for a long time and even until now, it has managed to retain a reputable name. If you're into MLM, it's a company that you can trust.
CONS
Focused On Recruiting People
As I've mentioned, as your rank gets higher, your incentives and rewards increases, too and it can be done by recruiting more people to join your team. Although you will not be compensated directly for successful referrals, the number and performance of your team have a huge impact on your commissions.
That being said, many distributors still use the traditional networking method which is talking to the people they know (such as friends and family) and encouraging them to join the program. This is one of the things that I hate about MLMs. I was invited many times before and some distributors are either exaggerating their claims or telling lies just to convince me to join the program.
Overpriced Products
This is the norm for all MLM companies. Their products are almost 2 or three times more expensive and this makes it challenging for distributors. I mean, if you can find a similar supplement on Amazon or anywhere else, would you still bother buying pills from Juice Plus+.
Automatic 4-Month Auto-Shipping Of Products
Unlike other MLM companies that will allow you to purchase products individually, you're required to purchase the product in 4 consecutive months. That means if you purchase their Juice Plus+ Fruit & Vegetable Blend Capsules, you'll have to pay $44.50 every month for four months or $178 in total.
Their reason behind this is that it takes at least 4 months the product to take full effect in your body. Whatever their reason is, I'm pretty sure that it's just part of their way to make more money from their buyers.
Complaints Against Their Distributors
I've seen complaints against their distributors about failing to tell the buyers about the 4-month auto-ship policy. Whether it's intentional or not, there's a possibility that this is their way to earn more sales. I mean, if every buyer knows about this, it would be hard for them to convince them to purchase the product.
FREE TRAINING
Learn How I Started Highly Profitable Online Business From Comfort of My Home Following This Blueprint
MLM, despite being a legit opportunity to make money, is difficult compared to programs. You are not only required to sell products to earn but also, you are encouraged to invite members to join the program. That being said, it's ideal for anyone who has experience doing this or those who have done aggressive sales before.
Juice Plus+ is not a scam and it's one of the longest operating multi-level marketing companies in the U.S. It's recognized in almost every part of the world; however, it also has a few downsides. One of which is the exaggerated claims, therefore before you purchase any of their products, you should not expect that it can cure your ailments.
Also, in case you decided to give this opportunity a try, you should NOT expect that it will give you wealth in an instant. Like other business opportunities, it will take time and effort to make it work. As for you, you need to put extra effort in selling and recruiting to earn commissions.
If you think this is not a good opportunity for you, don't worry! I have a better alternative which I'll share in the next section.
Inviting people to join a program especially in a face-to-face setup is difficult. Some people are skeptical about this so if you don't want to bother anyone but you want to earn online, I got the perfect solution!
Check out this step-by-step guide to learn how you can start making money without inviting new people, buying products to sell, and even going out of your comfort zone.
In addition, you can enjoy the following perks:
Training And Webinars
24/7 Chat Support
Live Active Community
And A Lot More!


I hope I have enlightened you with my honest Juice Plus+ review and if you have any questions or comments, please feel free to share it below.
Thank you!
We Constantly Review Programs in "Make Money Online" Niche,
So That You Don't Have to Waste Countless Hours
Want To See Our
TOP RECOMMENDATION?