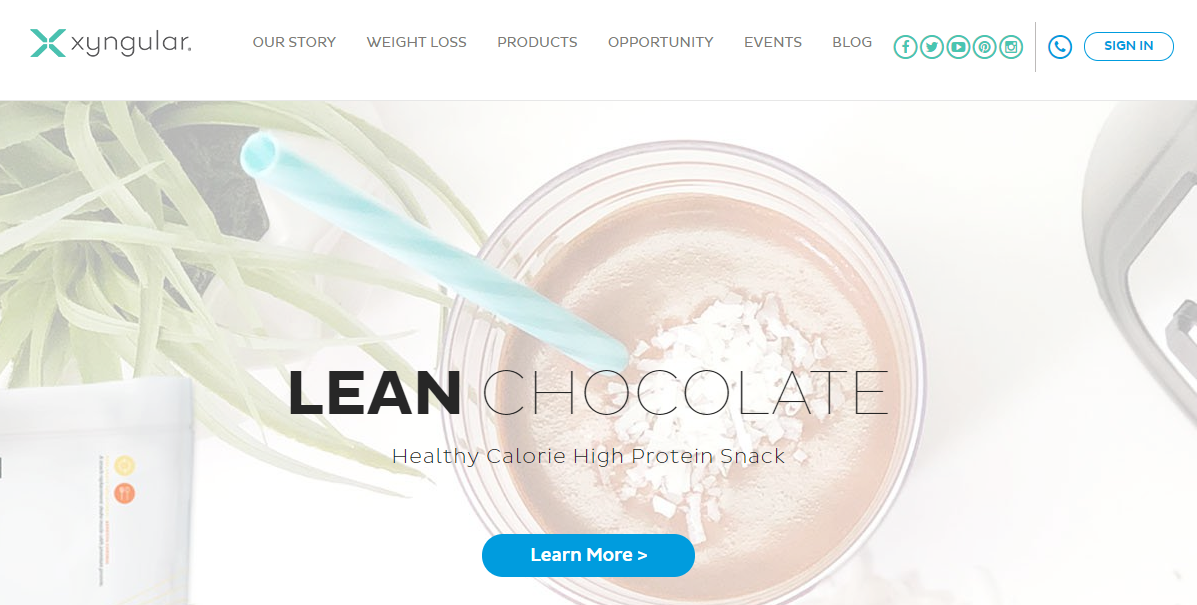 Welcome to My Xyngular Review!
Multi-Level Marketing (MLM) itself is a legal business model; however, not everyone knows about it. Also, since some fraudulent platforms disguise themselves as one, many individuals think that it's nothing but a scam.
Xyngular Review Summary
---
Name: Xyngular
Website: www.xyngular.com
Founders: Marc Walker
Product Type: Multi-Level Marketing (MLM)
Price: $14.95 Membership Fee + $49.95 Distribution Fees + Products
Quick Summary: Xyngular is an MLM company that promotes health and wellness products. They also offer an opportunity for their distributors to earn cash. Aside from selling the products, of course, there's recruitment involved. But should you consider joining this program or not? Can you really make money from it? Is Xyngular a scam?

Find out all the answers in this honest Xyngular review.
Overall Rating: 4/10
Recommended: No
Based on my personal experience and research, MLM can be lucrative especially if you know how to expand your network but even if the company is legal, not everyone can get their investment back. And again, not all organizations claiming that follow multi-level marketing are legit.

Perhaps, that's one reason why you are here: to know more about Xyngular.

How does it work? Is Xyngular a scam? Or can it really give you the best opportunity you need now?

Find out all the answers in this honest Xyngular review.
At first glance, I see Xyngular as a health and wellness brand that promotes high protein snacks, dietary supplements, and other weight loss products. But when I browsed more of it, I found a tab named "opportunity" so from there I figured out that it's like the other companies in the past: Optavia and Modere.
Aside from the part where you can use the product for weight loss or any health goals, you can also make money from it by selling the goods yourself or by recruiting a new member to join your team.
Basically, Xyngular is an MLM company that was founded by Marc Walker in 2009. Marc himself was a promising network marketer who, according to their page, "love helping people grow". He has his own experience when it comes to multi-level marketing so more or less, he has created real value for his business.
Xyngular has only been in the industry for 10 years but as of now, they are serving 27 countries with more than a hundred distributors. That alone is enough to tell us that their company is growing and becoming stable.
Products Sold By Xyngular
The main focus of Xyngular is health and wellness so basically, their products include weight loss supplements, energy boosting supplements, meal replacement, and other nutritional supplements. The goal of their product is to curb your appetite, burn fats, boost cardio, and even help you relax and reduce stress.
I noticed that their product line is very similar to most health and wellness program but if there's one thing that caught my attention, that would be their disclaimer below each product.
It says that their claims were not assessed by the Food and Drug Administration (FDA) and their products are not designed to cure, treat, or prevent any illness. For me, it's both a good and a bad thing.
Good, because there are no exaggerated claims unlike most MLM products and bad because being evaluated by FDA means a lot in terms of safety. Nonetheless, there are positive reviews about their products, like the one shown below:
But like other MLM products in the market, there are also negative reviews that are worth considering especially because you will not only be applying their products to your skin rather, you will take it.
How To Make Money With Xyngular?
Aside from using the product, Xyngular also offers an income opportunity to its distributors and like the usual MLM companies, there are two ways to earn money with them: first is through direct sales and second, through incentives.
To start earning, you have to pay $14.95. This is a one-time fee you need to settle when you want to become a member. You also need to pay $49.95 for the distribution fee and sign up for auto-ship; otherwise, you need to pay a certain amount every month for your products. Anyway, the membership fee will allow you to purchase their products on wholesale or discounted rates so you can sell their goods on a regular price and earn profit from it.
Once you're done with the initial fees, you'll have the opportunity to earn through these options:
Direct Sales
As mentioned above, you will earn profit by selling Xyngular's health and wellness products (that you got on a discounted price) at a higher price. In addition, you'll be getting Personal Volume (PV) points which can help you rank a higher level or get more commissions.
Unilevel Commissions
In line with the statement above, accumulating PV can help you get extra commissions. For instance, if you have 30 PV, you'll be earning a certain percent of your sales.
Rapid Rewards Commissions
If you're a team leader, you will earn a commission for the first four levels of your team. The calculation is based on the number of downlines you bring into Xyngular.
Quick Start Bonus
For the first month of being a member, you need to invite four people to join Xyngular and accumulate 120 PV in auto-ship sales to get this commission. This technique is usual in most MLM programs to motivate and attract more members.
Corporate Sales Pools
Qualified distributors can acquire 12% of their total sales revenue for the current month.
Incentives And Additional Rewards
These are the non-monetary bonuses they give to eligible distributors for hitting a milestone and it can be a travel incentive, certificates, etc.
To learn more about their compensation plan, you can click this link.
No, it's not. It's a legal MLM company with tangible products to sell. Unlike pyramid scams where you only pay for the "system", Xyngular has a variety of health and wellness supplements that you can make money from.
And if you're someone who relies on the Better Business Bureau, it's good to know that Xyngular has received an A+ rating, although it's not accredited by BBB.
The problem lies in the products and recruiting. If you would look at their essentials, most are overpriced and you can find similar products online for a lower price. If you're the seller, it would be very challenging for you to put it in the market especially since there are cheaper alternatives.
In addition, you have to recruit new members so you can increase your rank and earn commissions so if networking is not your forte, Xyngular and MLM per se are not for you. However, if you're passionate about health and wellness, if you believe in their product, and if you are good at persuading other people, then you might consider this option.
But if you're not any of those mentioned above, you can start your own business online now without the need of bothering any people you know. No referrals needed. No need to sell products. No need for an expensive fee to begin with.
What you need, however, are commitment, hard work, and consistency. If this sounds interesting, you can explore more of my top recommended platform by clicking this link.
To join Xyngular, you have to pay $14.95 for the membership fee and another $49.95 for the distribution fees. On top of this, you also need to purchase a starter and transformation kit so you can start selling products. The prices for these kits range from $199 to $549.
To learn more about Xyngular, you can watch the video below:
Here Is My Top Recommendation to Start Highly Profitable Online Business from Comfort Of Your Home
PROS
Many Members Love Their Product
While there are negative feedback about Xyngular, the number of positive reviews outweigh the cons of their product. I've checked other Xyngular reviews and I found out that they have an F rating before but as of this writing, they have an A+ on BBB.
CONS
Making Money Is Challenging
This is the usual problems with MLM; the price of the products that you need sell is expensive so more or less, making a sale is difficult. Also, it's hard to convince people to join your program because of many reasons.
For one, they think that MLM is like a pyramid scam and no one can blame them. It works almost the same -- I mean the "recruiting part" -- and most network marketing members use exaggerated words to make their prospects assume that they can get huge cash for joining the program.
Another thing is not everyone is into networking. Not everyone is willing to invest a huge amount and get their money back by inviting more people. Not everyone is confident in doing face-to-face sales. So expect that you won't be able to get a lot of new recruits unless you're really good at convincing.
Expensive Products
And by that, I mean VERY EXPENSIVE PRODUCTS. Imagine how many supplements you can get from their $42-worth Advanced Omega Supplement. But then again, this is how MLM works and I think they put a huge mark up for their products so they can give incentives and bonuses to their members.
Tired of Trading Your Precious Time for Money?
Here is a Blueprint to Owing Highly Profitable Online Business Without Any Experience REVEALED!
Xyngular is good for people who are into health and wellness. I mean, it would be easier to sell products if you have the knowledge or are passionate about it. It's also for experienced network because as I've mentioned, it would be challenging for you to make a sale and convince people to join the platform so it's ideal if you've done it before.
Xyngular is a legit MLM company that you can consider if you've been doing network marketing before and if you're an advocate of health and wellness. However, I cannot recommend it personally because first of all, I don't like multi-level marketing.
Aside from the bad experiences I've had before, I'm not good at making a sale, let alone marketing a high-ticket product. In addition, I don't want to call another family member or a friend and invite her to an "opportunity" that would help them make money.
Not into MLM but want to make money on a flexible time? Then I'd like to invite you to my top-recommended program and enjoy the following perks:
Proven strategy to work smart and earn a lot (literally)
Best possible support including your own training coach
Lots of training resources
Step-by-step guidance
My personal help
And so much more!
Don't worry! There's no need to sell expensive supplements or beauty products or recruit members just to earn a commission. Simply sign up and you'll have everything you need to get started. Anyway, I hope I have enlightened you with my Xyngular review and if you have any comments or questions, please feel free to share it below.
Thank you!
We Constantly Review Programs in "Make Money Online" Niche,
So That You Don't Have to Waste Countless Hours
Want To See Our
TOP RECOMMENDATION?