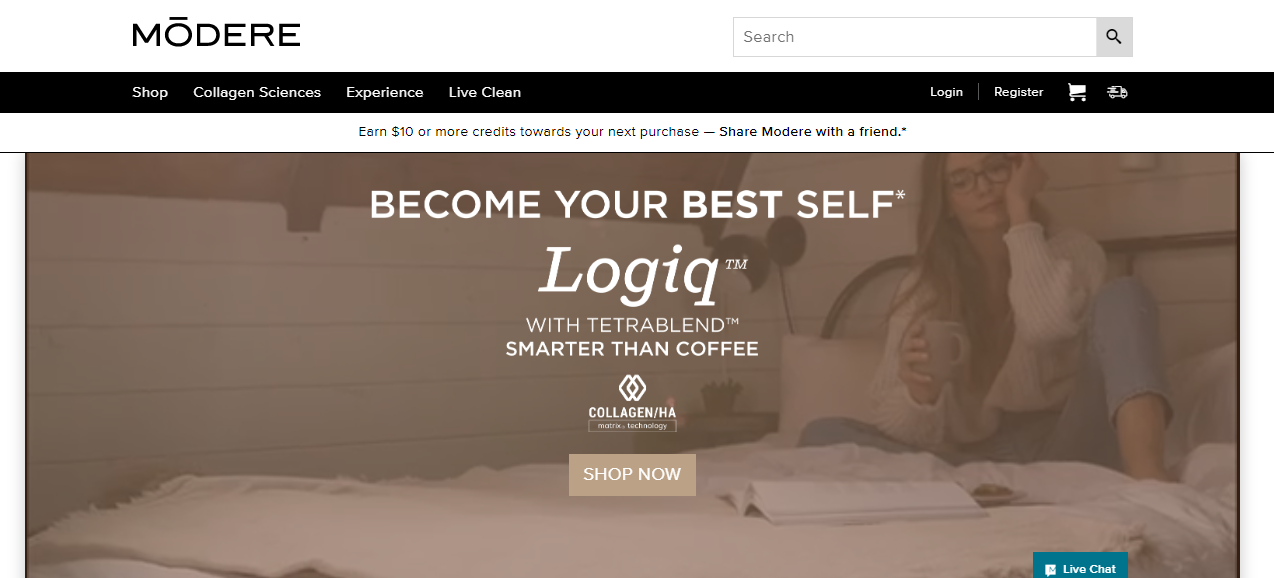 Welcome to My Modere Review!
Networking, which is also known as multi-level marketing (MLM), is one of the ways you can try if you want to make a massive amount of cash. It offers more than just one option to earn: aside from selling products, you can earn extra commission by recruiting new members.
Modere Review Summary
---
Name: Modere
Website: www.modere.com
Founders: Thomas Mower And Leslie Mower
Product Type: Multi-Level Marketing
Price: $29.95 + $399
Quick Summary: Modern is an MLM company that promotes health and wellness products. It's consists of personal care, household care, and weight loss supplements. Although it works slightly different from other multi-level marketing brands, it has a number of weak points, such as their training program.

But how does it work? Is Modern a scam? Should I invest my money on this MLM brand? Find out all the answers in this Modern review.
Overall Rating: 4/10
Recommended: Yes... And No
But because of the latter option, many people are hesitant about joining this kind of program mainly because they see it as a pyramid scheme. If you're one of those who are confused between an MLM and a pyramid, here's the main difference: an MLM sells real, tangible products and recruits new people while a pyramid scam only focuses on inviting new members to join their program.
While MLM is legal, not all companies that are supposed to be under this business model is the same. In this post, I'll share an honest Modere review so if you want to know more about it, just keep on reading.
At first glance, Modere seems like a good company that promotes health and wellness. Their brand claims to produce products that would help "you reduce or eliminate your exposure to controversial chemicals so your family can enjoy a safe, healthy home environment." They even have a program called "Modere Cares", their own charity that aims to provide nutrition to children who are in need worldwide.
However, behind these too good to be true offers, Modere conceals a dirty secret. Basically, it's a multi-level marketing company that's previously known as Neways International. Founded in 1992, it was obtained by Z Capital in 2013. After the acquisition, rebranding took place which resulted in new products, management, prices, and a lot more changes. A year after the transformation, Modere was reborn in 2014.
So why the sudden rebranding?
When a company rebrands, it can be the result of new management, growth, or a bad image. With Modere, it's the latter part. Apparently, Neways International has faced a lot of lawsuits, such as an order to recall one of the weight-loss essentials, "conspiracy to defraud IRS charge", income tax evasion, and a defamation suit against them.
While these are all settled and Modere claims to be under new management, joining the rebranded version is kind of risky. Why? Simply because when the company rebranded in 2014, Robert Conlee, who was the Chairman of the Board at Neways International is still the same person who manages Modere. It was only in January 2018 when Modere appointed Asma Ishaq as the new CEO.
What Are The Products Of Modere?
When I first read about Modere, I thought that it's the same as Optavia, an MLM company that promotes health and wellness, too. However, instead of providing meal plans and programs, they offer tangible products for health and wellness, personal care and even household.
Health And Wellness - Supplements for weight management, anti-aging, and general nutrition.
Personal Care - Hair and body essentials like shampoo, lotion, serum, soap, exfoliant, etc.
Household Care - Laundry powder, dish wash, fabric softener, etc.
How To Make Money With Modere?
When you join Modere, you will first start as a Social Marketer (the term they use to refer to their distributors) but as you "meet specific requirements", you will not only achieve a new rank but also, "new opportunities and increased earning potential". This is how MLMs normally work and because of the possible bonuses, many people are lured to join their programs, no matter how expensive their fees and products are. Anyway, here's an outline of their bonuses:
Customer POD Bonus
Live Clean Shopping Credits
Promoter Development Bonus
First Order Bonus
Monthly Team Builder Bonus
Leadership Development Bonus
For a more detailed compensation plan, you can click this link.
No, it's not a scam at all. It's not even as bad as the other MLM companies that are focused on recruiting new members. While they may still get compensated by expanding their team, they don't rely on face-to-face invitations, which is annoying by the way.
Rather, they use social media to promote their business. For me, this is far better than making another person intimidated and harassed just because you want them to become a member. Also, since social media is one of the best ways to market your business, there's a bigger chance for you to reach a larger market and sales conversion.
To get started with Modere, you need to pay $29.95 for their training, marketing materials, and to become an official "Social Marketer". But this is for the membership fee alone. For the products, you need to purchase the "Builder Collection Package" which costs $399. Therefore, to become a member and to make money selling their products, your startup costs is almost $430.
While their joining fee is cheaper compared to other MLMs, $430 is still a huge amount especially if you're just a beginner and looking for a way to create an extra income.
If you want to know more about Modere, you can watch the video below:
Here Is My Top Recommendation to Start Highly Profitable Online Business from Comfort Of Your Home
PROS
Using Social Media To Market Their Offers
For someone who doesn't like face-to-face interaction, using social media to promote the products and the business itself is a huge help. It's less intimidating and effective. Also, I like the fact that they are not focused on inviting new members. While expanding the team is crucial for you to earn, their main attention is to sell their products so they can increase their rank and opportunities.
Also, with social media, you don't need to get dressed and go out from time to time just to market your products; rather, you can just post during your free time or have your content scheduled in advance while you wait for sales conversion.
Accredited By The Better Business Bureau (BBB)
Modere has been accredited by BBB in 2018 and has received an A+ rating. Perhaps, this is one thing that would support their legitimacy. In addition, there are a number of positive feedback from satisfied clients, such as the one shown below:
Safe And Effective Products
In line with the photo above, there are also Modere reviews stating how safe and effective their products are so if you're looking for a natural, vegan-friendly personal care and household essentials (and if you are willing to spend extra bucks for it), you may check Modere products for eco-friendly alternatives.
CONS
Low-Income Opportunity
Let's admit it: not everyone is open to spending a huge amount of money first before earning. $400 is a huge amount so it would be very challenging for you to convince another individual to get your offer. Second, the products are expensive. I mean, are you willing to spend $20 for lotion when you can find a less than $10 alternative on Amazon that's already vegan-friendly?
On top of this, there are just too many health and wellness products in the market, let alone the MLM companies that promote it. Unless you can really attest to the effectivity of Modere products, it's better to find other business options instead.
Poor Training
For most MLM companies, their strength is their consistent and effective training. But with Modere, this may not be the case. While their concept in marketing is good, they can only take advantage of social media if they have the expertise and skill in it. Unfortunately, their training is not solid yet, which is usual for new companies. After all, their brand, Modere, has only been in the industry for five years.
If you're looking for an income opportunity that doesn't involve membership fees and selling products, I suggest that you try my top recommended program.
Tired of Trading Your Precious Time for Money?
Here is a Blueprint to Owing Highly Profitable Online Business Without Any Experience REVEALED!
Modere is good for those who are passionate about health and wellness, particularly in using vegan and eco-friendly products. It's also good for those who have experience with MLM companies. This way, it won't be difficult to figure out how their system works. In addition, it's better if you have knowledge of social media marketing so you'll know how to promote your business using Facebook, Instagram, and other social media platforms.
As mentioned, Modere has weak training and support system mainly because they are still a new company. You can find a few training videos and collateral online that will help you learn about the basics of their business and products. But then again, you cannot rely much on it if you want to grow your business.
However, if you still want to pursue your business with Modere, I recommend that you consider this platform. While it's not focused on social media marketing nor on Modere products, you can take advantage of the free courses offered so you'll have an idea on how you can market your offers.
For someone who doesn't like MLM, I find Modere as a good company. Despite the startup costs and recruiting members, it's not necessary for you to have a face-to-face conversation with your prospect. What you need to do, instead, is to focus on your social media marketing. However, you still need to find suitable training so you can maximize your strategy.
But then again, despite the bonuses and income opportunity, it's not easy to make money with MLM. There's no assurance that you can get your investment back unless you really work hard for it, which is normal for all types of legal businesses.
Recruiting other people to join the platform and earn incentives are easier said than done because often, it's a daunting task. So if you want to make money but don't want to invite friends and families to join the platform, I suggest that you take my #1 recommended program.

Sign up now and enjoy the following perks:
Step-by-step guidance
Proven strategy to work smart and earn a lot (literally)
Best possible support including your own training coach
Lots of training resources
My personal help
And so much more!
I hope this unbiased Modere has helped you and if you have any questions or comments, please feel free to share it below.

Thank you!
We Constantly Review Programs in "Make Money Online" Niche,
So That You Don't Have to Waste Countless Hours
Want To See Our
TOP RECOMMENDATION?