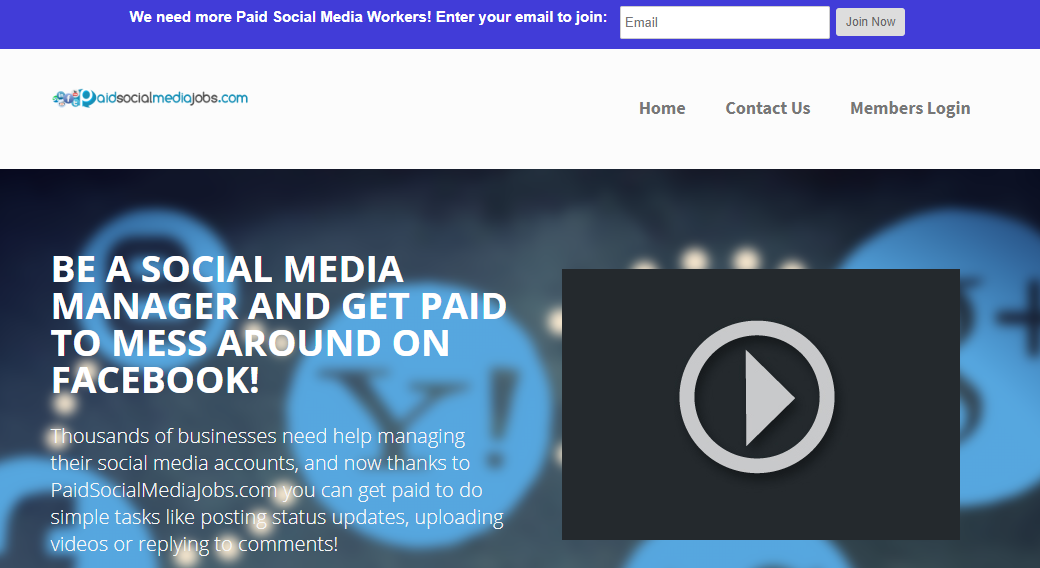 Welcome to My Paid Social Media Jobs Review!
Nowadays, there are just too many opportunities online and almost anyone who has access to an Internet can earn an income. However, there are also a lot of scammers taking advantage of people who have little to no knowledge about their programs.
Paid Social Media Jobs Review Summary
---
Name: Paid Social Media Jobs
Website: https://paidsocialmediajobs.com/
Founders: Annie Jones
Product Type: Online Training Course (Social Media)
Price: $27 +Upsells
Quick Summary: Paid Social Media Jobs is an online training course that claims to help you make money by managing other business' social media accounts, like Facebook, Twitter, and YouTube.

While this opportunity is legit, can this program really shape you into becoming a person worth paying for? How good is the training? Do they even provide a real course or Paid Social Media Jobs a scam? That, we will all find out in this Paid Social Media Jobs review.
Overall Rating: 4/10
Recommended: No
So if you're one of those who spend enough time finding out more about the product rather than getting your hands on it, you're doing a great job. In this post, I will give a thorough Paid Social Media Jobs review so you can decide whether this training is right for you or not.
What Is Paid Social Media Jobs About?
Last year, I took a paid social media course online so I can jumpstart a new career on the Internet. Even if there are a lot of free training materials, it still feels different to be guided by people who have become successful on their own, doing the same thing. However, not all programs are worth paying for.
When I found Paid Social Media Jobs' website for the first time, I was disappointed. It has little to no details about how it works, its owner, or the company itself and the only way to reach them is through an online ticket.
On their sales page, you will only see a 1-minute video that talks about business owners who need help managing their social media accounts, and that you have the opportunity to help them and earn from it.
Without a doubt, this opportunity is true and I can attest to that. I've worked as a social media marketing specialist before and I did make good money out of it. But like a job, you cannot expect to make a passive income out of it because if you don't work, you won't get paid.
If you want to have an opportunity to make money work for you, you can consider my top recommended program. However, it's not a get-rich-quick scheme. You'll have to spend a lot of effort and time first before you reap your rewards.
How Paid Social Media Works
First, you enter your email address on the upper box below and click "Join Now". You will see an "application form" like the one shown below:
You will then be lead to a page saying that their "agents" are evaluating your application but it doesn't matter how you answered the question, you will still get approved which will take you to the next page. It says that they will hold a spot for you for an hour and that a "full training will be provided". It also claims that you'll be paid to do the following:
Uploading images and videos on various platforms
Manage groups and comments
Generate more likes and shares
The next step is to take a "short training and certification process" since I fit all the main criteria. It's funny because there's a part where you'll be asked: why do you think you would be a good fit for this job and I answered this: I eat donut but still, I got approved. Oh well, I believe even if you know nothing about social media, you will still end up eligible for taking their program.
Anyway, there will be no test involved and once you completed the training, you can start making money. My question is, they said that there's a certification process but how is this possible if there are no examination, first-hand experience, or on-the-job training before jumping into the real job?
Going back, Paid Social Media Jobs says that they "are currently offering a huge discount on certification for members from (whatever country you're from)". If you know better, you'll understand that this is not really an offer. There's no discount and that you'll not get a better rate just because you're from this country. The thing is, they can detect where you're from so they can make you feel like you're special or you've been chosen exclusively. But, don't fall for their trap.
Is Paid Social Media Jobs A Scam?
Despite all the shady tactics, Paid Social Media jobs is not a scam. The opportunity they offer, which is about managing a social media, is legit and it can really help you make a good amount of cash. Plus, the training they provide offers real value. If you're a beginner who wants to have the basic expertise and skills about it, you can take advantage of this training.
However, if you want to have an advanced knowledge (or to get a higher pay), you need to learn more about social media and have experience as a social media manager yourself. Clients are more likely to hire you if they know that you are really capable of doing the job right. Also, having a portfolio of your work is recommended, which, I think, was not mentioned in Paid Social Media Jobs.
In addition, there are just too many RED FLAGS, making it appear like a low-quality program. For one, the owner is unknown so how can you be sure that he/she is going to give you valuable learning if you don't even know who he/she is or if he/she's been successful on this opportunity, too.
Next, there are various fake scarcity techniques, such as the countdown timer, the "hold the spot for you claim", the limited offer, etc. These are just luring people to not think twice about purchasing their program. While promotions really work that way, it's still important to take your time reviewing the product before you purchase it.
Here Is My Top Recommendation to Start Highly Profitable Online Business from Comfort Of Your Home
In some reviews, you'll see different prices for Paid Social Media Jobs but as for me, it's $97 but was discounted to $27. The cost of the program might change from time to time and it might suggest that the product is not really selling.
In addition, there's an upsell worth $37. It's called "Social Media Arbitrage" and it's also about making money through social media but judging by the name, it might be about hiring another person to do it for you and earning profit by paying him/her only what he/she asks for while you ask the client for a bigger amount for the service.
Tired of Wasting Time on Low Quality Programs?
I'm so grateful that I was able to find THIS PROGRAM which helped me to finally start making money online!
PROS
Decent Training For Social Media Management
I say "decent" because it provides basic information if you're a beginner and you want to have an idea about what you'll be doing, what opportunities can be found online, and how to get started on this. While most of it can be found over the Internet, for free, it's still good to be guided accordingly.
It would have been better if there are real-life examples or case studies because I believe that it makes a difference if you're sharing something out of your own experience. Plus, I don't think it's really necessary to pay that huge amount when you can get training from reliable sources such as LinkedIn.
30-Day Money Back Guarantee
Thanks to ClickBank, you can have a refund within a month if you're not satisfied with the program you've purchased.
Good Income Opportunity Idea
The fact that Paid Social Media Jobs is legit is good enough. The business model they've used is also legal and can really help you make a good amount of cash without the need to go out.
It is true that you can make money managing someone else's social media accounts and I have experienced this first-hand. But then again, you cannot rely on this opportunity if you want to make passive income.
CONS
Unknown Founder
While it did show a photo of Annie Jones, it's still hard to believe that shés the real owner when there's no social media accounts to follow and no videos of her talking about the program. I mean, if you're a seller promoting your own social media management course, doesn't it make sense for you to promote your own social media accounts?
For me, checking the size of her followers, likers, and comments and engagement is one way to know how effective her training is.
Fake Offers
There's a countdown timer that resets every time you refresh or go back to the program, which only means one thing: the offer is not true. If you're new to this kind of techniques, you might believe that the discounted rate is available on a limited period and that you need to purchase it now.
This leaves you with no time to review the product and no option but to purchase it, but believe me when I say that it's a usual strategy used by low-quality programs or even scams online.
Pay To Work?
So you're looking for money but first, you have to spend money? That's insane. I mean, I get it, some training is not really for free especially if the founders have spent time and effort designing a high-quality program and imparting their experiences and tested-and-proven methods. However, if the payment is all about having a job, it's better if you consider free, reliable platforms instead like Fiverr and Upwork.
To know more about Paid Social Media Jobs, you can watch the video below:
Paid Social Media Jobs is good for beginners who want to have an idea about how social media management works and the opportunities that they have online through Facebook, Twitter, YouTube, and the like.
Paid Social Media Jobs has four training modules, and it includes:
Module 1: Understanding Social Media Manager
As the name suggests, it gives you a basic introduction about what social media manager is about, why you need to be one, and how to attract clients.
Module 2: How Get Started as a Social Media Manager
It gives a brief introduction about the importance of a social media manager to a business, how to get started as one, and the basic steps on how to set up social media accounts.
If you want to be get paid with a higher amount and become a real social media manager, this training won't provide you the right skills and expertise you need. As an SMM, you also need to know how to find the right target, set up effective social media campaigns, create content that works, and a lot more.
Module 3: Finding Clients
The training is just about how you can find clients and what kind of clients are in need of your service. It will also discuss the amount that you can expect to earn from this opportunity. If I were you, I won't expect much because the training is not intensive and it won't really give you an edge to become a social media manager that a client will choose to work with.
Module 4: Advanced Training
It's not an advanced training rather it's just like discussing the first module again.
Paid Social Media Jobs is not a scam. It also gives an idea about a lucrative opportunity online. It offers good training for beginners; however, don't expect that you'll be earning much with the help of this. It doesn't include all the necessary training you need to become a certified social media manager.
If you want to be hired and receive a good amount of cash by managing other social media accounts, you need to pack yourself with more skills, expertise, and experience.
If you want to earn money online and get a chance to have a source of passive income, you can check out my top recommended platform.
It's been used by other marketers worldwide and if I were you, I'd definitely take this chance to sign up now and enjoy these perks:
Free Membership
Free Training
Free Access To A Live Community
Free 24/7 Support
And A Lot More!
I hope you've been enlightened with Paid Social Media Jobs review and if you have any questions or comments, please feel free to share it down below.
Thank you!
We Constantly Review Programs in "Make Money Online" Niche,
So That You Don't Have to Waste Countless Hours
Want To See Our
TOP RECOMMENDATION?