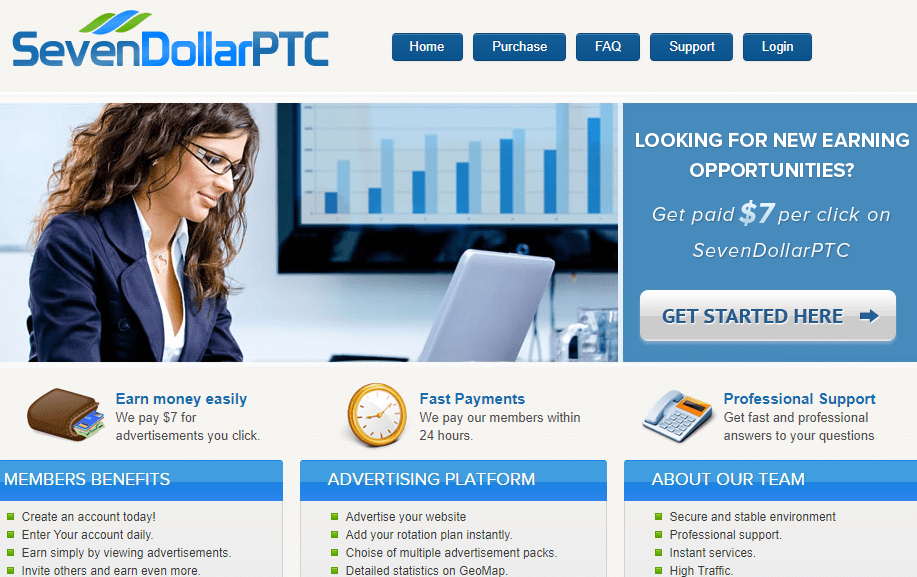 ---
Name: Seven Dollar PTC
Website: https://www.sevendollarptc.com
Founders: N/A
Product Type: Pay to Click Program
Price: starting from $59.99 a month
Quick Summary: Seven Dollar PTC claims you can earn $7 per click by just clicking on ads. Once you accumulate $7,000 you can then withdraw your money. Does this opportunity sound too good to be true? Oh yes and there are so many red flags in this program. Learn more below:
Overall Rating: 1/10
Recommended: No
What is Seven Dollar PTC About?
Have you heard about Seven Dollar PTC? Well, this company is a paid to click (PTC) site that generates revenue by having users click on ads.
PTC has been around for a while and isn't exactly a way to become lucrative because the payouts are typically very low. However, Seven Dollar PTC is enticing people to join with the promise of paying $7 per click.
SEVEN DOLLARS PER CLICK!?
That's certainly a number that will make heads turn, but unfortunately, it also sets off alarm bells. How is Seven Dollar PTC different from other PTC that pay at most a few cents for clicks?
This staggering $7 per click number will raise eyebrows both good and bad, and leave you wondering if the opportunity is legit. This unbiased Seven Dollar PTC review will break down the opportunity, starting with whether or not Seven Dollar PTC is legitimate or a total scam.
Is Seven Dollar PTC a Scam?
So, what's the deal with Seven Dollar PTC? Is it a scam or are you about to make tons of cash simply by clicking ads?
I hate to break it to you, but Seven Dollar PTC is a total and complete SCAM. It isn't just a low earning opportunity or slightly shady, this is a complete scam and you should run for the hills before signing up with Seven Dollar PTC.
1st Red Flag
Seven Dollar PTC claims you are going to get paid $7 per click. Most PTC sites pay anywhere from $.001 to $.02 per click. So, how can Seven Dollar PTC afford to pay you $7 a click?
This is a classic case of if it sounds too good to be true, in which case it is. It should be obvious that Seven Dollar PTC is a total scam, but there are more red flags if you don't believe me yet.
2nd Red Flag
So, how does Seven Dollar PTC pay? Well, they only pay out every 60 days. Wait… Seven Dollar PTC will only pay you after you work for them for two months? What happens if this is a scam? Well, that means that you worked for free for two months.
Seven Dollar PTC was making money from their advertisers off your hard work with absolutely no intention of paying you for your work. In addition to that, you also have to meet their payment threshold of SEVEN THOUSAND DOLLARS, which can take a few months in and of itself. So, the length of your "free work" period could actually be longer than 60 days.
3rd Red Flag
But wait, there's more! Yes, the Seven Dollar PTC scam gets even worse. To siphon more money from you, Seven Dollar PTC offers paid memberships.
These memberships are costly and provide you "instant access" to your funds. The problem is that there are so many Seven Dollar PTC complaints that the company never pays what they owe. That's because at $7 a click they would never be able to afford it! Do yourself a favor and steer clear of this deceitful scam.
So, what happens when you reach the $7,000 threshold? Well, most users report that the money simply disappears and doesn't show a high balance. Others claim that when they got close their account was suspended for a bogus reason. The bottom line is that Seven Dollar PTC has zero intention of paying any of its members.
Tired of Scams? Me Too!
But I'm so grateful that I was able to find THIS PROGRAM which helped me a lot in this online business journey!
You can find many videos on YouTube where people share their experience. In this one video I found there is a guy who exchanged emails with their support team and here is a glimpse of that email interaction:
This gentleman got so frustrated that he decided to create a video on how they scam you with all the clicks that don't actually get accounted, and all their bogus promises.
Here is Seven Dollar PTC Business Model:
They get you in with a hype to earn $7-$10 per click. When you reach $7000 and ready to cash out they force you to upgrade to Premium Account and after they get your money which you can't refund by the way – they will most likely suspend your account.
Just even look at their response levels, they are extremely unprofessional, act like total scammers. And they want you to refer other people so that they could scam your friends, family etc..
I am still surprised their website is still up and business is still running. There is nothing raised with FTC or BBB. I guess they are too small, so they don't get a lot of attention from authorities.
Many users are drawn in by the fact that Seven Dollar PTC is free to join. It's great that you can join and take advantage of their "earning opportunity" without paying a dime, but it's not that simple.
The free membership comes with a $7,000 minimum payout threshold and a 60 day payday waiting period. To get around this, you can sign up for paid membership and choose from one of these options:
Monthly Membership - ranges from $59.99 - $99.99
Yearly Membership - ranges from $199 - $699
Lifetime Membership - ranges from $750 - $975
That doesn't seem like much for instant access to your hundreds or thousands of dollars of earnings, but Seven Dollar PTC doesn't actually pay members so you'll simply be throwing your money away on top of the time you invest.
There is a $7,000 payment threshold
There is a 60 day waiting period for payments
You won't get paid for your work
Your account can get suspended any time
The memberships are a rip off
Can't buy membership from accumulated points
The entire site is a scam
So, what's the final verdict on Seven Dollar PTC?
Do you honestly think I could recommend a program that will essentially ask you to work for free for at least two months while they rake in the earnings? No!
Seven Dollar PTC is an Outright Scam and should absolutely be avoided. There is no way that a legitimate PTC site could pay $7 a click, especially when others are only paying at most a few pennies. To add to the dubiousness, they even try to extend the scam with Premium Memberships that will do nothing but suck your wallet dry.
There are too many red flags and documented complaints to take Seven Dollar PTC seriously. Do yourself a favor and stay far away from Seven Dollar PTC. It is not worth your time or money and you will be severely disappointed.
I see too many programs float online which are similar to this one but have different names for $6 a click, $1 a click etc.. It's pretty obvious that it targets people who chase EASY MONEY, but in reality it's nothing more than just a bait.
They will get free clicks and try to bash you off when you ask for money. If you are tired of chasing every shiny object out there and ready to build legitimate online business that can really make you money when you sleep then do yourself a favor and stop trying all these programs and invest your time in getting proper training that will require some efforts now but will payoff huge in the next 6 months to a year.
I hope you found my review helpful. Drop me a comment below:
We Constantly Review Programs in "Make Money Online" Niche,
So That You Don't Have to Waste Countless Hours
Want To See Our
TOP RECOMMENDATION?