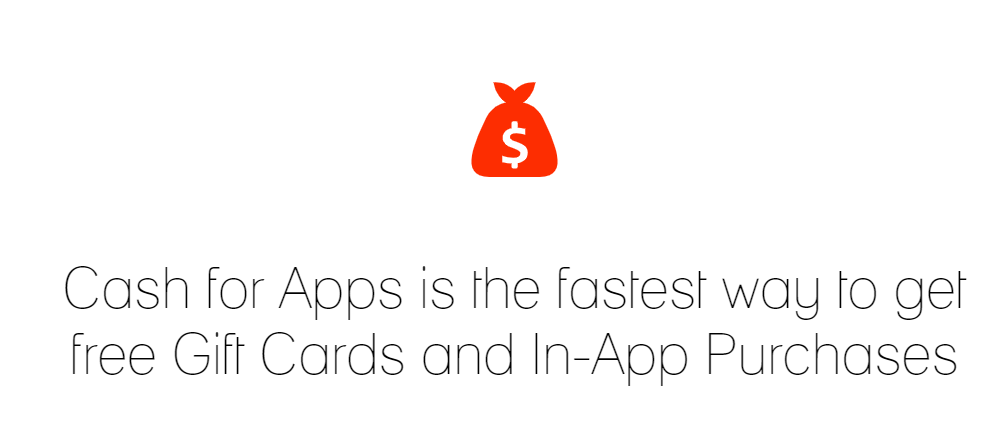 Welcome to My Cash For Apps Review!
If only it's possible to earn a reward from sitting all day, staring at your phone, life would have been a little better.
Cash For Apps Review Summary
---
Name: Cash For Apps
Website: www.getcashforapps.com/
Founders: MobVantage Marketing Ltd
Product Type: Mobile Application
Price: Free
Quick Summary: Cash For Apps is a mobile application that can be downloaded by iOS and Android users worldwide. It offers a good opportunity for those who love to shop and get free items. Although it won't reward you with real cash, you can get a free gift card instead for downloading sponsored apps and completing tasks.
Overall Rating: 3/10
Recommended: No
Apparently, a mobile app has made it possible. Cash For Apps, one of the most talked about mobile application give free gifts for doing very simple tasks such as downloading apps. But how is this possible? Is Cash For Apps a scam? Can you really make money out of it?
Find out the truth in this Cash For Apps review.
What Is Cash For Apps About?
Cash For Apps is a mobile application that's available for both iOS and Android device users. It was developed and founded by MobVantage Marketing Ltd., a mobile advertising company that claims to help app developers promote their applications worldwide.
According to their sales page, it's a quick way to obtain "free gift cards and in-app purchases" but how is this possible? How does Cash For Apps really work?
How Cash For Apps Work?
The instructions on how to use Cash For Apps is very straightforward. Like other apps, you just need to go to the Apple App Store or Google Play Store and search for "Cash For Apps". After the installation, download the apps featured in the platform and complete the tasks to start earning points. Once it's done, you'll be rewarded with points which you can convert to gift cards.
By the way, you need to enter a valid email address and a password to get started.
How To Make Money With Cash For Apps
Just to be clear, you can't make money with Cash For Apps, contrary to what their name suggests. Rather, you'll receive gift cards in exchange of downloading an app and completing tasks. More or less, you'll get 70 - 100 points for every app you install and you need at least 3,000 points to earn a $10-worth gift card. You can use these gift cards to purchase items from popular stores like BestBuy, Amazon, iTunes, etc.
You can also earn for a successful referral. For instance, you can 45 points for a successful referral of an Android user and 90 points for iOS users. You can refer as much people as you can as there's no limit when it comes to referrals.
Is Cash For Apps Available Worldwide?
Yes, it is. You can download it anywhere you are; however, the variety and number of apps that you can download from Cash For Apps depend on your location. This means that a certain app might only work in a specific place.
This is already a disadvantage for those who are hoping to earn a free gift card as some sponsored apps might not work well on your location.
No, it's not. Cash For Apps is legit and it's founder, MobVantage Marketing Ltd., has even received an A+ rating from the Better Business Bureau, if that means anything to you. They have even posted a few positive reviews on their sales page and unlike other scams or low-quality programs, you can actually click on the photo to confirm whether it's from a real user or not.
The problem is, you'll not make money out of it rather, you'll get gift cards which you can exchange for items. Also, it might take a lot of time before you can get your first GC. This is unfortunate news if you're expecting to receive extra cash. Even if you spend time downloading apps, again and again, you'll not get paid in check or cash form.
So if you're looking for an online opportunity, it's best to look for another alternative instead. For instance, you just want a side hustle, you can sign up for legit paid survey or Get-Paid-For websites like Toluna, Panda Research, and Vindale Research. I've done a review about these programs in the past and although legit, the money you would make out of it is not big enough to leave your day job. Some are even too small that the money earned is not enough to take yourself out for dinner.
If you want an opportunity that could possibly replace your day job or give you a passive source of income, I suggest that you try my top recommended program. It might not be as simple as downloading apps but if you're committed to starting your business online, you can take advantage of this offer.
Don't worry, there's no need to pay for anything and you have all the resources you need to get started -- FOR FREE! This means that you can get free training access to a live community of real people. It's a good chance for you to voice out your opinion, ask for questions, and share tips with other members.
Cash For Apps is free to download. This means that you don't need to pay for anything just to get started installing apps and earning points. However, some users are paying for "Cash For Apps hacks" to get bigger points but be careful, there's no guarantee that these techniques or codes are legit and effective so if you want to save yourself from this BS, what you can do is follow these tips instead:
Avoid VPN or Proxy
As mentioned, most apps are limited to some locations and this is one of the main reasons why most users use VPNs or Proxy for their Cash For Apps app. Apparently, this will help them gain more access to app offers; however, you can get banned from doing so. Play fair and don't cheat. If it's available in your country, then you're lucky. If not, just wait until it's accessible next time.
Keep The Apps Installed On Your Phone
Some downloaded apps are either useless or consume a lot of space -- or both -- but whatever the case, keep it installed until you receive your gift card. This will help you avoid, if not eliminate problems in the future.
Clear Caches
There's a chance that you'll be downloading apps that were available on your phone before and even if you have deleted it and installed it again, you might not get rewarded. Cash For Apps or its sponsors may not see it as a "newly downloaded app" so make sure to clear your cookies and caches to complete uninstall the previous apps.
If you want to know more about Cash For Apps, please watch the video below:
Here Is My Top Recommendation to Start Highly Profitable Online Business from Comfort Of Your Home
It's Free
The fact that it's free, and not to mention legit, is good enough. I mean, there are a lot of scams out there and it's a relief to know that there are real opportunities that can help you make money or at least, a gift card.
Good Alternative To Spend Free Time Doing Something Worthwhile
If you have at least a couple of hours or more free time and you love to shop, you can take advantage of Cash For Apps and earn points so you can get free gift cards.
CONS
No Money At All
If you want to make money online, Cash For Apps is not an option. Even if you spend half of your day downloading apps and completing tasks, you will not get paid with real money, you'll receive gift cards instead.
Disappointing? Don't worry, I got a better alternative! Just check my top recommended program for free, no commitment, and explore the platform on your own to know if it will work for you or not.
App Availability Depends On Your Location
Although Cash For Apps is available to every iOS and Android device users, all over the globe, the number of sponsored apps you can download depends on your location. This means that in some areas, the offers may be limited and this means that you'll have little opportunity to earn points.
High Conversion Points
To get a $10-worth of a gift card, you need to have 3,000 points, and in every app you download, you'll only be getting 70 to 100 points. This means that you need to spend extra effort if you want to earn a bigger amount of gift card. This can be another problem for areas that are only offered a few sponsored apps.
FREE TRAINING
Learn How I Started Highly Profitable Online Business From Comfort of My Home Following This Blueprint
Cash For Apps is good for people who love to shop and/or get freebies. There's no real cash involved in this opportunity; however, you can earn points, exchange it to gift cards, and get items from the biggest merchandizers.
Cash For Apps is a good mobile app for those who want to spend their free time on something worthy. You may not be able to get monetary gains out of it but still, you can take home free items. It may take a lot of time though so you have to be patient with it.
Again, it's not the best alternative if you want to make money online.
Making money online is difficult but not impossible especially when you know the right opportunity to take. With my top recommended program, you can not only enjoy free membership but also, the necessary resources you need to have a lucrative business online.
Sign up now and enjoy the following perks:
Training resources
One-on-one coaching
Comprehensive guide
Webinars to help you start your business online
And many more!
I hope you've been enlightened with my Cash For Apps review and if you have any comments or questions, please feel free to share it down below.
We Constantly Review Programs in "Make Money Online" Niche,
So That You Don't Have to Waste Countless Hours
Want To See Our
TOP RECOMMENDATION?