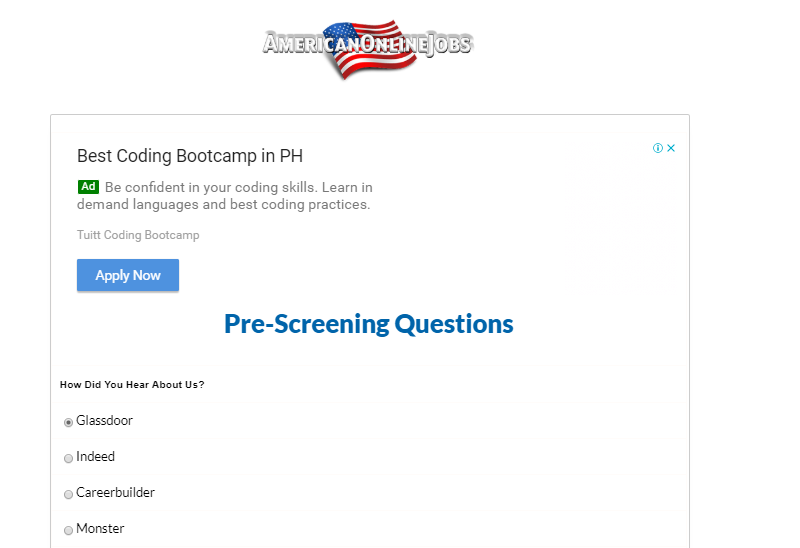 Welcome to My American Online Jobs Review!
Working online has become popular a few years ago and I'm lucky to have joined the bandwagon. It opened me to an opportunity I never knew existed before. Imagine, I don't need to dress up, endure an hour or so of traffic, deal with bosses face-to-face, and still, earn enough cash to survive.
American Online Jobs Review Summary
---
Name: American Online Jobs
Website: http://americanonlinejobs.com/getting-started/
Founders: Unknown
Product Type: Work-At-Home Job Opportunities
Price: Free But You Have To $25 to $49 For Software +$15 For Get Responder
Quick Summary: American Online Jobs is a site that claims to help you make money but shares little to no details on how it's possible. As you go along the registration, you'll be creating an account, not with their website but third-party platforms. In addition, you'll be downloading software that you don't need.

The nasty truth about this website revealed in this honest American Online Jobs review.
Overall Rating: 1/10
Recommended: No
However, not all home-based jobs are created equal. Some pay more than enough, other companies pay a little, while others don't pay at all. Therefore, it's important to do research as much as you can about the said opportunity first before joining.
So if you're here to read an honest American Online Jobs review, I want you to know that you're doing the right thing. Digging as much information as you can before joining the program can help you avoid unlikely situations or even scams.
There are many type of scams that you should be aware of. Like would you believe that there are even Real Estate Scams that people don't even know about. Make sure to check that out. Anyway let's get on with the review.
What Is American Online Jobs About?
At first glance, you'll think American Online Jobs is just like the usual platforms for freelancers that will allow them to meet clients, such as Upwork. However, as soon as you completed the "Pre-Screening Questions", you'll find out what it really is… and it's far from what you've expected.
Anyways, it will ask you about how you've heard about them, your age, if you have a smartphone or a computer with an internet connection, if you're able to follow instructions, how you wish to be paid, or if you're ready to get started. Unlike the usual online platforms that offer home-based jobs, they won't ask if you have special skills, how long you've worked online, or if you can provide any certifications, not even for your resume.
It's kind of weird especially when I tried answering the pre-screening questions. Every time I click the small circle, the answer from the previous question disappears so from that, I assume that the questionnaire is not working properly. But even so, I can still go to the next step, which is about creating my free account.
There's a 1-minute clip that says you need to create an account on InboxDollars to get started, which made me feel more skeptical about this website. First, I know InboxDollars and it's a site that will pay you for doing minor tasks. Yes, it offers an online opportunity to make money but the way American Online Jobs use it, for me, is wrong.
Since it's positioning itself like a platform for job seekers, I assume that I will be creating an account for them and not for third-party websites. I believe the reason why you will be lead to another site is because once you signed up with them using American Online Jobs link, they will earn a commission for successfully referring to another person.
Funny thing is, I was lead to MaxBounty website. There's nothing wrong with this affiliate marketing program but then again, I don't like how American Online Jobs use it as if it's really part of their application. And they don't stop there, you'll also an area that says: "Register Bonus Accounts" and that these companies are looking for "referral agents". When you clicked on these sites, such as Toluna, MySurvey, OpinionOutpost, SurveyVoices, Opinion City, Pinecone Research, and E-Poll, and created an account, American Online Jobs will earn another commission.
The fact that American Online Jobs is not transparent about what they really are and how it works are suspicious enough and if I were you, I'd rather look for another legit online jobs platform rather than create an account with them.
Anyways, there's a training/members area that you can easily access by entering your name and email address, and I'll discuss more of this in a bit.
Is American Online Jobs A Scam?
While the site introduces you to other websites that do give you a chance to make money online, I consider American Online Jobs as a scam. From what I understand, a program is a fraud it deceives a person intentionally for monetary gain.
Rather than providing real job opportunities, American Online Jobs will ask you to create an account for a different survey and get-paid-to websites so they can earn commissions. Aside from the paid survey sites, you'll be asked to register with Online Flex Job, which is another shady platform, too.
Online Flex Job has received a lot of backlashes. First of all, the site doesn't share much about it such as the founders of this website and other information that would verify their legitimacy. Second, after you've registered, you will be lead to a website called "NorthAmeriCorp" which is supposed to provide legit home-based jobs; however, the only thing it will offer you is antivirus software, which you need to purchase by the way. And third, there are two testimonials in video format and although I can't find the actors on Fiverr anymore, I know that their lines are scripted. I did a lot of reviews involving paid actors so more or less, I know if their feedback is legit or not.
You can also check Online Flex Job reviews and I bet you'll see loads of negative feedback, referring this website as a scam.
If you want to know more about American Online Jobs, you can watch the video below:
American Online Jobs is free. Meaning, there's no need to pay for anything; however, since it's mandatory to join NorthAmeriCorp and download that antivirus software, you need to pay $25 to $40, which is a waste of money if you're looking for a legit job offer, not another software. In addition, you also need to pay $15 every month for Get Responder.
Here Is My Top Recommendation to Start Highly Profitable Online Business from Comfort Of Your Home
Honestly, I don't like anything about American Online Jobs. Even if it's not a scam (but I think it is), you cannot earn money from them by applying for a legit job position. You might have a chance to get a commission -- a very small commission -- from the paid survey websites though.
CONS
Very Weak Training
American Online Jobs has provided short videos and posts about using several platforms that can help you generate traffic to your website; however, it's not really a lesson or training but instead, an introduction. You will not learn how to leverage using these platforms so don't expect much. Whether you're a beginner or a seasoned marketer, this training is useless.
Deceiving -- Very Deceiving!
The ad used for American Online Jobs is misleading. Unless you check the website and click the buttons, it won't be easy to find out that they are not offering legit job positions.
And they have involved their website to two shady websites, which like American Online Jobs, are packed with many lies. Instead of getting yourself hired, you'll be downloading software that you don't really need.
Website Makes Money From You
Rather than making money with them, American Online Jobs earn commissions from you every time you register from their recommended platforms. While this practice is legal, they should have been transparent about it in the first place.
They Give Affiliate Marketing And Referral Marketing A Bad Name
Affiliate marketing involves putting links in content and once an audience purchase or performed a task using the link, the marketer can make money out of it. The same thing with referral marketing, all you need is to put a link and encourage the person to register so you can get a commission. Both of these are legit; however, sites like American Online Jobs make it look like these techniques are unethical.
If you want to do affiliate marketing the right way (and get a real opportunity to make money from it), you should consider my top recommended program instead.
Tired of Wasting Time on Low Quality Programs?
I'm so grateful that I was able to find THIS PROGRAM which helped me to finally start making money online!
No one. I find American Online Jobs risky especially since you're going to share personal information and email address. Who knows? You'll end up getting spammed messages about similar useless and deceptive platforms.
To start with the training, you need to enter your name and email address. You don't need to wait for any verification email, which is usual for legit websites. You can proceed with the training right away.
Here's an outline of American Online Jobs training:
Lesson 1: Orientation
It's a short YouTube video introduction about the training you can expect from them, including creating your own affiliate marketing website.
Lesson 2: Facebook
It's about using Facebook Groups, Facebook PPC, and Facebook Jobs when posting your affiliate and referral links.
Lesson 3: Craigslist
It's about using Craigslist to drive traffic to your website.
Lesson 4: Bing
It discusses the difference between referral marketing and multi-level marketing (MLM).
Lesson 5: YouTube
It discusses how a well-ranked YouTube can drive traffic to your website.
Lesson 6: Instagram
It's a very short post about how Instagram can help in promoting or advertising.
Lesson 7: Pinterest
It just tells you how you can use Pinterest to promote your website.
Lesson 8: Get Response
It's a short clip about Get Response -- an email marketing platform. There's a small link that says it's free; however, you have free access to it for only 30 days. After that, you need to pay $15 a month for its basic package.
Lesson 9: Create Website
It shows how to fill out your affiliate account but other than that, there's nothing else. It won't show you how to set up a website.
American Online Jobs may have provided a good idea on how you can make money online but the fact that they have intentionally deceived people so they can earn commissions is enough for me to just ignore it.
On the bright side, making money online is possible, just make sure that you are joining a legit platform. If you want to work remotely, it's best to consider signing up with reputable websites that offer real job opportunities. You can also start your own business online and be guided accordingly by tested and proven programs, such as the one that I'll introduce below.
Want to make money using a legit opportunity online?
Then sign up with my top recommended platform. No software to download. No misleading information. You have the chance to explore the platform yourself, talk to the founders, and give yourself a bigger chance to earn an income.
Join now and enjoy these perks:
Proven strategy to work smart and earn a lot (literally)
Step-by-step guidance
Best possible support including your own training coach
Lots of training resources
My personal help
And so much more!
I hope I have enlightened you with my American Online Jobs review and if you have any comments or questions, please feel free to share it below.
Thank you!
We Constantly Review Programs in "Make Money Online" Niche,
So That You Don't Have to Waste Countless Hours
Want To See Our
TOP RECOMMENDATION?