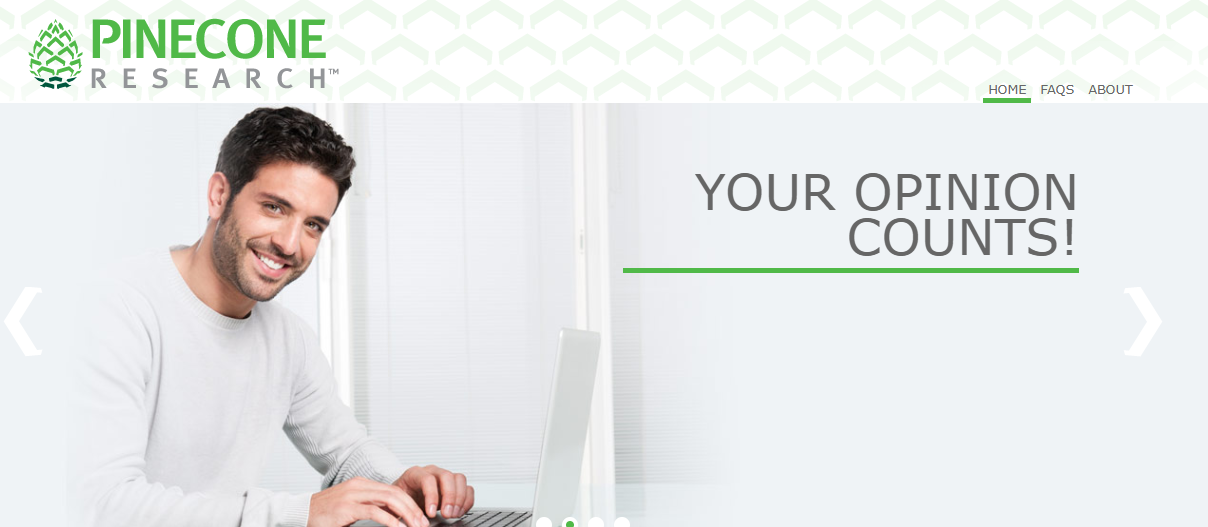 Welcome to My Pinecone Research Review!
For more than a year of making money online, I have my own fair share of ups and downs. I tried almost a dozen opportunities over the Internet before I realized that it's best to read a handful of feedback before actually joining or purchasing a program.
So if you're here to see more of Pinecone Research reviews, I'd like to congratulate you as early as now for spending enough time to learn more about the product and to know whether it's a scam or not.
Pinecone Research Review Summary
---
Name: Pinecone Research
Website: www.pineconeresearch.com
Founders: Nielsen Company
Product Type: Paid Survey Websites
Price: Free
Quick Summary: Pinecone Research is a paid survey website that has been trusted for market research opportunities. Although it's legitimate, you cannot simply sign up for this program unless you have an invitation. Other than that, this site faces a lot of complaints which we will expose in a bit.
Overall Rating: 5/10
Recommended: No
First, I'm not a huge fan of online surveys. For me, it's a total waste of time but, I do know that there are a lot of legitimate paid survey sites that you can consider if you only need a side hustle. So rest assured that I'll be giving you nothing but my honest take on what Pinecone Research is all about and if it's the best way to earn money online.
What Is Pinecone Research About?
Owned and operated by the Nielsen Company (parent company of AC Nielsen Bases), Pinecone Research is one of the most trusted and reliable paid survey sites nowadays. Although it's rated F (as of this writing) on Better Business Bureau, many companies and even members have relied on it for market research opportunities.

However, you cannot simply join Pinecone Research unless you're invited. This means that you can only become a member and earn by answering surveys when you get invited, and you can do this in two ways:

Look for a panelist or a member and ask to send you a referral link.
Look for their banner ad that includes a referral link and sign up
Unlike other paid survey sites that allow almost everyone to join, Pinecone Research works on exclusivity. The number of their survey categories are even limited because they want enough attention to every product they review. Reading this, I assume that the brand is really focused on what they are doing, and that's already a good thing.

However, I found out that it is facing a lot of payment-related issues which is already a red flag unless you want to take the risk. Also, like all paid survey websites, the earning potential is low and limited so if you're looking for something that would bring you a stable income, this is not a good option.
How Can You Earn Money Online With Pinecone Research?
First, you need to register and fill out the online application form with necessary details such as your demographics. To complete the registration, click the box that says: "Click here to accept Terms and Conditions" and the "Join Now" tab.
Take note: Only one household member is allowed to sign up; otherwise, your membership will be cancelled. Also, be sure to answer the series of questions they'll ask truthfully as this will determine if you're eligible to join the survey or not.
Is Pinecone Research A Scam?
The fact that they are backed up by a well-known company, Nielsen, is enough to say that they are legit, 100%. Also, since they are not very open with their membership suggests that they are not hungry for taking as much members as they can for their own interest.
However, there are a lot of issues related to their payments. Majority of their members complained about not being able to withdraw the amount they earned or worse, their accounts being closed as soon as they accumulated a huge amount of cash. It's either the company's finance department is lame or they simply don't want to pay — whatever it is, I sure don't want to be a part of this survey website.
Joining the program is by invitation only and there's no need to pay for anything once you decided to sign up. That sounds almost risk-free however, you just can't shrug the fact that you'll be spending hours answering questions only to find out that you will not get paid.
However, if you're lucky enough to get paid, you'll receive an amount between $3 to $5 for answering surveys while you can receive a minimum of $6 for product reviews. In addition to that, you can get a $5 raise if you're active and have answered a lot of surveys. Compared to other survey sites such as Vindale Researchand Panda Research, this site offers a more feasible option to earn.
Here Is My Top Recommendation to Start Highly Profitable Online Business from Comfort Of Your Home
PROS
Cash Paid Via PayPal Or Check
I've been using PayPal for a long time and I love how smooth the transactions are, and perhaps, that's just one of the very few things I like about Pinecone Research. It's easy to withdraw the cash you earned. You can also opt for a paycheck if you wish.
Easy Points Conversion
Unlike other paid survey sites that use point conversion, Pinecone Research is easier: 100 points is equal to $1.
No Threshold
Some paid survey sites are just too complicated. You need to answer a lot of surveys just so you can withdraw your cash. With Pinecone Research, there's no minimum amount, meaning you can convert your points anytime you want and cash it out through PayPal.
CONS
Suspicious Account Suspension
The number of complaints about their account being deleted is alarming. There are a lot of members complaining about how they were locked out of their accounts or their points being deleted and worse, nobody sent them a notification prior to it and no one from the customer support can give them the answer they needed.
Tired of Trading Your Precious Time for Money?
Here is a Blueprint to Owing Highly Profitable Online Business Without Any Experience REVEALED!
Low Income Potential
It's no surprise anymore. I mean, almost all paid survey sites have limited income potential and if you want to earn a good amount, you just cannot rely on it. While Pinecone Research has a higher payout compared to other survey programs, you are not allowed to answer as many surveys as you can unless you've been invited. Also, your demographics play a major role in taking surveys so if you're only qualified to get less than 10 surveys a month, don't expect much.
If you want to achieve a stable source of income, I can recommend a good affiliate marketing program which will not only help you earn through commision but also teach you almost everything you need to make your business successful online.
Limited Membership Opportunities
I don't know about you but for me, it feels good to hear that the program is exclusive and only available through invitation — that is if you ever get an invite. However, if you want to join the program, you have to ask an existing member or panelist or find a banner ad with a referral link. In short, the chance to become a member is limited so you can't really depend on it if you want to choose this as your source of income.
Pinecone Research is only limited to a few countries like Canada, UK, and the USA so if you're not a resident of any of these places, this is simply not for you.

I cannot really recommend this program to anyone because of various reasons like: payment issues, limited memberships, and low-income potential; however, if you're willing enough to take a risk and answer a number of surveys (if you're lucky to get one) for a matter of hours and not care about the small amount you get out of it, then you can consider this.
But then again, if you're determined and you believe in hard work, you can actually make good money online through affiliate marketing. I can show you more ways than one on how you can become a successful affiliate marketer of one of the most recommended programs today — Wealthy Affiliate.
Should you have any concerns or inquiries with Pinecone Research, you can reach them by filling out a contact form found on their website. You can do this by typing in your name, email address, and selecting your concern from their dropdown list.
Have enough patience though because a lot of members claim that it takes quite some time to receive a response from their customer service.
Pinecone Research is not a scam — and that's good news. It only implies that there are still a lot of money-making opportunities online that are legitimate. However, I cannot recommend this program to anyone, even if you're a beginner in this industry. It's just not worth your time and effort even if you're only looking for an extra income. I mean, why settle for something that won't guarantee your payments if you can join a program that will help you earn more?

If you're really into paid surveys or GPT websites, you can always do research to know which one is deserving of your time and effort, and you can start by browsing my website. I've reviewed a lot of surveys in the past and although most of them are not good, there are still those websites that can benefit you if you have time.
Also, I mentioned about affiliate marketing and that's just not because I'm a member of this affiliate marketing site. I tried other similar programs to be honest but this is the one that stood out.
Tired of wasting your time for nothing? Now's the right day for you to make a choice! Join my top recommended program that values your time and hard work, and enjoy the following benefits:
Free Membership
Free Training
Supportive Online Community
Great Income Opportunity
And A Lot More
If you have any questions or comments about Pinecone Research or if you want to jumpstart your career as an affiliate marketer, I am more than willing to help you. Just feel free to give a share it down below.
We Constantly Review Programs in "Make Money Online" Niche,
So That You Don't Have to Waste Countless Hours
Want To See Our
TOP RECOMMENDATION?