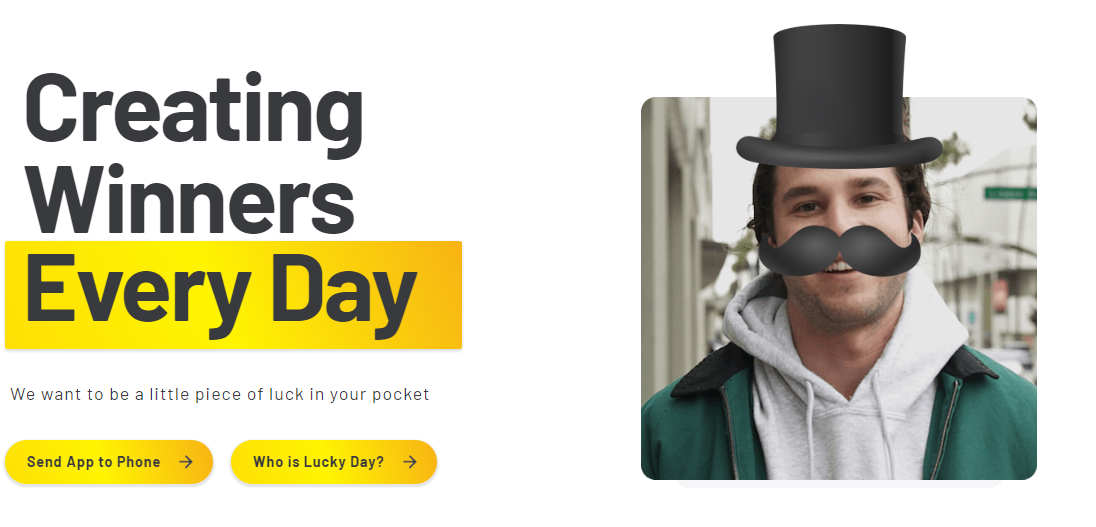 Welcome to My Lucky Day App Review!
Technology has brought a lot of amazing changes, such as the ability to earn online. For instance, you just need to bring out your laptop and connect to the internet, and find a client who will avail your service. You can also sell your items and earn cold cash even without a physical shop.
Lucky Day App Review Summary
---
Name: Lucky Day App
Website: https://luckyday.com/
Founders: Joshua Javaheri
Product Type: Mobile Application
Price: Free
Quick Summary: Lucky Day App is a mobile application that's available for both Android and iOS device. It claims to reward real cash and gift cards by playing the games inside the app, such as scratchers, blackjack, lotto, etc. But how true are these promises? Is Lucky Day App as a scam?

Find out everything you need to know before you download Lucky Day App.
Overall Rating: 4/10
Recommended: No
And there are also mobile applications claiming that you can make money just by playing games. But how is that possible?
In this review, we will talk about the Lucky Day App to know whether it's just a scam or an app worth downloading.
What Is Lucky Day App About?
At first glance, the Lucky Day App's website looks very professional and clean. It has the basic details you need to know such as what it's about, the people behind the platform, their contact details, privacy policy, and terms.
Lucky Day App is a free mobile app that's available for both iOS and Android users. It offers lotto games, raffles, and sweepstakes that you can play so you can win tokens, which you can use to get free gift cards. You can also invite friends to download the app and/or watch the advertised videos to earn more tokens.
In addition, you can also win a cash prize as high as $100,000 for playing these games. But how true are these claims? Can you really earn cash or gift cards using the Lucky Day App? As much as we wanted to know the answers, let's dig this mobile application a little further.
How Does Lucky Day App Work?
To get started, all you have to do is download the app, register, and choose the game you want to play.
Each game works the same as it is in real life. For example, if you play scratch, all you need to do is match the three symbols that they are looking for. It's easy and fun and the best part is: you can win a token every time you play, even if you lose.
But don't get giddy yet. I found out that in able to get a $2 gift card, you need to earn 3,000,000 tokens and for $5 gift card, you need to have 5,000,000 tokens. Imagine how many hours you need to spend to earn a massive amount of tokens only to be exchanged for a very small reward.
Also, just to give you a heads up, you can only get cash only when you're rewarded with cash. Meaning, you cannot exchange your tokens for real money. In case it's your lucky day (see what I did there?), you can exchange your cash for a PayPal payment.
To receive your gift card or cash, you need to wait for at least 7 days.
How To Earn Cash Using Lucky Day App?
Playing Raffles
Raffles are available every day and every month. You can earn $500 for daily raffles and $5,000 for monthly raffles and every day, you have free entry. If you want to get more entries, you need to use $10,000 tokens for each entry.
The same thing with monthly raffles, you have one free entry each month and if you want more entries, you'll have to buy each for $10,000 tokens.
Playing Scratchers
Scratchers are perhaps, the easiest way to earn cash and tokens using Lucky Day App. as mentioned above, you only need to match three symbols to win. Before you even start scratching, you can see the amount of tokens or cash you will win after and when you lose, you will still be rewarded with tokens.
Playing Lotto
The mechanics for Lucky Day App's daily lotto is easy: all you need to do is pick 6 numbers and in each match, there's a corresponding price. For instance, 1 match is equivalent for 50,000 tokens, 2 matches mean 250,000 tokens, and 3 matches mean 500,000 tokens.
Meanwhile, if you have 4 matches, you can win $5, for 5 matches you can win $50, and for 6 matches, you can get the jackpot prize which can be as high as $100,000.
How To Earn Tokens Using Lucky Day App?
Play Blackjack
While you cannot earn cash while playing blackjack, you can bet your tokens for a chance to win more tokens, which you can exchange for gift cards or when you want to claim an extra entry.
Playing Scratcher
Like the one stated above, you only need to match three symbols to win tokens. Again, if you lose, you will still be rewarded with tokens.
Refer A Friend
When you join Lucky Day, you will have your own referral code which you can use when you Invite friends through social media, text, or email. Though you will not earn cash through referrals, you can still earn tokens through this.
No, it's not. Lucky Day App is legit; in fact, it's founder, Joshua Javaheri has been featured in Forbes. According to the source, his app has reached over five hundred thousand users in just six months and every month, the number of users is growing.
In addition, there are reliable proofs that would support Lucky Day App's legitimacy and winnings. However, you cannot rely on the app when you want to earn a massive amount of cash when you want to replace your day job, not even when you're looking for a side hustle.
Basically, you depend on luck and even if you win, it will take a lot of time for you to earn a huge amount of cash. While you can use Lucky Day App during your free time, what you need is a legit online opportunity when you want to make money over the Internet.
How?
You can start by checking my top recommended program. It's free and you can explore the rest of the platform without any commitment, and in case you like it (I bet you will), you can take advantage of the free training and other perks.
Lucky Day App is free of charge. There's no need to pay for anything, even when you want to have an extra entry. All you need to do is acquire the required number of tokens so you can exchange it for an entry.
You can watch the video below to know more about the Lucky Day App.
Here Is My Top Recommendation to Start Highly Profitable Online Business from Comfort Of Your Home
PROS
Good Way To Kill Free Time
If you're someone like me who loves to gamble but is not fond of playing cards, this game is a good option. You can play it during free time or when you're about to sleep and you want to do something fun. Not only will you be entertained, but you can also get tokens, which you can exchange for a gift card or if you're luckier than lucky, you can even get cash.
Legit Mobile Application
Another thing that I like about Lucky Day App is its legitimacy. It's really good to know that there are programs who are true to their claims, no matter how crazy they sound sometimes. For instance, can you really imagine yourself winning cash just for playing a mobile app?
CONS
Not A Good Income Opportunity
For me, Lucky Day App is only for pure entertainment. It cannot be used when you want to earn cash online, let alone the source of passive income. Even if it rewards real cash, it's barely enough to buy you a meal. Also, it depends on luck, therefore, you cannot expect a regular flow of income.
Complaints From Users
There are a number of users claiming that after earning $7, they're not able to get more prizes. While it may be just a coincidence, it's pretty alarming to see similar complaints from various people. Meanwhile, there are users who are claiming that their accounts have been suspended or blocked and as a result, they can't cash their earnings out.
Limited Accessibility
I tried downloading Lucky Day App myself but I cannot. It says that it's not available in my region -- and I'm from the Philippines, by the way. Apparently, this mobile application is only available in the U.S.
Tired of Wasting Time on Low Quality Programs?
I'm so grateful that I was able to find THIS PROGRAM which helped me to finally start making money online!
Lucky Day App is for anyone who likes to play scratches, lotto, blackjack, and raffles. Not only do you have the chance to win tokens and real cash, but you will also be rewarded with tokens even if you lose. This app is also a great way to kill time so if you want to look for a new mobile application to download, you can consider this as your alternative.
To be honest, this is the first time that I've heard about a legit mobile application that rewards real cash and gift cards. I've always been hesitant about this kind of platforms, thinking that they only exist to scam people. Therefore, it's a relief for me to know that this mobile app is not a sham.
However, if you're someone like me who's into legit money-making opportunities, I can't really take advantage of this app unless I want myself entertained during free time. So if you're looking for a source of income online, just continue reading.
Want to make real cash online? Don't worry, I got the perfect solution. Simply sign up to this legit platform -- the platforms that I and many marketers have been using -- and enjoy these perks:
One-on-one coaching
Webinars and training resources
The best business tools and support you need
Comprehensive guide
And many more!
Hope I have enlightened you with my Lucky Day App review and if you have any comments or questions, please feel free to drop it down below.
Thank you!
We Constantly Review Programs in "Make Money Online" Niche,
So That You Don't Have to Waste Countless Hours
Want To See Our
TOP RECOMMENDATION?