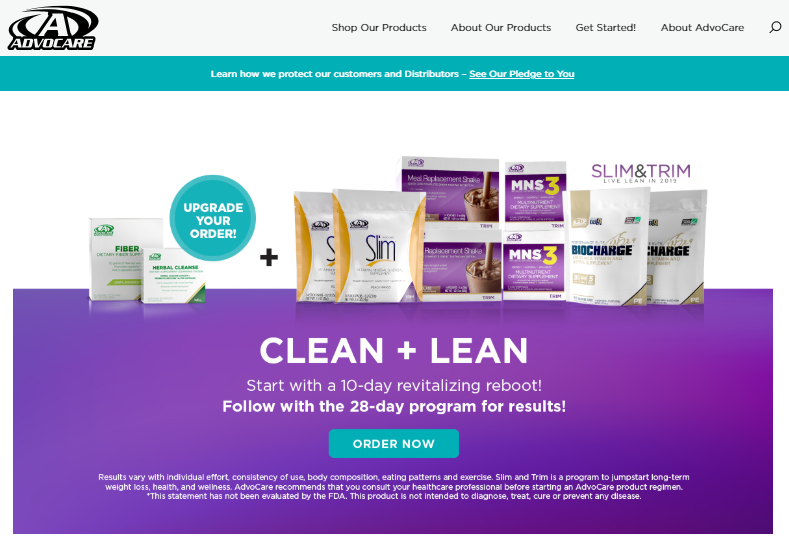 Welcome to My AdvoCare Review!
For most people, one of the best ways to earn online is by selling goods or services. It's not easy money though because it takes a lot of time, hard work, and even cash to earn… cash.
If you're a startup, you might be torn between creating and marketing your own products or resell goods that are already in the market. If you choose the latter part, one of your options is to join an MLM, a legal way to earn money but has always received a lot of backlashes.
AdvoCare Review Summary
---
Name: AdvoCare
Website: www.advocare.com
Founders: Charles E. Ragus
Product Type: Multi-Level Marketing (MLM)
Price: $79
Quick Summary: AdvoCare is an MLM company that produces and distributes health and wellness supplements, pills, and shakes. Aside from selling the products, distributors can earn a commission by recruiting more and more people to join their team. It is legit but like other MLM companies, it faces a lot of critics. But does that mean you should never consider joining AdvoCare or is it still worth your time?
Overall Rating: 5/10
Recommended: No
Legal in a sense that they do offer discounted products you can sell after joining their paid membership; however, you also have to recruit more people to join their team to earn a commission -- and this is what makes their method questionable.
Even the top companies in the direct-sales line have faced a number of criticisms once in a while, such as the AdvoCare. But even so, this nutrition MLM company has continued to thrive for more than 20 years. Does that mean that you can safely invest with them? Or are they just like the MLM company in disguise?
Founded in 1993 in Carrollton, Texas, AdvoCare is a health and wellness company that produces and distributed products like pills, supplements, protein bar, and shake. They are also a multi-level marketing (MLM) company which means they accept distributors who want to sell their products. Apart from making a sale, these distributors can also make additional money by making their own team and recruiting more members to make it bigger.
This practice is what makes them questionable as they are often tagged as a pyramid scheme. For the benefit of the doubt, a pyramid scheme is a method that promises to give you a commission if you can recruit a new member to join. There are many types of this scheme but basically, it works like this:
One person recruits a certain number of people to an "investment opportunity" that doesn't offer any tangible products in return.
The new members will pay for a certain amount and will be asked to recruit more people.
For every successful recruit, they will earn an amount that's higher than their initial investment.
This method sounds promising but since the system is not stable in the first place, it won't last for a long time. Also, even if you have invested, there's no guarantee that you will earn unless you can invite the specific number of people to join the program. In any way, a pyramid scheme is considered illicit.
An MLM, on the other hand, will also ask you to form a team but if you invested money, you will have products you can sell in return. Many direct-sales companies have stayed in the industry as a legal operating business for a long time; however, the problem with this is the products itself. Most are either overpriced or low quality or even both.
Another problem is the exaggerated promises. Most MLM companies, like AdvoCare, claim to help their distributors to earn a huge amount of cash but because of their business model and the goods produced, it's almost far from possible.
Nonetheless, AdvoCare has acquired over 500,000 independent distributors on the US alone.
Basic AdvoCare Compensation Plan
Retail Sales - When you become a member of AdvoCare, you can get 20% to 40% discount from all the products, and you can sell all these following AdvoCare's suggested retail price. The higher the sales you have, the bigger the discount you can get.
Wholesale Commission - This is the difference between your discount and your distributor or preferred customer's discount. For example, if you have a 40% discount and your distributor has a 20% discount, you'll have 20% of their sales.
These are just two ways to earn from AdvoCare, and a lot more are offered as you become an advisor.
Learn more about their compensation plan by watching the video below:
AdvoCare, which have been in the industry for 26 years, is not accredited by the Better Business Bureau; however, it has an A+ rating on their website. Also, based on the length of its operation, which is more than 20 years, this company has proven to be legit. And that includes all the products they produce and distribute as well.
Although it's not a necessity for manufacturers to have their products approved by the Food and Drug Administration, AdvoCare sees to it that their health and wellness brand sticks to the strict guidelines implemented by the FDA.
Also, the fact that AdvoCare has been endorsed by the biggest names in the sports industry, such as Doug Fister (Major League Baseball), Alex Smith and Philip River (American Football Quarterback), Rich Froning (CrossFit athlete), and of course, Drew Christopher Brees (National Football League), a lot of people have trusted this brand.
Nonetheless, AdvoCare has faced a lot of controversial issues, too, that leads to them being tagged as a scam. One of the most popular ones is the one that involved a swimmer, Jessica Hardy. Apparently, Hardy was tested positive for a banned substance 2008. The breathing enhancer which she was taking was produced and given to her by AdvoCare in exchange of her testimonials. However, AdvoCare claims that these are false accusations and in fact, tests have been done and it confirmed that their products do not contain any illegal substance.
To become an AdvoCare distributor, you will need to to find an AdvoCare distributor near you who will become your mentor and sponsor. You will also have to buy an AdvoCare Distributor Kit, which costs $79, from them. This includes the following:
Training Manual And Online Marketing Training Material
20% - 40 Discount On All AdvoCare Products
Right To Resell AdvoCare Products
3 Boxes Of Spark Supplements
Free DebtBuster Program -- an award-winning program from AdvoCare that helps its distributors have total control of their financial life and eliminate credit card debt.
For the annual fee, you need to pay an additional $50 every year to retain the 20% discount on all their products.
Some people who have invested their time and effort in AdvoCare has really earned a lot; however, the brand fails to mention the percentage of those who are making money out of it. While there those who are earning $100,000 per year, there are also distributors who have earned nothing. For any legit MLM company, this is still a possibility and I can't blame the company because of it.
MLM is legal and like other legal businesses, you have to work hard to earn cash, maybe harder when it comes to this business model. Selling expensive products are challenging, let alone the fact that these are mostly supplements and weight loss shake. Not everyone is a fan of these essentials so in that case, you already have a limited market. Also, the other way to earn a commission is by recruiting more people to join your team. This is not only difficult but also may cause strain to your relationship if your family member or friend did not join the program or you have failed to meet their expectations, such as earning a huge amount of cash.
If you're like me who's not really into inviting people just to earn but you believe in hard work, you can choose other money-making opportunities online instead, such as affiliate marketing.
With affiliate marketing, you can choose your own niche (which means you're not limited to health and wellness alone) and the products and services you can sell. You don't even have to purchase the products. The only investment you need to give is your time and commitment.
How Affiliate Marketing Works?
Affiliate marketing, such as Wealthy Affiliate (which is my top recommended program by the way), involves a merchant and an affiliate. A merchant is the one who pays commission for affiliate marketers who will successfully drive traffic to their website or sell their products and/or services. Technically speaking, it is legal; however, some scammers use this business model to disguise their low quality or non-existing products.
If you are willing to learn and apply various techniques, you can earn a good amount of cash, possibly even a passive income, and I am more than willing to assist you. You can
join this program for free
and expect a lot of perks such as an active community, training, and a lot more.
Here Is My Top Recommendation to Start Highly Profitable Online Business from Comfort Of Your Home
PROS
One Of The Most Responsible MLM Company
One thing I liked about AdvoCare is that they live up to their name. They have been involved in a lot of controversies, such as the one I mentioned above, but they are always taking a huge step to resolve and ensure their patrons that it won't happen again. They even developed an Informed Choice Certification Program, which is basically about quality assurance.
More Compensation Plans
There are about five compensation plans that allow distributors to earn, and each is likely to motivate them to be consistent in making sales. If you're really good at making sales online and offline, you can make a good amount of cash here but like other MLM stories, it is less likely to succeed because of the overpriced products and recruitment involved.
CONS
Aggressive Selling
One reason why I'm not a fan of MLM is the aggressive way they sell. Most distributors, if not all, are pushy when it comes to signing up new members. After all, they won't be getting any commission if they don't do this. This practice is annoying for me because it seems like they only care about themselves.
Low To No Income At All
If you're the upline, there's no doubt about you making money but if you're not, it won't be easy. First, the product is very expensive and since it mostly targets sportsmen and health and wellness enthusiasts, your market is kind of limited. If you're new to this kind of opportunity or you don't know what you're doing at all, it's hard to expect that you'll get your investment back unless you work extra harder.
Did you know that you need to work SMART, not work HARD if you want to make more money? I'm not saying that you can earn cash without doing anything; what I'm trying to say is that you don't need to be aggressive or pushy to anyone. If you want to start your own business without recruiting more members to join, you can try this program I have been working with. no commitment. No upfront cost involved.
You Have To Mind Your Team Members
When you join an MLM and form a team you have to be responsible for each and every member. You have to provide training and encourage them, otherwise, you'll get little to no commission.
If you like working on your own, you can still focus on selling the products but aside from the fact that it's hard to sell, your commission from the retails alone might be insufficient.
Tired of Wasting Time on Low Quality Programs?
I'm so grateful that I was able to find THIS PROGRAM which helped me to finally start making money online!
AdvoCare is good for those who are into health and wellness lifestyle because it will be challenging to sell these products if you don't want to use it yourself. It's also good for marketers who have been doing this quite some time. This will give you an edge in making great sales and/or even acquiring a new member.
There are a lot of MLM companies nowadays and some of them have started for a long time; however, not all people are aware of its difference with the pyramid scheme. This will make it harder for you to thrive in your chosen business.
If you want the freedom to choose the products you want to sell or perhaps, freedom from inviting people just to earn, you should definitely consider my top recommended money-making opportunity.
AdvoCare has a lot of training videos you can check on YouTube and presentation tools on Prezi. Most of their training materials are also found all over the Internet while some can be provided personally by their advisors.
Should you have any concern or questions, you can contact AdvoCare via email, phone call, or by filling out a form found on their website.
AdvoCare has proven its success by being one of the biggest MLM companies in a long time; however, like other MLM stories, a lot of its distributors have not benefited from this program, and that's why I can't recommend it personally. The brand focuses on health and wellness essentials and for some reasons, this is only appealing for a small crowd. If you want to get financial freedom, you cannot rely on MLM alone.
Tired of the exaggerated promises in return of inviting people and selling overpriced products? Me, too! If I were you, I'd rather spend my time, effort, and money on something that will really help me in the long run. If you join this program (for free), you can expect the following:
No Upsells And Hidden Costs
Free Training
Free Websites
Freedom To Choose Your Own Niche
An Active And Supportive Community
These are just some of the benefits you can get and if you have any questions or comments, please feel free to share it down below and I'll do my best to respond in the soonest possible time.
Thank you!
We Constantly Review Programs in "Make Money Online" Niche,
So That You Don't Have to Waste Countless Hours
Want To See Our
TOP RECOMMENDATION?