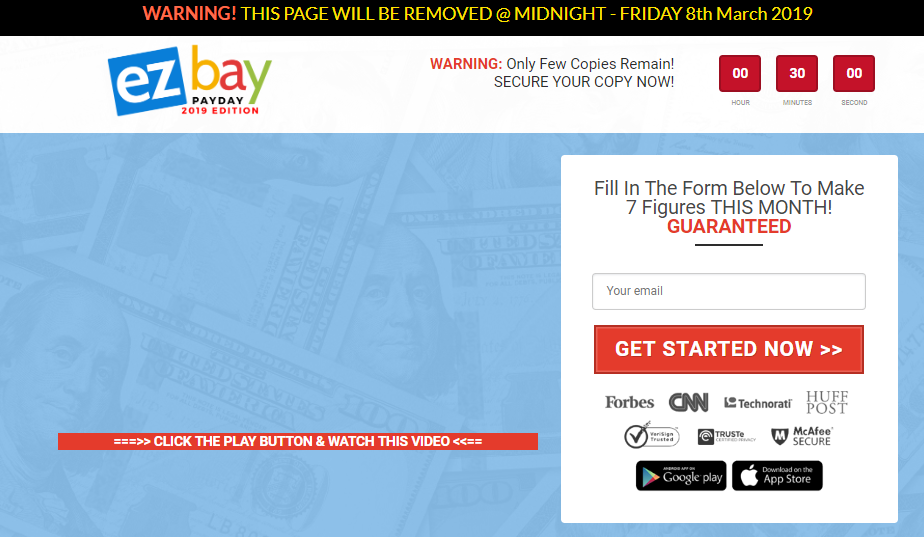 Welcome to My EZ Bay Payday Review!
Correct me if I'm wrong but the first time I visited EZ Bay Payday's website, I knew it was nothing good. Of course, I can't conclude if it's a scam or not until I did a thorough research, but if not because of providing a transparent feedback, I will completely ditch this page A.S.A.P.
I've been researching and trying different platforms that could help me make money online -- from paid surveys to online jobs -- name it, I've tried all of it, almost. So pretty much, I can easily tell if the offer is bogus or not.
EZ Bay Payday Review Summary
---
Name: EZ Bay Payday
Website: http://ezbaypayday.com/
Founders: Steve Richards (pen name as stated on the bottom part of their page)
Product Type: Affiliate Marketing Program
Price: $37 + Upsell
Quick Summary: EZ Bay Payday is a website that offers a "proven system" to make a huge amount of cash every single day. It won't require the user to have any skills or previous experience to make it work other than spending 20 minutes online. Everything about this website is sketchy but even so, it's too early to assume if it's a scam or not. Let's find out more by reading this honest EZ Bay Payday review.
Overall Rating: 1/10
Recommended: No
If you haven't seen EZ Bay Payday's page yet, this is how it looks like:
There are more than one "scarcity" offers found on this page, and if you're a business owner, why on earth are you going to limit your earnings. Why will you take down your own page? (and by the way, it's March 5 now but the date says "March 1). And the people waiting in queue? I really don't get it not to mention the guaranteed 7-figure earning in just one month! I mean, it's really possible to get that huge amount online but it takes time and effort to do so. But before we judge this entire program, let's find the truth behind the EZ Bay Payday scam review.
What Is EZ Bay Payday About?
EZ Bay Payday is an affiliate marketing program that claims to help users make $500 every single day, and all you need to do is work for only 20 minutes. It's an ideal offer especially when you watch the sales video with the owner's "students" testifying on how they made a huge amount of cash in just one day. The video did not clearly state what the method is about but on their Frequently Asked Questions (FAQ) area, it says that EZ Bay Payday is a "proven system" that will help anyone earn cash from the very first time they used the program. Apparently, they use a "secret website" that only a few people know.
Guess what website the man is talking about: eBay.
And that "secret method" he's using to make money is none other than affiliate marketing.
The "Brain" Behind The Brand
Unlike other websites, EZ Bay Payday did not put much details as possible other than Steve Richards as the owner, and supposed to be, the spokesperson in the video. However, you'll find at the bottom of their page that Steve is just a pen name.
If that's not fishy enough, wait until you find the photo of Steve in their "MEET Our Expert Dream Team" area.
Whoever Steve really is, he's claiming that he have tried a lot of money-making opportunities online and have been scammed a lot of times, leading to a serious debt. Because of this, he started to sell his things online on his "secret website" called eBay just so he can keep up with his finances and bills.
Apparently, he woke up one day only to find out that he has made $1,000 in an eBay auction. After finding out what he exactly did to make his post viral, he developed a system for half a year and now that it's fully ready, he's going to share it to a limited number of students.
"Steve" says that you don't need any skills or experience to do this, and you can start earning as soon as you join his program. Even a "monkey", according to him, can be trained to do this.
But how true are his claims?
Can you really make money and avoid failing online just by using the program he developed?
Is Ez Bay Payday a method you can trust?
EZ Bay Payday has a lot of red flags, and the use of fake owner's photo on their website is more than enough to say that it's not the program you should trust. If you want to check this on your own, you can screenshot a photo of "Steve" from their website and upload it on Google Images. This is one way to check if it's a stock photo or a picture of someone else.
Aside from this, the testimonials are nothing but fake. How did I know? One of his "students", Tamara Stone, can be found on
Fiverr
, and this includes the other "students" who are, in real life, actors you can find on the same freelance services platform.
If EZ Bay Payday's claims are true? Why do they need to use con artist to create a feedback for them?
Another red flag is the false scarcity created on their website. The selling technique on their page is too aggressive and it's clear that they are only after making a sale from desperate people who have failed to check these red flags. If you're one of those who have purchased the program, don't worry, at least you know what to do next time.
In case you haven't bought their program, and you're still planning to, expect that you will encounter a lot of upsells. Upsells are not a bad thing but sometimes, it only means that they product they are selling you is not complete. After all, why bother to add a few more programs, tools, or training if everything is already in there.
With all these red flags, can we say that EZ Bay Payday is a scam? Well, honestly, it depends on how you perceive scam. Do you see as paying for something without getting any product or service in return? Or is it when you purchase a high-ticket product only to find out that it's low quality or useless?
With EZ Bay Payday, you can somehow assure that you can get a product that you've paid for, you can even get your money back since it's hosted by ClickBank. That alone is enough to ensure that this program is not a scam, however, there's really no guarantee that you can earn a hefty amount every day simply because it's low quality -- in my own opinion, just like the other supposed-to-be money-making opportunity I reviewed before.
What if I tell you that you can earn cash even without paying for anything. But, unlike EZ Bay Payday, you need to commit time and effort to make money online out of this method. The best part is, it is for free! You can have the training, support, and tools you need without paying for anything, and if you want to have a full-access, you can upgrade your free account to the premium membership without any upsells!
Here Is My Top Recommendation to Start Highly Profitable Online Business from Comfort Of Your Home
So, how much are we talking about?
Basically, it costs $37 but if you plan to leave the website, you can buy it a cheaper rate of $17. Apart from this, you will encounter a few more upsells, which, I hope, you'll never bother paying for.
$37 is not a huge amount for some, but even so, you could have used it for something more valuable and efficient. And apart from the money, the time and effort are also important so if I were you, I will use it on a much legit online opportunity that will help me make real cash!
Tired of Wasting Time on Low Quality Programs?
I'm so grateful that I was able to find THIS PROGRAM which helped me to finally start making money online!
PROS
60-Day Money Back Guarantee
The only pro I found in this program -- the money back guarantee. Should there be a problem or if you find the method useless, you can ask for a refund within 60 days.
CONS
Done-For-You System
In simple terms, a template. Although this sounds like it would make the task easier, you will be left with nothing in case their done-for-you system shuts down. You will not be encouraged to think of a strategy or a design on your own, and although it saves time, it will not really benefit you in the long run.
It Makes Affiliate Marketing Sound Bad
The method that is supposed to make you rich is called affiliate marketing, which, by the way, is legal. However, this program makes it sound like it's not a good opportunity at all.
For the benefit of the doubt, affiliate marketing is an arrangement where an advertiser pays an affiliate marketer a "commission" for promoting a product, generating sales, or driving a traffic to their website. It is possible to earn a huge amount of money from it but you need to learn a lot of things and spend a lot of time to make it work.
If you're into affiliate marketing, I suggest you consider Wealthy Affiliate. I personally recommend this because I've seen how it helped my business grow online without spending a lot. In fact, you can sign up for a free membership with no hidden upsells. Best part is, the free training offered are high quality and valuable plus the community you will be joining in is active and supportive.
It's Not Transparent
First of all, the program doesn't shed much details about how it works, what it's about, and even who really is the person behind it. There are a lot of fake things involved as well, such as the fake testimonials, fake owner, fake scarcity, etc.
Even the claim, which is you can make money even without doing anything is nothing but a big lie. No one can get rich overnight. No one can earn a huge income by staying at home and doing nothing. Yes, it's possible to earn at the very comfort of your place but still, you have to need to inject hard work and commitment.
Find out more about EZ Bay Payday by watching this video.
In my own humble opinion, this program is for no one. Let's say you can really learn how to make money on eBay but you can simply get the idea over the Internet. You don't have to pay, no matter how small or big it is. Trainings and step-by-step tutorials are indeed important, I can't argue with that, but you have to get it from a reliable, high quality source.
Once you purchase the program, you will be lead to series of videos and webinar but rather than explaining how it work and all the other essential things, you will only be encouraged to buy another product such as the Super Affiliate System, CB Cash Code, etc.
What makes this program more annoying is the fact that their training videos, which are paid by the way, can be found on YouTube. Meaning, you can watch all these for free!
Should you have any problems or questions, the only way to contact them is through email.
I cannot stress how bad this program is. There's little to no effort involved in creating a training or a product for their buyers. It's clear that they don't want to help you earn rather, they want to earn for their own good. I do not recommend this to anyone at all.
Disappointed? So am I but don't worry, I got you. There are lot of good programs to try online but before you purchase or sign up, just make sure that you will check the reviews first. If you want to join a program that will really help you earn money online, without the intention to rip your wallet off, you should join the method I am with.
It does require time, effort, and hard work though because in this community, we believe that you have to work to get rewards. When you join this program for free, you will get the following:
Two free websites
Quality training through weekly webinar, videos, etc.
An active community where you can raise questions or ask for advice
These are just some of the perks you'll get when you decided to join and if you have any questions or comments, please feel free to drop it down below, and I'll try my best to provide you the response as fast as possible.
Thank you!
We Constantly Review Programs in "Make Money Online" Niche,
So That You Don't Have to Waste Countless Hours
Want To See Our
TOP RECOMMENDATION?