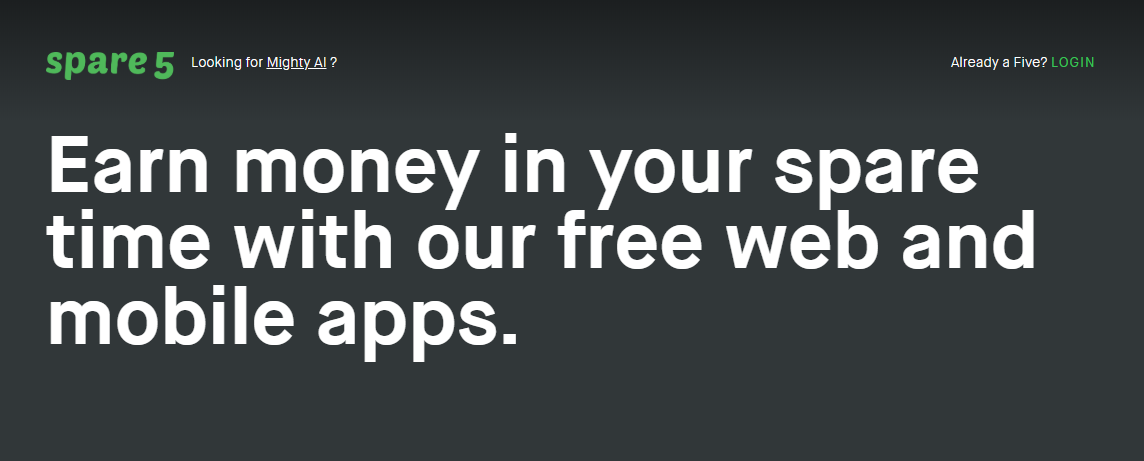 Welcome to My Spare5 Review!
There are so many ways to make money online and one of which is using your smartphone to perform small tasks. Sounds too good to be true, huh? Apparently, that's what this so-called "Spare5" is about.
Spare5 Review Summary
---
Name: Spare5
Website: app.spare5.com/fives
Founders: Matt Bencke
Product Type: Mobile Application | Get-Paid-To Website
Price: Free
Quick Summary: Spare5 is a mobile application that pays users for doing minor tasks, such as editing and annotating photos. It also pays you for referring new members into the program. However, I found out a few things about this program that are worth considering, like the amount you'll get per task.
Overall Rating: 3/10
Recommended: No
In this honest review, we'll find out how it works, how much money you can make, and whether Spare5 is legit or just a scam.
Spare5 is a mobile application that claims to help you "earn money in your spare time". The Seattle-based tech business was developed by Matte Bencke in 2014 and was relaunched as Might AI in 2017. It was originally available on iOS devices but can now be accessed using a desktop/laptop.
Although considered as a Get-Paid-To (GPT) website, the tasks they provide is not the typical ones, such as visiting a website, watching videos, or answering surveys online. Rather, you'll be asked to annotate, tag, review, edit, rate, or tilt photos and/or documents.
How Does Spare5 Works?
To begin, you need to download Spare5 in your mobile device or visit its website and sign up for a free account using your account on Facebook, LinkedIn, Google, or email address. You will then find tutorial tasks that will teach you how you will perform each activity. It includes Bounding Box Tutorial, Ellipses Tutorial, Lines Tutorial, Segmentation Tutorial, and Points Tutorial.
Upon signing up, you'll have $.028 in your account but before you have access on the tasks, you need to take the tutorial and answer a few tests to know if you're qualified to do these minor jobs. It won't take much of your time but it's important that you do it correctly as this will determine the number of paid tasks you can receive.
Apparently, this site pays $0.01 to $0.05 per completed task which can last for 10 minutes or less to complete. According to some users, they can earn around $10 every week or less, which is almost the same amount you'll get when you sign up for paid surveys.
That being said, you can consider doing this during your free time; however, if you think this side hustle is not enough, you can check my step-by-step guide on how to make money online.
How Will Spare5 Pay You?
Once you earn a minimum threshold of $1, you can withdraw it using your PayPal account. As of this writing, this is the only payment method they have but the good news is that this financial platform is available for everyone.
You can withdraw your earnings every week. This is an advantage since some similar programs would require you to wait for a couple of weeks or even a month. Apparently, you should take as many tasks as you can to increase your experience points (XP). The higher the XP, the more chances of getting new tasks that pay a higher amount.
Also, you can earn by inviting new people to sign up with Spare5.
From what I understand, Spare5 is a legit money-making opportunity that you can consider when looking for a side hustle. Despite paying its members for doing minor tasks, the amount is not enough to replace a day job or be used to pay for daily expenses.
Also, there are some complaints on the website, and the usual one is:
Low-Income Opportunity
Aside from the fact that you'll only be counting cents per task, the amount of mini jobs you can take depends on your qualifications. Let's say you failed the test for annotating images, then you'll be limited to other tasks.
While it's good to know that Spare5 is not a scam and that the payment threshold is only $1, it might take a long time for you to get paid because of the very small amount you'll receive per task. That being said, it's always better to look for another opportunity that will give you value; an opportunity that will reward you for your efforts.
Interested? Then feel free to sign up for my top recommended program now! There's no need to pay for anything and you have everything you need to get started. Training, customer support, and a live community just to name some.
You can watch the video below to learn more about Spare5:
Spare5 is free and unlike other GPT sites, there are no paid offers available. You can earn online without spending a dollar on the program.
However, the pay is too low and even if you want to use it in your free time, I believe you deserve something better. I mean, there are a lot of money-making opportunities online and even if you're a beginner, you can always give it a shot.
For instance, one of the best ways to make money using your laptop (and a stable network connection) is through affiliate marketing. This business model would require you to build a website and create content.
For each content, you can insert affiliate links related to the post. The goal is to encourage people to purchase an item or a service using your affiliate links so you can earn a commission.
You can also sign up with our top-recommended program to learn legit ways to make money online.
Here Is My Top Recommendation to Start Highly Profitable Online Business from Comfort Of Your Home
PROS
Legit Paying Site
Not all websites that promise to pay you will really pay you. Luckily, you will be paid for doing small tasks with Spare5. So far, there are no complaints from members who have not received their earnings.
Pays Via PayPal
For me, it's a plus if the program can pay you via PayPal. I've been working online for more than a couple of years now and so far, it's one of the best ways to get paid anywhere you are. You can create a free account and link it to your local bank or credit card.
CONS
Payment Is Too Small
Even if you spend the entire day editing and annotating images or performing other tasks within the platform, your earnings are not enough to make ends meet.
Not Available On Android
As of now, Spare5 is only available on iOS devices so if you're not an iPhone user, you may choose to work using your desktop instead.
Referral Is Limited
Apparently, the maximum amount you can earn through referrals is only $20.
Low Income Potential
Aside from the fact that the payment is too low, the income potential is low because it depends on how your XP and how good you are at doing the small tasks. So, in case you failed a test or you did not answer the tasks appropriately, the number of mini jobs you can take is limited.
Tired of Wasting Time on Low Quality Programs?
I'm so grateful that I was able to find THIS PROGRAM which helped me to finally start making money online!
Spare5 is an opportunity for anyone who wants to earn during their free time. It's also ideal for individuals who want to make money online. By completing small tasks, you can earn $10 per week.
Since the tasks are easy, it's also good for beginners or anyone who doesn't have any experience working online. Just be sure to do the tests accurately so you can receive more mini jobs. Also, be sure to complete many tasks to you can boost your XP.
Before you have access to their tasks, you'll be required to watch a short clip about each small job and take a test afterward. All tasks are simple but you'll have to do it correctly. In case you failed the test, you can retake it after a couple of minutes or wait for 48 hours.
Spare5 is legit but is it worth it?
For me, it depends on the cost of living you have. If you are fine with making barely $10 every week then you might give Spare5 a shot. However, if you know that the opportunity is not enough to be even considered as an "opportunity", then it's best to look for another solution -- and I have the right offer!
Spare5 has proven its legitimacy but the problem is that the earnings are too low. When you have free time and you want to use it to make money online (or even create a passive source of income), I suggest you join my #1 recommended program.
It's easy to get started. All you need to do is create an account for free and enjoy the following perks:
Training resources
Webinars to help you start your business online
One-on-one coaching
Comprehensive guide
And many more!
As always, I hope that I have helped you decide whether Spare5 is worth your time or not and if you have any questions or if you'd like to share your experience with this mobile app, please feel free to comment below.
Thank you!
We Constantly Review Programs in "Make Money Online" Niche,
So That You Don't Have to Waste Countless Hours
Want To See Our
TOP RECOMMENDATION?