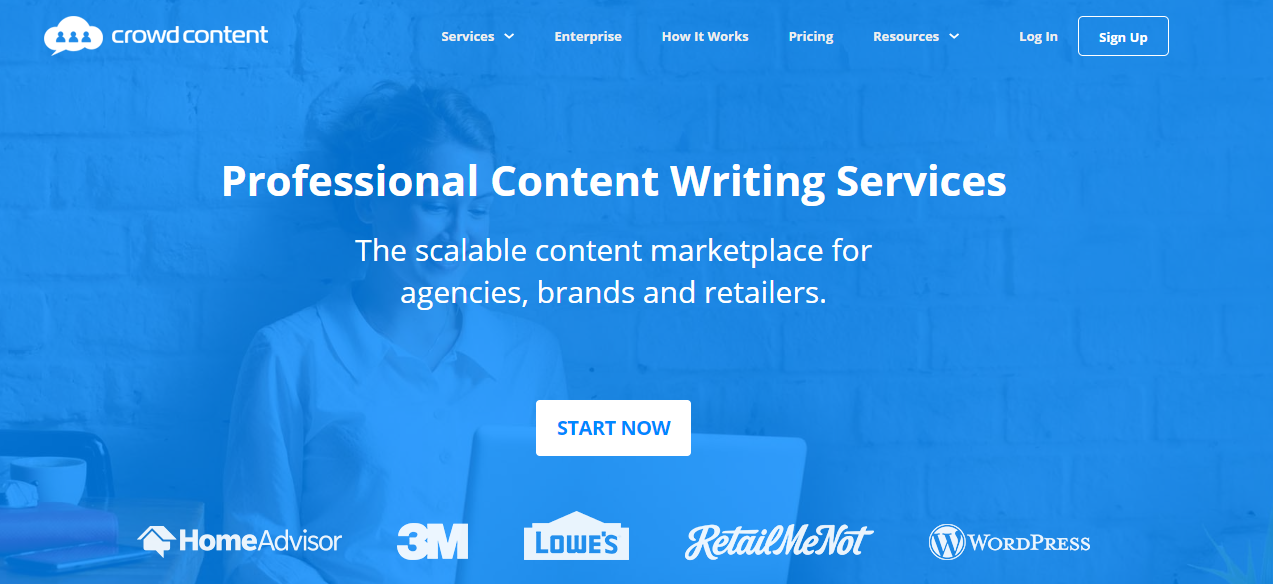 Welcome to My Crowd Content Review!
If you have a passion for writing or you just know that you can create content, you can easily find platforms that will pay you for your service. While there are websites that provide job listing, there are sites that specifically hire freelance writers.
Crowd Content Review Summary
---
Name: Crowd Content
Website: crowdcontent.com/
Founders: Clayton Lainsbury
Product Type: Content Mill Website
Price: Free
Quick Summary: Crowd Content is a legit content mill that pays freelance writers for completing writing tasks. Unlike similar platforms, this site also offers assignments that include writing posts for social media, product review, etc. It's a good opportunity for beginners but I found a minor problem that you should take note of before signing up.
Overall Rating: 7/10
Recommended: Yes.. And No
One of which is Crowd Content -- a content mill website that also asks writers to create posts for social media, such as Facebook and Twitter. But before you create an account here, be sure to read the entire post first to know if this opportunity is worth your time or not.
P.S.
While most content mill websites are legit, many freelance writers complain about very low compensation. So if you want to make a profit out of your passion, I suggest you take my step-by-step guide on making money online.
What Is Crowd Content About?
Crowd Content is a content mill website where writers are hired to create articles, essays, eBook, etc., for businesses and individuals who require writing service. However, on their platform, the freelance writer is not limited to a few types. They can also create blog posts, Facebook posts, tweets for Twitter, metadata, reviews, technical content, white papers, and a lot more.
Based in Canada, Crowd Content was founded by CEO Clayton Lainsbury, which has over 5,000 writers in the U.S. alone.
How To Sign Up With Crowd Content As A Writer?
On the upper right part of their page, you will find the "Sign Up" tab. Click it and choose "Worker" from the options. Choose "Create Account" and fill out the form with necessary details, such as your name, email address, and password. You will also be asked to provide a pen name and an image of yourself.
Unlike other writing platforms, there are no qualifiers, such as grammar tests so more or less, your account will be approved. Once you've submitted the application, you will receive an email from Crowd Content verifying your approval and you can now start looking for writing opportunities.
However, not all opportunities are created equal. When writing for a social media post or product description, for instance, you have to take a test to know whether you're eligible to write for these tasks or not. The test includes writing a title, body, call to action, and adding a link to a content related to the topic. You have to wait for their response to know if you're fit to write in these tasks.
How To Start The Writing Assignments
Unlike a typical job listing where all jobs are posted, the writing tasks you can see depends on your Quality Level. Therefore, the higher it is, the more writing assignments you can have access with.
Each assignment contains basic details, such as the category and the maximum pay you can get once you completed the task. It also includes the specific instructions and the deadline of the assignment, therefore you have to read it carefully.
Crowd Content follows a 3-strike system and like baseball, you'll be "out" as a writer if you have violated any of their rules. This means that if you fail to oblige any of their terms, you will receive a strike and once you reach 3 strikes, your account will be suspended.
Just to give you a heads up, here are the things you should avoid when you don't want your account to be terminated:
Failing to submit the content before the deadline.
Failing to submit the revised content before the revision deadline.
Submitting the content after the 30-minute Drop Window.
How Many Assignments Can You Claim?
When you're a new writer, you can only claim one order at a time but as the number of your completed assignments increase and you avoid strikes, your claim limit increases, too:
For example, if you have completed 5 assignments consecutively, you can get 3 orders; for 10 completed assignments, you can get 4 orders; for 15 completed assignments, you can get 5 orders.
Again, you should not have any strikes in your account to claim more than one orders.
How Will You Get Paid?
Before anything else, the amount you can get per task depends on the price you want to charge (of course, it should be based on the maximum earnings of the assignment). Once you have $10 in your account, you can withdraw it via PayPal.
If you don't have a PayPal account, you can simply create now for free. Anway, Crowd Content will send your payment on a Tuesday and Friday every week.
Crowd Content is not a scam. It's a legit platform for freelance writers who are looking forward to having a regular job as a writer online. It does pay its members for the orders completed.
The problem is the rate per task. Like typical content mills, the pay is low and considering the number of tasks you can get especially when you're still new to their platform, you cannot use it as a regular source of income.
If you're passionate about creating content or you've been providing a writing service since then, you can actually use it to make a bigger amount of cash online. Of course, it's not a get-rich-quick scheme as it will take time and effort before you get your desired results.
But don't worry, this step-by-step guide will show you how you can do it easily.
You can also sign up with Wealthy Affiliate directly and earn money through affiliate marketing. The concept of this business model is to create content and insert relevant affiliate links. Once a visitor purchases a product or offers using that link, the affiliate will earn a commission. This opportunity is one of the most popular ways to make money online and you can use it, too, to generate an income.
Crowd Content is free and you can get started easily just by signing up using your email address.
If you want to learn more about Crowd Content, you can watch the video below:
Here Is My Top Recommendation to Start Highly Profitable Online Business from Comfort Of Your Home
PROS
Payment Is Sent Twice Per Week Via PayPal
Unlike other content mills and online jobs that pay bi-weekly and monthly, Crowd Content sends compensations twice a week -- every Tuesday and Friday. The company sends the payment via PayPal which is a good financial platform. Most freelancers and internet marketers use this to receive their payment since it's free and reliable.
Low Payment Threshold
Unlike other online platforms that pay freelancers and marketers, the payment threshold is low. You only need $10 in your account so you can withdraw it via PayPal.
Easy To Get Started
The application is not as complicated as the others. There are no grammar, spelling, and writing tests required to be approved.
CONS
Limited Assignments You Can Take
The number of assignments you can take depends on your Quality Level. So if you're just beginning to write in their platform, the number of orders you can take and the writing tasks you can see is low. That being said, you cannot use Crowd Content as your main source of income since it's barely enough to suffice your daily expenses.
Tired of Wasting Time on Low Quality Programs?
I'm so grateful that I was able to find THIS PROGRAM which helped me to finally start making money online!
Crowd Content serves two types of clienteles -- the individual or business in need of writing service and the writer who provides the service.
If you're a business owner or you are an individual who's too busy to manage your social media accounts or you need content for your website, you can work with Crowd Content for high-quality content.
Meanwhile, if you're a freelance writer looking for a part-time writing job, you can sign up in their platform and get paid for creating posts, metadata, press release, etc.
There are no training within the platform but if you want to improve your writing, you can always check for free training materials online. You can also check my step-by-step guide if you want to make money online by writing.
Crowd Content is a legit platform that pays writers for creating content. It's a good place to start when you are still exploring online opportunities or you are building a portfolio as a writer. Despite the limited writing assignments, you're guaranteed to get paid after completing it so for me, that's good news. But then again, if you are looking for a better offer, I suggest that you read the next section.
Do you want to make money out of your passion? If yes, then I suggest you sign up with top-recommended program and earn a decent income online.
Don't worry, you don't have to be a pro to get started. You can join now and enjoy the following perks -- for free:
One-on-one coaching
Comprehensive guide
The best business tools and support you need
Webinars and training resources
And many more!
I hope I've helped you decide whether you should sign up with Crowd Content or not and if you any questions or you want to share your personal experience with this platform, please feel free to share it below.
Thank you!
We Constantly Review Programs in "Make Money Online" Niche,
So That You Don't Have to Waste Countless Hours
Want To See Our
TOP RECOMMENDATION?