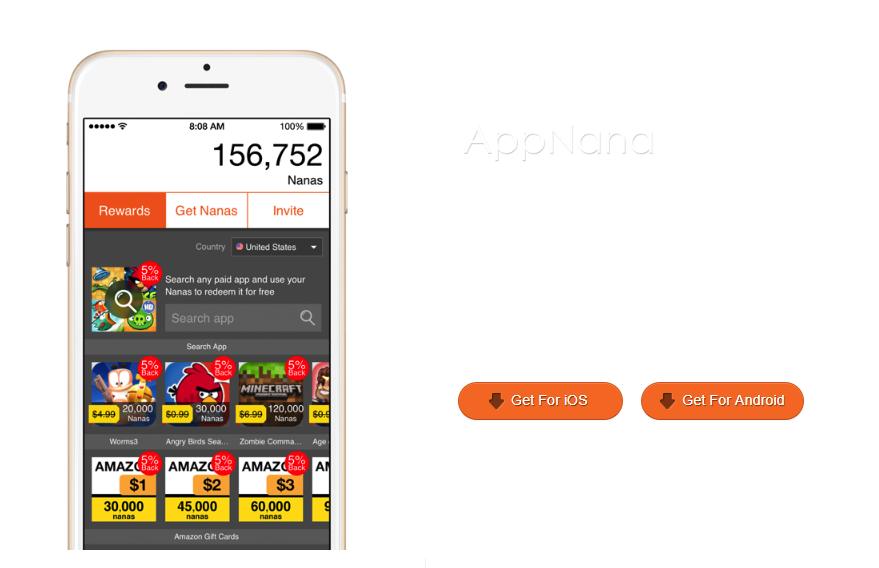 Welcome to My AppNana Review!
Before, I thought any mobile applications that claim to pay you cash for doing tasks are nothing but a scam. However, after doing a few reviews about various apps, I realized two things: one, you can really earn money using these apps and two, the amount you can get is very small.
AppNana Review Summary
---
Name: AppNana
Website: appnana.com
Founders: Max Guan
Product Type: Mobile Application
Price: Free
Quick Summary: AppNana is a mobile application that's available on both iOS and Android device. It claims to pay its users for watching video clips and ads, downloading mobile apps, and a lot more. But how much money are they talking about? Is it enough to replace a day job?
Overall Rating: 3/10
Recommended: No
Now, another mobile app named AppNana claims to reward you for playing games and downloading paid apps but what's the truth about this program?
Is AppNana a scam?
Find all the good and the bad in this honest review.
AppNana is a mobile that lets users "earn credits" by playing mobile games and downloading apps. It is available on iOS and Android device for free. The credits you get from trying various mobile applications is called "Nanas" and you can exchange it for cash via PayPal or for a gift card from Amazon, iTunes, Steam, and XBOX.
Who Is The Founder Of AppNana?
AppNana has been registered in 2013 and was founded by Max Guan. He is also the current CEO of the mobile application. Its parent company is Mapiz and is currently based in the San Diego Bay Area. Unlike other mobile applications that let users earn money, AppNana is available worldwide.
How AppNana Works?
The concept behind AppNAna is nothing new. In fact, there are over a hundred mobile applications that pay its users a very small amount for doing minor tasks, such as Spare5, Panel App, Rewards Buck, and Cash For Apps.
To begin, all you need to do is download the app on your iOS or Android device, register your email, and start earning. Upon registration, you'll receive 10,000 Nanas which you can convert to cash or a gift card sooner.
Anyway, the reason why you will get paid for doing minor tasks is because you're helping app developers. You just don't download apps to develop awareness, you are also testing it. The amount of Nanas you'll get for playing and downloading apps depends on the type and the total time you spent on it. For example, interacting with an app for more than 3 minutes can help you earn 1,000 Nanas. Meanwhile, you'll already get 400 Nanas just for logging in daily.
Below are some of the ways to earn using AppNana:
Watching an ad
Download a mobile app and use it for 5 minutes
Download a game and reach a specific milestone, such as winning a boss level, reaching level 3, etc.
How Much Money Can You Make With AppNana?
Normally, the amount you need to spend on a newly downloaded app or game is around 5 to 10 minutes wherein you'll receive 1,000 to 2,000 Nanas. This might seem a lot but wait until you know more about the conversions.
For instance, you want to cash out your earnings via PayPal; you need 45,000 to convert it into $2. For gift cards, it looks like this:
30,000 Nanas for $1 Amazon gift card; 60,000 Nanas for $2 Amazon gift card; and $90,000 Nanas for $3 Amazon gift card
90,000 Nanas for $5 iTunes gift card; 160,000 Nanas for $10 iTunes gift card; 210,000 Nanas for $15 iTunes gift card; and 650,000 Nanas for $50 iTunes gift card
160,000 Nanas for $10 Google Play Store gift card; and 650,000 Nanas for $50 Google Play Store gift card.
Imagine the effort you need to do just to get a small amount of cash or gift card. AppNana does pay their users but do you think it's worth your time? I think even if you spend the entire day downloading apps and watching video clips, the result is still disappointing.
If I were you, I'd rather spend my time working on something that provides a better opportunity, such as my top recommended program. If you're a beginner or you only have a couple of free hours left, this alternative is best for you!
Can You Make Money Through Referral?
Most similar programs provide the user for inviting new people to download the app. The same thing with AppNana -- you'll get 2,500 Nanas for referring a new person to sign up and use the app and they get 2,500 in return for using a referral code. There's no limit on how many people you can invite to join the platform which is good news since the credit you'll get is bigger and you can refer to as many individuals as you can.
When Are You Going To Get Paid Using AppNana?
Like other apps, you'll have to wait for a couple of days for your payment to be processed. It's faster compared to other apps that let you wait for two weeks or so. The same thing when exchanging your credits or Nanas to gift cards. Apparently, they'll send your redeemed GC within 48 hours via email.
AppNana is not a scam. In fact, it has received a high rating on Google Play Store And Apple App Store.
They really pay the users as promised for downloading apps and referring new people to join the program. However, there are a few complaints, such as buggy apps and low earning potential. Meanwhile, some users claiming that they do not receive any rewards at all.
AppNana is for free so if you're up to gift cards or even a small amount of cash, you can use it as an alternative. However, don't expect much from this mobile application. For me, I think you should only see it as some form of entertainment rather than a side hustle because obviously, you're only wasting your time if you're looking for a cash in this program.
If you want to earn money in your free time and you want to do it online, I suggest you take my Number 1 Money-Making Opportunity instead.
You can learn more about AppNana by watching the video below:
Here Is My Top Recommendation to Start Highly Profitable Online Business from Comfort Of Your Home
PROS
Legit Way To Earn Gift Cards
While you can earn money using AppNana, I don't really count it at all since the amount you can get is too small. But then it's still good to know that you can exchange your credits to gift cards just for playing and downloading apps.
User-Friendly Interface
Whether it's their website or mobile application, AppNana offered an interface that is easy to navigate. Even those who are not technically-inclined can use it without any confusion.
CONS
Earning Potential Is Too Low
If you want to make money online, this app is not an alternative. You are only wasting your time converting credits into cash or gift cards. If I were you, I'll look for a better money-making platform instead.
Complaints About Not Getting Paid
I've seen a handful of complaints from people who have not received the rewards they deserve for doing tasks so even if AppNana is legit, this feedback is a red flag!
Tired of Wasting Time on Low Quality Programs?
I'm so grateful that I was able to find THIS PROGRAM which helped me to finally start making money online!
There are two types of people who will benefit from AppNana -- the advertiser and the individual looking for a money-making opportunity.
For advertisers or even app developers, this mobile app is a great way to market their business and test their mobile applications.
Meanwhile, those who want to earn money online can take advantage of this app. The tasks are very simple and even beginners can do it without any problem. But then again, the pay is very low and often barely not enough to be called a side hustle.
I've tried various programs online that claims to help you make money and I realized that even if the offer is legit if it's wasting my time, I consider it as a sham. For this reason, I cannot recommend AppNana at all because honestly, you're not going to get anything from it. I mean, if you can find a better alternative to make money at home, why not put your time and effort in it rather than spend it on an app that won't give you the credit you deserve, right?
Let's admit it -- making money is hard but it's crucial to survive. So why not be smart? Rather than working hard on something that doesn't offer value, find an opportunity that will help you not only make money online but also give you a chance to earn passive income.
Interested?
Simply check our top-recommended program to know more about what I offer. It's free to sign up and you can enjoy the following perks:
Proven strategy to work smart and earn a lot (literally)
Best possible support including your own training coach
My personal help
Step-by-step guidance
Lots of training resources
And so much more!
Sounds great, right? I know 'cause it helped a lot of individuals who want to earn cash online, too.
Anyway, I hope I've helped you decide whether AppNana is for you or not and if you have any questions or comments, please feel free to share it below.
Thank you!
We Constantly Review Programs in "Make Money Online" Niche,
So That You Don't Have to Waste Countless Hours
Want To See Our
TOP RECOMMENDATION?