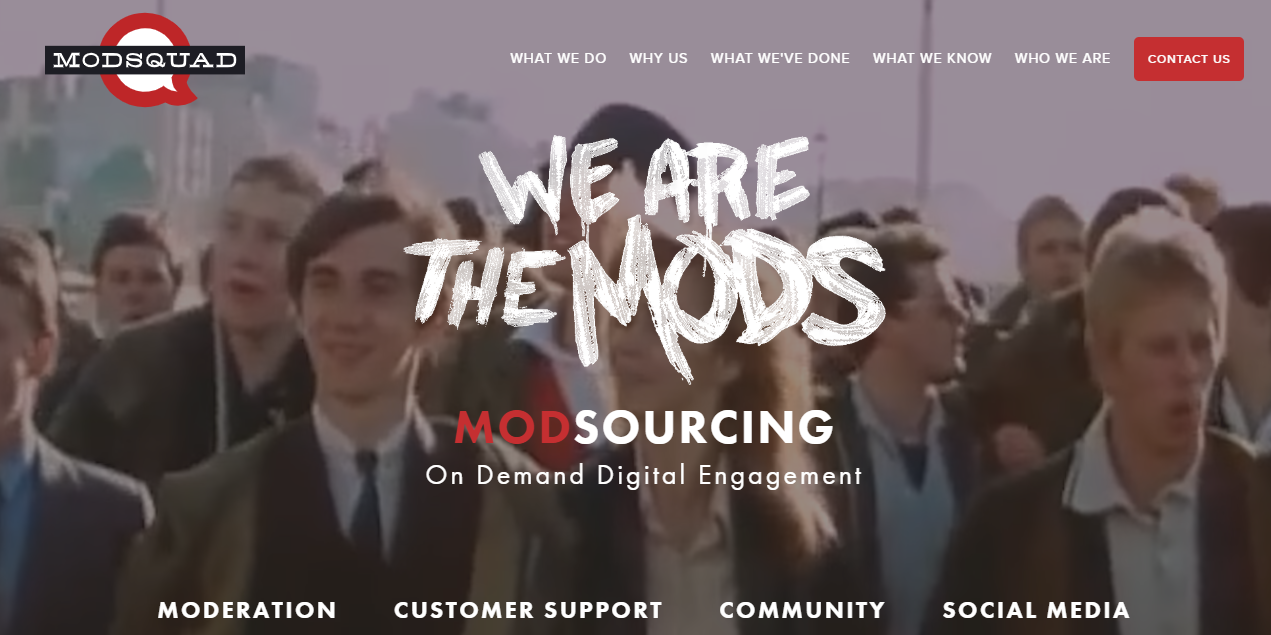 Welcome to My ModSquad Review!
Looking for a legit work-at-home opportunity but don't know where to start? Maybe this site called "ModSquad" can help you. But before you sign up, be sure to know how it really works, how much money can you make from it, or if ModSquad is legit or just another scam.
ModSquad Review Summary
---
Name: ModSquad
Website: modsquad.com/
Founders: Amy Pritchard
Product Type: Work-At-Home Opportunity
Price: Free
Quick Summary: ModSquad is a work-at-home opportunity founded by Amy Pritchard. It pays individuals for moderating forum, managing social media accounts, and performing other tasks online. It allows its members to choose their working hours and pays them via PayPal.
Overall Rating: 7/10
Recommended: Yes
Don't worry, you don't have to go anywhere else because I got it all covered in this honest ModSquad review.
ModSquad is an online platform for freelancers who want to earn money as a part-time moderator. It claims to pay individuals for moderating forums, managing social media accounts, providing chat support, and handling communities.
Based in the United States, ModSquad was founded in 2007 by Amy Pritchard who is also its current CEO. As of now, it has more than 10,000 moderators worldwide who work on their own time.
What Are The Responsibilities Of Moderators?
As mentioned above, you will be managing forums/communities and that includes ensuring that members are following the rules and regulations, maintaining peace and order inside the community, encouraging interaction, etc. You are also responsible for providing chat support, sending emails, and managing the company's social media accounts.
The perks of becoming a moderator in ModSquad is that you can choose your own working hours. Let's say you have a full-time job and you want a side hustle, you can apply as a moderator and choose the brands you want to work with as well as your work schedule.
Application Process For Moderators
To join ModSquad, all you need to do is click the red tab on their homepage that says "Join The Mods" then click "Start Here". Attach a CV and provide the necessary details, such as your name, email address, phone, company, and social media links.
You will also be asked to answer a few questions and add a cover letter. You'll receive a notification within 72 hours to know whether your application is approved or not. If there's a project that matches your expertise, you will proceed to the next step but if there are no brands that suit your skills, they will keep your application with them so the next time there's a new project, they will reconsider your application.
For the next step, a background check will be conducted and you will be asked to accomplish an agreement. Some companies will also require you to complete an orientation.
Requirements For Moderators In ModSquad
More or less, you only need three things when you want to work as a moderator in ModSquad -- a reliable, fast internet connection, laptop/desktop, and a workspace. However, some companies may require a few tools or equipment for your job.
How Much Can You Earn From ModSquad?
The rate you will get depends on the company you are working with, your skills, and your professional experience. Other factors that affect your compensation includes your working hours, performance, and the time you spend working on it.
Based on my research (courtesy of Glassdoor), it ranges from $8 to $11 and you will get paid via PayPal. This is big compared to other jobs online and it can be bigger if you choose to work longer. But then again, it depends on your skills and experience so if you're a beginner, it's either you get a low salary or your application will not be approved.
Don't worry, if you feel pressured about the requirements or you're not comfortable having a boss, there are legit opportunities that can help you make money online.
For instance, if you're passionate about writing, you can start writing a blog and monetizing it. You can make money from the ads but you can earn a lot more when you join affiliate programs, such as Wealthy Affiliate.
What Is Affiliate Marketing?
Affiliate marketing is often associated with passive income. Why? Because it does provide you money even while you sleep. However, like other legit money-making alternatives, it's not as easy as it sounds.
Before anything else, this business model is legit and it's been used by various internet marketers and individuals who want to earn money online. The concept behind this is that you -- the affiliate -- will promote products or offers in your website or social media. If a visitor purchases an item or completes an action using your link, you will earn a commission.
It almost sounds like easy money but what most people fail to realize is that they need to set up a website first and generate consistent traffic to it so they have a higher chance to convert sales. If you're a beginner or you want to improve your skills in affiliate marketing, I recommend that you learn from this step-by-step guide.
ModSquad is not a scam. In fact, it's been providing work-at-home opportunities since 2007. I think it's one of the best options you have when you want to work online. The pay is great and it uses a financial platform that is available for almost anyone. However, like other legit business, it has received a few complaints as well, such as management issues, promotion concerns, and poor training.
These are just of the common disadvantages when working in a company so if you want to avoid these dilemmas and you want to hone your skills and expertise, I suggest you take my top recommended program. It comes with free training and webinars and you can personally to the founders, which rarely happens. Aside from that, you have the "real" freedom to work on your own pace. The best part is -- YOU are your own boss!
ModSquad is free for everyone and it's available worldwide. You don't have to pay for anything except for the equipment you need for your work, such as laptop/desktop or if you want to upgrade your internet connection.
To learn more about ModSquad, you can watch the video below:
Here Is My Top Recommendation to Start Highly Profitable Online Business from Comfort Of Your Home
PROS
Flexibility In Time
When you work in ModSquad as a moderator, you don't have to worry about the strict working schedule. You can decide when and how long you want to work.
Work Anywhere
Like other online jobs, you can work anywhere you want (just be sure that it's a quiet area). As long as you have a stable internet connection, you can manage communities, handle social media accounts, send emails, etc.
Allows Multiple Projects
If you have enough time and you want to earn extra cash, you can choose as many projects as you can as long as your application is approved.
CONS
No Growth
According to some reviews from their moderators, there's no promotion or growth in this company. The work is easy and you won't be challenged to become better at what you are doing. Eventually, you will get bored from doing the same tasks over and over again.
Poor Training
Training, for me, is important even if you think you already know what you're doing. Unfortunately, with ModSquad, they don't provide quality training for you to become a good moderator.
If you want to improve your skills and expertise in making money online, I suggest you check out my step-by-step guide now!
Low Income Potential
Based on the reviews I've read, the pay is still not enough basically because the work available is limited. Plus, there's no guarantee that your application will be approved and even if you have the chance to work as one of their moderators, there's a chance for your account to get suspended even without notice. That's one of the cons of working online -- your employer can fire you anytime they want.
If you want to avoid this kind of situation, you should check out my number 1 recommended platform. In this program, you'll learn the basics of making money online without having any employer/contractor. This opportunity will also show you how you can create money while you sleep so if this doesn't convince you, I don't know what else will.
Tired of Wasting Time on Low Quality Programs?
I'm so grateful that I was able to find THIS PROGRAM which helped me to finally start making money online!
This platform serves two types of clienteles -- brands and individuals who want to make money online.
For brands who want to hire people who can manage their forums and social media and perform other tasks, they can work with ModSquad to find the service they need.
For individuals who want to earn money online, they can apply as moderators in this site.
Apparently, ModSquad offers training for their moderators; however, most members don't seem satisfied with it. Therefore, if you want to improve your skills as a moderator, I suggest you do it on your own. After all, it's easy to find training materials and videos online for free.
ModSquad offers a legit opportunity to make money online and despite the complaints against the company, there are still moderators who are grateful for the opportunity they provide.
Working at home, for me, is better than working outside because it offers a lot of advantages so I guess you can still give this platform a try.
But then again if you're not comfortable having an employer or contractor or you fear getting fired without proper notice, I suggest you start looking for another legit opportunity, such as my top recommended program.
I've mentioned about my top-recommended program above and in this platform, you'll find a handful of training you can use when you want to start your own online business or make money online.
You also have access to a live community where you can share your concerns, give tips and ideas, and/or build a connection. Sign up now and take advantage of these perks:
Webinars to help you start your business online
Training resources
One-on-one coaching
Comprehensive guide
And many more!
Thank you for reading my ModSquad review and if you have questions or comments, please feel free to drop it down below.
We Constantly Review Programs in "Make Money Online" Niche,
So That You Don't Have to Waste Countless Hours
Want To See Our
TOP RECOMMENDATION?