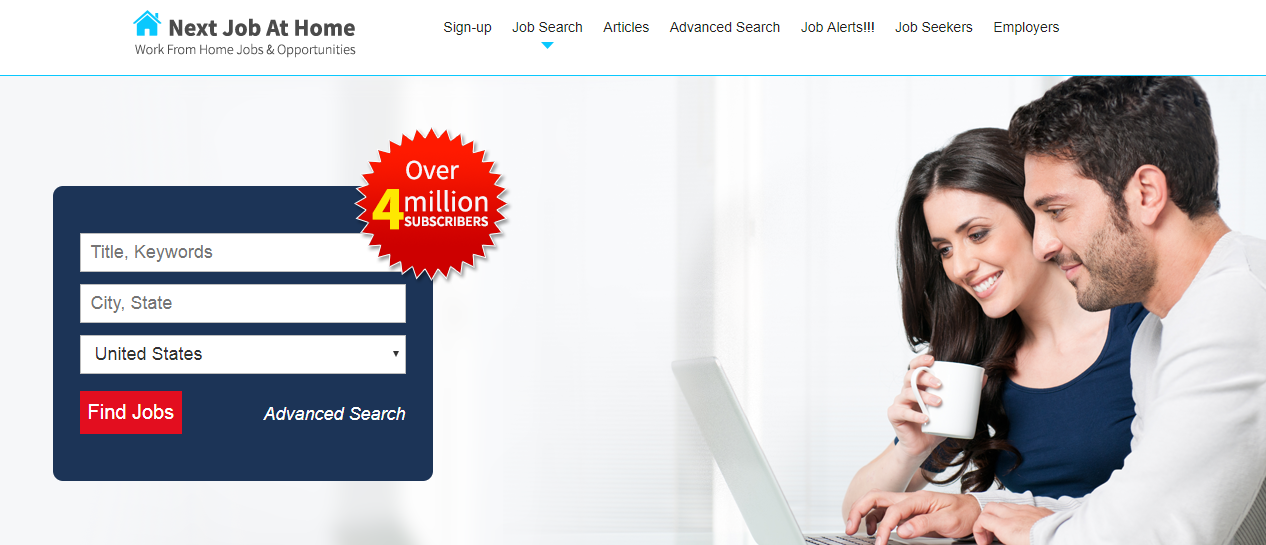 Welcome to My Next Job At Home Review!
There are a lot of freelancers working online nowadays, and no one can blame them why they chose this over the regular set up. As for me, for instance, home-based jobs offer a lot of conveniences, plus you don't have to dress up just to earn. Simply bring out your laptop, connect to the internet, and start working.
Next Job At Home Review Summary
---
Name: Next Job At Home
Website: www.nextjobathome.com/jobs.php
Founders: Isaac Klein
Product Type: Job Search Engine
Price: Free
Quick Summary: Next Job At Home is a job search engine that claims to provide legit job offers you can do at the comforts of your own home. According to their site, each job and ad is screened by their "real-life researchers". However, I found out that this site has too many red flags and if you're not careful enough, you might end up receiving tons of emails and calls.

Find out everything you need to know in this honest Next Job At Home review before signing up.
Overall Rating: X/10
Recommended: Yes/No
Perhaps, this is one reason why there are a lot of scammers taking advantage of people who are looking for a job online. I've been scammed many times before that's why I'm skeptical about this so if you're like me who wants to know whether a website or a job offer is legit or not, then this Next Job At Home review is for you.
What Is Next Job At Home About?
I don't know if I have a sixth sense but the first time I saw the website of Next Job At Home, I felt like there's something wrong. Yes, you can see a list of job offers but there are no contact details and some tabs on their menu, such as the Jobseekers and Employers, will lead you to another site called ZipRecruiter, which is another job search engine.
Anyway, on their website, it says that they offer 100% work-at-home jobs and that their service is free. All you need to do is register your email address, verify your account using the link sent to your email, and start applying for the available job positions.
Unlike the usual job search engines I used before, such as UpWork, the verification process is easier with Next Job At Home since there's no need to upload a resume, take tests, fill out forms that would assess your skills, etc. Nevertheless, the site guarantees that the jobs and ads found on their page "are screened for quality assurance by their real-life researchers". According to their site, Next Job At Home has been founded in 2008 and it has given over a thousand American an opportunity to work at home. While there's an area that displays various testimonials from other people, there's no assurance that these are legit since there's no photo or any clickable link that would direct it to the account of the member.
Is Next Job At Home A Scam?
While I can't say that Next Job At Home is a scam, I cannot recommend it to anyone. For me, I think my suspicions are right because of the RED FLAGS I've encountered and I am more than willing to discuss it in details:
Linked To Another Site Called ZipRecruiter
As I've mentioned above, some tabs will direct you to another website called ZipRecruiter, a marketplace for those who are looking for a job. It was founded by Joe Edmonds, Will Redd, and Ward Poulos in 2010. While the company is legit, the jobs shown on their website are outdated. In addition, it has received a lot of complaints from employers who are looking for employees.
Although accredited by the Better Business Bureau (BBB) with an A+ rating, the negative reviews from its clients are alarming, such the ones shown below:
To know more about ZipRecruiter, you can watch the video below:
Then there are also jobseekers accusing ZipRecruiter as a scam artist. Apparently, some users receive a job offer from an "artist" who travels a lot so he needs a personal assistant. The job description includes receiving calls, data entry, email procession, booking flights and appointments, etc. This "employer" uses different names and sends fraud check so if I were you, I would be very careful in sharing my details with ZipRecruiter and Next Job At Home. You can read the full story here.
Not Legit Job Offers
When you say work-at-home, you'll expect legit home-based jobs, right? Like the ones done in offices but instead, at your very own comfort zone. However, with Next Job At Home, what I noticed is that the listings are not purely job offers but scams disguised as opportunities.
There are even ads that might attract job seekers and if you're not careful enough and you clicked these advertisements, you might end up losing money. You see, most of these ads are either scams or low-quality programs that will make money from you instead of you making money with them.
Misleading Listings
When you click "Job Search", you'll find their job listings that include the Job Title and Description, City/State, Company, and Date Posted. Aside from the scam-ish opportunity displayed along with the other jobs, I also noticed another thing.
The posting date you will see once you clicked the job offer is different from the supposed-to-be date that it's posted. For instance, with the Customer Success Specialist job offer, the Date Posted was 2 months ago but when you check it, you'll see that it was only posted a day ago.
Fake Member Testimonials
Once you signed up with them, you'll realize that there's no way to leave a comment for them, because if there is, I'm sure that they will be bombarded with complaints. Considering this, how did they get the testimonials or feedback from their clients? Why are they trying to fool us? What else are they hiding? Whatever it is, I'm sure you're wise enough to ignore such website.
Spam Emails And Endless Calls
I've read a lot of
complaints
about users receiving endless email messages and calls after signing up with Next Job At Home so if I were you, I will really think twice or thrice before registering my email address. Or to be safe, don't waste time and find a
legit online opportunity
instead.
Here Is My Top Recommendation to Start Highly Profitable Online Business from Comfort Of Your Home
To be honest, I can't see any pros with Next Job At Home. I've tried several job search engines, work-at-home opportunities so I guess, it's easier for me to find out if it's a scam, low-quality program, or a real deal. Unfortunately, with this site, I feel like it's more of a sham than a legit offer.
CONS
Personal Information Is Not Safe
Aside from getting a lot of email messages, there's a chance that you'll be receiving calls from Next Job At Home and who knows, maybe their third-party partners who will offer you "job opportunities". You will not even see a Privacy Policy so you'll never know how they will use the information you've provided on their page.
Too Many Red Flags
Date posted and posting dates don't match. Fake testimonials. Fake job offers. And other misleading details shared on their site are more than enough to tell you that you should not trust them. Good thing, you've read this Next Job At Home review first before you sign up with them but in case you've already registered, I guess it's not too late to turn your back away from them and settle for a more legitimate online opportunity.
No Contact Details
In case you got a problem with your employer or with the platform itself, there's no way you can reach them. No email address. No contact number. Not even a social media account to follow. While you can see a "Like", "Share", and "Tweet" icons on the upper part of their homepage, it will not direct you to their Facebook or Twitter account at all, rather it will just open a link that will let you share their website.
P.S. Don't ever share the link of their website.
Tired of Wasting Time on Low Quality Programs?
I'm so grateful that I was able to find THIS PROGRAM which helped me to finally start making money online!
Next Job At Home is a waste of time. Although I cannot directly say that it's a scam, it has a lot of red flags that you should consider. If you want to work at home, you can consider Fiverr, UpWork, or other well-known job search engines instead. You can also start creating your portfolio and your LinkedIn account for a chance to find legit clients.
Otherwise, you can just start your own business online and be your own boss! However, just like a traditional business, you need to be committed, hard-working, and consistent. If you're interested, just keep on reading.
Next Job At Home may be disappointing but don't worry, there are other options to choose from. One of which is the program that I (and many marketers) have been using to earn money online.
It's legit; however, it won't guarantee you an overnight wealth but if you're someone who believes in working hard and smart, then this opportunity is for you!
Sign up now with my #1 recommended program and enjoy these benefits:
Training resources
Webinars to help you start your business online
One-on-one coaching
Comprehensive guide
And many more!
I hope I have enlightened you with my Next Job At Home review and if you have any comments or questions, please feel free to share it below.
Thank you!
We Constantly Review Programs in "Make Money Online" Niche,
So That You Don't Have to Waste Countless Hours
Want To See Our
TOP RECOMMENDATION?