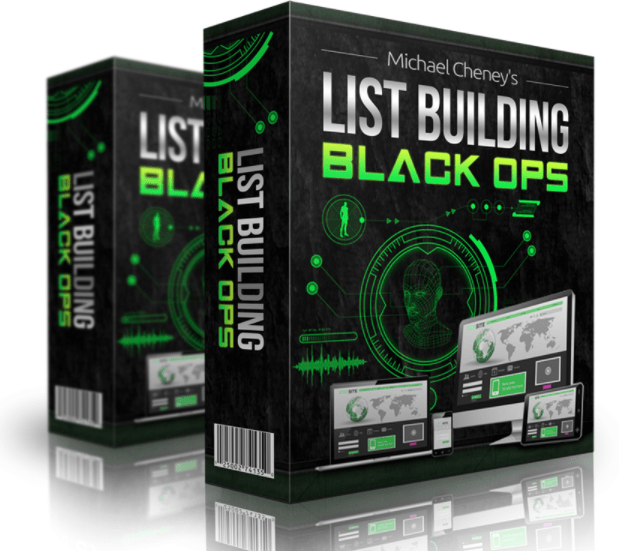 List Building Black Ops Review Summary
---
Name: List Building Black Ops
Website: http://commissionology.org/list-building-blackops/
Founders: Michael Cheney
Product Type: Affiliate Marketing with use of Email Marketing
Price: $197
Quick Summary: List Building Black Ops is another product offered by Michael Cheney where he offers us to learn how to build Email Lists and promote to them. In this review I will discuss whether it's worth investing in to this program and what are the Red Flags.
Overall Rating: 3/10
Recommended: No
What is List Building Black Ops About?
Michael Cheney claims that he has earned $6,925,419.04 from his list building operation. He also claims that every time he hits the send button, he'll earn between $500 and $5,000 every single time because his emails go out to over 3 million inboxes a week.
This might be true for Michael Cheney, but will you start earning this kind of money from List Building Black Ops course?
You might wonder how you can capitalize on that without a 3 million person mailing list, and that's where List Building Black Ops comes into play.
Michael Cheney states that he can teach you how to make bank with a small list, and do it quickly.
"You can get your own list of money-making buyers within just hours from now," Cheney claims on the List Building Black Ops website. List Building Black Ops claims to be a foolproof plan—even for newbies—to get money-making subscribers.
Through this product, Cheney will teach you word-for-word what you should be saying to subscribers, show you how to boost your opt-in rates by over 300%, and how to eliminate broke tire-kickers from your list without losing the serious "money subscribers" on it. Sounds great, doesn't it?
Is List Building Black Ops a Scam?
So, will you be "making money in record time even if you're a stone-cold newbie" or is List Building Black Ops a scam? If you read online List Building Black Ops reviews it can muddle the waters, but I am here to give you an unbiased, honest review.
Right from their sales page, you can start to see some Red Flags. All Cheney spits at you are numbers of his income and the income you can make by using his program. The real issue with this—besides his inflated claims— is that you make it through the extremely wordy page and still don't have much of an idea what List Building Black Ops is.
If he was selling a legitimate product he should be able to explain what it is and let readers see the immediate value. Instead, he's selling you an idea and the idea is that you will make tons of money if you buy his product.
This is such an old technique to get people in by selling hype. I am sure many newbies still fall for this but honestly it doesn't really take much experience to realize that for me to buy this product I want to see a real value and not bogus claims and promises.
Another Red Flag with List Building Black Ops is that he's essentially selling you information that's freely available. List Building Black Ops might not be an outright scam, but it's not worth your money as you are not really learning Email marketing in it's core, you are buying the hype of becoming rich. You will quickly realize this once you pay for List Building Black Ops.
Tired of Scams? Me Too!
But I'm so grateful that I was able to find THIS PROGRAM which helped me a lot in this online business journey!
The price tag for List Building Black Ops ranges, but it's mostly around $197. Usually, you can get it for the reduced price of $97, which is really just another marketing technique to make you pull the trigger on the non-refundable purchase.
$97 seems like a small price to pay to make thousands of dollars every week using what you learn. However, Cheney is utilizing the foot in the door technique by providing List Building Black Ops at such a low price.
It's a stepping stone to his more expensive products and services and he's banking on you getting sucked into his overwhelming sales funnel. In fact, right when you sign up for List Building Black Ops you'll be bombarded with extremely costly up-sells.
PROS
Michael Cheney is well experienced in the email marketing landscape and knows what he's talking about
There is some interesting information in the training
CONS
You are paying for free information
Michael Cheney simply wants to suck you into his marketing sales funnel
You have to pay to join affiliate programs to promote their content
There are no refunds
You are not guaranteed the staggering income he advertises
You are subjected to up-sells



You heard it right – NO REFUNDS. Guess why? When you buy something and it doesn't live up to expectations then you want your money back – not the case here. Michael Cheney clearly states:"You are either In or You are Out"
Of course when you find out that you will get all this information for Free online why would you pay for this program? No Free trials, No refunds – your $97 are gone. This is exactly what he says:
I am Vasiliy,
Discover My Secrets to Making Money Online
Michael Cheney claims that List Building Black Ops is for anyone, even "stone-cold newbies" looking to make money off email marketing, but he makes a lot of assumptions. Looking through the content, it's actually quite difficult for someone with no knowledge of internet and email marketing to follow along with.
You'll need to have the basic knowledge to know what he's referring to throughout the "training" and even then you'll struggle to find any real value in what he's offering.
Simply put, List Building Black Ops is not good for anyone. Cheney is merely using it as a stepping stone to lure you into up-sells for his higher ticket products and programs.
So, what do you actually get if you cough up the $197 for List Building Black Ops? You get information from Michael Cheney and training on how to build your lists and make money.
You will learn the best way to get people on your list, how to build a pro-looking squeeze page inexpensively, what you need to say on your squeeze page, the worst things to say to your subscribers and the best freebies to offer.
You will also learn when you should start pitching to subscribers. Through his 7 minute "newbie proof" step-by-step method, you'll be able to determine where the hot buyers are on the internet and attract them without spending a penny or knowing anything.
In terms of support, there's not much. After all, List Building Black Ops has a no refund policy, so disgruntled customers can't just get their money back and run. There is an FAQ on the website, but the information there is just as vague and gimmicky as his sales page.
Michael Cheney has had millions of dollars in success at email marketing, so everything he touches must turn to gold, right? Not necessarily. When it comes to List Building Black Ops, this is a product that you should pass on.
Right from the start the sales page is gimmicky and doesn't provide any real information. You know what you'll be learning but have no idea whether it's video training, e-books, audio training or guides. You also aren't sure if you'll have an online portal or how materials will be delivered.
To top it off, Cheney uses his usual sales tactic of throwing images of large paydays in your face. It's important to remember that this is not the case for everyone and you likely won't see a fraction of those results even if you put in the time and hard work necessary.
I have reviewed many products by Michael Cheney and I can clearly follow how he is focused on launching new products in order to generate sales. After a while information provided will be dated and there will be no support provided.
Moreover most products pitched by Michael Cheney can be easily found for Free online, which means there is no reason to buy his products and be subjected to costly up-sells.
We Constantly Review Programs in "Make Money Online" Niche,
So That You Don't Have to Waste Countless Hours
Want To See Our
TOP RECOMMENDATION?