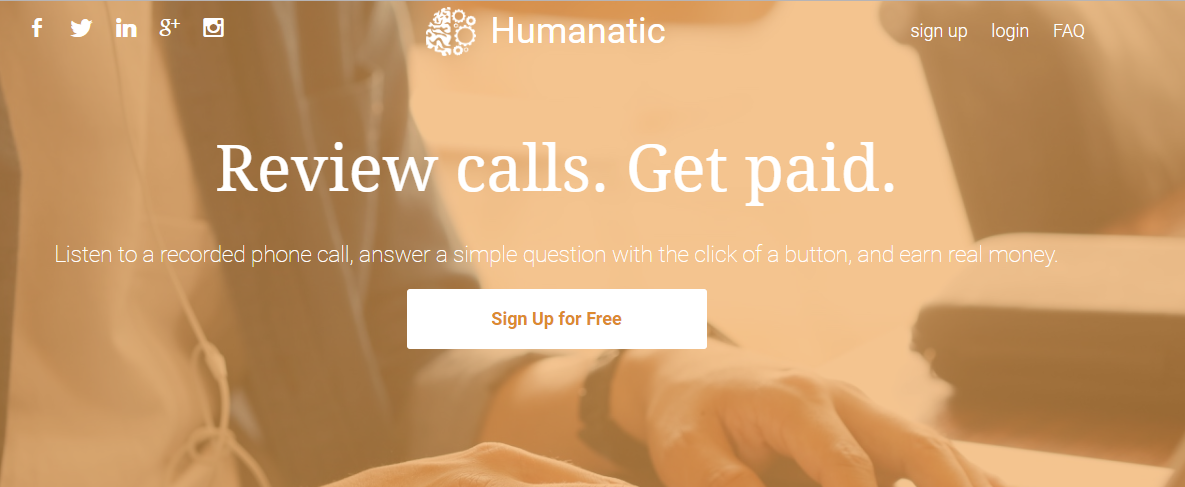 Welcome to My Humanatics Review!
Maybe you're new to working online and you're looking for a legit way to make money at home and probably, you landed on a site called "Humanatics." So, you're looking for legit reviews.
If that's the case, then you're in the right place!
Humanatic Review Summary
---
Name: Humanatic
Website: https://www.humanatic.com/
Founders: Century Interactive
Product Type: Home-Based Opportunity
Price: Free
Quick Summary: Humanatics is a home-based opportunity that claims to pay "call reviewers" just by simply listening to a recorded call. According to their website, you can freely choose your working schedule and work as much or as little as you can. The opportunity they offer sounds really interesting especially if you're only looking for a lucrative way to spend your free time.

However, before you sign up, be sure to read this Humanatic review because I found out alarming feedback about the site.
Overall Rating: 4/10
Recommended: No
In this post, we'll talk about a home-based opportunity called Humanatics.
What is it really about? Will it help you make an income? What are its pros and cons? We'll discuss everything you need to know in this unbiased Humanatic review.
Humanatic describes their organization as the operator that says: "this call is being recorded". Apparently, they hire users all over the globe to listen to a recorded phone call" and get paid. They use the recordings to help their clients assess the call and give them analytical reports. These reports help their customers improve their overall service and sales.
They claim that when you join Humanatics, you will have a flexible schedule. You can "make as little or as much" as you want since you have the freedom to take as many calls as you want. Apparently, you can access the simplest call categories and as you go along, you will be opened to advanced opportunities and more earning opportunities.
How Humanatic Works?
To join Humanatics and become a "Call Reviewer" (the term they use for successful applicants), you can start by clicking the "Sign Up Now" button found on their homepage. You will also be required to provide a PayPal account as this will help them verify your identity. Plus, this is where they are going to send the payment.
You also need to complete an application form that will answer the basic details about you such as the languages you speak, employment history, etc. Unlike the usual job search engines, such as UpWork, uploading a CV is not mandatory. As long as you have a PayPal account, you can start taking calls.
By the way, I tried to sign up but it seems like they are not accepting new users for the meantime.
Once you're done with the application, you can listen to training calls so you'll have an idea of what you need to do. Experience is not really necessary because all you need to do is answer call-related questions. More or less, you just need to determine if the call was handled effectively by the call center agent or customer representative.
As mentioned above, you are free to work as much or as little as you want. You can start working anytime you want and leave as you're not committed to specific working hours. However, if you want to take more calls, you'll have to adjust your working schedule if you're living outside the United States since most calls are available from 7 in the morning up to 7 in the evening.
When Are You Going To Get Paid?
Humanatics claim that they will pay you every week, and based on my research, they are indeed paying their call reviewers every Monday via PayPal. However, you need to have at least $10 to cash out.
The amount you can make per hour ranges from $1to $4.50, depending on your skills. Also, it depends on your availability and how fast you can take a call. For me, I think this is barely enough especially when you want to use it to replace your day job. You're not even guaranteed that you will get $4.50 per hour.
Humanatics is not a scam. In fact, it's owned by a legit call-tracking company named Century Interactive. There are also real-life users who can attest to the legitimacy of the organization, such as the one shown below:
However, there are also complaints from users who see the Humanatics as a scam just because they are receiving a lower amount than expected and their accounts were closed without any notifications.
While Humanatics is legit, it's still too risky to invest your time here because you'll never know when these things will happen to you. Working online may have offered various perks such as convenience, flexibility, and the ability to make money in your pajamas but it doesn't guarantee that every company that offers an online job are true to their claims.
Aside from the blocked accounts, there seems to be an issue with their customer service as well. So if you want to avoid such dilemmas, it's crucial to do a background not only with the company but also with how they provide customer support.
Lucky you, there's a legit platform that does not only offer free training but also 24/7 customer service. This means that anytime, you can raise your concern and have it answered in the soonest possible time.
Here Is My Top Recommendation to Start Highly Profitable Online Business from Comfort Of Your Home
Humanatics is free and can be accessed by anyone worldwide as long as they have an active PayPal account. If you don't have a PayPal yet and you're looking forward to offering your service and goods online or have a home-based opportunity, this payment system is a big help.
To know more about Humanatics, please watch the video below:
PROS
Easy Way To Make Money… Almost!
Imagine, there's no need to make or answer calls, have a live convo, be a third party to another live convo, or transcribe and yet, you can earn money. Humanatics offer a simple yet interesting way to make money without leaving your comfort zone. But remember, this is not always the case with their call reviewers.
Pays Every Week
Most home-based jobs pay bi-weekly or every month and if you're someone who's not comfortable with it, you can consider Humanatics since they pay on a weekly basis, every Monday, via PayPal.
Flexible Working Schedule
One of the reasons why freelancers and marketers choose home-based jobs and opportunities is the flexibility with the working hours. There's no need to go to work on a specific time and with Humanatics, you have the freedom to leave as early or as late as you can.
Surprise Bonuses
According to some reviews, some call reviewers receive surprise bonuses for their performance and if this sounds appealing, you can give Humanatics a try… but not until you read the cons.
CONS
Extremely Low Pay
For one hour, it's kind of an insult to receive $1. It's very low and although the task you need to do is easy, it's still not reasonable. Apart from this, you also have to worry about the number of calls you can get. I've read a bunch of feedback about other users who hoard calls, leaving other call reviewers with no calls to take.
Poor Customer Support
Many accounts have been blocked without notification and if this happens, they cannot cash out their earnings no matter how big or small it is. According to some reviews, they've tried to reach Humanatics but their customer support provides poor response… or even no response at all.
This can be very frustrating especially when you're working outside the U.S. or away from the headquarters of Humanatics as there's no other way to have your concerns answered other than wait for their customer service to reply.
Not A Good Source Of Stable Income
You cannot expect a regular amount every week and this can make budgeting difficult. Therefore, if you're looking for a stable source of income, I believe you should just ignore Humanatics and rely on a
legit opportunity
that will help you make money online regularly.
Tired of Wasting Time on Low Quality Programs?
I'm so grateful that I was able to find THIS PROGRAM which helped me to finally start making money online!
Humanatics may not ask you to have experience or special skills; however, you need to understand basic English to perform your job well. You should also be meticulous and detail-oriented since you'll be analyzing calls.
In addition, since most calls are available between 7 A.M. to 7 P.M. (U.S. time zone), you should be able to adjust your time if you're not from the United States so you can take more calls. If you think that it's a struggle to stay up very late at night or wake up very early, this might not be an option for you.
Plus, if you're looking for a regular source of income that can replace your day job in the future, Humanatics is not your best bet all because they pay is too low. Also, it depends on how much call you can get so if you have no recordings to analyze the whole day, your earnings will be badly affected.
Humanatics does not provide any training since the task that you'll be working on is straightforward. However, if you want to have an idea of what you'll be doing as a call reviewer, you can just listen to training calls.
Humanatics is not a scam, to begin with, and despite all the backlashes, there are still call reviewers who have received their pay without any problem. The pay, however, is extremely so it's only a good option when you want to spend your free time making money.
If you want to work at home, it's good to consider opportunities like this since you cannot depend on one home-based job alone. I've been working as a freelancer for more than two years and I've learned that you cannot rely on one job alone since it's very possible that you will lose it in a snap. But then again, always consider legit jobs or opportunities only to avoid wasting your time.
Want a legit opportunity that will not only help you have a stable earning but also a chance to have a passive source of income? Perfect! I got the best money-making platform for you.
Sign up now and enjoy these perks:
One-on-one coaching
Comprehensive guide
The best business tools and support you need
Webinars and training resources
And many more!
Don't worry, there's no commitment and you can freely explore the program to know if it's right for you or not.
Anyway, I hope I have enlightened you with this Humanatics review and if you have any comments or questions, please feel free to drop it down below.
Thank you!
We Constantly Review Programs in "Make Money Online" Niche,
So That You Don't Have to Waste Countless Hours
Want To See Our
TOP RECOMMENDATION?