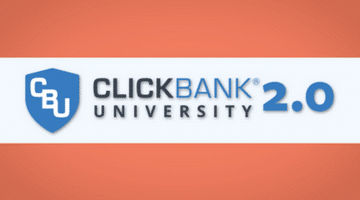 Welcome to My Clickbank University 2.0 Review!
If you're an affiliate marketer, you've probably heard about ClickBank University before. To make it really clear for those who don't know Clickbank University program is directly provided by Clickbank and not some other 3rd party.
In my ClickBank University 2.0 review i will uncover what is newer version 2.0 is all about. Let's get started:
ClickBank University 2.0 Review Summary
---
Name: ClickBank University 2.0
Website: https://www.clickbank.com/university
Founders: Matt Hulett, Justin Atlan, & Adam Horwitz
Product Type: How to Sell Products on Clickbank
Price: $47 per month, plus $594 up-sell & more
Quick Summary: Clickbank is a very famous platform to sell digital products. Clickbank University is the training program offered by Clickbank that teaches how to sell products on their platform. Many people are confused whether Clickbank University is a training program only to sell products on Clickbank platform or it can be used everywhere as online marketing course. I am going to break it all down for you. Let's get started.
Overall Rating: 7/10
Recommended: Yes
ClickBank is one of the largest affiliate marketplaces for promoting and selling digital products. Through ClickBank University, you are taught how to create and sell your products on the platform.
So, what does ClickBank University 2.0 really offer, and is the price worth it? If you're wondering about the program and reading online ClickBank University 2.0 reviews here is everything you really need to know . Want to know the truth about the training program? You may be surprised.
Is ClickBank University 2.0 a Scam?
The first question that people often wonder is whether something is a scam or not. Is ClickBank University 2.0 a scam? No, it's not. In fact, there's some decent training offered—more on that later—that could help you in your affiliate marketing endeavors. However, there are some things to keep in mind.
One of the Red Flags I noticed, is that when going to the ClickBank University 2.0 website, you can't actually find anything out unless you give them your email address. Before giving out personal information that can be used to bombard you with spam, you should at least be able to learn more about the program.
There is a video on the site, but it's not full of much useful information and still leaves you guessing. From a company like Clickbank I would expect a lot more transparency.
Additionally, aside from the hefty monthly fee, there are up-sells. Up-sells aren't always bad, but when it's over $500 worth of up-sells it's easy to get turned off by a program and there are other mandatory costs to run ads and having your own website.
The program does offer some solid training, but it's limited and the price tag is high.
If you're looking to create and sell digital products on Clickbank this might be a good option for you since it's offered directly by Clickbank, but if you were looking for the best program to learn how to promote any product with proven tactics that work really well there is a better alternative called Wealthy Affiliate.
Check out comparison chart below on how Clickbank University 2.0 stacks up against Wealthy Affiliate.
Are you wondering whether you can find more Clickbank University Reviews? Quora is a great place to get real members' reviews and here is what some people say whether Clickbank University is Worth it:
To get access to ClickBank University 2.0, it will cost you $47 a month. Less than $50 a month probably seems feasible, but keep in mind that it quickly adds up. A yearly membership will run you $564 and that's before taking into account any advertising spending that you do because all the training is focused towards paid advertising.
There are other hidden fees that you must consider in order to start your own business and that is called: Clickbank University Toolkit which essentially includes referral links to buy your own domain, hosting,get Email Service Provider (ESP) and various social media tools.
There's also an up-sell that ClickBank University 2.0 tries to push on you called ClickBank Builder 2.0. It comes with a hefty $594 price tag. Sure, you can pay for it in two installments to lessen the upfront cost, but it's still expensive.
The problem is if you invest in this program initially you will have to buy this up-sell since it uncovers further training within the program or else you will hit a major road block and will have to figure out everything on your own.
ClickBank University 2.0 offers some decent training, though it is geared more towards vendors with less emphasis on affiliate marketing. Here is what the courses are:
8-Week Affiliate Marketing Training
This training teaches you how to promote and sell other people's products on ClickBank. Again it's a great course if you are specifically interested in promoting products from Clickbank and does not cover as much affiliate marketing in general. So if you want the best course on affiliate marketing - here is the course that worked for me the best.
12-Week Training Course
This is more extensive course and is focused on vendors who want to create their own products to sell. Here is what you'll learn:
How to research a niche to create/promote products
Create a new product
Create landing page
Build an email list
Package and price your product
Create a sales funnel and promote your product or other affiliate products
To be honest, the vendor training is much more robust and informative and it covers a wide range of topics. It's pretty easy to follow along with all of the training, but the one drawback is that they are released on a time schedule.
When you sign up and are granted access to ClickBank University 2.0, in the member's section you will find some of the training locked. They claim it's to keep you from skipping steps, but there's also a hidden motivation that they want to keep you on the hook long enough to surpass the 30-day money back guarantee.
Live Q&A Weekly Webinar with Adam & Justin
A weekly webinar is hosted by Adam Hortiz & Justin Atlan for all paying members to answer any questions they may have. There is no specific format for these weekly sessions, so members get to ask a wide range of questions they have with promoting products on Clickbank or creating your own product.
In terms of support, it is a bit more limited. There is no live chat feature, which is why newbies really should steer clear of ClickBank University 2.0. If you run into a wall, you can't simply contact the owners or support for help.
However there is Facebook Private Group that you can join and chat with other members to ask any questions you may have, but don't expect immediate help and 100% credible answers.
Want to See what Clickbank University 2.0 looks on the inside and get more in-depth visual review?
Here is a video that showcases Clickbank University 2.0
PROS
ClickBank is a reputable program for affiliate marketers
A 30-day money back guarantee is provided if you are not satisfied
You get access to decent training videos
CONS
There is no longer a free trial offered
The training is geared more towards vendors, not affiliate marketers
ClickBank Builder 2.0 is an up-sell that is extremely expensive
Training videos are not all accessible at once, ClickBank University 2.0 will release them after some time to ensure that you don't skip steps
Weekly Webinars are a big selling feature but offer little value
You only learn about paid traffic with a focus on Facebook and Instagram so you learn nothing about SEO, content marketing, and organic traffic
Just like I mentioned in my last bullet point you are very limited in terms of how to promote Clickbank products or even your product as you don't learn anything about SEO to attract organic FREE traffic.
My entire website runs of SEO and I love the benefit of FREE traffic that I don't have to pay for and it's long lasting. You are not a COMPLETE affiliate marketer if you don't promote your business with use of content marketing and SEO.
Tired of Trading Your Precious Time for Money?
Here is a Blueprint to Owing Highly Profitable Online Business Without Any Experience REVEALED!
ClickBank University 2.0 is not a great fit for beginners to the affiliate marketing scene. It's easy to become overwhelmed with all of the information, which is why it really is best to have some experience. However, if you already have a website and steady traffic, you can start making money using ClickBank University 2.0.
That being said, the information here is really focused on vendors looking to create and sell their own digital products. If you are strictly interested in affiliate marketing, this might not be where you want to invest your time and money.
Many newbies get trapped with a mindset that Clicbank University is the most credible program they can buy to only realize later it was not exactly the training they were looking for as it is geared more at seasoned affiliate marketers.
Here Is My Top Recommendation to Start Highly Profitable Online Business from Comfort Of Your Home
So, Is Clickbank University 2.0 worth it? Looking at ClickBank University 2.0 as a whole, it seems like updated version does bring some value to the table. The updated training has more information, but again, it is more focused on vendors.
If you are looking to create your own digital product and market it, ClickBank University 2.0 might be a good fit. Just keep in mind that $47 a month can add up, and there will also be advertising costs on top of that. If you're strictly interested in affiliate marketing, ClickBank University 2.0 isn't worth the cost.
Otherwise I am giving high score of 7 out of 10 because this product offers a real value and guided step by step plan on how to promote products sold on Clickbank.
I hope I gave you an idea of what Clickbank 2.0 University is all about and what is the focus of the program. You can drop me any comments below:
If you are looking to start online business and looking for Top Recommended program then make sure to put in your name and Email Address Below. Here are the perks you are going to get:
Top Quality Education
Fine Blueprint to Making Money Online
Full Guidance and Support
Active Community of Like-minded Entrepreneurs
And so Much More!
We Constantly Review Programs in "Make Money Online" Niche,
So That You Don't Have to Waste Countless Hours
Want To See Our
TOP RECOMMENDATION?