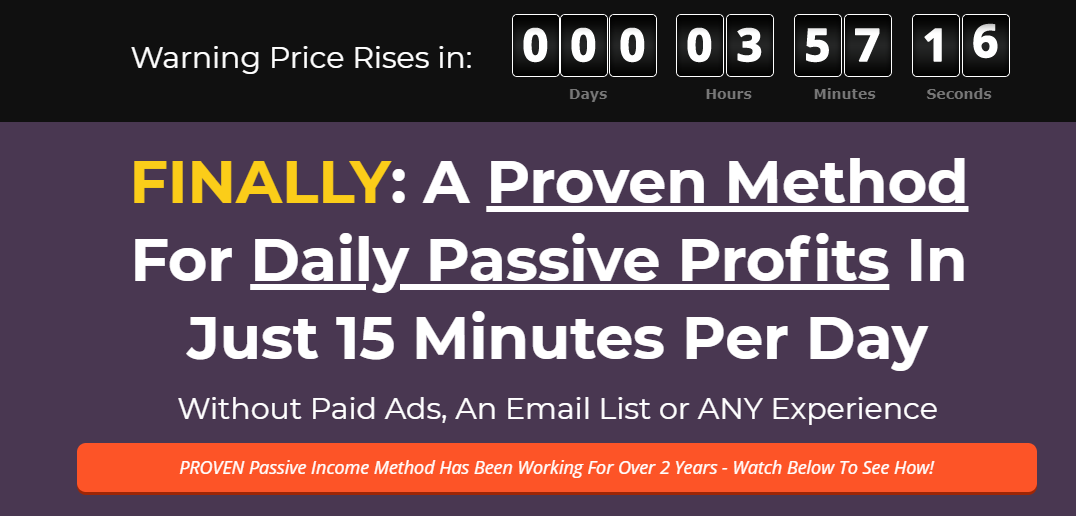 Welcome to Proximity Review!
Traffic is the lifeblood of every online business.
When you've finally learned how to generate a massive amount of traffic to your website with the right visitors, you can increase your conversion rate, get new clients, and create more sales. However, it wasn't always easy.
Sometimes, it takes months or even years for your site to have a solid number of visitors and even until now, no traffic-generating programs or software has come out with the fastest, most efficient solution.
Proximity Review Summary
---
Name: Proximity
Website: https://grabproximity.com/
Founders: Paul Nicholls & Anthony Mancuso
Product Type: Online Training Platform (Pay Per Call)
Price: $12.95 + Upsells
Quick Summary: Proximity is an online training program that claims to help you make a hundred dollars every day. It only requires you to work for 15 minutes every day so you can generate an income using this autopilot system. Apparently, you don't need any experience or special skills to set your profit machine up and running.
I know these all sound skeptical but it's still too early to assume if Proximity is a scam or not. But don't worry, you'll find all the details you need to know in this Proximity review.
Overall Rating: 3/10
Recommended: No
But does this mean that Proximity is a scam? Or does it offer a legit way to generate traffic and create unlimited profits?
Let's find out how true are their claims in this honest Proximity review.
Proximity is a "NEVER-ENDING traffic source" that claims to help anyone, even those who have no experience or skills, to earn a "daily passive profits" for a 15-minute work every single day. According to its sales page, there's no need to use paid ads or traffic, an email list, to set up an eCommerce store, to create products, or post on social media and forums.
And though a lot has been said on their page, I still don't have a clue about what you'll exactly do to earn $174 (or more) per day. It only says that it's a done-for-you system you can leave on autopilot. But what is Proximity really about?
After getting into the system, you'll find out that it works obviously as it was named. It's all about marketing services nearby using Pay-Per-Call (PPCall) advertising.
For the benefit of the doubt, PPCall works almost the same like PPC (Pay Per Click) but instead of paying the marketer when a user clicks on a promotion, you will earn money when someone makes a phone call to the number you are promoting.
The concept behind this product is legit and has been used by more than a hundred marketers but the question is, can Proximity really create a system that will help you earn a massive amount using this method?
How Proximity Works?
According to their sales page, there are only three steps to follow:
Watch the training videos and copy the methods
Setup the automated software and start your "profit engines" in just a few minutes
Enjoy the free traffic and passive income
If only earning money online is that easy, I bet there are more than a hundred satisfied Proximity users who will not come back to their day job. However, after a couple of years working online, I found out that it doesn't and will never work this way.
No matter what business model you use, it will take time for you to see the result -- and it won't happen in just one day. In line with this, you have to exert as much effort as you can while enhancing your skills because there's no such thing as easy money.
Although there are a lot of questionable things about Proximity, I don't consider it as a scam. It's legit, in a sense that you are getting a product or program in exchange of what you paid for, and no one is running away with your money.
Also, the creators of this platform, Paul Nicholls and Anthony Mancuso, are real people (unlike the other shams I've reviewed with unknown founders). They have even created a few similar software that's been released in the market.
The problem, however, is that they are exaggerating their claims and it's like they are just rehashing the old software they have developed into "new programs" make people believe that it's the first of its kind or it has never been used before.
Also, there are just too many misleading details, such as the no "special skills" required. Once you go inside the platform, you'll find out that you'll be building a website and although he will show you how to set it up, it can still be confusing if you're a beginner. Also, you'll be creating content consistently to rank on top of Google so you can generate traffic. If you haven't done this before or even if you little experience with SEO, it can still be overwhelming.
On their sales page, it says that "you won't pay $497" today and that it will have a 78% discount, making it $12.95.
They made it sound very low-priced that their "accountants think they've lost their mind." But mind you, I bet it's just another strategy to lure people into buying their program. And in case you purchased it, expect that you will be bombarded with four upsells and downsells (because that's how determined they are to get your money).
Here's an outline of their upsells:
Proximity 1 (OTO) - $37
Proximity 2 (OTO) - $47
Proximity 3 (OTO) - $97
Proximity 4 (OTO) - $397
And here's an outline of their downsells:
DS Proximity 1 (OTO) - $17
DS Proximity 2 (OTO) - $27
DS Proximity 3 (OTO) - $47

Apart from this, there are some suggested tools that you may buy (or not) but still, the founder will make you feel like it's such an important tool, such as the Semrush which costs $99 per month.
Here Is My Top Recommendation to Start Highly Profitable Online Business from Comfort Of Your Home
PROS
30-Day Money Back Guarantee
In case you found out that the Proximity has too many hypes (which I bet you will), you can ask for a refund within a month.
Interesting Income Opportunity
I've never heard of PPCall until now and when I did a bit of research, I found out that it can be lucrative if done properly. But like other legit money-making opportunities, it will take time for you to see the results and basically, you have to commit yourself to it if you want to make it work.
CONS
Weak Training Program
Although there are good points with Proximity's training, it's very basic and most information can be found online for free. Plus, I doubt this program will deliver its promises. I mean, can you really make money with a website that's made up of 3-4 pages?
Overhyped
Proximity sounds too good to be true. Sadly, it's hard to earn a hundred dollar or more when you rely on this program alone. There are a lot of overhyped messages and you can only figure it out once you're inside the platform. Plus, do you really think you can make a massive amount for working less than an hour a day?
Not For Newbies
If you're a beginner and you're hoping to start a career or business online, I don't see how Proximity can help you. The training is less than basic and the founders missed a lot of good points, such as the SEO, which, by the way, is crucial if you want to drive traffic to your website.
If I were you, I'll just find a legit online job or join another platform that doesn't make promises instead, deliver results, like my top recommended program. Just take a look at how it works by clicking the link or perhaps, sign up and explore the platform for free!
Tired of Trading Your Precious Time for Money?
Here is a Blueprint to Owing Highly Profitable Online Business Without Any Experience REVEALED!
I can't personally recommend Proximity as I don't find it as a quality program but if you want to explore a new opportunity in the form of PPCall, maybe you can try this training program and just gather the basic details. After all, it has a 30-day money back guarantee so if you think it won't work, you can always get a refund.
But then again, there are a lot of training materials online. You can even check YouTube for free video tutorials. That way, you won't be spending your money and your time.
If you want to know more about this program, you can watch this Proximity review video below:
On the training, they will discuss different topics such as setting up your website. It's a basic tutorial; however, I find a few things that are quite suspicious: first, a plugin that disables the comment will be installed and second, he removed Akismet plugin.
I don't know the reason behind removing the ability to comment but if you're serious about ranking your website and making it credible, I don't think this is a good step. Also, Akismet works as an anti-spam defense and a recommended plugin when you install Contact Form 7 on your website.
Anyway, if you want to improve your SEO, you cannot rely on Proximity as the founder barely talks about it. He didn't even share anything about analytics, sitemap, or even a simple home description.
Proximity will also talk about content; however, it's kind of hard to trust this module because his website only has 4 pages, to begin with. I mean, how can you rank your page higher if you barely have anything on it. The thing with creating a website or a blog is that you need to produce high-quality content consistently so you can drive traffic to your page and eventually, rank higher on Google or other search engines.
To be honest, I like how the founders shared a new idea on how you can make money online. PPCall is new to me and I think if done properly, it can help you make a good profit, maybe not as much as they promised for a short time. Like other online business, there are a lot of things to consider such as the SEO. Sadly, Proximity has failed to provide the necessary information so you can really make a profit out of this method.
Tired of getting disappointed? Me, too! That's why when I found my top recommended program, I stopped searching anymore. Unlike Proximity and other low-quality programs, it doesn't offer empty promises instead, these perks:
One-on-one coaching
Comprehensive guide
The best business tools and support you need
Webinars and training resources
And many more!
I hope you found my Proximity review helpful and in case you have any questions, clarifications, or comments, please feel free to drop it down below.
Thank you!
We Constantly Review Programs in "Make Money Online" Niche,
So That You Don't Have to Waste Countless Hours
Want To See Our
TOP RECOMMENDATION?