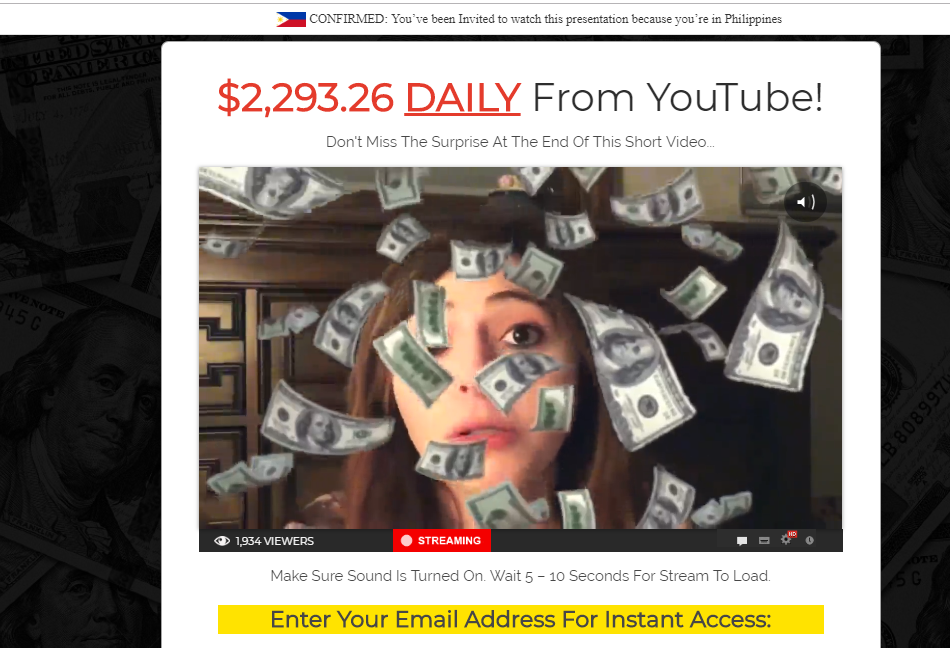 Welcome to My Tube Profit Sniper Review!
How would you feel about earning more than $2,000 a day for less than 30 minutes of work? Excited? Skeptical? Unsure?
If you're someone like me who has reviewed more than a dozen money-making programs online, I believe this kind of platform contains false promises. I mean, how can you make that huge amount if you're not putting any effort at all.
Tube Profit Sniper Review Summary
---
Name: Tube Profit Sniper
Website: www.tubeprofitsniper.com
Founders: "Mike Anders"
Product Type: Online Training Program (YouTube)
Price: $17
Quick Summary: Tube Profit Sniper is an online training program that claims to help you make a massive amount by creating videos on YouTube. The modules are a very basic plus, it contains various RED FLAGS that you should watch out for. There are a lot of bold claims present; however, I don't see how it can deliver its promises, and I'll share why in a bit.
Overall Rating: 3/10
Recommended: No
Don't get me wrong though. There are many work-at-home and online opportunities that can help you earn cash but the amount you can get depends on different factors such as the time spent on work, skills, and expertise. If one or more of these are missing, I doubt you can make a massive amount.
But still, there are many programs who claim that they have found a "secret" method to make this possible, and one of which is Tube Profit Sniper. It's another ClickBank product that I'm skeptical about but still, it's too early to assume that it's a sham or low quality.
So how does it work? Is Tube Profit Sniper a scam? What makes it different from the other ClickBank products?
What Is Tube Profit Sniper About?
Tube Profit Sniper is a training program that claims to help you earn a massive amount for only working 17 minutes a day. According to their sales page, it's ideal for beginners who want to earn $500 using one of today's most popular video-sharing website, YouTube.
The idea behind this program is to train you on how to create a massive following on your YouTube account you can use monetize it. Once you have a solid base of subscribers and viewers, you can start earning a steady stream of income.
While it's really possible to earn online by having your own YouTube account (and a lot of YouTube creators can attest to it), can Tube Profit Sniper really help you achieve it?
To be honest, I am almost a hundred percent sure that this program won't deliver, and it's just like the other ClickBank products I have reviewed in the past:
There are just too many RED FLAGS involved and rather than help you earn money online, I believe this program is just earning money from you.
Here Is My Top Recommendation to Start Highly Profitable Online Business from Comfort Of Your Home
Is Tube Profit Sniper A Scam?
Tube Profit Sniper is not a scam in the sense that you'll be getting a product in exchange for what you've paid for. However, some people (myself included) will consider it as a shame because of the following RED FLAGS:
Unknown Owner
Tube Profit Sniper may have mentioned "Mike Anders" as its owner but even when you look for his name a hundred times online, you'll never figure out who he really is. That is because that's name is either a pen name or just a made-up-name because no scammer would reveal his real identity. Otherwise, once his victims know who he is, he'll be bombarded with complaints or even lawsuits against him.
Bold Claims
On their sales page, you'll see how boldly they claim that you are going to make $2,293.26 every single day but if you're wise enough, you'll know that it's fairly impossible unless of course, you're some superstar online already. However, if you're just starting your YouTube game then this will take a lot of time.
The creators even go as far as saying that you can get over $180,000 per year so you can resign from your day job, travel, and buy your dream car. Sounds too good to be true, right? But for most low-quality programs, this is a normal technique used to grab the attention of vulnerable people, therefore it's just right that you check on this Tube Profit Sniper review first before purchasing the program. This way, you'll know whether you should trust it or not.
Fake Live Streaming
When you check on their website, you might be thinking that it's a live stream and that there are more than a thousand people the video. On top of it, there's a warning sign that says: "Only Few Copies Remain! SECURE YOUR SPOT NOW!"
But believe me when I tell you that this one is fake again. The "live streaming" isn't live; rather, it's just a regular video made using a program called Wistia. So even if you watch it tomorrow or the next month, it will still appear as if it's streaming.
Fake Testimonials
Usually, programs like Tube Profit Sniper pay actors from Fiverr to tell a testimonial about the product. However, I believe that these people have never bought the online training, I doubt that they've even seen it in the first place.
Their lines are scripted to make people believe and fall into buying the program. Plus, the photos on their page which are supposed to be the testimonials about their product is 100% fake.
Here's one proof:
Originally, it costs $37 but when you try to leave the page, there's a funny pop up message telling you that you've "unlocked a Huge VIP discount" so instead of $37, you'll only pay $17. Expect to meet several upsells, too, when you choose to purchase this program but please, ignore these add-ons at all cost!
If you choose to ignore, you have to click the box that says: "No Thanks 🙂 I'd Rather Not Change My Life For The Better And Accept I My "Broke Feeling I Have Everyday". But seriously, you can just click the [X] button.
Tired of Wasting Time on Low Quality Programs?
I'm so grateful that I was able to find THIS PROGRAM which helped me to finally start making money online!
PROS
60-Day Money Back Guarantee
As with all ClickBank products, you can get a refund within two months in case you are not satisfied with the program or you think it hasn't delivered any of its claims.
CONS
Too Many Red Flags
While it may be normal for marketers or business owners to use exaggerated claims or urgency calls to attract attention and close deals, the ones present in Tube Profit Sniper is unacceptable. Aside from the false promises, it has a lot of red flags like unknown owner, fake testimonials, fake live streaming, and misleading information.
Low-Quality Training
As expected, the creators are not really interested to teach you how to make money using YouTube. They are just after your money that's why they don't take much time designing a program that truly works.
If you're tired of the same old techniques, I'd like to invite you to my top recommended program. It's risk-free because you don't have to pay anything other than your attention to its high-quality training. I've been using this to make money online and although it won't guarantee that it will help you create an income in an instant, it offers real value you can use for your business online.
To know more about Tube Profit Sniper, you can watch the video below:
The training tools are very basic and outdated so I can't really recommend it to anyone. Even if you can get your money back within 60 days, I think it's best if you'll learn from the free training materials provided online or just consider legit programs that really work.
Tube Profit Sniper has nine (9) training videos and it can be completed in just two hours. For me, I think it's too short to learn the ins and outs of YouTube. Anyway, each module contains less than basic content on how you can set up your YouTube account, how to customize it, how to create traffic using keyword searches, and analyzing the competition.
Here's the outline for the Tube Profit Sniper training:
Video 1: SEO and Long Tail Keyword
This 6-minute video talks about the basics of SEO and the importance of using long tail keywords.
Video 2: Activating Your YouTube Channel
This 3-minute video is quick as it's all about setting up a new YouTube account.
Video 3: Customizing Your Channel
This 25-minute video is divided into five parts, and it talks about: personalizing your YouTube channel, creating a custom header, outsourcing a design or creating one, integrating your social media accounts to the header of your YouTube, and the importance of having a massive follower.
Video 4: Digging For Long Tail Keywords
This video is more than 30 minutes and it's divided into five parts and it's slightly detailed information about long tail keywords.
Video 5: Creating Your First YouTube Video
This 4-minute video is an overview of how you can create your first YouTube video. But spoiler alert: you will not be shown exactly how to make a video.
Video 6: Video Intros and Outros
As the title suggests, it's all about creating an intro and outro and using a program called Tube Arsenal to create it.
Video 7: On Page SEO
This video is all about using SEO technique to improve the visibility of your videos.
Video 8: Off Page SEO
This video is all about getting your videos indexed and utilizing an SEO method called "backlinking".
Video 9: Building Channel Authority
This video tells you to be consistent in creating and uploading high-quality videos to increase your authority.
It may sound a lot but seriously, you can find these training materials and content online -- FOR FREE.
Tube Profit Sniper is legit, to begin with, but it's not a good program considering that you'll be paying $17. Although it has made a good point on some of its videos, it's still not enough to help you succeed as a YouTuber and to make more than a thousand dollars. If I were you, I would stay away from this program and just spend my time learning from a valuable resource.
What's that, you say? Check out the details below.
What's Next?
If you are tired of low-quality programs or scams that promise to help you make money online, I suggest you try my top recommended platform now and enjoy the following perks:
Proven strategy to work smart and earn a lot (literally)
My personal help
Best possible support including your own training coach
Step-by-step guidance
Lots of training resources
And so much more!
As always, I hope I have enlightened you with my Tube Profit Sniper review and if you have any questions or comments, please feel free to drop it down below.
Thank you!
We Constantly Review Programs in "Make Money Online" Niche,
So That You Don't Have to Waste Countless Hours
Want To See Our
TOP RECOMMENDATION?