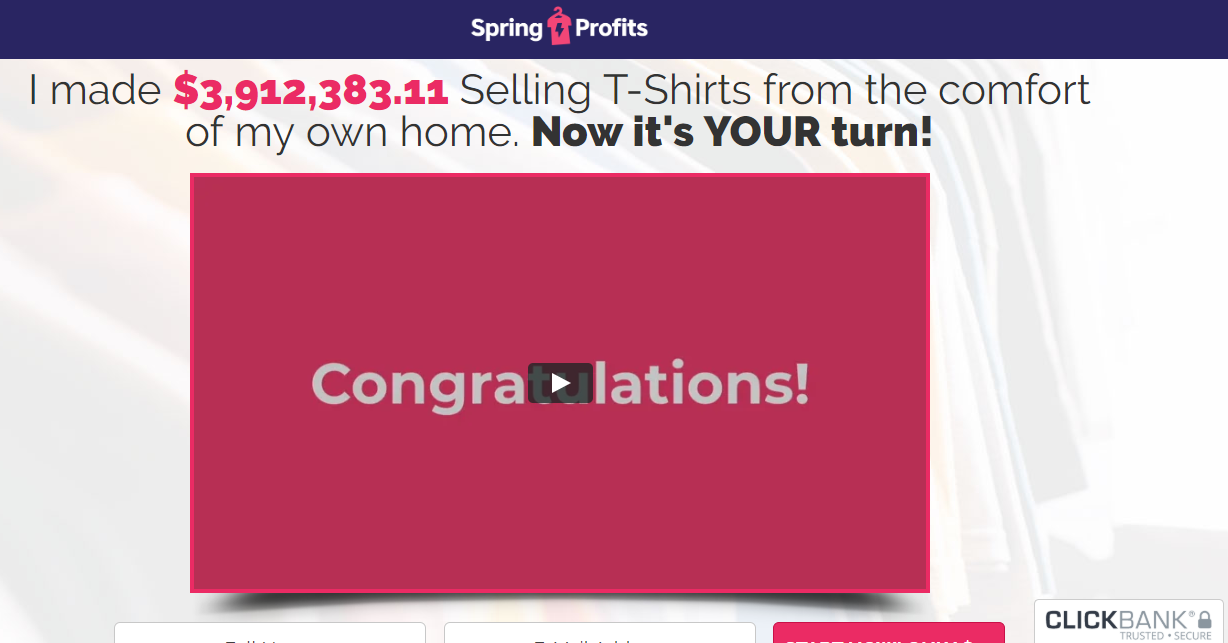 Welcome to My Spring Profits Review!
"I earned more than a thousand dollars every month, working for only 10 minutes a day."
I don't know about you but whenever I hear this kind of things, my eyes would automatically roll. Searching and exposing scams online, for more than a year, is exciting but when you hear the same words and schemes, all you can say is "not again!" They all tell similar stories that most readers can relate to:
"I've worked overtime, unpaid."
"My boss fired me over the petty things I've done."
"I wanted to have a good life but my job won't let me."
Spring Profits Review Summary
---
Name: Spring Profits
Website: www.springprofits.com
Founders: Daniel Green
Product Type: Online Training Program
Price: $37
Quick Summary: Spring Profits is an online training program, in a form of an eBook, that claims to help you earn $20,000 a week. Like other ClickBank products, it comes with a fake owner and fake testimonials from paid actors. Does this mean that it's a downright scam or a product you can still consider?
Overall Rating: 2/10
Recommended: No
Same realizations and solutions, like "One day, I found out a system that changed my whole life." "I discovered a method that lets me earn more than a thousand a day while working for only a few hours." "I can work at the comforts of my own home or on a beach, and it would take only 20 minutes or less."
Believe me when I say that it's not impossible to earn a massive amount online; however, you cannot simply do this by allotting an hour or less every single day. For exaggerated claims like this, I know, without a doubt, that these programs will not bring you any good.
Like this Spring Profits -- a system that I found online when looking for legit ways to earn money online. At first, I thought it was something else, more than the usual scam-ish website but it wasn't long until I realized that it's something you can't simply trust.
No other details about what the system is exactly about, how it works, and other necessary details that would back up the website's stability. It only asks for a full name, email address, and $37 to start earning. I know it's too early to assume anything but I did thorough research that would answer whether Spring Profits is a scam or a legitimate way to make money online.
What Is Spring Profits About?
Spring Profits is another ClickBank product that, although legit, maybe another low-quality program that no one else needs. But then again, I can't assume yet without finding out what it's really about.
According to the spokesperson, who, by the way, has never shown his face, I am one of the very few lucky people who will watch the video. As much as I wanted to believe it, it is set on public and basically, anyone who bumps into this website can watch it as well.
He claims that you can work on a beach, even on a hammock, and earn more than $20,000 every week, and all you need is 10 minutes or less of working on his system. Sounds promising and I would have believed it if I've not been scammed a dozen times before by the same kind of methods promising that I don't need to work hard.
Although he claims that this is not a get rich quick scheme, working for less than an hour every day and earning over a thousand a week is not possible. It also claims using a platform that allows people to sell shirts and other merchandise. The platform, by the way, is called Teespring -- a legitimate website that cellphone cases, backpacks, etc.
How Spring Profits Work?
As mentioned, you will be using a selling platform along with the Spring Profits, therefore, you need to sign up for Teespring first. Becoming a member is free and easy and all you need to do is provide your personal details so Teesprings can give you the shirts and printing service.
This can sound more interesting if you're a designer or you love drawing as well as marketing. Because other than creating designs for tops, you also need to know several things such as marketing the product, your competitors, and basically how to run a business online. Considering this, 10 minutes is not enough. You need more than a dozen hours to know the ins and outs of selling items online as well as the platform itself.
Teespring, by the way, will charge you fees for printing, packing, and shipping your merchandize to your clients. If you know none of these things, there's a chance that your business will not work.
On top of this, you need to devise a plan that will create traffic on your online website, or you won't get a sale at all. For some people, paying for advertisements, such as Facebook and Instagram ads, is crucial; however, nothing beats organic traffic. It is free and works almost the same as paid advertisements, or even better. But creating an optimized website that generates organic traffic is not easy; it takes a lot of time and effort.
Yes, you can work at a beach, while you're in a hammock, but you cannot simply earn a huge amount of cash if you're not willing to spend more than a week or month to figure things out.
Is Spring Profits A Scam?
It depends on how you define a scam.
If a scam to you is not receiving any item after paying a certain amount, then Spring Profits is legitimate It's a product of ClickBank, which means two things: you will definitely get a program or software and you can have it refunded in case you're not satisfied with your purchase.
However, if it means receiving a low-quality product that's not true to its claims, then you can easily tell if Spring Profits is a scam or not.
In the video, you'll see two people sharing their testimonials about Spring Profits and although both are convincing, these two people are nothing but actors from Fiverr. This means that their feedback are fake, they did not even purchase Spring Profits in the first place.
Even the person who is supposed to create the system, Daniel Green, might be fake. I mean, there are no photos or even a video of him speaking in the video, so how can we be certain that he is a real person and the income proofs are really from him.
Browsing for a legit way to earn online is easy, in fact, you can see hundreds of websites claiming that they can help you make money; however, only a few of them will provide the real faces of their creators, their founders, and the people working for them. Only a few will provide contact details on how you can reach them should there be any problem or other concerns. Unfortunately, Daniel Green provided nothing but his voice (if that's really his voice) and some proof of income, which we can't verify if it's really from him or if it's true.
I've seen a lot of low-quality or fraudulent online platforms and the only information they provide are fake or pen names; otherwise, anyone who purchased their products can sue them, and no scammers like that.
Here Is My Top Recommendation to Start Highly Profitable Online Business from Comfort Of Your Home
On their homepage, Spring Profits claim that you can start now for only $37; however, like the other Clickbank products I've reviewed, such as Easy Insta Profits and EZ Bay Payday, you will be led to a series of upsells; otherwise, you'll have little to no access to their training and tools. Meaning, you are going to pay $37 for nothing.
Other than this, you have to shoulder the fees charged by Teespring for the printing, packaging, and shipping. Of course, the traffic that I've mentioned earlier. Since you are just beginning to market your design, you have to either pay for your traffic or create content and wait for a long time for your website to become visible to your clients. If you choose paid traffic, this means another set of expenses and the risk here is that you might end up wasting your money if you don't know how paid traffic works.
Tired of Wasting Time on Low Quality Programs?
I'm so grateful that I was able to find THIS PROGRAM which helped me to finally start making money online!
PROS
You Can Get A Refund
On their website, it says that you can have your money back within 60 days. This means that if you're not satisfied with the Spring Profits or you think that they have not delivered according to your expectations, you can have a refund. Don't worry, ClickBank will allow you to do so.
Valuable Content
To be fair with Spring Profits, it has valuable content, something better than the other ClickBank products, which you can use not only when you want to try Teespring but also in other types of business. It involves marketing strategies for Facebook and Instagram as well as creating a mock ad.
You'll Meet Another Income Opportunity
I don't talk about Spring Profits here, rather Teespring. If you're into design or drawing, you can make use of Teespring to market your creations. But then again, you'll have to shoulder the charges and marketing of your website. Spring Profits somehow gave a good introduction to the selling platform which you can use as a side hustle.
CONS
Your Shared Information Are Not Safe
Other than spamming you with a number of emails, your personal information may be shared to their coaching partners, which will definitely spam you again with a bunch of useless emails involving money-making opportunities.
No Training Video
On the bright side, you'll be getting something for your $37as mentioned, Spring Profits does provide a somehow valuable content. However, it's only in the form of an eBook and not a training video or even a webinar, which could be really helpful.
If you're willing to spend time and you believe that getting rich requires hard work, you can try my top recommended program. I have to warn you though; this is a not a get rich quick scheme. Yes, you can work at the comforts of your own home but you can only earn if you will spend a lot of time and effort applying the things you will learn from the free training they have provided.
Fake Testimonials
How will you know if the product is really worth buying if the testimonials provided from their very own website came from paid actors? How will you know that you can really earn money from this of the testimonials are fake to begin with?
Fake Owner
Like the fake testimonials they have provided, the owner, Daniel Green is more likely to be fake. No real photos or videos of him, not even contact details or a social media account to connect with him. So, how can you trust a product with no real reference?
To know more about Spring Profits, please watch the video below.
Spring Profits is good for those who are interested with Teespring. The program has given a fair introduction to the selling platform, which, by the way, you can also learn on YouTube. It's also good for those who are interested in Facebook and Instagram marketing and creating ads.
Spring Profits do not provide training tools other than an eBook. It has no live chat support, an active community, and training videos. For me, these things are essentials when you want to learn efficiently.
An active community, for instance, will allow you to seek advice from the same people who have purchased the products. If you want a platform like this, I recommend that you sign up for Wealthy Affiliate. It's a program that allows you to become a member for free, and enjoy various perks such as an active and supportive community without paying for anything.
Considering that Spring Profits is not a scam and it provides good content to learn about Teespring and FB and Instagram marketing, I believe it has somehow excelled other ClickBank products. However, the fake testimonials and owners and lack of contact information are red flags that tell you to stay away from this program.
Tired of wasting your time and money for something less than what you deserve? Take action now and welcome a money-making opportunity that will really help you earn a good source of income.
If you're willing to dedicate your time and commitment, you should try my top-recommended program and enjoy the following benefits:
One-on-one coaching
Comprehensive guide
Webinars and training resources
The best business tools and support you need
And many more!
Earning income online is possible but getting scammed is also easier, so it pays to check reviews first before signing up or even giving your credit card details. Hope this review is helpful and if you have any questions or comments, please feel free to drop it down below.
Thank you!
We Constantly Review Programs in "Make Money Online" Niche,
So That You Don't Have to Waste Countless Hours
Want To See Our
TOP RECOMMENDATION?