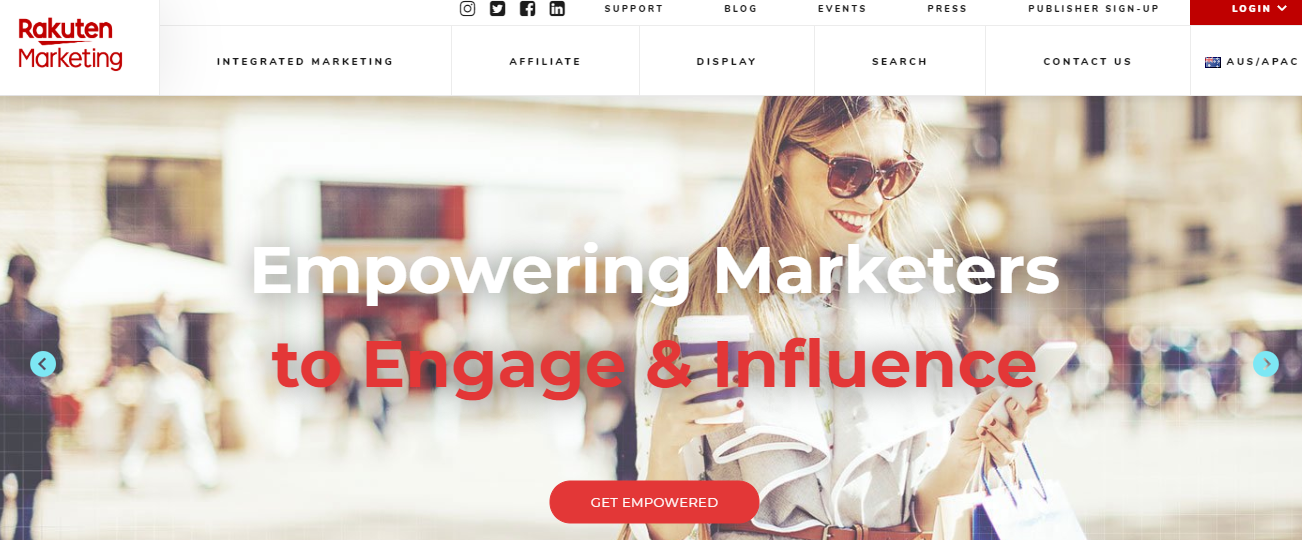 Welcome to My Rakuten Marketing Review!
Gone are the days when people consider affiliate marketing as a scam; now, most of them know its real value especially when looking for a legit way to earn money online. Even without cash as an investment, anyone can start making money with their chosen program immediately; however, it takes hard work, commitment, and a lot of time.
Rakuten Marketing Review Summary
---
Name: Rakuten Marketing
Website: www.rakutenmarketing.com
Founders: Heidi Messer
Product Type: Affiliate Marketing Network
Price: Free
Quick Summary: Rakuten Marketing is an international affiliate marketing brand that allows merchants and affiliates to connect with each other. It's been voted as the number one affiliate marketing network for seven years, consecutively, and has acquired a huge number of marketers all around the world. Does this mean that you should sign up with them now? Are you going to get a better payout with them? That we will find out in a bit!
Overall Rating: 8/10
Recommended: Yes
If you're one of those who believe in the power of affiliate marketing, the reason why you're probably here is because you've heard of Rakuten Marketing -- the number one affiliate marketing network for seven straight years. Perhaps, you want to know if they're really on top of their game or if there's a better program online that will help you grow your business.
Whatever your reasons are, you came to the right place. This post will provide an honest review of Rakuten Marketing -- the good, the bad -- and another money-making opportunity online you should not miss.
What Is Rakuten Marketing About?
MAC Cosmetics, Udemy, Cotton On, Macy's, Fiverr, Top Man, AT&T. Diesel, Lego, and Aldo Shoes -- these are just some of today's biggest brands and affiliate programs that Rakuten Marketing is in partnered with.
Founded by Heidi Messer in 1996, the New York-based company is a place where advertisers (merchants) and publishers (affiliate marketers) are allowed to build a connection, helping them to extend their business to new prospects while persuading former consumers to purchase again.
For more than 20 years, Rakuten Marketing has created a good reputation when it comes to supporting their brands efficiently by partnering only with the best publishers and advertisers. This helped them maintain the top position for the best affiliate marketing network for seven years, as stated by mThink. The company, which is formerly known as LinkShare, has also created an expansive technique available for both affiliates and merchants so they can expect better revenues.
Affiliate Marketing Network Vs Affiliate Marketing Program
Before we go any further, let's discuss another important issue first: the difference between an affiliate marketing network and an affiliate marketing program.
Some people mistake these two as the same thing; however, there's a huge difference. An Affiliate Program is a platform where a single sponsoring website provides a commission to affiliate marketers who have performed the given takes such as referring leads, sale conversion, etc.
An Affiliate Network, on the other hand, operates the same thing in terms of rewarding affiliates; the difference is that this platform hosts affiliate programs from different businesses. These affiliate programs will pay a fee for being hosted by this network, and in addition, follow the rules implemented by the brand.
Is Rakuten Marketing A Scam?
Considering all the statements above, Rakuten Marketing has proven itself to be legit. In fact, it is accredited by Better Business Bureau (BBB) with an A+ rating.
However, despite the recognition, Rakuten Marketing has also received complaints and most of which is because of their termination policy. According to the company, they can impose any action against a user's account with or without notice.
Signing up as an affiliate with Rakuten Marketing is free of charge. You don't have to pay for anything; however, you need to fill up a long form with the necessary information. It's also required to read their "requirements and recommendations" prior to joining the network. This includes designing a business plan, setting up your website, attracting consistent traffic, deciding which merchants to promote, and a lot more.
Being an affiliate marketer is not an easy job. Although you can simply start after signing up, you need a lot of time, effort, and proper knowledge to make sure that your online business will work. This is when training is important; having a step-by-step guide is crucial for your success online. On top of this, you need to have a supportive community consist of like-minded members who will help you grow and become a stable marketer in the long run. If you're interested in this concept, you can join my
top recommended program
. It has everything you need -- from free websites up to weekly training and a lot more.
To know more about Rakuten Marketing, please watch the video below:
Here Is My Top Recommendation to Start Highly Profitable Online Business from Comfort Of Your Home
PROS
Accessible Worldwide
Most, if not all affiliate programs and networks are limited to specific regions such as the United States, Canada, and the United Kingdom, and this is what makes Rakuten Marketing standout. The company, which is based in New York, has 10 offices in different countries. As of now, they cater to over 200 countries and these affiliates can receive their commission without any hassle.
User-Friendly Reporting System
Rakuten Marketing, despite all the advancements found on their system, offers a simple-to-use reporting platform that anyone, even those who are technologically-challenged can use. Affiliates can customize their dashboards from Quick or Advanced, check the details of the top advertisers as well as their payment plans, and navigate control panels without a hassle.
Helps Affiliate Develop Their Skills
Whether you're a veteran or a seasoned affiliate marketer, Rakuten Marketing will help you enhance your skills and knowledge to grow your online business by giving access to their training tools and monthly newsletters.
CONS
Termination Without Notice
One of the major complaints about Rakuten Marketing is the termination of accounts without notice. As stated above, the brand can restrict, limit, suspend, or do other action against an account without any notice.
For most people, this is a case of discrimination especially knowing that no further explanations are usually provided for losing an account.
Does Not Accept PayPal
PayPal is one of the most convenient ways to receive money wherever you are; however, Rakuten Marketing has no PayPal option. You can only receive your rewards via check or bank deposit but thanks to their international payment setup, this is not really a concern of those living outside the US.
Not For Small-Time Affiliates
If you're still beginning with affiliate marketing or you have little to no consistent traffic, you are simply not qualified. Rakuten Marketing has a reputation and quality to maintain, thus they only welcome those who have established large traffic on their website.
No Definite Schedule For Payout
There's no specific schedule for their payments; some affiliates have even complained about receiving their payments only after 60 days. The thing is, Rakuten Marketing only rewards commissions to their affiliates after they have been paid by the advertisers.
Tired of Wasting Time on Low Quality Programs?
I'm so grateful that I was able to find THIS PROGRAM which helped me to finally start making money online!
Rakuten Marketing is good for those who have been into affiliate marketing for a long time and those who have generated good traffic, consistently; otherwise, you will not be qualified. The network monitors its publishers from time to time to ensure that they adhere according to the company's quality standards. This means producing high-quality content and complying with their rules.
If you have little to no knowledge about affiliate marketing but you want it to become your business online, there's a great place to get started. My top recommended program helps anyone, beginners and veterans, to earn money online through affiliate marketing. You can sign up for free and enjoy a number of perks such as free websites, an active and supportive community, training and coaching from the founders, and a lot more.
Rakuten Marketing is very particular to those who want to become their publishers and they see to it that they will maintain quality even after the affiliates are accepted. Other than checking the created content, they see to it that they can educate all their publishers to improve their skills. When you become an affiliate, you'll have access to the company's monthly newsletters, video tutorials, and personal coaching. They also suggest free and paid third-party courses you can learn from.
Should there be any problem or questions, you can reach them through their email or phone number. To make things more convenient, their customer service supports different languages for easier communication.
Rakuten Marketing has created and maintained a good reputation to both their publishers and advertisers for a long time now, and I believe it's a good network for those who are serious in starting their business online. But then again, this is not beginners or those who are still generating traffic on their website.
But don't lose hope! We all know how much of a big help affiliate marketing is especially when you want to start a business online. There are a lot of platforms willing to accept newbies but if you want a brand that has been tested and proven to be legitimate by many affiliate marketers, you should try Wealthy Affiliate.
You can also check my #1 program below!
If you're looking for a better opportunity to make money online now, you can check out my top-recommended program.
I've become a member of this program for quite some time now and although it's not a get rich quick scheme, I admire how every effort is rewarded. You can also have access on the following:
Training resources
Webinars to help you start your business online
One-on-one coaching
Comprehensive guide
And many more!
If you're interested to learn more or you have any questions, please feel free to share it down below. Thank you!
We Constantly Review Programs in "Make Money Online" Niche,
So That You Don't Have to Waste Countless Hours
Want To See Our
TOP RECOMMENDATION?