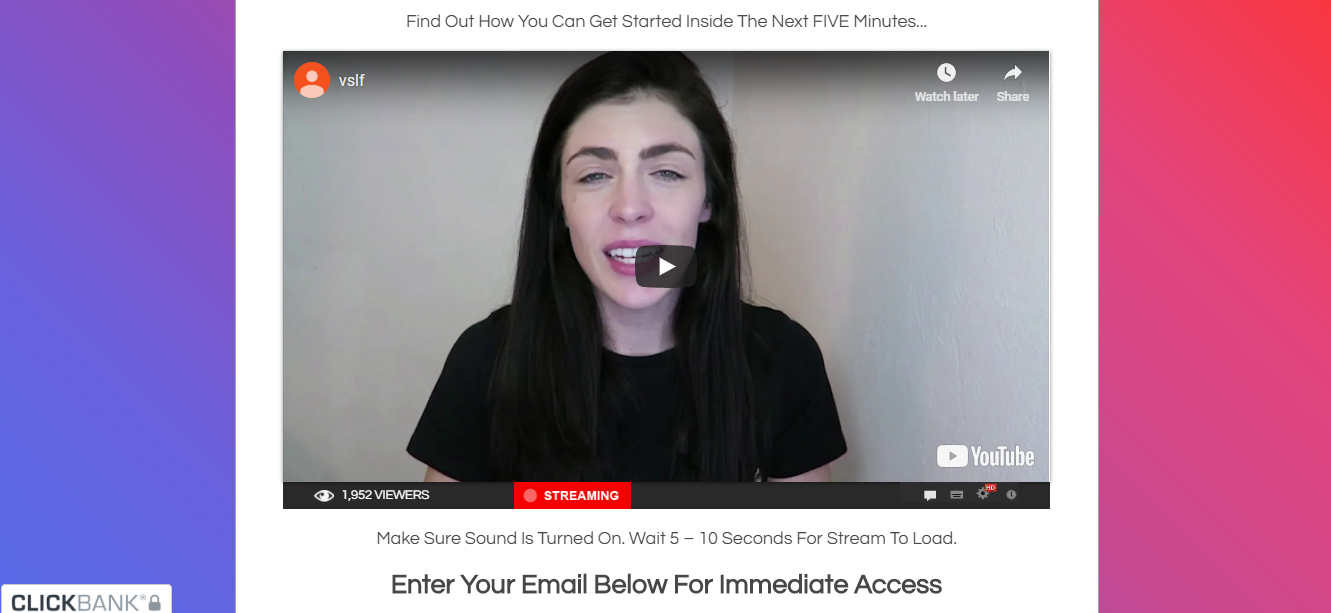 Welcome to My Easy Insta Profits Review!
While it is true that you can make money out of social media, such as Instagram and Facebook, it doesn't happen overnight -- not even in a month. However, this certain system called Easy Insta Profits says you could.
According to them, you can create a massive amount of cash -- at least $1,3000 a day -- just by using your mobile phone for 20 minutes.
Easy Insta Profits Review Summary
---
Name: Easy Insta Profits
Website: www.easyinstaprofits.com
Founders: Mike Richards
Product Type: Money-Making Mobile App
Price: $37 + Upsells
Quick Summary: Easy Insta Profits is a mobile app that claims to help "regular people" make a thousand dollars a day by simply using their mobile phones. Having skills and experience is not required, apparently, and you only need to spend at least 20 minutes of your day working on it.
It's not a scam -- but it is extremely a low quality system that will not help you make money, and I will gladly expose what this app is really about in a bit.
Overall Rating: 2/10
Recommended: No
Sounds exaggerated? Yes, it truly is and although it's quite obvious that it will bring NOT bring you any good, there are still some people who believes in it (and will still believe in it) and no one can blame them.
And whether you're someone who buys that idea or are just curious about how the system works, then you've come to the right place.
In this article, I will explain the good (if there's any) and the bad about this product especially whether Easy Insta Profits is a scam or not.
What Is Easy Insta Profits About?
Easy Insta Profits, according to the spokesperson on their website, is a "system" that allows you to earn $1,300 a day or a 5-figure income in just one month. It is a 100% done-for-you system that, apparently, will not require any marketing experience skills.
You just need to purchase their $37-worth product, spend 20 minutes of your time selling on Instagram, and you can make a huge amount of cash just like that. The spokesperson even claims that you can start earning as soon as you purchase their system.
Like other ClickBank products, I assume that it's useless and low quality but I kept that to myself and explored the system a little more. When I first visited the website Easy Insta Profits, I found several red flags that I've encountered a lot of times before.
The discounted price when leaving the website, exaggerated claims, the "I Hate Money" line, fake testimonials, pen name, and a lot more. If not for the sake of honest, detailed review, I will close this page immediately because "I'd Rather Not Change My Life For The Better And AcceptI My Broke Feeling I Have Every Day" -- as their pop us message suggests.
Browsing the entire page, I remembered the other ClickBank products I've reviewed and I don't know why but this Easy Insta Profits, EZ Bay Payday, Millionaire Biz Pro, and Daily Cash Siphon, almost work and sound the same.
How Easy Insta Profits Work?
According to the Easy Insta Profits, all you need to do is download Instagram on your smartphone and work on it for only 20 minutes. There's a done-for-you system you can use to help you decide what sort of products you can market on Instagram. If you purchase this program, they will do almost everything on your behalf while you enjoy your 5-figure monthly income.
First of all, earning that massive amount in a day, or even a month, is not easy. It is possible but it takes time and effort. You can't just rely on a single app or a very short time without doing anything to earn cash. If it's that easy, it would have been a hit and a lot of people would have been millionaires by now. Common, Easy Insta Profits cannot even develop a professional looking website. I mean, if your product is really that good, the owner would have invested its money on a proper web developer (and probably a good editor).
Is Easy Insta Profits A Scam?
I will not say that Easy Insta Profits is a complete scam because you will receive a product, which is their training, in return. However, there are various red flags, as I've mentioned above, that is more than enough to stop you from even going further.
Even the spokesperson or the owner, Mike Richards, uses a pen name for himself. The thing is, why not use his real name if he's not hiding anything? After all, he should be proud and confident with his product because it will help people earn $1,000++ a day -- not!
Also, why tell everyone that this method is a secret? Instagram is not a secret -- in fact, almost everyone uses it every single day. Affiliate marketing, which you will use to earn a commission, is not also a secret. And speaking of affiliate marketing, this has been mentioned in the sales video but not as the method used by Easy Insta Profits; Mike even said that it's not easy to make money out of it. But why if that's how you will basically create money using this app?
The concept is to promote products using Instagram but you will be putting affiliate links on it. If someone made a purchase using your unique link, then you will earn a commission.
If you want to earn using affiliate marketing, which is a legit way to earn money online by the way, then you should invest your time and effort on something more valuable, such as Wealthy Affiliate. I've been working with this brand for quite some time now, I've seen who the real founders are (no pen names involved), and I love how they offer their program for free! But the most important thing of all, they are transparent in almost everything they do. Yes, you can find negative reviews online, like with other legitimate products, but you'll know that it will really work provided that you are committed and dedicated to what you are doing. But even so, you cannot make $1,300++ a day immediately unless you have applied all the things you've learned from the training. Plus, it will take a couple of months or so before you see the results of your hard work.
Learn more about Easy Insta Profits by watching the video below.
Easy Insta Profits cost $37 but if you try to leave the page, a box will pop up showing you a discounted price of $17. Insane, right? Wait until you read the next part.
The moment you purchase that $37 or the discounted price of $17, you will get nothing but another upsell. Sadly, it's just a landing page and you will be required to spend another $197 to get all the details you want.
Here Is My Top Recommendation to Start Highly Profitable Online Business from Comfort Of Your Home
Easy Insta Profits is legit. It's hosted by ClickBank which means that you will receive a product in return and get a refund should there be a problem of some sort. However, the training, which is basically what you're paying for, is of low quality.
CONS
Exaggerated Claims
$1,300 a day or a 5-figure income a month is not impossible; however, you need to spend more time and effort to achieve it. Clearly, 20 minutes and tapping your phone is not enough. Even when you join a legit affiliate marketing program, the mentors and its community will require you to really put yourself in it.
Fake Owner Identity
Mike Richards is just a pen name and not the real name of the owner. Should you have a major problem or even a minor concern, you don't know who to look for.
Considering this, how can you trust the product if you cannot even see the founder of the brand?
Fake Testimonials
Sadly, all the testimonials from their "users" as fake. In fact, these reviews came from actors you can rent on Fiverr. I've seen some of them on other low-quality products, claiming the same thing -- that they've earned a huge amount from this product.
Expensive Training Tools
Yes, it's only $37 (or even $17 when you try to exit the page) but seriously, you can get these training tools for free. If you're willing to spend money just to be trained, the best thing to do is look for a legit platform that will give more valuable information and proven experience
Tired of Wasting Time on Low Quality Programs?
I'm so grateful that I was able to find THIS PROGRAM which helped me to finally start making money online!
I don't recommend this to anyone at all. As I've said, Easy Instra Profits is not a scam because you will get a product after paying for it but sadly, that product is extremely low quality. Everything about this website is sketchy and you just can't trust your time and money in it.
If you're willing to learn how to create money online, even spend money to get trained, the first thing you should realize is that you cannot make it in a short time. There's no easy way to earn money unless you decided to join the lottery and you have been fortunate enough to win.
If I were you, I will not even put Easy Insta Profits in my money-making opportunity list.
However, if you are someone like me who wants to expose all the scams and low-quality products that take people's money rather than help them create it, you can visit this website, perhaps do another review so more and more people can be aware of it.
Easy Insta Profits does provide training tools for those who will purchase their product. In fact, you'll see at least 13 training videos that will discuss the basics of Instagram, how to build an audience and connect with it, and of course, how to make money using the photo-sharing app. The training also includes using affiliate links to earn a commission; however, it is not comprehensive enough.
When you want to earn through affiliate marketing, you have to know more than just creating an Instagram account; you also have to learn how to create an optimized website that will drive huge traffic. There is a lot of crucial information you need to know to make this opportunity a source of long term income.
If you want to earn a stable source of income, Easy Insta Profits is NOT an option. Although the product is legit and you can ask for a refund, it's not worth your cash. You need skills, time, and effort if you want to earn money and remember, this doesn't happen overnight. Any brand that says so is more likely a scam or offers low-quality products that you should get rid off.
Making money online is possible and there are many legal opportunities to choose from. If you want something that's been tried and tested by a lot of real people who can provide real feedback, you should join my top recommended program. It's free, to begin with and the best part is, you can access a lot of perks without paying for any upsells. This includes the following:
Proven strategy to work smart and earn a lot (literally)
Best possible support including your own training coach
Lots of training resources
Step-by-step guidance
My personal help
And so much more!
You can check the website all you want and you'll find out how transparent it is with everything, and I bet that will not be the only thing you'll like about it, and if you have any questions or comments, please don't hesitate to share it below.
Thank you!
We Constantly Review Programs in "Make Money Online" Niche,
So That You Don't Have to Waste Countless Hours
Want To See Our
TOP RECOMMENDATION?