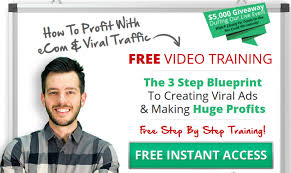 Welcome to My eCom Success Academy Review!
Affiliate marketing is one of the best ways to earn online without investment and in addition, it's completely legal. Although there are a lot of scams using this method as a disguise, no one can shake the fact that there's a great number of people making money out of this.
Another legal opportunity you can try online is dropshipping. Although these two sound almost the same, affiliate marketing and dropshipping is different.
eCom Success Academy Review Summary
---
Name: eCom Success Academy
Website: www.ecomsuccessacademy.net
Founders: Adrian Morrison
Product Type: E-Commerce Training Program
Price: $2,495
Quick Summary: eCom Success Academy is an e-commerce training platform that helps aspiring marketers start their own online business without any upfront costs. This means that they can set up their own website and promote products without actually buying them.
The training provided is brief but informative and can be applied in any niche. However, it costs more than $2,000, which obviously is a huge investment, so considering that, is ESA really worth it? Moreover, it eCom Success Academy a scam or not?
Overall Rating: 8/10
Recommended: Yes
When you choose dropshipping as a business, you can market products and services on your website while the manufacturer will do the inventory and shipping on your behalf. You have the freedom to change the price as you please.
With affiliate marketing, you can also market goods and services on your website and the manufacturer will do the same tasks -- shipping and inventory. However, you cannot set your own price rather, you will get a commission for a successful sale.
Whether you decided to be an affiliate marketer or do dropshipping, it's important to pack yourself with the right knowledge so you can let any of these two work.
Lucky you, you can find all the details you need over the Internet; however, it might take time to figure out how it works -- and that's why having a training or a step-by-step guide is important. Unfortunately, other than time and effort, you have to invest money to find quality training.
If you're looking for an online e-commerce training, you might stumble upon eCom Success Academy. But is it because it's a valuable program you can trust or a scam that you should avoid? Let's find out the good and the bad about this platform in a bit.
What Is eCom Success Academy About?
eCom Success Academy, or ESA for short, is an e-commerce training platform that trains aspiring marketers and entrepreneurs set up their own website using Shopify. From scratch, its founder Adrian Morrison will guide you on how you can build your business online, create high converting traffic, and use Facebook and Instagram for advertisement purposes.
Who Is Adrian Morrison?
The founder of ESA, Adrian Morrison, is more than just the owner of the company. He's also known as "one of the top Facebook marketers in the world." He has taken advantage of Facebook ads as well as its advanced targeting features for promoting his very own online business which resulted in millions of dollars.
Companies and social media influencers have benefitted from his program a lot. Apparently, Adrian has helped them obtain a massive amount of traffic and sales. Because of this, he has been invited to visit Facebook Headquarters and maintain a good rapport with the social media's Internal Advertising Team.
As of now, Morrison is one of the most reputable marketers, along with Anik Singal and Tai Lopez so without a doubt, the online training platform he's offering will provide so much value when it comes to creating an online business using Shopify and Facebook ads.
Is eCom Success Academy A Scam?
eCom Success Academy, fortunately, is not a scam. It is 100% legit and it offers valuable training you can use if you plan to start a dropshipping business. It's created by one of the most respected marketers as of today so you're guaranteed that you will really learn a lot out of it. Although it's specifically designed for dropshipping businesses, you can still use your learning on other aspects such as when you're marketing your business on Facebook or when you want to start your affiliate marketing business instead.
When you enroll in this program, it will be divided into four (4) basic parts, such as the ESA Main Training, Weekly Live Training, Shopify Apps, and Live Training.
The best thing about this training is that it is showcased like a "LIVE case study" wherein Adrian shares his latest campaigns while providing weekly updates about its results. The best thing about this training is that it is showcased like a "LIVE case study" wherein Adrian shares his latest campaigns while providing weekly updates about its results.
Like anything of value, eCom Success Academy is expensive. It costs $2,495 if you choose a one-time payment for the course or $997 in three installments. If you choose the latter part, the total payment is equivalent to $2,991, which is more expensive than the one-time fee.
It sounds like a lot of money but in this case, you're paying for a lot of intangible things like the knowledge and experience of the mentor. Plus, you can get the following benefits like:
Shopify Discount
ESA is one of the few approved courses by the famous commerce platform, Shopify, therefore, you can get a 15% discount on it for a lifetime license.
Shopify Apps
The $2,000+ fee includes all the Facebook and Instagram apps that Adrian himself have used on his 4MM Shopify Store.
Live Coaching
One of the best things about this training is that you can ask Adrian whatever training-related questions you have in mind through his daily live coaching.
If you're not confident with this amount or if you're simply looking for ways on how to earn money without investment, you can choose Wealthy Affiliate instead. This program is intended to train bloggers, affiliate marketers, or anyone who wants to start a business online with little to no charge at all. It comes with a lot of perks such as two free websites, a supportive community, and a lot more.
If you want to learn more about the program, please watch the video below:
Here Is My Top Recommendation to Start Highly Profitable Online Business from Comfort Of Your Home
PROS
Reputable Founder
Adrian Morrison has created quite an impressive image making it easier to trust his program. But more than that, he did a great job sharing his knowledge and experience in social media marketing and growing a business online.
Brief Yet Comprehensive And Informative
For those who are beginning to learn how to operate a business online, specifically creating a website using Shopify, eCom Success Academy has made it easier yet very informative. It is concise but you're guaranteed that it includes almost everything you need.
If you're a veteran in the dropshipping industry, you can still benefit from this program. For sure, there's still a lot of room for improvements and you can use the learning you have from this platform to develop your website.
CONS
High-Ticket Program
First of all, I know that there are a lot of valuable training platforms found online that are expensive -- and I bet that's simply because they are teaching based on their experiences, on the practices they have personally applied, and methods that have worked efficiently. Probably, that's the main reason why eCom Success Academy is costly in the first place.
And this is one of the biggest drawbacks since some of those who are looking for money-making opportunities might not even have enough cash to invest in such training. On top of this, you can learn some of these things (or at least close it) online, free of charge.
Misleading Information About Refund
If you will check the rating of eCom Success Academy on Better Business Bureau, you'll find out that it's not accredited and it's rated F. In addition, there are complaints about providing misleading information about their refund policy.
According to the complaint above, "full back money guarantee" was mentioned; however, when he/she asked for a refund, he found out about the "no refund policy."
eCom Success Academy is good for marketers, entrepreneurs, or anyone who wants to start a business online, whether you want to create an affiliate marketing or a dropshipping website. It's also ideal for those who have already set up their business website and are looking for ways on how to improve it.
However, you need to consider two things: your budget for the training and the no refund policy. The program costs $2,495 which is not refundable so if you're not willing to take a risk, you can check out the top recommended method to earn money online.
You can sign up for free and start learning from the videos that the site has provided. You can benefit from this a lot if you're planning to become an affiliate marketer and earn massive commissions in the future. However, like eCom Success Academy, this program will not make you rich overnight. You still time, effort, and probably money to make your business online a success!
eCom Success Academy, perhaps, has one of the most astonishing and honest training. Every week, Adrian will walk you through the live updates about his latest campaigns to know if it's working or not. If you missed the live training, you can check it out on the "member's area."
The founder of eCom Success Academy also provides live training on a daily basis so you can get live coaching, every single day. This is important for those who are just starting to create their website or those who want a refresher course.
eCom Success Academy has proven more things than one. First, it's legitimate and owned by a reputable Internet marketer, Adrian Morrison. Second, the training itself offers value which, I can say, will give your money's worth.
Third, aside from being valuable, it encourages entrepreneurs to believe in dropshipping and affiliate marketing, which, for me, are the best ways to earn money online.
If you want the best training on how to make money over the Internet, you can check out the top recommended program .
It doesn't matter if you have experience working online or not as you'll have the access to the following when you sign up:
One-on-one coaching
Comprehensive guide
The best business tools and support you need
Webinars and training resources
And many more!
We hope that our eCom Success Academy review has helped you and, if you have any questions or product suggestions, feel free to share it down below.
Thank you!
We Constantly Review Programs in "Make Money Online" Niche,
So That You Don't Have to Waste Countless Hours
Want To See Our
TOP RECOMMENDATION?