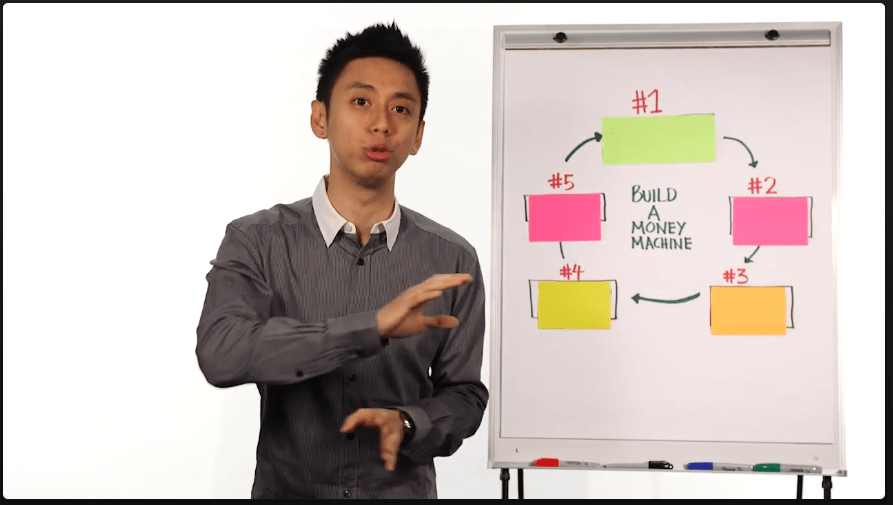 Internet Income Intensive Review Summary
---
Name: Internet Income Intensive
Website: https://pengjoon.com/programs
Founders: Chan Peng Joon
Product Type: Create Online Business
Price: $1,997
Quick Summary: Internet Income Intensive was created by Peng Joon who is experienced online marketer. This program is offered in form of 2 days seminar where you will learn how to build online business of your dream. Does it really deliver all it's promises and what is the true cost of this program? Keep on reading to find out.
Overall Rating: 6/10
Recommended: Yes
What is Internet Income Intensive About?
There are plenty of training videos online for those looking to grow their online business and start making passive income, which is what makes Internet Income Intensive unique. This program is a two day training seminar hosted by Peng Joon. That probably has you wondering, who is Peng Joon?
Peng Joon is an internet marketer from Malaysia, an author and speaker who has presented in over twenty countries across the globe. He founded Smobble, an internet marketing company in Malaysia and has made A LOT of money through internet marketing.
So, what is Internet Income Intensive? Once you sing up, you will undergo something like a pre-training. It's a series of 4 videos which explain the whole concept behind: "Internet Income Intensive". It consists of these 5 steps:
Identify a Profitable Niche. This could be any niche. Peng Joon recommends a niche that you will have an interest in as it will make it easier to work with.
Publish Content. Create a website and keep on producing new content related to the niche
Promote a product. This is where you can develop your own product or sell someone else's product
Targeted traffic. Learn to create Free SEO traffic and also paid PPC traffic
Automate. This has to do more with scaling your business. When you have everything in place you may want to outsource some parts of the work to make business running smoothly.
After watching the videos and understanding this concept, you will attend your in-person training seminar. With a steep cost, you need to determine if Internet Income Intensive is right for you.
Traveling to a physical location for a seminar seems more costly than just purchasing an online training video, which is why it is good to learn from Internet Income Intensive reviews whether this will be beneficial for you.
FREE TRAINING
Learn How I Started Highly Profitable Online Business From Comfort of My Home Following This Blueprint
The cost for Internet Income Intensive really trips some people up. It's $1,997 for the two day seminar. That also doesn't take into account any travel expenses that you may incur. If you have to fly, take a bus or train to the seminar location that is something to keep in mind. If a hotel stay is required that should also be factored into your cost.
Even if the Internet Income Intensive seminar is in your town and you don't need to travel, $1,997 isn't where your costs will likely end.
There are extremely costly up-sells that Peng Joon tries to get you to jump on during and after the seminar. These prices quickly add up and all this comes before you start investing in your business web infrastructure. On average, to get access to guidance, support and further training, the costs could easily rise up to $30,000!
If you ever wondered whether Peng Joon is successful and what he does below is a video from his seminars where he is asking for feedback from his students:
You can see that Peng Joon really gets huge crowds of people around the world and makes really good money by making these online/offline seminars.
Is Internet Income Intensive a Scam?
Looking at Internet Income Intensive, the question of it being a scam obviously comes to mind. Almost $2,000 for a training seminar, PLUS up to $30,000 in up-sells seems pretty exorbitant. Is Internet Income Intensive a scam? No, it's not a scam. However, that doesn't make it a great option for those looking to start an online business.
The real issue with Internet Income Intensive, aside from the steep price, is the depth of information provided. It's true that Peng Joon cut the seminar from three days down to two days so it contained only essential information, but there is still an issue with the content.
Some of the content is outdated and readily available online. For such a steep cost, the material and strategies should be refreshed to account for that.
The other main issue with Internet Income Intensive is the constant up-sells. After spending almost $2,000 for a seminar, the last thing you want to do is undergo pressure to spend even more money.
Even though Peng Joon is not a scammer, but he teaches in his course that up-sells are highly recommended to become rich marketer and this is what you will see throughout Internet Income Intensive course.
Here Is My Top Recommendation to Start Highly Profitable Online Business from Comfort Of Your Home
Pros:
Contains useful information for beginners in an easy to follow step by step format
You receive lifetime access to the training website after the live event course
Access to private Facebook group after the event
You get to learn in a big crowd, which is more fun than sitting online
Potential to bring a free guest if purchased through certain programs or summits
Cons:
The price is much too high for what you're given
No live support if you are having difficulties
No free trial period, you must pay upfront
There are up-selling tactics used
The information is old and outdated, with key pieces of strategy missing for today's internet marketing world
Tired of Wasting Time on Low Quality Programs?
I'm so grateful that I was able to find THIS PROGRAM which helped me to finally start making money online!
Internet Income Intensive can work for beginners and experienced marketers but I can't stop on emphasizing the cost of this program. You can see how Peng Joon presents himself as a very experienced marketer who is qualified to charge big $$$$$.
I personally went through his online program and can tell you that you can find all this information online for Free and there are other Premium Programs that teach all this and more for a fraction of the cost. There is nothing Peng Joon teaches that is a secret formula or very unique in his approach.
After signing up for the seminar you will go through pre-training. This is a 3 step guide that walks you through setting up your Gmail, website domain, WordPress, web hosting, and PayPal account.
The next step is attending the two day training seminar. The training tackles a variety of aspects of growing your business online. It goes through a proven 5 step system to building and growing your business, how to create a bestselling product in a ready buyers' market, as well as the strategy that Peng Joon uses online to capture thousands of leads.
Day 1 of the training will have you learning to identify your big idea. The next step is learning the importance of and how to build a sales funnel.
The second day of training is oriented towards more actionable strategies like video marketing, Facebook marketing, using up-sells to maximize your profit and how to create loyal customers. You will also learn the 17 Actionable Steps to Build Your Own Online Empire.
Overall the training is easy to follow, but a bit outdated. There is some old information that doesn't quite fit in today's marketplace, and some key strategies missing.
When it comes to support, Internet Income Intensive really lags. In fact, the only way to get support after the event is through the Facebook group or via email. Those methods can take days for responses, which is a serious downside.
Looking at Internet Income Intensive as a whole, it's easy to see that it is not a scam. So if you ask if Peng Joon a Scammer? No he is not. Peng Joon really does host a good seminar full of good information for beginners. Learning in a group atmosphere is refreshing and enables you to network and interact with like minded individuals.
The real issue with Internet Income Intensive is the cost and the pressure of up-sells. When you're paying $2,000 for a training seminar, you shouldn't be pressured to spend another $30,000 on up-sells. The only reason I want to endorse this program is because information delivered is legit and you can really learn online marketing.
But if you want my honest feedback. After everything I know today I would not spend $2K on such program especially if you are a newbie. There are great legitimate programs that offer same or even more for a fraction of the cost. Unless you are desperate to meet Peng Joon in person.
You can tell he already acts like a celebrity and is only interested to make high ticket sales. This is what famous marketers are after. Yes there is a value but for beginner level it's not needed. There are much cheaper ways to get started with online marketing.
I personally used THIS PROGRAM to create this website and build my online business.
Not only you will learn a lot more with Step-by-Step training and for a fraction of the cost with absolutely no up-sells and you will also get the best support in the industry from experienced community including the owners and 24/7 Live Chat including my personal help.
Ultimately everything comes down to your ability to take radical action and work on your business. We show you a way and you need to put down the work.
I hope you found my review helpful. Let me know what are you thoughts in the comments section below:
Internet Income Intensive FAQ
What Is Internet Income Intensive in the Nutshell?
Internet Income Intensive is an affiliate marketing course broken down in to pre-training online classes, then in person 2-day seminar and after that post-training online classes
What is the Price for Internet Income Intensive Course?
The price is $1997 which includes 2 day seminar. There are also up-sells in the program
Is Internet Income Intensive a Scam?
Internet Income Intensive is legitimate affiliate marketing course that offers valuable training at a premium price tag
We Constantly Review Programs in "Make Money Online" Niche,
So That You Don't Have to Waste Countless Hours
Want To See Our
TOP RECOMMENDATION?