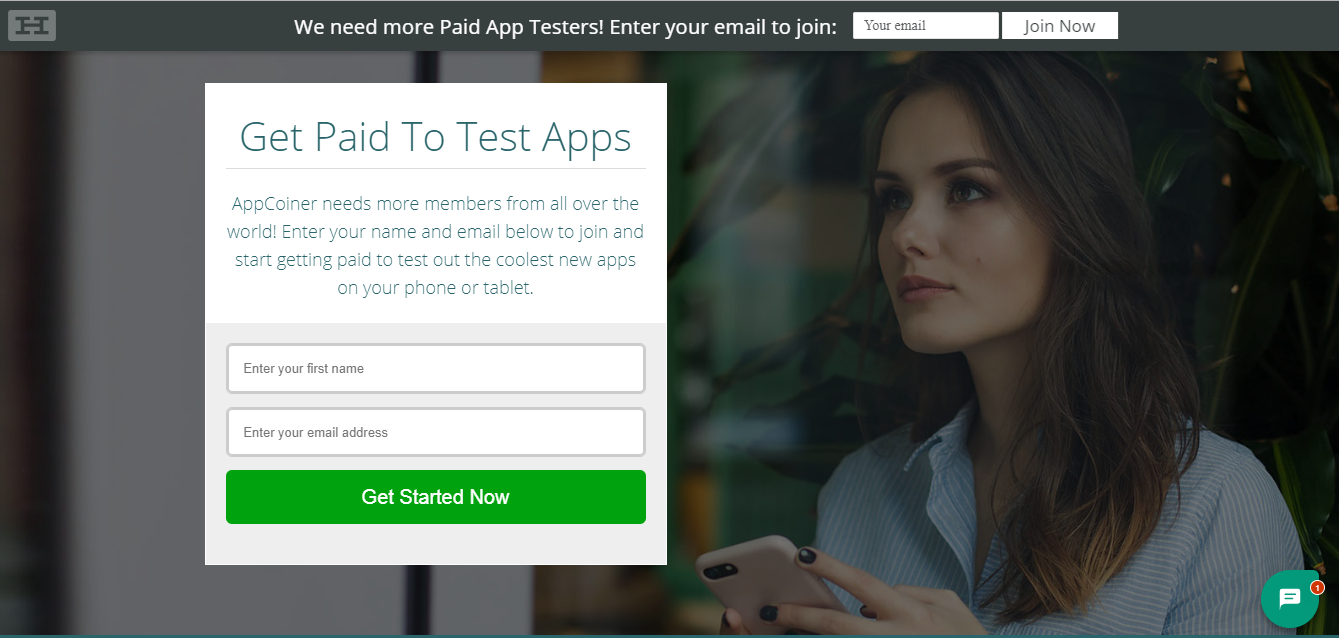 Welcome to My AppCoiner Review!
Does making a massive amount of cash just by reviewing apps sounds too good to be true? Yes, it does.
AppCoiner Review Summary
---
Name: AppCoiner
Website: www.appcoiner.com
Founders: Undisclosed
Product Type: Get Paid To Test Apps Platform
Price: $27 + Upsells
Quick Summary: Built in 2014, AppCoiner claims to pay you for your honest reviews about the hottest, newest apps. According to their sales page, you don't need to be a professional when writing reviews. As long as you know basic English, you can earn money from them and receive it via PayPal.

However, although the website is professionally-designed and less sketchy compared to low-quality programs or scams, there's something shady about this platform, and that I will reveal in this AppCoiner review.
Overall Rating: 2/10
Recommended: No
While it's NOT impossible to have an income just by sharing your thoughts and reviews about a product, there's something sketchy about AppCoiner, and this is probably why you're here.
Is AppCoiner a scam? How does it work? Why are they going to pay you for your opinion?
Maybe you have a lot of questions in mind but don't worry, I'll do my best to answer all of that in this honest AppCoiner review.
If you take a look at their website, AppCoiner looks legit and professional. No overhyped messages, unlike the low-quality ClickBank programs I've reviewed in the past.
On their homepage, it says that you can start getting paid to test apps in three simple steps:
Choose an app from their database and test it using a tablet or a smartphone
Assess the app and write a review about it using your very own AppCoiner review website
Review as much apps as you want and get paid via PayPal.


The idea behind the platform is promising. Since there are more than a hundred apps released in a day, it will be challenging for app developers to introduce their product to the market, and to make it easier for them, AppCoiner created a platform that will share reviews about their apps and at the same time, pay the authors of the reviews.
In simpler terms, you test apps, write and honest reviews, and get paid at least $15 to $25 per feedback. Easy, right?
Only if it really works that way. However, I found out that it involves more than three steps and you need to exert more than the effort you're expecting.
How Does AppCoiner Really Work?
The founder of AppCoiner, who has never revealed his/her identity, by the way, has made it sound like it's easy to make money using their platform, and that you only need to know basic English to begin. But in reality, you also need to have basic technical knowledge because you will be making an AppCoiner review website.
Your AppCoiner website is where you will place your reviews but aside from writing content, you will also insert App affiliate links in it and when someone purchases an app using your specific links, that's the only time when you will start making money.
Does it still sound easy?
Wait until you hear this: in able for your reviews to be read, you have to generate traffic to your website. Otherwise, if you have no visitors, there will be no chance for sales conversion, and you're not going to make money.
AppCoiner is not a scam, surprisingly. But it has a lot of RED FLAGS, to begin with, so if I were you, I will think more than thrice before I join the program (or even share my email address). It's a very misleading website although the idea of their platform follows a legit money-making opportunity called "affiliate marketing".
In affiliate marketing, you can earn money by promoting offers from advertisers. You need to have your own website, insert affiliate links, and generate traffic so you can convert sales. However, affiliate marketing program will not ask you to pay for any activation or membership fee. Most of the times, it's FREE unless you upgrade your membership to get more perks, just like my top recommended program "Wealthy Affiliate". And that's just of the RED FLAGS I see here in AppCoiner.
You need to pay $27 just to write reviews and get paid. Isn't it weird to pay for something that you'll be working on? Unless they offer training, I don't see any reasons why you need to shed cash. Besides, there are a lot of work-at-home sites that offer opportunities, and these legit sites will not ask you to pay anything unless it's a scam.
Also, AppCoiner isn't telling you a lot of things, such as what you really to do to earn. It says that you'll get paid writing reviews and you'll have instant access to their member's area. However, you won't be able to write anything inside the platform because the truth is, you will create your own website first.
Second, the apps are not paying AppCoiner for the reviews rather, they make money by placing at least two advertisements on your pages. This platform also earns when someone clicks on a button thinking that it will lead them to the app store; however, it will only bring them to another ClickBank product. Clearly, AppCoiner itself is an affiliate page that promotes offers so they can make money aside from vulnerable victims who purchase their product.
And of course, the suspicious owner who never dropped his real name. I mean, how can you trust a program if you don't even know whom to talk with in case of a problem or concern?
Here Is My Top Recommendation to Start Highly Profitable Online Business from Comfort Of Your Home
After signing up with your name and email, you will be directed to another page which will show you the price you need to pay for joining AppCoiner.
Originally, it costs $47 but it was discounted to $27 and this is for a lifetime membership. However, they were silent about the other fees such as $17/month membership fee and a $9.95 upsell.
Now you might be wondering why you need to pay for all of this and here's AppCoiner's answer:
Apparently, they are "providing the technology for you to download apps, write your reviews and get paid." And that you can still compensate your costs once you're paid with your reviews. If you're wondering how much money you're going to make with AppCoiner, they've provided a calculator to give you the amount you're going to get. The more you write, the more you earn.
But then again, this is not the case because remember, you need to drive traffic and hope that someone buys an app using your link.
Tired of Wasting Time on Low Quality Programs?
I'm so grateful that I was able to find THIS PROGRAM which helped me to finally start making money online!
PROS
60-Day Money Back Guarantee
As with all ClickBank products, this is a must. This is an advantage for me because just in case you want to take the risk and try the program yourself, you'll have less than two months to explore the platform and get a refund once you found out that AppCoiner won't work.
But if I were you and you want to invest your time and effort on something that provides real value, and not just any false promises, I'd like to invite you to my top recommended program. It offers free membership, training, and an active member community where you can ask, raise concerns, or just make a new connection.
CONS
Misleading Details
$15 per review? I don't know how that's possible with AppCoiner, although it may be for some legit affiliate marketing programs. There are a lot of sketchy things about this and most details are very misleading.
Not For Beginners.. Or Even For Seasoned Marketers
If you're a beginner, you might end up wasting your time and money on a platform that won't tell you what to do. While you can really make money with affiliate marketing, it won't bring out results in a short period of time, therefore, there's a very slim chance for you to earn $15 per review after you post it unless you have magically brought massive traffic to your website.
Meanwhile, if you're a seasoned marketer, I don't see how you can make money on a platform that doesn't seem stable, to begin with. You don't know who the owner is, their only contact details is an email address, and you're clueless about almost everything.
Expensive
$27 may not be a lot of money but other than that, you have to worry about the upsells. But if you've become wise enough to ignore it, the next cost you have to cover are the fees associated with creating traffic. While you can use organic traffic if you want to save money from the costs, it will take a lot of time and skills. Now, if you choose to generate traffic via Facebook or paid ads, there's another problem involved aside from expenses, you also have to make sure about what you are doing otherwise, you are just wasting your money.
If you want to learn more about AppCoiner, please watch the video below:
To be honest, I can't recommend AppCoiner to anyone; however, if you enjoy trying out new apps, I think you might consider joining this platform.
AppCoiner is legit but very, very misleading. There are a lot of things that they don't tell you about and if they do, most are sugar-coated. It's hard to trust a program like this especially when you don't know whom you are dealing with in the first place.
Lucky you, there's a legit money-making platform that provides almost everything you need to know such as the real founders, what the opportunity is about, how it works, etc. It will even guide you on how you can start and grow your business online… FOR FREE!
If you want to stop wasting your time on low-quality programs that only promises -- but rarely deliver, I suggest you try my top-recommended platform now and enjoy the following perks:
Training resources
Webinars to help you start your business online
One-on-one coaching
Comprehensive guide
And many more!
As always, I hope I have enlightened you with my AppCoiner review and if you have any questions or comments, please feel free to drop it down below.
Thank you!
We Constantly Review Programs in "Make Money Online" Niche,
So That You Don't Have to Waste Countless Hours
Want To See Our
TOP RECOMMENDATION?