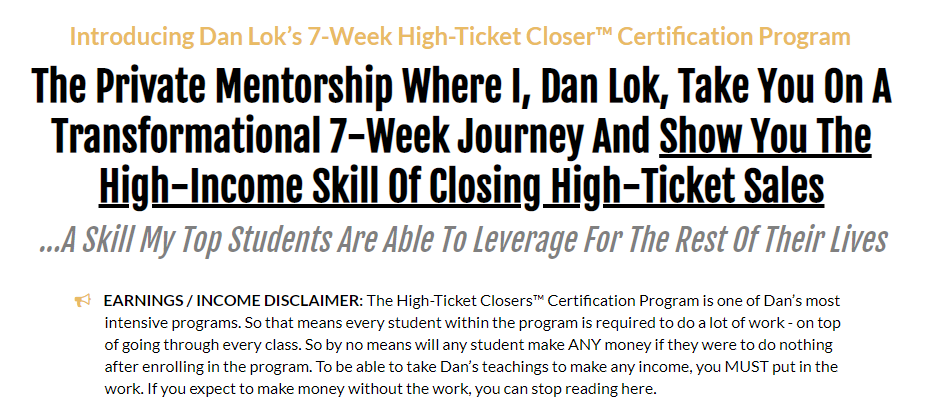 Welcome to High Ticket Closer Review!
Have you ever heard of Dan Lok?
High Ticket Closer Review Summary
---
Name: High Ticket Closer
Website: https://www.fumoney.com/now
Founders: Dan Lok
Product Type: Online Training Course (Selling High Ticket Products And Services)

Price: $2,495
Quick Summary: As the name suggests, this intensive 7-week course aims to teach students the right skills to close high-ticket deals. It was founded by Dan Lok, one of the most reputable internet marketers of today. But does that mean that you should invest in his high-ticket program? Is High Ticket Closer a scam or legit, to begin with? Can you entrust the growth of your business and income in this online training course?
Overall Rating: 7/10
Recommended: Yes
The first time I saw Dan Lok's "7 Signs You're Going To Be Successful" video is the same day he earned my respect. Although he seems flashy, I felt his humbleness and sincerity at the same time. But what I liked the most is how he presents himself and from then on, I subscribed and watched more of his videos.
Here's the copy of the clip by the way:
But to give you the assurance you need that I'm not going to pitch his high-ticket program, I'd like to tell you that I'm not his affiliate. Like the other articles I've written in the past, I'm here to expose all the good, the bad, and everything else you need to know about Dan Lok's High Ticket Closer.
What is it about? Is HIgh Ticket Closer a scam? Or can it really help you obtain a higher income than what you have right now?
Get all the answers you need in this honest High Ticket Closer review.
What Is High Ticket Closer About?
Before getting into Dan Lok's program, let's first define "high ticket". This is one of the most overused words in some of my reviews and basically, it means products or programs that come with a very expensive cost.
For example. Legendary Marketer, Billy Gene Is Marketing, eCom Success Academy, and Zero Up -- these considered high ticket because programs cost up to $30,000. Imagine that.
These courses, although have a lot of value, are harder to sell, and this is what Dan Lok's program is about.
High Ticket Closer is a 7-week training program that gives you the right skills and expertise so you can sell high ticket products or services. The takeaway from this course can be used on almost any expensive goods, such as jewelry, online course, etc.
Although it's a training program, and you're supposed to learn techniques on how to market your products and services, this is not ideal for beginners because you need to have the necessary marketing skills, to begin with. Otherwise, you might end up wasting your $2,000++.
Who Is Dan Lok?
Dan Lok is one of the most notable internet marketers of today, and you can clearly see the number of people who believe in his teaching. For instance, he has over a million subscribers on YouTube alone.
Originally, he's from Hong Kong and after a few years, he moved to Canada. Before becoming a multi-millionaire, he has failed 13 businesses but that wasn't the end. He continued having multiple sources of income such as a consultant where he's paid $10k/hour, a speaker, a copywriter, and also, he marketed and successfully sold his books and courses.
Dan's success is very visible, literally and he has been featured in various media outlets such as Entrepreneur Magazine, NBC, Fox News, USA Today, Concierge, UB, and Jetset Magazine. He was also invited to talk to TEDx, twice.
How Does High Ticket Closer Work?
High Ticket Closer is a comprehensive training program that teaches you how to sell luxury items or high ticket services so you can achieve a financial and social breakthrough. It's a promising course that every business person, marketer, entrepreneur, and basically anyone who want to achieve financial freedom should consider.
However, this is not a get-rich-quick scheme and you can only come out with your expected results if you are ambitious, hardworking, and consistent with applying the techniques and teachings you have learned.
Is High Ticket Closer A Scam?
For some people, programs that are usually sold on a higher price tend to be a scam; however, I believe that Dan Lok's High Ticket Closer program is legit.
Basically, you can get a valuable training course you can use on all kinds of businesses. While it is true that the program is expensive and you can get almost similar training for free over the Internet, what students are paying here are the experiences and proven techniques used by Dan Lok himself (and there are students who can confidently share their result after taking the course).
After all, he has proven himself very well in the industry of Internet marketing.
Considering that Dan Lok is teaching his students how to sell high-ticket products, the training program he offers is a big ticket course as well. It's worth $2,495 and if he's able to convince you to enroll in this, perhaps, his strategies really work.
Here Is My Top Recommendation to Start Highly Profitable Online Business from Comfort Of Your Home
PROS
You Are Learning From An Expert
Dan Lok has made a name on his own, and that alone is enough to prove his capabilities. He's more than just a YouTube star, he's a well-known Internet marketer who has inspired a lot of business people, entrepreneurs, and people who have aspired to do the same even on his free videos.
What more if it's a well-planned program like High Ticket Closer. While it's undeniably expensive and there's no guarantee that you will be a multi-millionaire, too, you can really have a valuable takeaway from this course. It can be a good investment and may give you a fast and reliable Return Of Income.
CONS
Very Expensive
This may sound contrary to what I've said above but let's face it. $2,495 is a huge amount, and not everyone can spend that amount on training. Although High Ticket Closer provides a three easy installments, it's just not practical especially if you're just starting out as a marketer or entrepreneur.
Also, your investment in the training program is not the last expense you will make. Once you started selling your product, you will encounter other costs for your ads, licensing, etc.
If you don't have a massive amount to spend on a training program or you're still not confident to bring out a huge lump sum, I suggest an alternative that's not only free, to begin with, but has also helped a lot of marketers boost their online business.
It's my top recommended program and I've been using it for quite some time now. It has improved not only my skills and expertise but also my finance. Although it won't promise that you'll be a millionaire in no time, it's really worth a try.
Sign up now and enjoy the following perks:
Free Membership
Free Training
Free Access To A Live
Community
Free 24/7 Support
And A Lot More!
Tired of Wasting Time on Low Quality Programs?
I'm so grateful that I was able to find THIS PROGRAM which helped me to finally start making money online!
Considering the price of High Ticket Closer, I recommend this for marketers, entrepreneurs, business owners, or key-decision makers of every company. This program can help you a lot when you want to generate more sales and close high ticket deals. Also, since starting a business is all about taking a risk, and it's not always rainbows and butterflies, Dan Lok's course can help you how to overcome rejection effectively without losing your confidence.
However, if you're a beginner, I cannot recommend this program yet because of its price. Yes, you can get value out of it but if you're lacking the necessary marketing skills and experience, catching up with the training can be a little challenging.
The 7-week intensive training course is headed by Dan Lok himself, where he goes live to discuss his points and answer the questions of each participant.
Dan is known for his high standards and he has shared a lot of valuable information for free especially in his YouTube channel, therefore, you know that he will impart his best techniques in this training.
Here's an outline of High Ticket Closer:
WEEK 1: How To Dominate In Life and In Business With A High-Ticket Mindset
WEEK 2: The Advanced Human Psychology of High-Ticket Sales and Ultra-Luxury Selling
WEEK 3: The One-Call Closer Methodology That I've Used To Close Profitable Deals With High-Level Influencers FAST -- Even When I Was Just Starting Out And No One Knew My Name!
WEEK 4: The High Ticket Sales Scripts - The 7 Secrets I, Dan Lok, Have Used To Close Tens Of Millions Of Dollars Over The Phone
WEEK 5: How To Handle Objections and Resistance Like A KungFu Master Easily Handles A 300-Pou WEEK 6: How To Find High-Ticket Partners - Includes Role Play Sessions With Me, Dan Lok, And Others On My Team And Boxer
WEEK 6: How To Find High-Ticket Partners - Includes Role Play Sessions With Me, Dan Lok, And Others On My Team
WEEK 7: How My Top HTC Students Make A 6-Figure Income (And Keep Growing) As A High-Ticket Closer™
WEEK 8: Mystery Bonus Class - Unlocked If You Meet The Following Challenge
It's no secret how expensive Dan Lok's program is but also, there's no question about his skills and expertise when it comes to marketing. He may not be the best marketer for most people but surely, he knows what he is doing.
However, if you're a beginner and you're looking for an alternative way to learn the skills you need to make money online, you can check out my top recommended program. It's perfect for marketers and networkers who are still finding their way into internet marketing. It's also best for advanced and seasoned marketers who want to improve and strengthen their capacities and expertise.
Dan Lok's High Ticket Closer is not for everyone, that's what I'm certain about. It's only for those, of course, who can afford to spend a massive amount on education. Also, it's a good course for business people, marketers, heads and executives of companies, and anyone who's ambitious and believes in hard work. It's a big ticket program, therefore, you should really be eager to learn and to apply the teachings in real life scenario.
I hope I have enlightened you with my High Ticket Closer review and if you have any questions or concerns, please feel free to share your comment below.
Thank you!
Are you having a hard time finding the right platform that will help you make money? If yes, don't worry, we got something for you!
Sign up with our #1 recommended program and take advantage of the following perks:
Thank you for reading my High Ticket Closer review. If you have more questions or comments, please feel free to share it below.
We Constantly Review Programs in "Make Money Online" Niche,
So That You Don't Have to Waste Countless Hours
Want To See Our
TOP RECOMMENDATION?