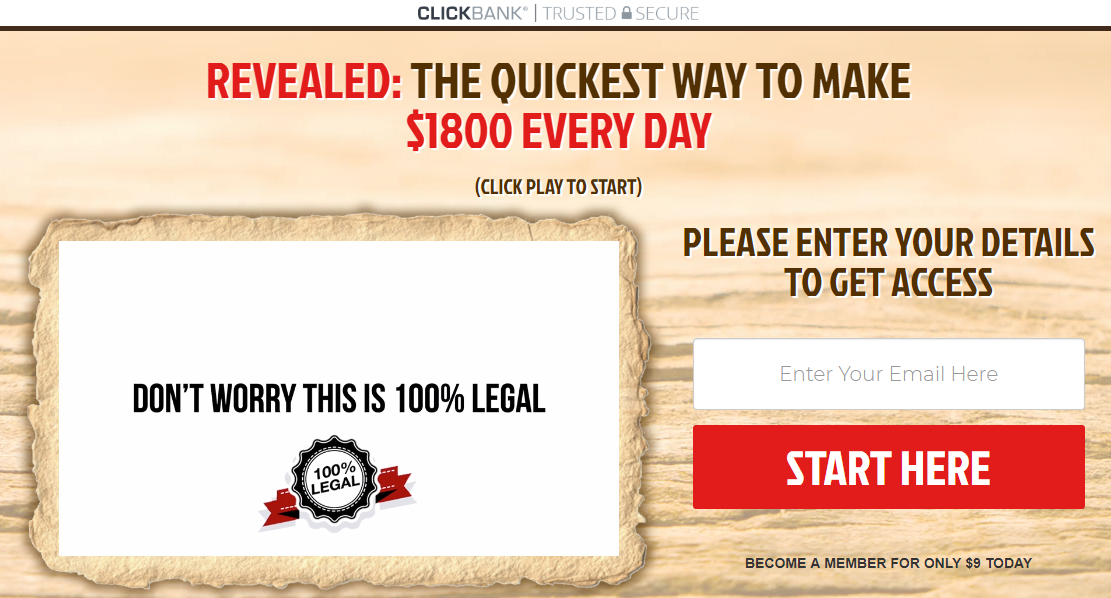 Welcome to My Silk Road Effect Review!
If only making money was easy, then everyone must've been enjoying a luxurious life right now (or any kind of life they desire) but the truth is, it takes time, effort, and a lot of patience to have a massive amount in your bank account. Even those who've been working for a long time may still need to work a little more just to make ends meet.
Silk Road Effect Review Summary
---
Name: Silk Road Effect
Website: http://silkroadeffect.com/
Founders: Unknown
Product Type: Online Training Course (eCommerce)
Price: $9 + Upsells
Quick Summary: Silk Road Effect is an online training course claims to have a "terrible secret you're not supposed to know". Basically, it teaches about eCommerce, specifically about the business model called drop shipping, which is a legit money-making opportunity by the way. But like other ClickBank products, it contains a lot of overhyped messages that are supposed to lure vulnerable victims but people are getting wiser now and almost everyone knew that programs like this are either low quality or a total scam.
Overall Rating: 4/10
Recommended: No
And this is probably one of the reasons any program that promises to make someone rich overnight still exist. Because despite being an obvious scam, many people still hope that there's really a "secret" to getting rich quick.
Perhaps, that's also the reason why you're here.
To know whether Silk Road Effect really has that "terrible secret that you're not supposed to know". A secret that's supposed to help you earn more than a thousand dollars a day.
If you want to know the truth about this program, then you've come to the right place.
What Is Silk Road Effect About?
Silk Road Effect is another ClickBank product that contains bold messages that I just can't trust. Most of their lines are exaggerated and it sounds like the other low-quality programs I've reviewed in the past.
According to their sales page, this program will show you "the quickest way to make $1800 every day". The owner, who's used a voice-over in his video, even claims that he almost made $1.4 in the last 12 months and that he will share the methods he used to you so you, too, can make a massive amount.
While it sounds too good to be true, how can you trust Silk Road Effect if you don't even know who owns it? There's nothing else inside the website other than the overhyped messages and sales video. Even the Contact Us tab is not working and it will only lead you back to the same "Please Sign Up" page.
But still, it's too early to assume that Silk Road Effect is a scam so let's find out first how it works.
What's Inside Silk Road Effect?
Basically, Silk Road Effect is about drop shipping, which, by the way, is a legit way to make money online. If you've mastered how this business model works, there's really a good chance for you to make money online.
However, since the training provided by Silk Road Effect is nowhere basic, I don't see how they can deliver their promises such as helping you make a thousand dollars every single day.
Now, if you want to learn drop shipping, I suggest you take advantage of the free training material online. You can also watch YouTube videos related to this topic to learn more about how it works.
Or you can visit my
top recommended program
, sign up as a member for free, explore the platform, and decide whether it's for you or not
Is Silk Road Effect A Scam?
In general, you can say that a program or system is a scam if you paid for it and the seller runs away with your money. That's not the case with Silk Road Effect. After paying almost $20, you'll be able to get inside a platform and you can start learning from their tutorial.
However, if you define a scam as a program that promises a lot but delivers nothing, then I'll let you decide whether Silk Road Effect is a sham or not.
If you're still confused, I'll point out several RED FLAGS that will confirm your suspicions.
Owner Did Not Reveal His Identity
Not even a pen name was used in the video or sales page. Unlike other low-quality programs who have concealed their real identity, Silk Road Effect has revealed almost nothing about it. They did not even bother putting out a logo on their website.
What are they ashamed about? If their program is so good, why are they not proud about the method they have created?
Get Rich Quick Scheme
I've been working online for more than a couple of years, sometimes with more than one clients at the same time but still, never have I earned a thousand dollars in one day, not even in a month.
I've also reviewed various programs and no matter how "revolutionary" they think their systems are, none of those guaranteed earning a massive amount in just a short time. My point is anything that claims to help you get rich, especially those methods that don't require any expertise or skills, are nothing but a fake.
Overhyped Messages
"If I could guarantee you that you will be a millionaire within 12 months from now, would you be interested?" No. Because first of all, unless this program is giving me a winning lottery ticket, I know that this is nothing but overhyped.
No Contact Details
For every business, I believe this is vital because how can a customer reach you if they have questions or concerns about the program? Perhaps, Silk Road Effect intentionally ignore putting their contact information and other vital details about them simply because they don't want to be reached.
Here Is My Top Recommendation to Start Highly Profitable Online Business from Comfort Of Your Home
The front-end cost of Silk Road Effect is $9, which seems like a small price to risk. However, once you enter the platform, you will meet upsell after upsell after upsell. Now, if you're someone who's easily persuaded and you purchased any of this upsell (or all of them), I bet it won't be long until you'll realize that it's a waste of time and money.
Here is the list of Silk Road Effect upsells:
Upsell 1: Shopify ($29-$299/Month)
Upsell 2: The Silk Road Effect Deluxe Club ($197)
Upsell 3: Marco Polo Secret ($197)
If you want to learn more about Silk Road Effect, you can watch the video below:
PROS
Money-Back Guarantee
The only thing I like about Silk Road Effect is that it is risk-free. Should you wish to try the program on your own, you can do so and ask for a refund if you're not satisfied with it. Thanks to ClickBank, you can get your money back but even so, you cannot get back the time you wasted on this program.
If I were you and you want to know more about drop shipping, I'd rather get free training materials online or subscribe to YouTube channels to learn more about eCommerce and the like.
You can also invest your time on quality programs, such as my top recommended one, to learn more about how you can start and grow a business online.
CONS
Fake Owner
Silk Road Effect has never mentioned the name of the owner so that alone should be enough to tell you that this is a very risky program to join with. Why would you trust a company or a system if you don't know anything about it?
High-Ticket Upsells
All in all, you'll be spending more than $600 for the upsells alone but what about the traffic you need for your website. That means you'll be spending more on your paid ads and other marketing tools so if I were you, I'll think twice, twice, or even more about joining this program.
Outdated Training
The training provided, like other low-quality programs, are basic and you can even find those materials, such as the PDFs they used for free. Meanwhile, the videos they've shared barely gave information so indeed, Silk Road Effect is a terrible secret.
Misleading Information
Silk Road Effect made money-making online sound easy but if you dive into their training and realize what you will be doing (e.g., setting up a website), you'll know that it will take a lot of time. Also, since the training is less than basic, you'll have to look for other resources just to make your drop shipping business work.
Lack Of Information
Silk Road Effect seems like they only care about the money you'll be spending on their program. They don't care about you or anyone who purchases their product. No Terms and Conditions or Privacy Policy were shared so you're sure whether your private information will be sold to third parties or not.
FREE TRAINING
Learn How I Started Highly Profitable Online Business From Comfort of My Home Following This Blueprint
Inside the training platform of Silk Road Effect, you'll find 7 tabs, namely:
An Introduction To Ecommerce
Creating Your Online Store
Ecommerce Store Platforms
Designing A Killer Store
How To Generate More Sales
Marketing Your Store
It sounds like a lot but don't be deceived because the PDFs used in their training barely talks about what should be done to run an online store. You can't expect to learn how to market your website, how to create traffic, and any other important things to e\keep your eCommerce store up and running.
Silk Road Effect is just like other low-quality programs with overhyped messages. However, it's good to know that it's not a scam in a sense that you'll get something you've paid for. But when it comes to delivering their promises, such as helping you earn more than a hundred dollars a day, I don't really see how this would work considering that the training they offer is less than basic.
Making money online is possible but it's never easy. Sometimes, it takes more than just your time and effort so if you want to be guided by the experts, I invite you to join my top recommended program for free!
Sign up now and enjoy the following perks:
Free Membership
Free Training
Free Access To A Live Community
Free 24/7 Support
And A Lot More!
I do hope I have enlightened you with my Silk Road Effect review and should you have any questions or comments, please feel free to drop it down below.
Thank you!
We Constantly Review Programs in "Make Money Online" Niche,
So That You Don't Have to Waste Countless Hours
Want To See Our
TOP RECOMMENDATION?