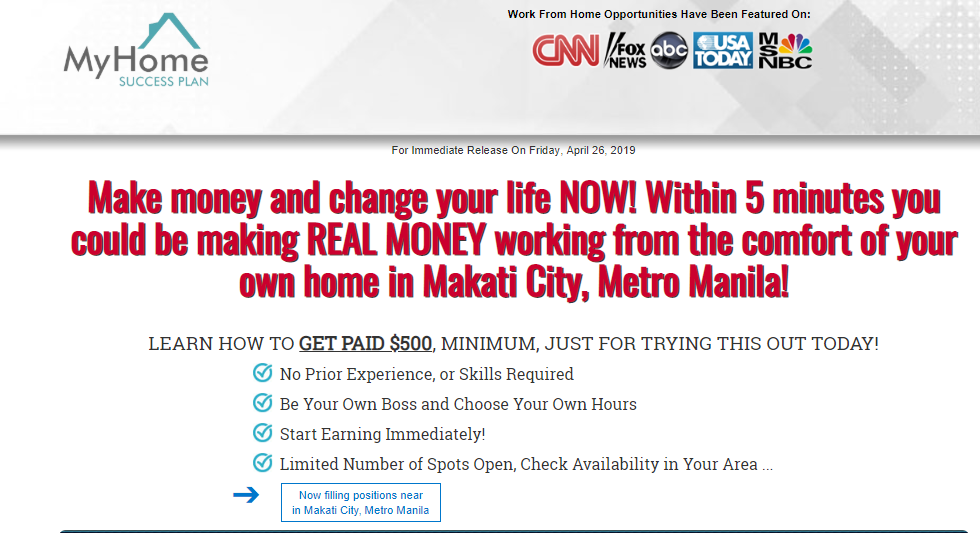 Welcome to My Home Success Plan Review!
For more than two years of working online, I could confidently say that it's possible to make money without leaving the comforts of your own home. What's not possible is making more than $100/day working for only a few hours. However, if you're highly skilled and you spent most of your time working on several home-based projects, then maybe -- just maybe -- it's possible.
My Home Success Plan Review Summary
---
Name: My Home Success Plan
Website: myhomesuccessplan.com
Founders: April Matthews
Product Type: Online Training Course (Work-At-Home)
Price: $97
Quick Summary: Online training program that claims to give lucrative work-at-home opportunity. According to their sales page, you'll learn how you can earn $500 minimum "just for trying today". But I found several RED FLAGS that are more than enough to tell you to ignore this at all cost!
Overall Rating: 1/10
Recommended: No
So the first time I landed on a website called "My Home Success Plan", I knew that it's nothing but a waste of time. RED FLAGS were scattered everywhere and if still don't know the answer to: is My Home Success Plan a scam, I am more than willing to help.
The terrible TRUTH, exposed in this My Home Success Plan review.
What Is My Home Success Plan About?
My Home Success Plan is an online training program for those who are interested to work from home.
It was founded by "April Matthews" who have never bothered sharing any other things about herself, not even her REAL photo, other than her sad story. Apparently, she's a mother of two daughters, working on a couple of jobs just to make ends meet but still, it wasn't enough.
If you're all about emotions, you might fall for this kind of drama but if you've been working online for a long time, perhaps looking for other legit money-making opportunities over the Internet, you'll know that this is a total sham.
I mean, how can you get paid $500 minimum in one day without experience?
How Does My Home Success Plan Work?
The thing is, My Home Success Plan doesn't work at all! It's just pretending to be a legit work-at-home job but if you fell in their trap, you'll know what I'm talking about. It's a fake opportunity that lets you think they have limited spot just to attract unknowing victims.
Is My Home Success Plan A Scam?
Yes, My Home Success Plan is 100% a scam. Below are the RED FLAGS that you should watch out for so DO NOT SKIP THIS PART.
Fake Owner
This is supposed to be "April Matthews" but it turned out, it was just a photo grabbed from another website. Possibly, this is not even a real name. No contact details were shared, no social media accounts to follow, nothing else that would prove that she's a legit person.
Another thing: if you're a mom with two babies, you probably know that working with these tiny human beside you is next to impossible.

Fake Scarcity Technique

Once you signed up with My Home Success Plan, you'll be notified about the limited number of positions available in your location, and you may be surprised to see that they know where you're located.

The people behind My Home Success Plan are experts: experts in setting up a website, experts in creating a site full of scarcity, experts in making you believe that they are real.
By the way, no online job would pay you $379 a day for an hour-worth of work
Fake News Logo and News
My Home Success Plan features a video about working at home. First, it's real but second, it's not about My Home Success Plan but working online in general. These fraudsters put this clip to make vulnerable people believe that they have been featured in the news when in reality, it has never really talked about them.
And the same thing goes for the news logos. Do not be deceived! These news channels have never talked about My Home Success Plan specifically rather, work at home opportunities as a whole because almost anyone can indeed have a job and earn money at the comforts of their own home, but never with a program like this.
Fake Job Opportunity
After signing up, you'll read a very long message of April and aside from her "tragic" fake story, she'll reveal how she's earning. Apparently, it has to do with "link posting", which doesn't make sense anyway. There's no such thing as link posting.
It seems like these fraudsters have used the concept of affiliate marketing, which, by the way, is 100% legit and one of the best ways to earn online. Perhaps, they've only come up with the name and made it sound like it's a real opportunity.
If you want to make real money using links, what you should do instead is join a legitimate affiliate marketing program that is transparent, reliable, and proven. This is the one way you can earn money at home but unlike My Home Success Plan, you cannot do this in 60 minutes. You have to attend free training, do a bit of research yourself, work on improving your skills, and spend a few months or so mastering how it works.
The truth is, there's no such thing as easy money and get rich quick. You have to work hard and be consistent with whatever it is you're doing before you see a result.
Your Name, Email Address, And Even Phone Number Will Be Shared/Sold To Third Parties
Let's say you did not enroll in My Home Success Plan but you've shared very confidential details such as your name, email address, and even phone number. You may still be at risk because your information will be sold or shared to third parties who may bombard you with emails promoting similar useless products.
So before signing up with any programs online, no matter how legit you think it is, it pays to read honest feedback. It pays to read this My Home Success Plan review.
Fake Testimonials
I've reviewed more a dozen or so of low-quality products and most of them either use Fiverr actors for their reviews or stock photos along with scripted testimonials, such as these ones:
5K Formula System
Easy Retired Millionaire
Spring Profits
Easy Insta Profits
EZ Bay Payday
On their website, you'll see a bunch of people telling how this "system" or "program" has helped them make money, but none of them directly said it was because of My Home Success Plan. Plus, the photos used can be found on other pages, too, such as the one below.
Here Is My Top Recommendation to Start Highly Profitable Online Business from Comfort Of Your Home
Originally, My Home Success Plan costs $97 but every time you open their page, they post a different discount to make you believe that you are getting the best deal. This is just one of their marketing tactics to lure more and more people to purchase their program.
As for me, the, I got $20 discount when I first visited their website and price got lower on my second visit but if you're wise enough, you'll know you'll never fall for this. I mean, if you want to get quality training or learn the basic things you need to know about a specific online job, you can get training videos and materials online for free. Or if you're looking for a legit website for freelancers, you can visit Upwork, Hubstaff Talent, Freelancer, etc.
You can also check out my
top recommended program
which offers free training (because you need skills and expertise to earn income), free access to a live community (so you can talk to "real" people inside the program), 24/7 customer support (so you can raise your concerns or inquiries anytime), and a lot more. But if there's one thing that I'm proud about, it's the chance for you to talk with the real founders so, no more guessing who's behind the program.
Tired of Trading Your Precious Time for Money?
Here is a Blueprint to Owing Highly Profitable Online Business Without Any Experience REVEALED!
There's nothing to like about this website so I'll just talk about the cons instead.
CONS
Not Reliable
How can you trust a program with a fake owner who doesn't share anything about how their system works. You will not even find any contact information about them in case you want to ask questions or raise your concerns. There's no way to reach them and that's just fair because probably, everyone who purchased their program will bombard them with complaints.
Everything About My Home Success Plan Is Fake
Fake job opportunity, fake testimonials, fake earnings, fake news logo and videos, fake scarcity technique. The only thing that's true about this program is that they use tricks and manipulations to earn from the people who fall to their trap.
If you're one of those who enrolled in My Home Success Plan, it's never too late. You can still have a better opportunity, one that's not after your cash. Simply sign up with my top recommended program and explore the system on your own. Don't worry, there's no commitment involved and you can decide on your own if it works for you or not.
Get Rich Quick Scheme
This is one thing that's common to all scams and low-quality programs -- to project an idea that you can earn in an instant. No experience needed and little work required.
Whether you have a regular job or you work as a freelancer, you know that this is not true. Even if you spend more than 8 hours working in front of your laptop, you will not get rich in an instant because if this is true, then almost everyone should've been doing it for a long time.
To know more about My Home Success Plan, you can watch the video below:
To be honest, this is the first time that I've encountered a system that's a total scam. I've reviewed low-quality programs before that uses bold claims, fake owners, and fake testimonials, too, but still, their training offered little value. But with My Home Success Plan, you'll get nothing and you'll be sorry spending almost a hundred dollar for this course.
Looking for a legit money-making opportunity online is difficult but possible. It just takes time to figure out which one really works. If you want a program that's been proven and tested by more than a hundred people worldwide, I invite you to try the system I've been using to make money online.
Sign up now and enjoy the following perks:
Free Membership
Free Training
Free Access To A Live, Active Community (which means you'll meet awesome, like-minded people!)
And A Lot More!
I hope I have enlightened you with my My Home Success Plan review and should you have any questions or comments, please feel free to drop it down below.
Thank you!
We Constantly Review Programs in "Make Money Online" Niche,
So That You Don't Have to Waste Countless Hours
Want To See Our
TOP RECOMMENDATION?