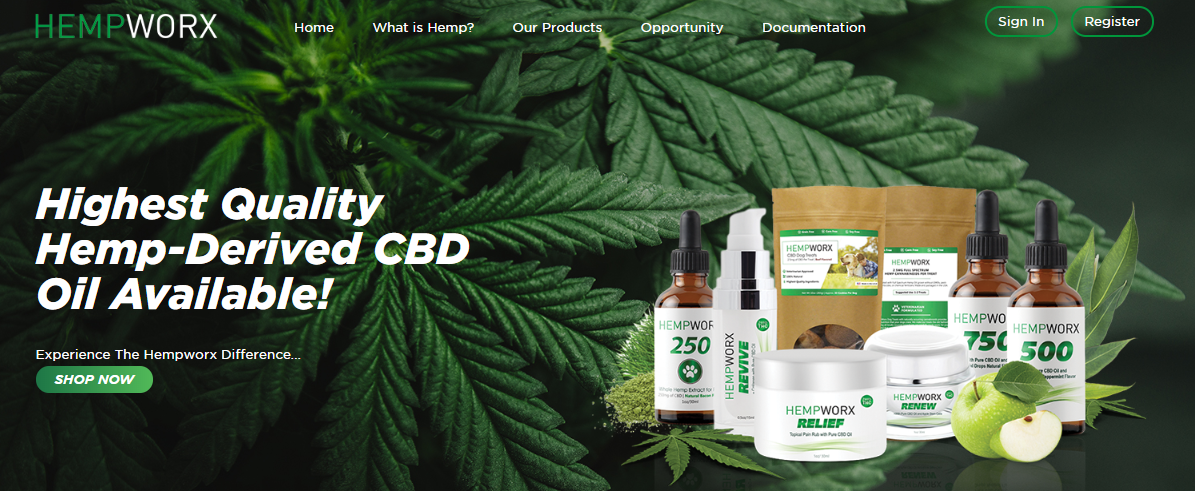 Welcome to my HempWorx Review!
Weed has always had a bad reputation but whether you're against it or not, the Cannabis industry is expected to become bigger in 2022. In reality, the flowers and other parts of Marijuana brings a lot of benefits and because of the projected increase in sales, many companies take advantage of this by marketing hemp-based products.
HempWorx Review Summary
---
Name: HempWorx
Website: www.hempworx.com
Founders: Josh and Jenna Zwagil
Product Type: MLM Company
Price: $39 - $599
Quick Summary: HempWorx is an MLM company that sells hemp-derived CBD essentials. Like most MLM companies, their products are overpriced and in order to earn a commission, you can choose to become a preferred member to earn. However, you need to bring out an investment before you start making money on your own.
Can you really make money selling CBD oil and other hemp-based products? Is HempWorx a scam? What are the things you need to know first before joining this program?
Overall Rating: 4/10
Recommended: No
One of the most popular brands that sell hemp-based essentials is HempWorx. But aside from promoting their products, they also offer an income opportunity to anyone who wants to start a business.
But can you really make money by selling their essentials? Is HempWorx a scam? What are the other things you need to know about their program?
Find out everything you need to know in this honest HempWorx review.
Founded in 2014, HempWorx is an eCommerce business that sells hemp-derived CBD products. It was founded by Josh and Jenna Zwagil, who were also the brains behind the MLM-brand called MyDailyChoice. These people also claim that they offer one of the most lucrative business opportunities.
Without a doubt, the CBD industry is growing and it's expected to rise to more than $20 billion in sales in a few years. So it's no wonder why more and more companies, such as HempWorx, are interested in growing their business in this niche.
What HempWorx Offer?
Aside from the usual CBD oil (Full Spectrum Hemp Oil), HempWorx also offers:
Hemp-Infused Coffee
CBD Keto Coffee Creamers
Renew Anti-Aging Cream
Revive Cream
Relief Icy Pain Rub
HempWorx for Pets (Treats)
HempWorx Pet Oil
Their products claim to improve mental health and overall wellness as well as help the skin to look brighter, firmer, and healthier. HempWorx also offers CBD oil and treat for dogs.
Here Is My Top Recommendation to Start Highly Profitable Online Business from Comfort Of Your Home
When you check their website and click the "Opportunity" tab found on the upper part, you'll see this: Become A HempWorx Affiliate.
So from my understanding Hempworx affiliate program allows you to tap in to this business opportunity and promote their products in order to make commission.
However, as I go through the page. I got a little confused. First, you'll have to pay a $20 for the activation fee and agree "to order HempWorx products".
Does this already set some hints whether there is Hempworx scam?
From my understanding, you don't need to pay anything to join affiliate programs or sell products and earn a commission, otherwise, you want to upgrade your account. Otherwise, if it involved a fee and products, it's an MLM program in disguise.
Apparently, when you want to join HempWorx as an affiliate, you'll pay for the activation fee one-time, and it includes a Welcome Kit, Back Office, and a Replicated Website. Apart from it, you'll have to choose one out of five packages: Entry Pack, Builder Pack, 2 Pack, Director Pack, or Executive Pack.
On their website, you'll find the Compensation Plan which talks about their Affiliate Rewards Program and how they can pay you up to "85% if the total Business Volume".
If you're an affiliate marketer or you want to be one, this business can be a bit misleading because just when you thought you'll be promoting products through your website or social media, you'll be doing more of that, and you'll be spending more than the activation fee.
From what I understand, HempWorx is a Multi-Level Marketing (MLM). It's not a pyramid scheme though because first, they are selling legit products. Although you can earn through referrals or recruiting members, their main goal is to promote the hemp-based essentials they have.
However, some MLM companies become questionable if the products they have are either overpriced or doesn't work. In this case, I became skeptical about HempWorx because their items are overpriced. Imagine, you need to pay $69 for a 500mg CBD oil when you can get a 600mg for less than $50 online.
On top of this, HempWorx is not listed on Better Business Bureau so if you're planning to be a part of this company, just do so at your own risk.
Another thing that's confusing about HempWorx is that it directs you to MyDailyChoice compensation plan. While these companies are directly connected, MyDailyChoice has had bad feedback from many of its distributors. It has even received a B- rating on Better Business Bureau (BBB).
Anyway, when you want to join HempWorx, you can do so in two ways: become an affiliate or a preferred customer.
As mentioned, you have to pay $20 for the activation fee when you want to become an affiliate and purchase a package every month to become an active member. Typical MLM company.
Here are the packages you can choose from:
So for instance, you choose HempWorx Builder Pack, you'll be paying $69 plus the $20 activation fee, which is $89 in total.
Meanwhile, when you want to become a preferred customer, there's no activation fee required rather, you will just avail the monthly autoship. You can also get a product for free when you convince 3 friends to purchase any of their essentials.
If you want to know more about HempWorx, you can watch the video below:
Here Is My Top Recommendation to Start Highly Profitable Online Business from Comfort Of Your Home
Quality Products
To be fair, HempWorx appears to be selling quality products and although it's more expensive compared to other CBD oils found online, the price is still reasonable considering that this company is giving out commissions to their affiliates and preferred customers.
Legit MLM Company
is Hempworx legit? HempWorx is legit and if you're into network marketing, you can even consider this business opportunity. After all, the industry is expected to increase its sale in just a few years. There are more states in US that adapt hemp based products by making them legal.
CONS
No Guaranteed Earnings
When you check their compensation plan, you'll notice that they are putting their attention on how much you can earn, and the higher the ranking, the bigger the commission you can get. However, when you read their terms and conditions, you'll find out that there are NO GUARANTEED EARNINGS.
For someone who wants to earn money, you may be invited to join a very promising company like this only to find out that there's no assurance about your income.
Overpriced Products
Although their price is still reasonable, as for me, it's still higher compared to other CBD oils marketed online. Imagine, you need to cash out $70 to purchase their 500mg hemp oil.
But then again, overpriced products are typical in MLM companies and if you want to save yourself a few bucks, I suggest you try Amazon instead.
Products Are Hard To Market
Most people, myself included, easily turn their back away from the product when they know that it's from an MLM company firstly because of the very expensive costs and second because more or less, they will be recruited to join the system thinking that this is just another pyramid scam.
While MLM and pyramid schemes are two different things, both almost work the same -- they need to invite more and more people for commissions and incentives. But then again, legit MLM companies like HempWorx operate differently and they sell real products, to begin with.
Nonetheless, it may be very challenging for you to market this business unless you explain the difference of this business model from a scam or you apply an aggressive marketing tactic, which is, by the way, a usual strategy for most MLM distributors.
Terminated Accounts
There are more than a couple of complaints about terminated accounts, most of which never got a response from their customer service at all. This is alarming because how can you trust a program in the first place when you've seen a lot of users complaining about their suspended accounts without explanation or notification.
I mean, think about your unclaimed commissions and overall, the hard work you've put in it only to find out that it can disappear in a snap.
Tired of Wasting Time on Low Quality Programs?
I'm so grateful that I was able to find THIS PROGRAM which helped me to finally start making money online!
Personally, I'm not a fan of MLM companies because of the bad experiences I've had with them in the past, particularly with how they recruit people so I can't really recommend HempWorx to anyone.
Based on my experiences (and the stories shared by the people I trust), most of them sounds the same. They promise the world but they only deliver little.
Most of the times, only the uplines really earn a commission and once they have successfully recruited you to join the program, they would not care about you at all. Also, I don't like the fact that most members only discuss the pros of the organization, and most of them blatantly strike those who are against their system.
I mean, every business, even my top recommended program, has its own strengths and weaknesses and I don't feel it's right to bash those who are just sharing their experiences about the company.
I'm not saying HempWorx works like this; however, I just can't trust MLM companies anymore so if you like to join this organization, like what I've mentioned, do it at you own risk.
Like other MLM companies, HempWorx provides training to their members through their affiliates. You can even see free videos online while some members offer webinars, training materials in PDF forms, and blog posts.
Should you have any questions or concerns, you can reach them via email or phone call.
First thing first, HempWorx is not a scam. It's a legit company that you can consider if you're into network marketing and you believe in the power of CBD.
However, like the typical MLM companies, you will be promised with a massive amount but in order to achieve this, you have to recruit more members, promote your products and make a sale, and of course, really work extra hard to make sure that you will have a return of investment.
I'm not a fan of MLM companies though so no matter how promising the company is, I can't recommend it to anyone. It's hard to earn from this kind of business model and often, you need to be aggressive to sell your overpriced products.
If you want to make money online and start your own business, just keep on reading.
Not a fan of recruiting or purchasing expensive products?
Me, too! That's why when I found my top recommended program, I was happy to know that I don't need to spend a massive amount of cash just to earn. In fact, I just need to sign up and avail the following perks:
A Fine Blueprint to Making Money Online
Top Quality Education from Experienced Entrepreneurs
Step-by-step guidance
Top notch support including your own training coach
Lots of training resources
My personal help
And so much more!
So what are you waiting for? Explore the program now WITHOUT COMMITMENT and who knows, this method might work for you!
I hope I have enlightened you with this HempWorx review and if you have any questions or inquiries, please feel free to share it below.
Thank you!
We Constantly Review Programs in "Make Money Online" Niche,
So That You Don't Have to Waste Countless Hours
Want To See Our
TOP RECOMMENDATION?