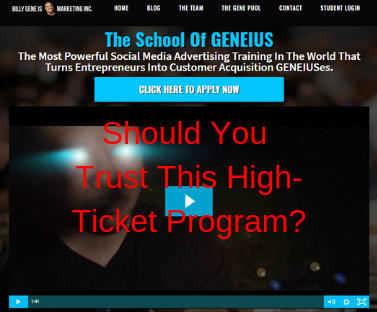 ​Billy Gene Is Marketing Review Summary
---
Name: Billy Gene Is Marketing
Website: billygeneismarketing.com
Founders: Billy Gene Shaw III
Product Type: Create Online Business with Use of Social Media
Price: $5,000 – $7,500
Quick Summary: "Billy Gene Is Marketing" is a comprehensive online course that includes a series of trainings that help to build online business or even help local businesses by mastering Facebook and other Social Media Platforms. They claim students would gain powerful skills and learn how to convert clicks into sales. Are these very BOLD Claims? Read Below Billy Gene Is Marketing Course review to learn more: 
Overall Rating: 7/10
Recommended: Yes
If you're one of those who uses YouTube or Facebook almost the entire day, chances are you've met (or maybe been annoyed) by this marketer who seems like he has a hefty budget solely intended for his ads.
I mean, his videos, without a doubt, are creative and interesting, but it came to a point that it's already irritating because it's popping out every now and then.
Imagine, you're watching your favorite cat videos (just to take your mind off work for a little while, no need to feel guilty about that) and here he goes: inside a pirate ship, channeling his inner Jack Sparrow, then you "skip ad" only to find him again after a few minutes, in another scene, then you skip ad again, and you do this over and over again until the end. 
How do you feel about that?

This got me thinking: is this man too crazy or desperate about selling his course or maybe he got a really good program that's why he wanted to promote it to help his fellow marketers? I mean, one ad is enough but two, three, or more in just one video is just too much. 

And, despite his face showing all over the social media, I know you too have a lot of doubts. Is Billy Gene Is Marketing a scam? Is he worth your money and time? Will he really help you grow your business online? 
With a lot of questions in mind, one thing is for sure, Billy Gene is not my lover. Kidding aside, in this post, we will expose all the good and bad about this program and decide if there is Billy Gene scam to  be aware of so just keep on reading.
What Is Billy Gene Is Marketing About?
Founded in 2015, Billy Gene Is Marketing is an online course created to help digital marketers promote their brand through Facebook advertising.
It claims to provide local business owners powerful skills set to reach the target and  more sales. Through online seminars, videos, and classes, students learn how to acquire customers and convert clicks into sales with the help of paid Instagram, YouTube, and Facebook ads.
With over 8 million of Impressions in total (Facebook and Instagram), the California-based digital marketing agency has already catered to over ten thousand small business owners, digital marketers, and entrepreneurs.
What To Expect With Billy Gene Is Marketing?
Are you having a hard time obtaining clients online?
Are you a marketing professional hoping to improve and develop your business using the Internet?
Or do you simply want to master using paid ads to gain more clients?
If you've answered one or more of these questions, then you might consider enrolling in The School of GENEius. Primarily introduced in September 12, 2017, the program claims to be one of the most thorough and powerful curriculum online, yet. When you enroll in this high-ticket program, you'll expect the following:
Tips on how to obtain more clients through paid Facebook, YouTube, and Instagram Ads.
Weekly trainings and support from their in-house team.
Access to comprehensive courses that will teach students how to make lucrative YouTube campaigns and more.
Done-for-you YouTube, Facebook, and Instagram campaigns.
Invitation to their semi-annual gatherings
Become a certified partner which means that The School of GENEius itself will refer the students to their clients.
The other programs that BGIM offers are C.A.M.P. (Customer Acquisition Master's Program and Gene Pool which are both basically about learning how to use social media ads to get ROI and attract more customers.
Is Billy Gene Is A Marketing A Scam?
Good news: No. Billy Gene Is A Marketing is not a scam. It is 100% legit and if ever, you will not be the first person to join the program. There are over a thousand of entrepreneurs and digital marketers who have enrolled in his course.

Billie Gene claims that those who will participate in The School Of GENEius will gain a lot from it, such as the ability to make an income with the use of a laptop or phone and an internet connection. The skills set that students will acquire after the program will help them grow their business online.
But like other online courses, BGIM has received a handful of negative feedback from its own students, too. After all, the price for the curriculum is expensive so it's just fair enough to set high expectations. And this we will discuss in a bit.
So if you are still wondering: is Billy Gene Legit? Having so much criticism. 
Billy Gene Is Marketing is legit and you can put it into consideration if you want to improve your digital marketing skills — that is, if you can invest a big amount for this additional education, which, by the way, you can have on a lower price or even for free. Thanks to the Internet!
So exactly how much are we talking about?

For The School Of GENEius, the program costs a staggering $5,000 every 6 months and $7,500 for one year. This is a huge money to invest in learning, which, by the way, you can learn for much cheaper rate or even for free.

Although the program is promising especially for businessmen struggling to acquire clients online, it's not readily accessible for those who have little to no budget for such trainings. 
If you're a kind of person who's still having a hard time keeping up your finances but want to earn money online without investment, you should consider this program that helped me to start earning money online just by following step by step training. 
I am Vasiliy, 
Discover My Secrets to Making Money Online
PROS

Good Social Media Training
Other than Facebook ads, you'll also learn how to create paid ads using Instagram and YouTube. This is an advantage since you have options to choose from and find out which platform best suits you.

Billy Gene's Marketing Ads Are Great
With a lot of interesting ads created, which have probably caught your attention in the first place, you'll know that you will somehow acquire the skills that will help you develop your own social media ads.

Billy Gene Is Marketing has already sent a million of emails and tried several landing pages and with a good clientele base created out it, you know that their trainings are backed up by events and numbers that actually exists.
CONS
Ranking website organically, especially in Google, is still the best way for most local businesses to acquire customers. For instance, what do you use when you search for the best restaurant or the top affiliate marketing program to join in?
Do you find results using the Facebook search tab or you Google it online? If you're more than willing to spend a big amount just for the training, why not spend it on something that talks more than Facebook, Instagram, and YouTube ads. After all, not everyone use social media.
It would be better if Billy Gene Is Marketing would determine which industries these tactics would work best. Not all niche are created equal and not all marketing strategies are applicable.
What if a newbie, who spent tons of money to enroll in this program, had followed each and every training, set up campaigns, and create email copies only to find out that he's wasting his time because emails won't simply work in his target market and his particular niche.
More than the program, you also have to deal with other costs a.k.a. paid ads. I said it once and I'll say it again, there are other trainings online you can find at a cheaper rate, or even for free.
I found this useful user review below that defines this program well enough:
Billy Gene Is A Marketing also has BBB accreditation with "F" rating and quite a few customers seem to be unhappy.
Billy Gene Is Marketing will suit aspiring and seasoned digital marketers who want to learn more about Facebook, Instagram, and YouTube marketing.
Billy Gene himself has created very attracting ads (although I wish that he will stop popping out of YouTube for like every 10 seconds) so without a doubt, he can shed the right knowledge and tools on how you can grow your business as well.
BGIM is for small, medium, and big business owners who are willing to spend a huge amount for trainings related with the biggest social media today.
But, let's not forget about LinkedIn, which, by the way, outranked Facebook when it comes to lead generation. Why? Simply because LinkedIn is the home of many high-level decision-makers so if you're failing to effectively market your business here, then you're missing a lot of things.
Billy Gene Is Marketing and its programs such as The School of GENEius, Gene Pool, and C.A.M.P. use the following training tools for its students:

Live Training
Chat Support
Video Training
Facebook Group
Call (to either interview students or teach the student on how to market the business using social media or to give students the so-called GENEius Mindset)
Overall, Billy Gene Is Marketing is impressive, like his ads on Facebook and YouTube. Although it's as exaggerated as the ones produced by many marketers claiming that they are the real deal.
Billy knows how to standout, however, the price is just too high. The Internet is readily available and you can just browse everything you need. I have to be honest, though, that what you are learning from this kind of programs are the marketer's experience. You are being guided and perhaps, you're also paying for the convenience since you don't have to research topics one-by-one. 
But then again, why pay a hefty amount when you can learn the training for a more affordable rate. Also, since it has missed another important marketing strategy a.k.a. ranking organically, you can not guarantee that your business will thrive online after taking his course.
Let me know what you think in the comment area below:
4 Simple Steps
to Owning a Highly Profitable Online Business
WITHOUT

Any Experience...